---
Michigan's magical season came to an end Monday night in heartbreaking fashion. But it was hard to stay down for long given the show Team 96 put on in one of the greatest national championship games we'll ever see. No one will ever say a loss is a good thing. It's not and this one wasn't. It hurt, moreso for the players and coaches involved than you or I will ever know. But the young Wolverines played like they belonged to be there. They played well enough to win, and if not for a bad break here or there, they would have.
But even though the season ended just short of the ultimate goal, what Team 96 achieved will go down in Michigan history right alongside the national championship winning 1989 team, the Fab Five, and all the rest of the great teams to don the maize and blue.
Six months from now, Team 97 will begin anew and we will root them on with a renewed love and passion for Michigan basketball. For the first time in a long time, Michigan basketball will enter a season viewed in high regard on a national stage. But before we get there, and before we even turn our full attention to football, let's look back at what we expected out of this team and compare our expectations to how it performed.
Back in November as Michigan was getting ready to open its season at home against Slippery Rock, Sam posted his season preview. In it, he pegged the Wolverines to finish the regular season 26-6 and 13-5 in the Big Ten. In reality, they went 26-7 and 12-6. Furthermore, he pegged Michigan as a Final Four squad, which they not only were, but went one game further and finished the season with a school record 31 wins and just eight losses. Sam picked Michigan to finish first in the Big Ten, but they fell just short, although the fifth-place finish is deceiving since they were one rotation of the ball away from beating Indiana and claiming a share of the title.
As far as individual players go, in Sam's player previews, he forecasted their stat lines from points, rebounds, and assists to field goal and three-point percentage. Let's see how they performed based on expectations.
_____________________________________________________________________________________________________________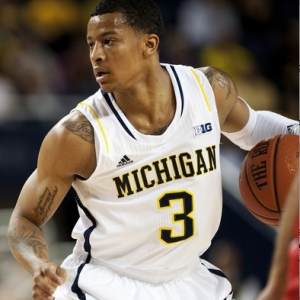 Trey Burke

Points
FG%
3-pt %
FT%
Rebounds
Assists
Steals
TOs
Blocks
Minutes
Predicted
15.0
44.8
37.0
81.2
3.3
5.7
1.0
2.2
0.4
35.0
Actual
18.6
46.3
38.4
80.1
3.2
6.7
1.6
2.2
0.5
35.3
Difference

+3.6

+1.5

+1.4

-1.1

-0.1

+1.0

+0.6

+0.1

+0.3
Recap: The sentence that hit the nail on the head was "A huge season for Trey likely means a deep run in March for the Wolverines, but if he sees a sophomore slump, Michigan could find itself underachieving massively." Big Tean and National Player of the Year is certainly a huge year and Michigan made the deepest March run possible. Burke outperformed his expectations in nearly every category – at least in the ones that matter most – and led Michigan to the brink of a national title.
Future: Trey is the most likely player to jump to the NBA and if he does, no one will blame him. He has done more in his two seasons in Ann Arbor than most players do in their career. He set the single season assists record, was a consensus first team All-American, Big Ten Player of the Year, Naismith Player of the Year, and Wooden Award winner to name a few. He's a projected lottery pick in the NBA Draft – Chad Ford has him listed 6th in his updated mock draft – and he's only that low because of his height. He doesn't have much left to prove at Michigan, but maybe, just maybe, he will want to return to lead the Wolverines to a Big Ten title and win a national championship next season. We can hope.
_____________________________________________________________________________________________________________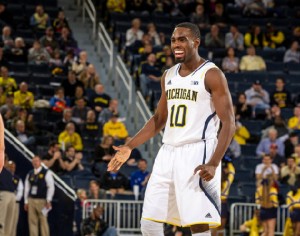 Tim Hardaway Jr.

Points
FG%
3-pt %
FT%
Rebounds
Assists
Steals
Minutes
Predicted
15.0
46.0
40.1
77.8
3.2
2.9
1.0
33.0
Actual
14.5
43.7
37.4
69.4
4.7
2.4
0.7
34.8
Difference

-0.5

-2.3

-2.7

-8.4

+1.5

-0.5

-0.3

+1.8
Recap: Hardaway improved his shooting and three-point shooting this season compared to his sophomore season, but they still fell short of his projected averages. In Sam's preview of Tim he wrote, "There's no doubt that that Tim Hardaway is one of the best players on this team and an intriguing NBA prospect…but he will need to show some consistency on both ends of the court if he is to realize his dream and follow in his dad's footsteps to the League." Hardaway still struggled with consistency this season. When he was on, he was on. Take the Ohio State game in Ann Arbor for instance, when he hit 6-of-9 three-point attempts to carry the Wolverines to victory. However, he also went a combined 4-of-23 from the field in two games against Michigan State and went just 16-of-53 (30.2 percent) from the field and 5-of-22 (22.7 percent) from downtown in the final four games of the NCAA Tournament.
Future: Based purely on speculation, if I had to bet on it right now, I'd say Hardaway will make the jump to the NBA. But scouts don't have him as a first round prospect anymore and he could drastically help his draft prospects with one more year in Ann Arbor. If he stays and is able to improve his shooting and become more consistent, he could easily work his way into the top half of the first round in 2014.
_____________________________________________________________________________________________________________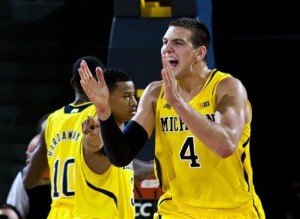 Mitch McGary

Points
Rebounds
Assists
Blocks
Minutes
Predicted
10.0
8.2
1.5
1.5
22.0
Actual
7.5
6.3
0.6
0.7
19.7
Difference

-2.5

-1.9

-0.9

-0.8

-2.3
Recap: Predicting the production from a true freshman is next to impossible because you don't know how long it will take him to adapt to the college game. Everyone knew McGary would be a very good player for Michigan, but nobody really knew whether it would be right from the start or whether it would take him a while. He showed flashes of his potential right from the start, but served as Michigan's sixth man for most of the season, giving the team a spark off the bench. In the tournament, however, he blossomed into a star. He was the talk of the tournament – at least up until his disappointing performance that was marred by foul trouble in the national title game – after back-to-back dominant performances against VCU and Kansas. He underperformed based on Sam's projections, but he showed everyone late in the season that the expectations will be high next season.
Future: McGary's breakout tournament performance moved him all the way up to 12th in Chad Ford's latest mock draft, something that might tempt him to make the jump. But I don't think he will. He has the potential to be an absolute star, and with a full season in 2013-14 like he had in the tournament, could easily become a lottery pick in the 2014 NBA Draft. Expect McGary to return to dominate the paint for Michigan next season.
_____________________________________________________________________________________________________________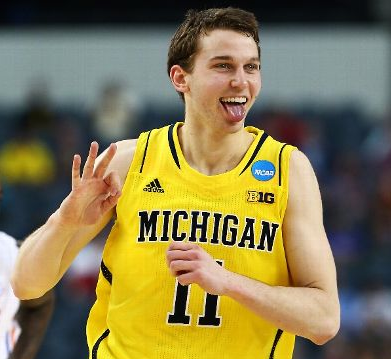 Nik Stauskas

Points
Rebounds
Assists
Minutes
Predicted
5.2
2.3
1.2
12.0
Actual
11.0
3.0
1.3
30.5
Difference

+5.8

+0.7

+0.1

+18.5
Recap: As with McGary, predicting the stats of a true freshman can sometimes be very wrong. In this case, Stauskas performed much better than predicted. In a sense, much more was known about McGary coming out of high school as, at one point, the #2 player in the class, but there wasn't much to go off of for Stauskas, the Canadian assassin. All that was really known was that he was deadly from behind the arc. It wasn't until the season started that everybody realized the often heard phrase "he's not just a shooter." He finished third on the team with 11 points a game, which is impressive, and earned a starting spot very early on, so his minutes were much higher than predicted. But his shot struggled in the second half of the season with the exception of the 6-of-6 performance against Florida in the Elite Eight. He finished the season 46.3 percent from the field and 44 percent from three-point.
Future: Stauskas isn't a threat to go pro this season, so we don't have to worry about that. He has vowed to return a different player next season, hitting the gym hard during the summer and coming back stronger and better defensively. The defensive end was by far his weak point this season, and if he can improve that, he'll be a very dangerous player going forward.
_____________________________________________________________________________________________________________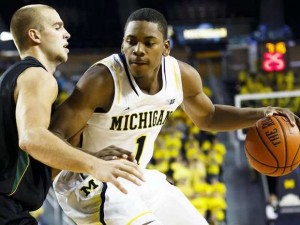 Glenn Robinson III

Points
Rebounds
Assists
Steals
Minutes
Predicted
11.0
4.5
2.3
1.2
28.0
Actual
11.0
5.4
1.1
1.0
33.6
Difference

+0.9

-1.2

-0.2

+5.6
Recap: Robinson might have been the easiest freshman to predict since most knew he would start from the get-go. His 11 points per game average was exactly what Sam projected and he exceeded his projected rebound average, finishing as the team's second best rebounder behind McGary. He played more minutes than expected and was always dangerous on the baseline and around the rim.
Future: There's a slight chance Robinson could make the jump to the NBA since he oozes potential. Chad Ford projected him to go 15th in his latest mock draft. He'll likely stick around for at least one more year to improve his game and potentially move into the top 10. The main area of work is creating his own shots. In his player preview, Sam said, "He's certainly a capable shooter, but no one is quite sure how good. We also know he can fill it up from mid-range and will be deadly around the rim, but I'll be interested to see how his overall offensive game develops and where the majority of his shots come from." This season, he was mostly reliant on Burke and others to get him the ball in position to hit a shot or to score around the rim. If he can improve to the point where he can create his own shots, he will be lethal.
_____________________________________________________________________________________________________________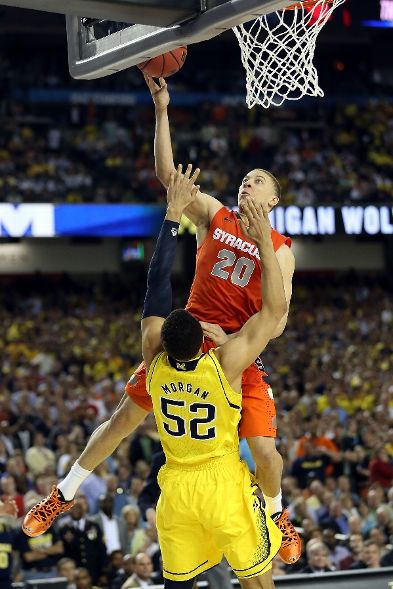 Jordan Morgan

Points
FG%
FT%
Rebounds
Assists
Steals
Minutes
Predicted
8.5
55.0
60.1
5.8
0.8
0.8
22.0
Actual
4.6
57.7
55.8
4.3
0.3
0.3
15.9
Difference

-3.9

+2.7

-4.3

-1.5

-0.5

-0.5

-6.1
Recap: It's no secret that Morgan was somewhat of a disappointment this season. No one expected him to be a first team All-Big Ten caliber player, but in his first two seasons he showed potential to be a reliable big man. But this season, he struggled to be a consistent scoring option and had problems catching the ball down low. He underperformed in nearly every category and eventually lost his starting job to McGary during the tournament.
Future: Morgan has one season left in Ann Arbor and is still an important piece of the puzzle for John Beilein. He remains one of Michigan's best defensive players, and that was no more evident than when he came in and took a charge at the end of the Final Four game against Syracuse that essentially sealed Michigan's win. If he can work on his hands to the point that he's able to catch the balls that are fed to him on the pick and roll, he could earn back some playing time next season. Otherwise, he's probably destined to be the first or second man off the bench.
_____________________________________________________________________________________________________________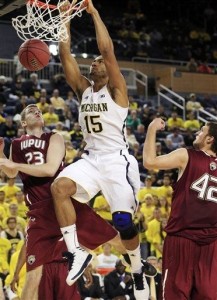 Jon Horford

Points
FG%
FT%
Rebounds
Assists
Steals
Blocks
Minutes
Predicted
6.5
55.0
85.0
4.5
0.8
0.5
1.8
15.0
Actual
2.7
57.6
70.4
2.2
0.2
0.2
0.4
8.8
Difference

-3.8

+2.6

-14.6

-2.3

-0.6

-0.3

-1.4

-6.2
Recap: Horford continues to develop as a player and fight through injuries early in his career. He missed several games early in the season due to injury, which set back his development and allowed McGary to eat up some of his playing time. Sam said as much in his player preview: "Pay very close attention to him early on to see how his season may go." The time missed resulted in only 8.8 minutes per game throughout the season. When he was on the court, he was usually reliable, capable of rebounding and finishing when given the opportunity and stepping up and hitting free throws. But he wasn't the breakout player that Sam thought he might become.
Future: There is still optimism for Big Jon's future. He has the lineage and the work ethic – he hit the gym to work on shooting right after Michigan arrived back in Ann Arbor after the national championship game – to become a dependable big man worthy of more minutes. He just needs a full off-season and season of staying healthy. If he, Morgan, and McGary continue to develop, Michigan could have a very good frontcourt next season.
_____________________________________________________________________________________________________________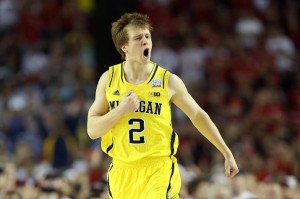 Spike Albrecht

Points
Assists
Rebounds
Steals
Minutes
Predicted
1.2
1.0
0.5
0.3
4.0
Actual
2.2
0.7
0.8
0.3
8.1
Difference

+1.0

-0.3

+0.3

+4.1
Recap: Perhaps the rotation player that carried the lowest expectations into the season, Spike proved that he has what it takes to run the basketball team at the college level. He was only expected to manage the offense for a few minutes a game while Burke got a breather, and he did that adequately. But in the Final Four, he gave the world a glimpse of his potential. In the semifinal against Syracuse, he hit two key threes to fuel Michigan's lead, and then in the national championship game, he exploded for 17 first half points. It was like Rudy, except you know, good. He fizzled in the second half, not used to playing so many minutes, especially on such a big stage, but his performance at least put to ease concerns about who will run the team if Burke makes the jump to the NBA.
Future: While Michigan has had the bittersweet reality of great point guards that leave early the past few years – first Darius Morris and now, most likely, Burke – Albrecht is a nice change of pace. He'll never be a threat to leave early and he may never even earn a starting spot since Michigan has another talented point guard coming in next season. But he gives the position quality depth, which is something it has lacked.
_____________________________________________________________________________________________________________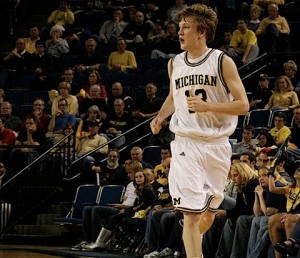 Matt Vogrich

Points
FG%
3-pt %
Rebounds
Assists
Steals
Minutes
Predicted
4.3
44.0
41.3
1.5
0.5
0.5
13.0
Actual
1.0
33.3
26.3
0.9
0.1
0.1
5.6
Difference

-3.3

–

6.7

-15.0

-0.6

-0.4

-0.4

-7.4
Recap: Like Morgan, Matt Vogrich saw his playing time dip this season, but his happened a lot sooner. He began the year as a starter, but that only lasted a handful of games before Stauskas took over. In fact, Vogrich played double digit minutes in only four games all season. He scored his season high of eight points in the season opener against Slipper Rock and then didn't score more than three in a game the rest of the way. He enjoyed an interesting career that saw his playing time fall as his career went on, but that also coincided with team success.
Future: Vogrich's career is over.
_____________________________________________________________________________________________________________
As you can see, the player who most outperformed his expectations was Burke, which is extremely impressive given the expectations he had after his freshman campaign. It's no wonder he won every award imaginable. Stauskas also vastly outperformed his projections, though I don't think anyone could have thought he'd have so much early success. Glenn Robinson III performed right on his expectations and will likely have them raised going into next season.
The biggest underperformers were the big men. Morgan and Horford could improve next year, while McGary will likely have the highest expectations of anyone on the team going into 2013-14. Hardaway also underperformed slightly despite improving his shooting. If he returns for his senior season, his expectations will be high once again.
Now, we wait and see what Burke, Hardaway, McGary, and Robinson decide regarding their futures. The choices they make will determine the expectations the team has going into next season. It's most likely that two of the four will leave, but as we saw with Taylor Lewan's surprising decision to return for his senior year, anything is possible.