---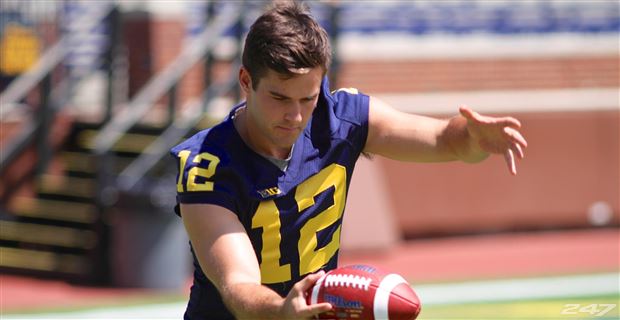 (Isaiah Hole, 247 Sports)
Previously: Quarterbacks, running backs, wide receivers, tight ends, offensive line, defensive line, linebackers, secondary
Michigan will welcome back most of its offensive and defensive starters in 2015, but the special teams stars will see a huge turnover.
Matt Wile, who went 15-of-21 in field goal attempts last season, and Will Hagerup, who averaged 42.9 yards per punt, both graduated and left two starting kicking spots open. Returner Dennis Norfleet is also absent from the roster after being dismissed by Jim Harbaugh.
Here's a look at the guys ready to step up as special teams leaders.
Kicker
With Wile's departure, and little left behind him on the current roster, Michigan needed to fill the empty kicker position from the outside. Enter, Andrew David. The Ohio native is one of the top kicking recruits in the 2015 class and enters his freshman season after handling both field goals and kickoffs in high school.
David's calling card is his elite leg strength, which will be key in his winning the kickoff job as a true freshman. His field goal accuracy left something to be desired in high school, but if he can sort that out with coach John Baxter, he's got the leg power — he made a 58-yard field goal at Massillon (Ohio) High School last season — to be one of the top kickers in the Big Ten.
If David struggles, walk-ons Kenny Allen, Ryan Tice, and Kyle Seychel will duke it out for the starting job. Only Allen, who booted a 51-yard punt against Central Michigan in 2013, has seen the field for the Wolverines.
Punter
The open punting position was up for grabs this offseason until Michigan landed Weber State graduate transfer Blake O'Neill. The Melbourne, Australia native averaged 44.1 yards per punt last season in the FCS and should run away with the starting job this season.
To put O'Neill's final season at Weber State in perspective, only 14 FBS teams averaged more than 44.1 yards per punt last season, and only Ohio State and Minnesota ranked higher in the Big Ten. If he picks up where he left off, Michigan will have a one-year upgrade at punter.
Career Stats – O'Neill

Year
Punts
Yards
Average
Long
TB
FC
In-20
Blk
2014
62
2,737
44.1
71
8
17
25
1
Totals
62
2,737
44.1
71
8
17
25
1
*At Weber State
Returner
The battle for the starting return job is one of the most intriguing heading into the mountains of Utah. Michigan averaged a terrible 19.9 yards per kick return and 6.8 yards per punt return last season, neither of which cracked the top 80 in the country.
The player with the most upside is clearly Jabrill Peppers, who was an elite returner in high school. Peppers is perhaps the best all-around athlete on the team and Harbaugh even hinted during the offseason that he could be a three-way player. He's got elite speed, quickness and vision and would be a home run threat every time he catches the ball.
If Peppers only gets one of the jobs, it'll likely be as punt returner, where he was excellent in high school and would have more open space to make a big play.
Another option is cornerback Jourdan Lewis, the fastest defender on the team and a standout in the secondary last season. Lewis returned just one kick for six yards last season, but has the athleticism to be a solid returner if Michigan goes in that direction. His ceiling is much lower than Peppers' however.