---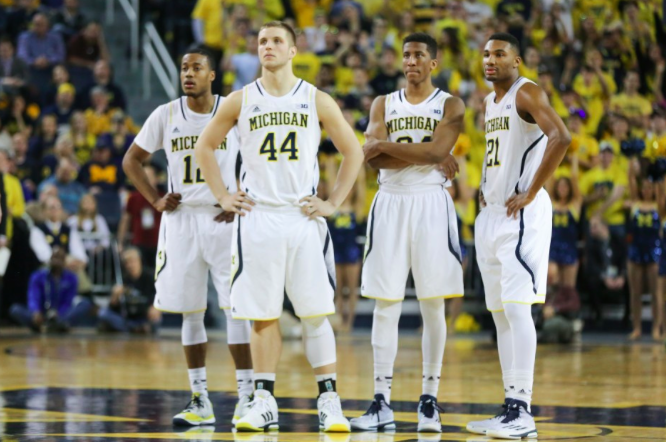 (Dustin Johnson, UMHoops)
Tonight's Michigan basketball game was not unlike the demise of a car's battery from summer to winter.
The Wolverines, coming off a tough but gritty overtime loss in East Lansing on Sunday, fired out of the gates like a well-oiled machine against Iowa, getting early baskets from Zak Irvin, Spike Albrecht, Muhammad-Ali Abdur-Rahkman, and Kameron Chatman to take a 9-6 lead, then followed that up with a three from Irvin and a nifty lay-in from Chatman to go up 14-8 just over seven minutes into the game.
But like a car battery will suddenly die in a bitterly cold night like this one, so too did the Wolverines' offense halt to a stop.
After pouring in six buckets in the opening seven minutes and looking much like the hungry team we've seen in recent weeks, Michigan managed just two more made field goals and two free throws over the final 12:59 of the first half against a lengthy Hawkeye 2-3 zone.
Meanwhile, Iowa's potent offense came alive with threes from Peter Jok, easy lay-ins and put-backs from Adam Woodbury and Gabe Olaseni, and dunk after dunk from Aaron White.
By the time the opening act was through, Michigan's six-point lead had crumbled into a 10-point deficit, with the visitors scoring the final 12 points before halftime mercifully set in.
Out of the break, however, it was much of the same. The battery looked dead for good with Iowa simply dominating the paint and baffling Michigan with the zone, opening up an 18-point cushion less than six minutes into the second half. White and Woodbury continued to be too much inside against a depleted Wolverine squad, but former Wisconsin Badger Jared Uthoff also decided to join in on the fun with an elbow jumper and a three early in the second half on his way to a game-high 16 points.
When it looked like all hope of driving the old beater this winter was lost, though, freshman Aubrey Dawkins came by to provide a quick jump, knocking down three triples in the span of five minutes on his way to match Uthoff's game high.
The battery began to make some noise at the very least, and an 18-point deficit was cut in half with eight minutes remaining and everything on the line for Michigan's season.
As quick as the jumper cables started working, however, they were taken off and the battery conked out one final time.
Uthoff followed Dawkins's final triple with a three of his own before point guard Mike Gesell scored his 10th point of the night and Uthoff made another bucket to put Iowa back up 14; Michigan would never get closer before falling by a final score of 72-54.
It's tough to say how deflating a loss this could prove to be for the Wolverines.
Beilein said after the game that the loss brought a deflated feel with it, but that the team is not deflated in terms of their goals and getting better every day.
Since Caris LeVert went down a few weeks back and Derrick Walton has continued to rest his injured foot, Michigan appeared to bring their energy to another level, winning at Rutgers and destroying Nebraska at home while giving Wisconsin and Michigan State all they could handle.
Tonight was clearly a different story. The youthful Wolverines looked good right away, but once Iowa sat back in their zone, clean looks disappeared and the defense went with it. Certainly the execution was lacking, but the hustle and determination also seemed to be a step below optimal.
That's concerning for a team that has some work to do if the Big Dance is going to be in the picture this postseason. Despite an ugly non-conference season, Michigan looked to at least have a fighter's chance of earning a bid with a 6-4 start to conference play and eight big games left. Additionally, the projected bubble at this point appears to be wide and relatively weak. A big win here and a team just might jump into the Last Four In category.
But as we all know, protecting home court is hugely important for would-be bubble teams; this loss, Michigan's biggest home blowout in five years, was certainly not exemplary of that.
There are more opportunities to be sure for Michigan, and a couple big wins could still spring them into the tournament, but the schedule will not be getting easier any time soon – road trips to Indiana and Illinois loom next week before rivals Michigan State and Ohio State make the return visit to Crisler the week after.
The battery sputtered before ultimately dying tonight.
Now, the Wolverines need to re-charge quickly.
• Michigan's freshmen guards continue to develop, with Dawkins and Rahk combining for half of the team's points on 9-of-18 shooting while the rest of the team shot just 10-of-29. Dawkins continues to shoot the ball very well from outside (4-of-7 from deep), but he also appears to be a little bit more comfortable operating within the offense and driving a bit. Rahk, on the other hand, continues to attack the basket when given the opportunity while becoming more comfortable from outside.
• Tonight's game was lost in the paint for Michigan. Iowa went inside with ease far too often and ended up with a ridiculous 42 points on 21-of-25 shooting inside while the Wolverines only managed eight buckets on 14 attempts in the lane, as they struggled mightily to work the ball inside the three-point line. The Hawkeyes also took advantage of their size advantage to the tune of a 42.9 percent offensive rebounding rate and 13 second-chance points against Michigan's measly 17.2 percent offensive board rate.
• Aaron White was assessed with a technical foul early in the second half for what Iowa coach Fran McCaffery said was some trash talk after a block ("you can probably guess what he said") and was handed another technical for hanging on the rim after a dunk a few minutes later, but because of different foul classifications, he was able to remain in the game in a bizarre occurrence.
***Aubrey Dawkins***
16 points (5-of-8 FG, 4-of-7 3pt, 2-of-2 FT), one rebound, zero turnovers in 27 minutes
**Muhammad-Ali Abdur-Rahkman**
11 points (4-of-10 FG, 1-of-5 3pt, 2-of-2 FT), three rebounds, one assist, one steal, zero turnovers in 37 minutes
*Spike Albrecht*
10 points (3-of-8 FG, 1-of-3 3pt, 3-of-4 FT), four rebounds, five assists, one steal, three turnovers in 34 minutes
Final Game Stats

#

Name

FG-FGA

3FG-3FGA

FT-FTA

OR

DR

TOT

PF

TP

A

TO

BLK

S

MIN

32
Ricky Doyle*
0-1
0-0
0-1
1
0
1
1
0
0
1
0
0
18
02
Spike Albrecht*
3-8
1-3
3-4
0
4
4
0
10
5
3
0
1
34
12
M-A. Abdur-Rahkman*
4-10
1-5
2-2
0
3
3
4
11
1
0
0
1
37
21
Zak Irvin*
3-10
1-6
0-0
0
1
1
1
7
0
1
0
0
32
24
Aubrey Dawkins*
5-8
4-7
2-2
1
0
1
0
16
0
0
0
0
27
03
Kameron Chatman
3-6
0-1
0-0
1
1
2
0
6
1
0
0
0
20
04
Andrew Dakich
0-1
0-1
0-0
0
0
0
2
0
1
0
0
0
9
20
Sean Lonergan
0-0
0-0
0-0
0
0
0
0
0
0
0
0
0
1
34
Mark Donnal
0-0
0-0
0-0
0
0
0
0
0
0
0
1
0
2
44
Max Bielfeldt
1-3
0-1
2-2
1
3
4
2
4
0
1
1
1
20
Totals
19-47
7-24
9-11
5
12
17
10
54
8
6
2
3
200
Iowa
32-51
4-11
4-6
9
24
33
10
72
16
6
2
2
200

Full Stats