---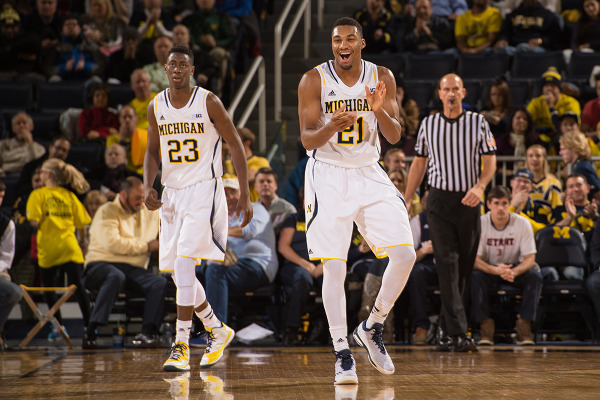 (MGoBlue.com)
The test was going to come sooner or later. Michigan, a young team that has looked the part, struggled right out of the gates this year against Hillsdale before settling in and rolling the completely over-matched opponent. In their second game, the Wolverines stashed away Bucknell early.
But tonight, the Maize and Blue were given all they could handle by an upstart Detroit team hungry for some headlines.
Ultimately, Michigan survived with a 71-62 win, but it was far from pretty.
Right out of the gates, the Titans showed that they came to play for real; this wasn't going to be recess for the home squad. After former Michigan target Patrick Ackerman opened the scoring, he made another bucket to tie it up at 4-4 three minutes into the game. Following a Derrick Walton three-pointer, Juwan Howard, Jr. and Jarod Williams both nailed triples of their own to put Detroit up three.
It started a theme that would last throughout the night.
Michigan would answer, Detroit would take the hit, Detroit would take another lead, Michigan would claw back.
In between the buckets, however, was a lot of ugly. The two teams combined to shoot just a hair over 38 percent while turning it over 11 times in the first half, but Detroit's one-point lead going into halftime could be chalked up to their 5-of-9 mark from downtown to Michigan's woeful 3-of-12.
Out of the break, there was a sense that Michigan would shake off the rust and run away with it, just as Oregon had done earlier this week after being tied with the Titans at the half and ending up with a 17-point victory. A Walton three right away strengthened that feeling.
Then Brandan Kearney, a former Michigan State player, matched the triple with one of his own. Howard Jr. followed by hitting an and-one of his own to put Detroit up four again.
Kameron Chatman came out of the game after the foul and Michigan went to a no-freshmen-allowed lineup a couple minutes later when Max Bielfeldt replaced Mark Donnal. Coach John Beilein wouldn't put another freshman back in for nearly nine minutes.
With the veteran lineup, Michigan finally started to build a little bit of cushion. Bielfeldt caught a beautiful over the shoulder pass from Spike Albrecht and made the open layup look easier than it was. Caris LeVert stole a pass on the next possession and went coast-to-coast for a lay-in en route to scoring 10 straight and helping the home team to a nine-point lead.
A minute later, Zak Irvin flushed home a dunk from Albrecht before Kearney, Albrecht, and then Howard, Jr. made three straight triples to cut the lead to six.
Detroit was far from waving the white flag. Within five minutes, the Titans made up the difference and tied it up at 52 with 5:19 left – largely behind the leadership and scoring of Juwan Howard, Jr., who made eight straight points in that stretch and finished with a game-high 24 points on 23 shots.
But Howard's success soon became Detroit's downfall, as the senior and son of Fab Fiver Juwan Howard missed a couple circus shots over the next couple possessions, allowing Michigan to jump out to an 11-point advantage just two minutes later on a pair of Zak Irvin threes, a beautiful coast-to-coast finish from Walton, and three LeVert free throws.
Albrecht's in-your-eye three with 1:27 left served as the unofficial dagger – and boosted his own confidence after he'd been passing up open looks in practice according to Beilein.
When it was all said and done, Michigan's nine-point victory looked a lot more comfortable than it was. But that's what happens when a young roster limits your options.
After escaping, Spike Albrecht noted that it's a lot better to learn from a challenging win rather than a tough loss.
Beilein, as usual, praised Detroit for the terrific battle, but he would have done the same if Michigan won by 35. In reality, though, Detroit is not one of the better teams Michigan will face this year – even before Big Ten season.
If the Wolverines are to continue escaping challenges against the likes of Oregon, Villanova or VCU, SMU, and Arizona, they'll have to play a lot better a lot earlier.
The talent is there, especially among Irvin, Walton, and LeVert. But the Wolverines needs to shore up the consistency.
• John Beilein is starting to whittle down on the rotation, and tonight, only nine Wolverines saw minutes after at least 11 did in Michigan's first two games. Freshmen Aubrey Dawkins and Muhammad-Ali Abdur-Rahkman rode the pine all night while classmates D.J. Wilson and Ricky Doyle only saw seven combined minutes. Meanwhile, the veterans' minutes continue to increase, as Zak Irvin, Spike Albrecht, and Caris LeVert played more than 30 minutes and Derrick Walton played all 40 minutes.
• The big man rotation is still far from being solved. Max Bielfeldt was the first big off the bench again and led all centers with 20 minutes, while Mark Donnal played 15, Doyle played two, and Wilson played three minutes at the five.
• Kameron Chatman and Derrick Walton rimmed out back-to-back three-pointers in the first half that perhaps went further down than I've ever seen in my life before popping out.
***Caris LeVert***
21 points (7-of-13 FG, 1-of-3 3pt, 6-of-7 FT), nine rebounds (one offensive), three assists, one steal, three turnovers in 38 minutes
**Derrick Walton, Jr.**
16 points (4-of-10 FG, 2-of-5 3pt, 6-of-7 FT), six rebounds, three assists, two turnovers in 40 minutes
*Zak Irvin*
18 points (6-of-16 FG, 4-of-10 3pt, 2-of-4 FT), three rebounds (one offensive), one assist, three turnovers in 38 minutes
Final Game Stats

#

Name

FG-FGA

3FG-3FGA

FT-FTA

OR

DR

TOT

PF

TP

A

TO

BLK

S

MIN

03
Kameron Chatman*
1-4
0-3
2-2
1
3
4
1
4
1
1
0
0
10
34
Mark Donnal*
1-2
0-0
0-0
1
2
3
0
2
0
0
1
1
15
10
Derrick Walton Jr*
4-10
2-5
6-7
0
6
6
3
16
3
2
0
0
40
21
Zak Irvin*
6-16
4-10
2-4
1
2
3
1
18
1
3
0
0
38
23
Caris LeVert*
7-13
1-3
6-7
1
8
9
2
21
3
3
0
1
38
02
Spike Albrecht
2-5
2-3
0-0
1
3
4
2
6
4
1
0
1
32
05
D.J. Wilson
0-0
0-0
0-0
0
1
1
3
0
0
1
1
0
5
32
Ricky Doyle
0-0
0-0
0-0
0
0
0
0
0
0
0
0
0
2
44
Max Bielfeldt
2-3
0-0
0-0
2
3
5
1
4
2
0
1
0
20
Totals
23-53
9-24
16-20
9
28
37
13
71
14
11
3
3
200
Detroit
23-53
9-19
7-8
2
23
25
20
62
14
11
1
4
200

Full Stats