---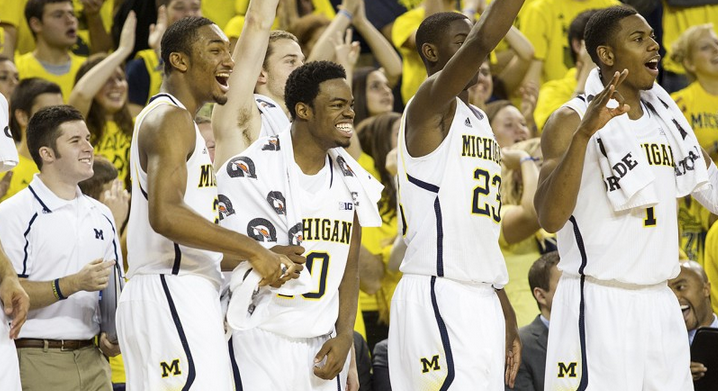 (UMHoops)
It's no secret that home court is king in college basketball, and there's certainly no team that better embodies it than this year's edition of the Michigan Wolverines.
In suffering a loss early in the season at Iowa State, then another against Charlotte in Puerto Rico, and lastly at Duke earlier this week, Michigan has shot dreadfully from the field and has often looked soft.
At home, however, it is a completely different Wolverine squad, and today's display provided the perfect example as Nik Stauskas, Mitch McGary, Glenn Robinson III, and company doubled up Houston Baptist 107-53 – the biggest blowout of the Beilein era.
For about eight minutes at the start of the game, it seemed like Houston Baptist would be able to capitalize on Michigan's poor defensive effort to make a game of it, but their hot shooting wouldn't last. After making their first seven shots from the floor and then getting a put-back from big man Ricmonds Valde following their first miss of the day, the Huskies found themselves down just 23-19 despite Michigan's equally efficient start that saw five different players score out of the gates.
Michigan's offense never really did slow for the rest of the afternoon, however, finishing the game off with an other-worldly 64.3 percent mark from the field and 61.5 percent mark from downtown; as Houston Baptist started to come down to earth, the Wolverines' lead grew faster than a hungry cheetah chasing a gazelle.
Houston Baptist opened the game playing a 2-3 zone that was quickly sliced, diced, and shot over by Michigan before going to an equally ineffective man defense before finding themselves in a 60-34 hole by halftime. The 60 points put up in the first half by the Wolverines, including 17 from Stauskas, also set a record for the seven years John Beilein has been in Ann Arbor, and the 18:1 assist-to-turnover ratio Michigan recorded was something Beilein said after that he had never seen before.
Mitch McGary was really the catalyst behind Michigan's offensive outburst from the beginning, scoring two early buckets and assisting on the next, in what has to be considered one of his most impressive college performances to date. All game long, McGary seemed to have his hands on the ball, leading a fast break in some fashion. He also displays tremendous outlet passes that often draw comparisons to Hall of Famer Wes Unseld, and his mind-bending drives are, for now at least, unstoppable.
Remarkably, even John Beilein is warming up to the idea of the 6'10″, 255-pound big man being an acting point guard at times when the break is open.
"He's establishing a trust with me on that, with our team, with our coaching staff. We have a saying that, 'when you make a play, would everybody on our team think that's a good play?'"
It would be hard to argue that McGary made any poor decisions today, however, after coming out of the rout with seven minutes left and a stat line of 12 points, nine rebounds, six assists, four steals, and a block in just 23 minutes.
And even though McGary didn't provide a huge scoring output, it was his ability to run the break that led to so many easy buckets from many of his teammates.
"I think our team is at its best when we're in transition, and I like to push it out on the break and get our guys open looks…I'm really just looking to attack and find three-on-twos, four-on-threes, and if I can find the open guy, I'm gonna pick up the dribble and hit him with a nice pass for a three."
Undoubtedly the team is playing its best basketball in transition right now, but the play in the half court set was also outstanding today, thanks in no small part to some vastly improved play from Stauskas and Robinson.
At the end of the day, though, Michigan knows how to play as a team. In this afternoon's contest, Stauskas led five Wolverines in double-digits with 25 points and Michigan was brilliant in assisting 26 of their 36 made field goals.
According to Beilein, no one cares about individual stats.
"Did we play together and did we win? I don't worry about what Caris got, what Nik got, what Spike got, we don't worry about those things. That will take care of itself if you have a seven-, eight-, nine-man rotation and everyone's playing the right way, it just takes care of itself."
Today, everything took care of itself just beautifully at home.
Three Stars:
***Nik Stauskas*** – 25 points (7-of-11 FG, 6-of-9 3pt., 5-of-5 FT), two rebounds, four assists, one block, one turnover in 28 minutes
**Mitch McGary** – 12 points (5-of-7 FG, 2-of-3 FT), nine rebounds, six assists, four steals, one block, two turnovers in 23 minutes
*Glenn Robinson III* – 17 points (6-of-9 FG, 2-of-4 3pt., 3-of-3 FT), four rebounds, four assists, zero turnovers in 25 minutes.
Quick Hitters
• Michigan has yet to lose at home this season and has only lost two home games in the past two seasons combined, but that mark will face a huge test next Saturday as likely #1 Arizona comes to town as part of a home-and-home. With three losses already this season and the Big Ten season nearing, a win next weekend would be huge. The Wolverines have a whole week to prepare while Arizona still has to play tonight and will also play next Wednesday before traveling to Ann Arbor.
• Zak Irvin continues to round into form with a solid 14-point effort today on 5-of-7 field goals (3-of-5 3pt.). Beilein noted after the game that Irvin is doing a lot of things very well but is learning on the fly and still has a ways to go. Irvin is clearly a very talented player and has the ability to take it to the rack, but he is being a little more passive early on in his career and for now is a pretty one-dimensional threat. Fellow freshman Derrick Walton, Jr. also had a quiet but good 14 points on 3-of-3 three-pointers to go along with three assists, a steal, and two turnovers.
• Michigan's free throw shooting is finally coming around, as the Wolverines have made better than 75 percent of their freebies in each of their past four games after struggling out of the gates to start the year. Jordan Morgan entered today's game 4-of-4 from the line but missed both of his attempts. No other player missed more than one free throw today as Michigan combined to shoot 76 percent (19-of-25) from the line today.
Final Game Stats

#

Name

FG-FGA

3FG-3FGA

FT-FTA

OR

DR

TOT

PF

TP

A

TO

BLK

S

MIN

01
Glenn Robinson III*
6-9
2-4
3-3
2
2
4
0
17
4
0
0
0
25
10
Derrick Walton Jr.*
3-3
3-3
5-6
0
1
1
2
14
3
2
0
1
22
11
Nik Stauskas*
7-11
6-9
5-5
1
1
2
0
25
4
1
1
0
28
04
Mitch McGary*
5-7
0-0
2-3
1
8
9
2
12
6
2
1
4
23
23
Caris LeVert*
1-4
0-2
2-2
0
0
0
2
4
1
1
1
2
26
02
Spike Albrecht
1-1
1-1
0-0
0
2
2
1
3
6
0
1
0
18
05
Andrew Dakich
1-2
1-1
0-0
0
1
1
0
3
0
0
0
0
3
12
Cole McConnell
0-1
0-1
1-2
0
1
1
0
1
0
0
0
0
3
14
Brad Anlauf
0-0
0-0
0-0
0
0
0
0
0
1
0
0
0
3
10
Jon Horford
3-6
0-0
0-0
2
4
6
0
6
0
0
0
0
11
20
Sean Lonergan
0-1
0-0
0-0
0
0
0
0
0
0
0
0
0
3
21
Zak Irvin
5-7
3-5
1-2
0
1
1
0
14
1
0
0
1
20
44
Max Bielfeldt
2-2
0-0
0-0
0
0
0
2
4
0
0
0
0
6
52
Jordan Morgan
2-2
0-0
2-2
0
1
1
0
4
0
1
0
0
9
Totals
36-56
16-26
19-25
8
25
33
9
107
26
7
4
8
200
Houston Baptist
23-59
4-17
3-4
12
14
26
20
53
10
16
2
3
200

Full Stats