---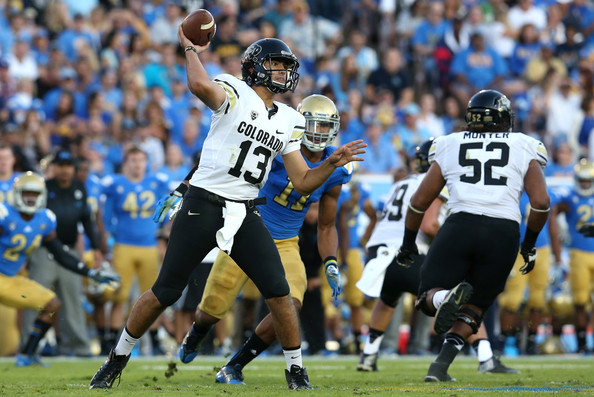 (Stephen Dunn, Getty Images)
Over the past couple of weeks we have previewed Michigan's first two opponents, Hawaii and UCF. Today we close out our non-conference opponent preview with Michigan's third opponent, the Colorado Buffaloes.
Schedule
Date
Opponent
Sept. 2
at Colorado State
Sept. 10
Idaho State
Sept. 17
at Michigan
Sept. 24
at Oregon
Oct. 1
Oregon State
Oct. 8
at USC
Oct. 15
Arizona State
Oct. 22
at Stanford
Nov. 3
UCLA
Nov. 12
at Arizona
Nov. 19
Washington State
Nov. 26
Utah
While Hawaii and UCF play in lesser conferences — the Mountain West and American Athletic Conference, respectively — Colorado is a member of the Power 5 conference the Pac-12. And the Buffaloes had the best 2015 record of the three, but that's not saying much since it was just 4-9 overall and 1-8 in the conference.
Head coach Mike MacIntyre faces an important season if he wants to remain in Boulder beyond 2016. He inherited a team that went just 1-11 in 2012 and turned out four wins in his first season. But he regressed to 2-10 in 2014, and turned in the program's the first winless conference record since 1915. Last season, Colorado doubled its 2014 win total with a 4-9 record, but that still means that he has only treaded water in his first three seasons at the helm. And that also means that Colorado has as many wins in the past four years combined — including Jim Embree's final season — as Jim Harbaugh had in his first season at Michigan.
MacIntyre faced adversity last season, losing several key players to injuries, but with 76 percent of last year's offensive production and 81 percent of last year's defensive production returning this fall, the Buffaloes are one of the most experienced teams on Michigan's schedule.
The once proud Colorado program has suffered 10 straight losing seasons since the successful Gary Barnett era concluded in 2005. Barnett guided the Buffaloes to a 10-3 season in 2001 and won the Pac-12 North in four of his five seasons. But since Dan Hawkins took over in 2006, they have finished no better than third in the North and have amassed a record of 35-88 overall and 17-68 in the Pac-12.
MacIntyre achieved a turnaround at his previous stop at San Jose State, where he inherited a 2-10 team, went 1-11 in his first season, improved to 5-7 in Year 2, and broke out with a 10-2 season in 2012, finishing the season ranked 24th in the BCS standings, AP Poll, and USA Today Coaches Poll. He hasn't been able to work the same magic in Boulder and it will very likely end with his dismissal later this fall if he can't turn it around in a hurry.
2015 National Rankings
Total Offense
Scoring Offense
Rushing Offense
Passing Offense

67

97

86

49

Offensive FEI
S&P+
Rushing S&P+
Passing S&P+

103

99

89

100
Projected Starters
Position
Name, Yr.
Ht, Wt
2015 Stats
QB
Sefo Liufau (Sr.)
6'4″, 230
214-344 (62.2%) for 2,418 yds, 9 TD, 6 INT
RB
Phillip Lindsay (Jr.)
5'8″, 190
140 rush for 653 yds (4.7 avg), 6 TD
WR
Kabion Ento (Jr.)
6'3″, 180
38 rec for 607 yds (16.0 avg), 8 TD*
WR
Shay Fields (Jr.)
5'11", 180
42 rec for 598 yds (14.2 avg), 4 TD
WR
Devin Ross (Jr.)
5'9″, 180
25 rec for 324 yds (13.0 avg), 2 TD
TE
Sean Irwin (Sr.)
6'3″, 250
15 rec for 248 yds (19.1 avg), 0 TD
LT
Jeromy Irwin (Jr.)
6'5″, 295
2 starts (13 career starts)
LG
Gerrad Kough (Jr.)
6'4″, 295
10 starts (12 career starts)
C
Alex Kelley (Sr.)
6'2″, 310
13 starts (25 career starts)
RG
Tim Lynott (RS Fr.)
6'3″, 300
Redshirted
RT
Sam Kronshage (Jr.)
6'6″, 295
6 starts (6 career starts)
*at East Central Community College
While Michigan's first two opponents feature offenses that ranked near the bottom nationally last season, Colorado's 2015 offense was slightly more respectable. The Buffaloes ranked 67th in total offense (396.8 yards per game), 97th in scoring (24.6 points per game), 86th in rushing (156.2 yards per game), and 49th in passing (240.6 yards per game). But advanced stats show that Colorado's offense was worse than it looked on paper. It ranked just 103rd in FEI, which measures an offense per possession based on the strength of opposing defenses faced. And that 49th ranked passing offense ranked 100th in S&P+, which measures a number of factors on a play-by-play basis. With a national average passing S&P+ rating at 100.0, Colorado's was 88.3, while Michigan's was 124.5 last season.
Co-offensive coordinators Darrin Chiaverini and Brian Lindgren have just four full-time starters returning, but they welcome a productive junior college transfer and get back a starting offensive lineman who missed all of 2015 due to injury.
Senior quarterback Sefo Liufau has 29 games of starting experience and 32 games of playing experience under his belt, which is far more than Michigan's starting candidates. However, he missed the final two games of 2015 and all of spring practice with a Lisfranc (foot) injury, so there's always the risk of either reinjury 0r not healing completely. Liufau nearly had stiff competition for the job when Texas Tech grad transfer Davis Webb originally chose the Buffaloes before ultimately landing at Cal, where he it didn't take long to be named the starter. But with the job firmly his, Liufau will look to build upon the 75 school records he currently holds.
Leading rusher Phillip Lindsay is back after rushing for 653 yards and six touchdowns a year ago. He shared the backfield with Christian Powell, who graduated, so that opens the door for others to step up. Junior Donovan Lee and Patrick Carr got more reps as the season went on — Carr rushed for 100 yards against UCLA — but Carr transferred following the season. Lee was actually the most productive back in limited carries, averaging 5.8 yards per carry. Junior Michael Adkins (5.0 yards per carry), junior H-back George Frazier (6-foot-2, 260), and freshman Beau Bisharat (a 247 Composite four-star who held offers from Oregon, Michigan State, Stanford, Nebraska, and others) will compete for carries.
The receiving corps suffered the biggest loss from last season in the form of graduating senior Nelson Spruce, who ranked second in the Pac-12 with 6.8 receptions per game and fifth with 81 yards per game, though he only found the end zone four times. The leading returning receiver is junior Shay Fields, who caught 42 passes for 598 yards and four scores. MacIntyre did add productive junior college receiver Kabion Ento from East Central (Miss.) Community College. Ento was a National Junior College Athletic Association first-team All-Region member after catching 38 passes for 607 yards and eight touchdowns. Four other pass catchers who caught at least one touchdown last season return, including junior Devin Ross, who ranked second on the team with two scores last season.
The offensive line returns three of last season's opening day starters, though left tackle Jeromy Irwin suffered a season-ending ACL injury in the second quarter of the second game. He's back to anchor the line after starting 11 games in 2014. The most experienced is senior center Alex Kelley, who has started 25 career games including all 13 a year ago. Left guard Gerrad Kough started 10 games last season while missing three with various injuries. The right side of the line is where the newcomers step in. While it's not completely set in stone just yet, redshirt freshman Tim Lynott and junior Sam Kronshage started with the ones in an open scrimmage two weeks ago. Kronshage started six games last season, three at left tackle and three at right tackle.
2015 National Rankings
Total Defense
Scoring Defense
Rushing Defense
Pass Efficiency D.

85

70

99

56
Defensive FEI
S&P
Rushing S&P
Passing S&P

68

93

95

72
Projected Starters
Position
Name, Yr.
Ht, Wt
2015 Stats
DE
Leo Jackson III (Jr.)
6'3″, 275
33 tackles, 2 TFL, 2 sacks, 1 FF
DT
Jordan Carrell (Sr.)
6'3″, 300
52 tackles, 8 TFL, 1 sack, 3 FF, 1 FR
DT
Josh Tupou (Sr.)
6'3″, 325
Redshirted
OLB
Derek McCartney (Jr.)
6'3″, 250
70 tackles, 10 TFL, 5 sacks, 1 FF
MLB
Addison Gillam (Jr.)
6'3″, 230
6 tackles
WLB
Rick Gamboa (RS So.)
6'0″, 230
96 tackles, 1 TFL, 1 sack, 3 PBU
OLB
Jimmie Gilbert (Sr.)
6'5″, 230
47 tackle, 8 TFL, 6 sacks, 1 FF
CB
Chidobe Awuzie (Sr.)
6'0″, 205
90 tackles, 13 TFL, 4 INT, 10 PBU
CB
Isaiah Oliver (So.)
6'1″, 190
19 tackles, 6 PBU
FS
Ryan Moeller (Jr.)
6'1″, 215
47 tackles, 1 TFL, 2 PBU, 1 FF
SS
Tedric Thompson (Sr.)
6'1″, 205
80 tackles, 5 TFL, 9 PBU
Colorado's defense was pretty comparable to its offense last season, ranking slightly below average nationally, but not quite in the 100s. It ranked 85th in total defense (416.9 yards per game), 70th in scoring defense (27.5 points per game), 99th against the run (198.7 yards per game), 59th against the pass (218.2 yards per game), 56th in pass efficiency defense (123.79), and 68th in defensive FEI (-.09), which measures defensive efficiency on a per possession basis, based on strength of opponent.
When Michigan defensive coordinator D.J. Durkin left for the Maryland head coaching position after just one season, one of the names that came up as his replacement was former USF head coach Jim Leavitt. Harbaugh, of course, hired Boston College's Don Brown instead, and Leavitt ended up in the same position at Colorado. In Boulder, he inherits a veteran defense that looks to take a step forward in his second season.
The defensive line has been a weakness the past few seasons, but has plenty of experience returning. Senior nose tackle Josh Tupou, who has started 31 career games, returns after redshirting in 2015 due to a violation of team rules. He was an honorable mention Freshman All-American in 2012 and honorable mention All-Pac-12 in 2014, so his return will be a welcome addition for Leavitt. He'll be joined on the line by senior tackle Jordan Carrell and junior end Leo Jackson III, who combined for 85 tackles, 10 for loss, and three sacks a year ago.
Like the defensive line and offensive line, the linebacking corps gets back a key piece that missed most of last season. Junior inside linebacker Addison Gillam started 10 games in 2014 and was a first-team Freshman All-American in 2013, but tore his meniscus in Week 2 last season. Weakside linebacker Rick Gamboa was the team's leading tackler as a redshirt freshman a year ago, while senior outside linebacker Jimmie Gilbert led the team with six sacks despite starting just three games. The other outside linebacker is junior Derek McCartney, who racked up 70 tackles, 10 for loss, and five sacks.
The secondary returns three starters including preseason Jim Thorpe Award candidate Chidobe Awuzie, who tallied 90 tackles and a team-high 10 pass breakups in 2015. He was a second-team All-Pac-12 performer and has 22 career pass breakups. The other corner is the lone new starter, sophomore Isaiah Oliver, who performed well as a true freshman last season. Both safeties return. Junior free safety Ryan Moeller and senior strong safety Tedric Thompson combined for 127 tackles, 6 for loss, and 11 pass breakups a year ago.
2015 National Rankings
Kick Returns
Punt Returns
Net Punting
ST Eff.

44

94

81

90

Kick Return D.
Punt Return D.
FG Efficiency
Opp Field Pos.

82

39

105

57
Projected Starters
Position
Name, Yr.
Ht, Wt
2015 Stats
K
Diego Gonzalez (Sr.)
6'0″, 215
18-of-29 (62.1%), Long 52
P
Alex Kinney (So.)
6'1″, 205
66 punts, 40.1 avg, 1 TB, 23 in-20
KR
Donovan Lee (Jr.)
5'9″, 180
22 ret, 24.5 avg
PR
Jay MacIntyre (So.)
5'10", 190
4 ret, 9.3 avg
Special teams was a bit lackluster for the Buffaloes last season, so MacIntyre brought in a pair of new coaches to oversee the unit. Former special teams coordinator Toby Neinas was dismissed and landed at Rutgers, and in his place step Daniel Da Prato and Matt Thompson. Da Prato was the special teams coordinator at Montana State the past three seasons, while Thompson was a private kicking instructor.
Senior kicker Diego Gonzalez made just 62.1 percent of his field goal attempts in his first season as the primary kicker last season, but he did show off a big leg with a long of 52. In fact, he went 2-of-3 from 50-plus yards. He struggled mightily from the left hash, making just 5-of-12, but made 13-of-17 everywhere else. Sophomore punter Alex Kinney ranked ninth in the Pac-12 with an average of 40.1 yards per punt as a true freshman.
It's a safe bet to assume Colorado will be better than last season's 4-9 record. But will that turn into wins against a tough schedule? And will it be enough for MacIntyre to keep his job? Colorado should win its first two games against Colorado State and Idaho State, but then it faces a grueling slate of at Michigan and Oregon in back to back weeks, home against Oregon State, at USC, home against Arizona State, at Stanford, and home against UCLA. Then they get a "breather" against Arizona and Washington State before finishing with Utah. It's hard to see more than four wins there, but if they can pull off five, MacIntyre deserves another year.
What it means for Michigan
Colorado will be the strongest of the three non-conference opponents Michigan faces and both teams should be 2-0 when the meet in Ann Arbor on Sept. 17. If Michigan hasn't shored up its quarterback situation by then, an experienced secondary could be a problem. But don't expect Colorado's offense to be able to put up enough points to legitimately give Michigan a scare. Michigan heads into Big Ten play at 3-0.