---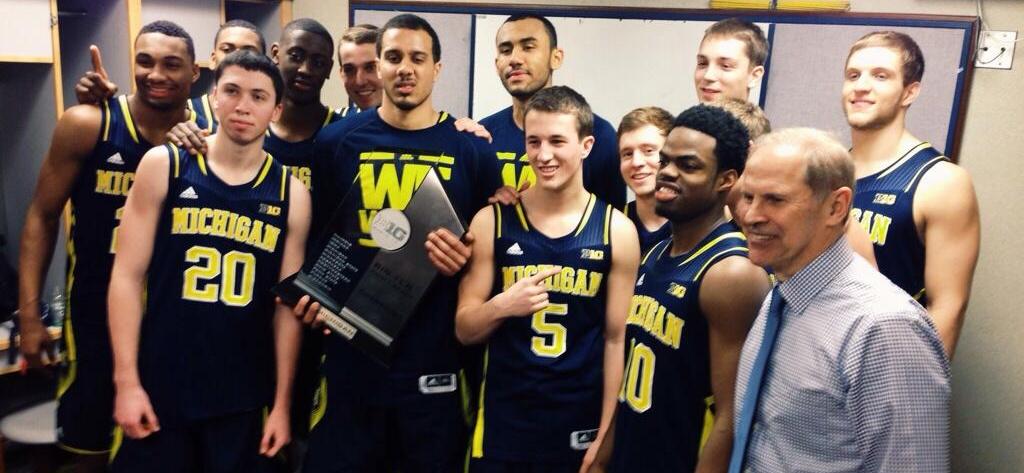 The Michigan basketball team entered last night's matchup at Assembly Hall in Champaign, Ill. with a monumental opportunity. Win the game, and the Big Ten championship was theirs and theirs alone for the first time since any player on this team was born — the first time since 1986, to be exact.
Win the game, and one of the biggest goals this team has had all season is reached.
Win the game, and the target on their back grows even bigger.
Illinois came into the game with reason to fight just as hard, however. After a brutal stretch of eight straight losses in January and February and 10 losses in 11 games, the Fighting Illini had finally started to right the ship with three straight wins – all over teams with a shot at dancing later this month and all by holding their opponents to fewer than 50 points.
A win over Michigan, and Illinois would have seven conference wins, 18 overall wins, and perhaps a shot at creeping their way back onto the tournament bubble.
That shot left the building about nine minutes after tip, just as Zak Irvin was drilling Michigan's fifth three of the night to put the Wolverines up by double digits. Illinois would cut the lead to fewer than 10 points only twice the rest of the night, and not once after Spike Albrecht rained down another three, Michigan's seventh of the night, at the 8:36 mark of the first half.
Michigan's lead ballooned to 19 points one minute later on a Michael Jordanesque breakaway, double-clutch dunk by Glenn Robinson III. And with a buzzer-beating, 32-foot three from Nik Stauskas – his fourth of the half and the team's 11th – the Maize and Blue held a 52-30 lead leaving Illinois wishing there was a mercy rule to be found somewhere in the rule books.
When more fireworks came to an end in the second half, the scoreboard, incredibly still functioning, read 84-53 in favor of the visitors — the Victors — and the outright 2013-14 Big Ten Champions.
The shooting discrepancy in this blowout was something for the ages. While Michigan merely tied a school record with 16 threes on the night – their last made with 2:23 to play and the walk-ons at the scorers' table – they did manage to hand Illinois their largest ever loss at Assembly Hall and outshoot the Illini by 58.5 percent from downtown.
Stauskas, perhaps preparing for the tournaments to come while reminiscing about Michigan's lopsided win over Florida in last year's tournament to make the Final Four, made a career-high seven three-pointers on just nine attempts and led all scorers with 24 points on the night. Three other Wolverines, Irvin, Albrecht, and Caris LeVert, hit at least two triples apiece and two more, Robinson III and Derrick Walton, Jr., added to the fun with one each.
After such an incredibly noncompetitive game that was so important to both teams, there's not much to say. Michigan was far and away the better team last night and seems to be separating itself from the rest of the pack. A one-seed is in the bag for the Big Ten Tournament starting next Thursday (with Michigan tipping off on Friday) and a two-seed in the Big Dance is a very real possibility with Syracuse and Creighton falling again last night.
If Michigan continues to shoot as well as they did in their Big Ten-clincher, the Wolverines simply cannot be beaten by anyone in March. Of course that's a big if, but I sure won't be the one to doubt this team's potential.
The narrative has been beaten to death, set on fire, and tossed into the dumpster, but I think it bears repeating one last time (okay, maybe it will come out again at the end of the year too.). Michigan, a team that lost the National Player of the Year and another first-round guard – both of whom left before their eligibility was up – from last year, and without an injured preseason All-American center, has wrapped up an outright Big Ten championship with relative ease. Oh, and with one of the youngest rosters in the country — the 17th youngest to be exact.
This season, this group of players, has been remarkable to watch, but remarkable is a word that's also been worn out by these Wolverines' accomplishments. I just can't find the words in my lexicon to put it any other way.
Michigan, once left for dead by the national media – not even given a chance at making the NCAA tournament – is Big Ten champs.
The transformation this team has made from early November to today is scary, and the successes have been nearly uncountable. But you know what's even scarier for the rest of college basketball? Perhaps the best is yet to come.
***Nik Stauskas***
24 points (8-of-11 FG, 7-of-9 3PT, 1-of-2 FT), two assists, two rebounds, zero turnovers in 31 minutes
**Caris LeVert**
15 points (5-of-9 FG, 2-of-3 3PT, 3-of-6 FT), four rebounds, one assist, one steal, two turnovers in 26 minutes
*Glenn Robinson III*
13 points (5-of-9 FG, 1-of-3 3PT, 2-of-2 FT), five rebounds (one offensive), one assist, two steals, two turnovers in 34 minutes
Caris LeVert is 3-0 vs. John Groce – the coach he first committed to at Ohio – winning by an average of 19.3 points.

— Drew Hallett (@DrewCHallett) March 5, 2014

• Jordan Morgan was taken out of the game at the 7:25 mark of the second half after suffering an apparent tailbone bruise while attempting to take a charge and did not return. The injury did not appear to be too serious, as the fifth-year senior remained on the bench and on a stationary bike throughout the night, but any missed time would be devastating to Michigan's next goals of winning the Big Ten Tournament, making the Final Four, and winning a national championship. Without Mitch McGary, Michigan has had to rely on Morgan and Jon Horford to split time down low, and the next remaining option, Max Bielfeldt, is not quite on the same level.
• With the win last night and a win over Indiana on Saturday, Michigan will have beaten every Big Ten team at least once in the same season for the first time since 1992 and would have 15 wins for the first time since 1993.
• In a game when rebounding was pretty much made worthless by Michigan's hyper-efficiency, Jon Horford came out with 10 boards (one offensive) for the first time since Michigan's win over South Carolina State on November 12.
• Trey Burke had a lot of fun watching and tweeting about the game last night and shared a couple observations:
Nik Stauskas is a NBA player now!

— Trey Burke (@Trey_Burke3) March 5, 2014
Stauskas= B1G POY

— Trey Burke (@Trey_Burke3) March 5, 2014
___________________________________________________________________________
Final Game Stats

#

Name

FG-FGA

3FG-3FGA

FT-FTA

OR

DR

TOT

PF

TP

A

TO

BLK

S

MIN

01
Glenn Robinson III*
5-9
1-3
2-2
1
4
5
1
13
1
2
0
2
34
10
Derrick Walton Jr.*
2-5
1-1
4-4
2
5
7
1
9
5
0
0
1
26
11
Nik Stauskas*
8-11
7-9
1-2
0
2
2
0
24
2
0
0
0
31
52
Jordan Morgan*
2-4
0-0
0-0
0
0
0
0
4
1
0
0
0
7
23
Caris LeVert*
5-9
2-3
3-6
0
4
4
3
15
1
2
0
1
26
02
Spike Albrecht
2-2
2-2
0-0
0
1
1
0
6
3
2
0
0
15
05
Andrew Dakich
0-0
0-0
0-0
0
0
0
1
0
0
0
0
0
2
14
Brad Anlauf
0-1
0-0
0-0
0
0
0
0
0
0
0
0
0
2
15
Jon Horford
1-3
0-0
0-0
1
9
10
2
2
1
0
1
0
28
20
Sean Lonergan
1-1
0-0
0-0
0
0
0
0
2
0
1
0
0
2
21
Zak Irvin
3-6
3-5
0-0
0
2
2
2
9
1
2
0
1
22
44
Max Bielfeldt
0-0
0-0
0-0
0
2
2
2
0
0
0
0
0
5
Totals
29-51
16-23
10-14
4
29
33
12
84
15
10
1
5
200
Illinois
20-52
2-18
11-16
5
18
23
14
53
7
8
0
4
200

Full Stats