---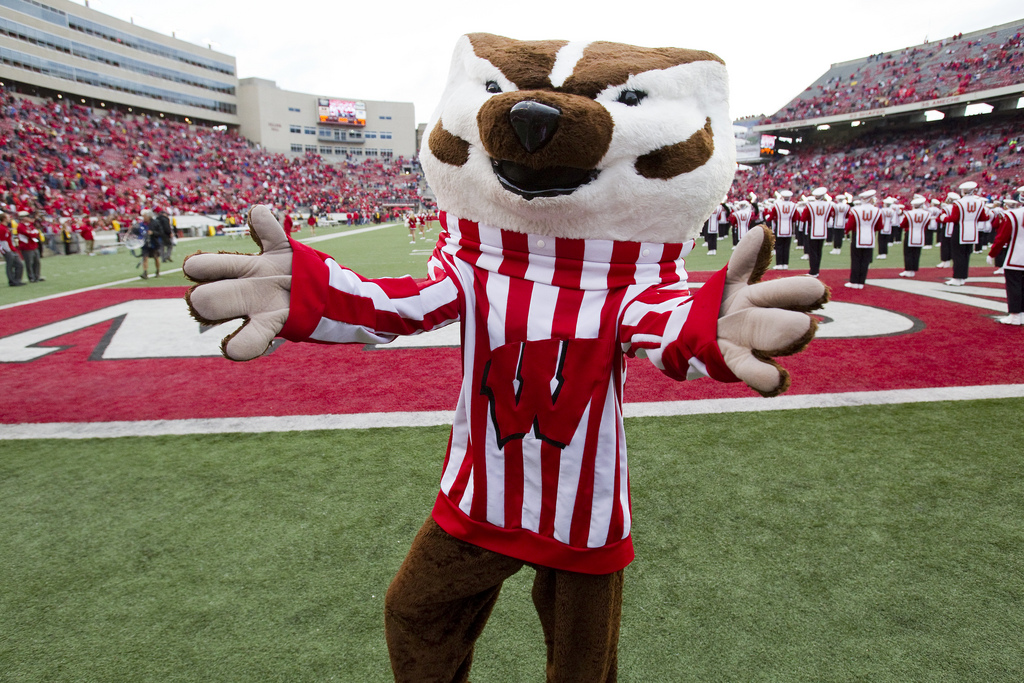 (David Stluka)
Michigan closed its three-game cupcake stretch with it third straight win, improving to 8-2 on the season and 5-2 in the Big Ten. The Wolverines outscored Rutgers, Minnesota, and Maryland 105-34 to stay within reach of at least a share of the Big Ten East. But it won't come easy as a pair of top-10 foes remain in Wisconsin and Ohio State. Michigan travels to Madison to face unbeaten Wisconsin this Saturday. Let's take a look at how the two teams compare through the first 10 games of the season.
Wisconsin & Michigan team stats comparison

Offense
Defense

Average

Rank

Average

Rank

Average

Rank

Average

Rank

36.3

24th

27.9

70th
PPG

13.4

3rd

16.4
9th

2,450

2,078

Rush Yds

815

1,103

245.0

18th

207.8

30th
Rush/Gm

81.5

1st

110.3
9th

5.2

4.9

Rush Avg

2.8

3.3

1,881

1,652

Pass Yds

1,661

1,445

188.1

95th

165.2

111th
Pass/Gm

166.1

7th

144.5
2nd

4,331

3,730

Total Off.

2,476

2,548

433.1

37th

373.0

94th
Total Off./Gm

247.6

1st

254.8
3rd

21.9

52nd

19.6

99th
KR Avg

18.7

29th

15.6
3rd

6.0

84th

8.2

54th
PR Avg

6.2

51st

7.1
63rd

35:46

2nd

32:25

18th
Avg TOP

24:14

27:35
52%

1st

33%

112th
3rd Down%

29%

10th

24%
1st
14-76

23rd

27-187

104th
Sacks-Yds

35-261

4th

33-233
5th

47

34

TDs

14

20

10-12 (83%)

14-19 (74%)

FG-ATT

12-15 (80%)

8-13 (62%)

40-47 (85%)

61st

29-33 (88%)

39th
Red Zone

19-27 (70%)

7th

19-23 (83%)
60th
32-47 (68%)

18-33 (55%)

 RZ TD

8-27 (30%)

14-23 (61%)

2.78

28th

2.31
52nd
OFEI/DFEI

1.13

6th

1.40
15th

31.9

35th

28.9
53rd
S&P+

14.2

1st

18.2
6th
If you like defensive football this game is for you. Wisconsin and Michigan both rank in the top two or three in every defensive statistic in the Big Ten and in the top ten nationally. But the Badgers also feature a pretty good offense, better than Michigan's and much better than the offenses Michigan has faced the past few weeks.
When the next College Football Playoff rankings come out on Tuesday Wisconsin will present an interesting case study. They're one of only four unbeaten teams remaining — along with Alabama, Miami, and UCF — but have played one of the worst schedules in the country. This past Saturday's 38-14 win over Iowa was the first time they've played a ranked team this season, and Iowa is now 6-4 and only ranked because they applied the Kinnick Stadium at night curse on Ohio State a week ago.
Wisconsin's non-conference schedule featured Utah State, Florida Atlantic, and BYU, who have gone a combined 15-16 so far this season. Then the Badgers opened Big Ten play with Northwestern, Nebraska, Purdue, Maryland, Illinois, and Indiana before hosting Iowa. In other words, they get to skip the gauntlet that the teams in the East Division have had to endure, facing only Michigan and skipping Ohio State, Penn State, and Michigan State completely.
Do the Badgers deserve to be ranked in the top four come Tuesday? By record, yes. But one could easily argue that if they had played the schedule of a team in the East Division, they would likely have at least one if not two losses. Time will tell as they host Michigan this Saturday and then will get to face the East champion in the Big Ten championship game two weeks later.
Like a typical Wisconsin team, the Badgers get it done with their defense and their running game. The running game ranks second in the Big Ten and 18th nationally, averaging 245 yards per game. Their lowest rushing output of the season was 109 yards against Northwestern's 7th-ranked rush defense, which gives hope that Michigan's 9th-ranked rush defense can hold them in check. The Badgers have topped 200 yards rushing in eight of 10 contests and have topped 300 yards twice — a 357-yard performance against Florida Atlantic and 353 yards against Nebraska. Illinois was the only other defense to hold them below 200.
The passing game, however, is more like Michigan's, ranking 10th in the Big Ten and 95th nationally with an average of 188.1 yards per game. Wisconsin has topped 200 yards passing four times this season, but has done so only once since Week 3. In their last seven games they're averaging 167.7 passing yards per game, which is right about Michigan's average. In their last three, the average is down to just 146.7. Michigan has the nation's second-best pass defense, giving up just 144.5 yards per game through the air, and with Wisconsin's leading receiver, Quintez Cephus, out for the year, that bodes well for the Wolverines.
Defensively, Wisconsin is the best in the nation, statistically at least. The Badgers rank 1st in the Big Ten and 3rd nationally in scoring defense (13.4 points per game), 1st and 1st in rush defense (81.5 yards per game), 2nd and 7th in pass defense (166.1 yards per game), and 1st and 1st in total defense (247.6 yards per game).
Only four opponents have topped 100 rushing yards against Wisconsin this season. Maryland had the most success with 143 yards on 4.1 yards per carry. Illinois had 134 yards on 4.1. But Wisconsin has shut down its last two opponents, holding Indiana and Iowa to a combined 65 yards on 47 carries (1.4 yards per carry). Now, before you get too worried, both of those running games rank in the 100s nationally and 10th and 11th in the conference.
Wisconsin's pass defense hasn't allowed more than 271 yards in a game this season. Six of ten opponents have thrown for 155 yards or fewer including Iowa, who passed for just 41 yards last week.
Clearly, Wisconsin is one of the best teams Michigan has faced all season, at least statistically. Just how good the Badgers are remains to be seen given the strength of their schedule. But the same can be said for Michigan, who has lost to the only two good teams they've played. Michigan can win, but it will take a complete performance to do so.