Posts Tagged 'Mike McCray'
---
Now that Michigan's season has drawn to a close, the second season has ramped up  to full steam. Recruiting is pretty much non-stop these days, but now that the coaching staff is able to devote the vast majority of its time to pulling in the best class possible, it's a frantic race for the Feb. 6 finish line. That's the day of National Signing Day, when all letters of intent have to be signed and submitted and become binding. But before we get there, several All-American games exist to showcase the top talent on the national stage. Some of the players are already committed, while some choose to make their announcements live on national television during the game. Still others opt to wait until National Signing Day to pledge their commitments. Here's a look at the games and the current Michigan commitments that will be playing in them, as well as the targets that Brady Hoke's staff hopes to lock in within the next month.
Friday, Jan. 4, 2013 | 5pm EST
Under Armour All-America Game | St. Petersburg, Fla. | ESPN
The Under Armour All-America Game is ESPN's version and features the Black (Highlight) team and the White (Nitro) team. Team Highlight is coached by former NFL head coach Herm Edwards, while Team Nitro is coached by Steve Mariucci.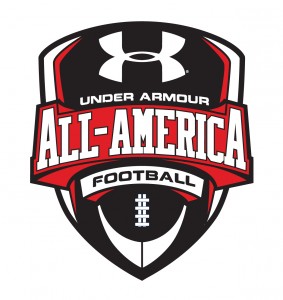 Current Michigan commits:
#9 – LB – Mike McCray II (White)
#12 – QB – Shane Morris (White)
#17 – DT – Henry Poggi (White)*
#55 – OG – David Dawson (White)*
#57 – OG – Patrick Kugler (White)*
#72 – OT – Logan Tulley-Tillman (White)
*denotes starters
Michigan targets:
#22 – S – Leon McQuay III (Black)
#1 – WR – Sebastian LaRue (White)
#4 – WR – Laquon Treadwell (White)
#78 – OT – Cameron Hunt (White)
Other notables:
#3 – WR – Alvin Bailey (Black) – Former Michigan target, committed to Florida
#32 – RB – Ty Isaac (White) – Former Michigan target, USC commit
Rivals:
#6 – CB – Cam Burrows (White) – Ohio State commit
#7 – ATH – Jalin Marshall (White) – Ohio State commit
#7 – CB – Gareon Conley (White) – Ohio State commit, former Michigan commit
#8 – TE – Marcus Baugh (White) – Ohio State commit
#97 – DT –  Joey Bosa (White) – Ohio State commit
#34 – LB – Alex Anzalone (Black) – Notre Dame commit, former Ohio State commit
#60 – OT – Colin McGovern (Black) – Notre Dame commit
#70 – OT – Hunter Bivin (Black) – Notre Dame commit
#32 – LB – Trey Johnson (White) – Announcing commitment to either Ohio State, Florida, or Tennessee
As you can see, Team Nitro (White) has the majority of the players relevant to Michigan, so that's the team to pay the most attention to. Of the uncommitted targets, Michigan isn't in great position for any of them. McQuay was at the Wolverines' Outback Bowl practice, but had this to say about where Michigan stands. He will make his decision known during the game. LaRue is an interesting one since he was committed to USC, but just decommitted. He reportedly wants to hear more from Michigan and has formed a bond with current Michigan commit Mike McCray. Hunt, a Cal commit, recently announced that he's re-opening his recruitment and was offered by Michigan, but that was before David Dawson re-committed to the Wolverines, so it's unclear as to whether the staff would take another offensive lineman. Treadwell seems extremely unlikely at this point. He favors Ole Miss, Oklahoma, and Oklahoma State, but with recruiting, you never know.
___________________________________________________________________________________
Friday, Jan. 4, 2013 | 9pm EST
Semper Fidelis All-American Bowl | Carson, Ca. | NFL Network
The Semper Fidelis All-American Bowl is considered the third-best of this weekend's All-America games and is the Marine Corps' version of the U.S. Army All-American Bowl.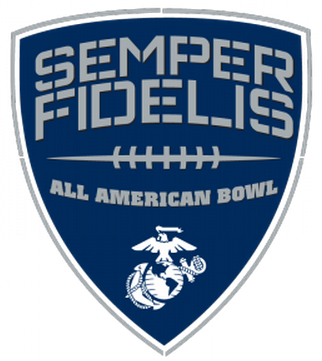 Current Michigan commits:
CB – Ross Douglass (East)
DT – Maurice Hurst, Jr. (East)
* Kyle Bosch and Taco Charlton chose not to play due to enrolling early at Michigan
Rivals:
DB – Devin Butler (East) – Notre Dame
WR – William Fuller (East) – Notre Dame
OT – Mike McGlinchey (East) – Notre Dame
QB – Malik Zaire (East) – Notre Dame
CB – Cole Luke (West) – Notre Dame
RB – Khalfani Muhammad (West) – Notre Dame
___________________________________________________________________________________
Saturday, Jan. 5, 2013 | 1pm EST
U.S. Army All-American Bowl | San Antonio, Texas | NBC
The U.S. Army All-American Bowl is traditionally considered the nation's premier high school all-star game and is in its 13th year. It has featured eventual Heisman Trophy winners and more than 200 eventual NFL players. This year, the West team will wear yellow and the East team will wear black.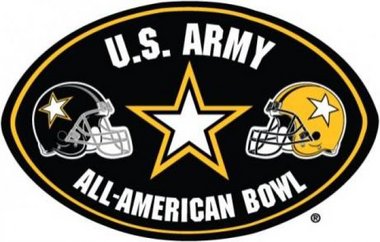 Current Michigan commits:
#87 – TE – Jake Butt (East)
#73 – OL – Chris Fox (West)
#27 – DB – Jourdan Lewis (West)
#14 – DB – Dymonte Thomas (East)
Michigan targets:
#27 – RB – Derrick Green (East)
Other notables:
#5 – DB – Kendall Fuller – Former Michigan target, Virginia Tech commit
#10 – LB – E.J. Levenberry – Former Michigan target, Florida State commit
#21 – S – Su'a Cravens – Former Michigan target, USC commit
Rivals:
#24 – RB – Ezekiel Elliott – Ohio State commit
#9 – CB – Eli Apple (East) – Ohio State commit
#35 – K – Johnny Townsend (East) – Ohio State commit
#69 – OT – Evan Lisle (East) – Ohio State commit
#76 – DT – Michael Hill (East) – Ohio State commit
#72 – OT – Steve Elmer (West) – Notre Dame commit
#1 – RB – Greg Bryant (East) – Notre Dame commit
#74 – OL – John Montelus (East) – Notre Dame commit
#26 – LB – Doug Randolph (East) – Notre Dame commit
#88 – WR – Corey Robinson (West) – Notre Dame commit
#9 – LB – Jaylon Smith (West) – Notre Dame commit
#44 – LB – Mike Mitchell (West) – Announcing commitment to either Ohio State, Oregon, or Texas A&M
#17 – WR – James Quick (East) – Announcing commitment to either Ohio State or Louisville
Unlike the Under Armour game, Michigan's four commits playing in this one are split between the two teams. Derrick Green is the big one to watch since he is reportedly leaning towards Michigan. He fueled speculation on Wednesday by posing for a photo with the four Michigan commits and then went on a Rivals chat and said Michigan does hold a slight lead. Ohio State and Notre Dame both have a number of commits playing in the game as well, and there are a couple that are making their announcements live during the game and have Ohio State among their finalists.
___________________________________________________________________________________
Another thing you may notice is the complete lack of Michigan State prospects on the rosters for these three games. Of the Spartans' 15 current commits, only two are rated four stars by Rivals and the rest are three stars.
---
Apparently you can't congratulate a friend on twitter…
For us fans, bloggers and media-types, Twitter is a valuable way to learn real-time news and connect with the athletes we all watch. But for those athletes and other celebrities, it's a terrible invention that always seems to create controversy and get them in trouble. The rise and popularity of Twitter over the last couple of years has necessitated the NCAA adding social media bylaws into its recruiting rules, one of which was apparently broken by Roy Roundtree last night.

Roundtree tweeted the above congrats to Trotwood, Ohio linebacker Mike McCray who verbally committed to Michigan yesterday. Roundtree also attended Trotwood, and while he was not in high school at the same time as McCray, it's highly likely he knew him from his association with the program over the last few years. Nevertheless, it's considered a secondary NCAA violation.
While not a huge deal in and of itself – secondary violations of this sort happen all the time at every school – Michigan needs to tread lightly considering the probation brought on by Rich Rodriguez's practice violations.
The exact same situation occurred last week when Notre Dame tight end Tyler Eifert tweeted a potential recruit, but an NCAA spokesman told the Chicago Tribune that those types of violations are considered "isolated" and "inadvertent."
It's a trivial rule, especially when a kid is congratulating another kid for making a big life decision, but the NCAA obviously feels that it has to police the public thoughts of college kids. I have no problem with Roundtree's case, but Twitter is a problem in the case of recruits such as Yuri Wright and others.
Don't trash talk through Twitter to counter someone who says he's tougher than you…
Michigan center David Molk set off a minor fire storm last week with some comments made to the AnnArbor.com about his NFL Draft stock. Molk took offense to NFL Network analyst Mike Mayock, who said Molk is a "finesse" player and that will hurt his draft stock.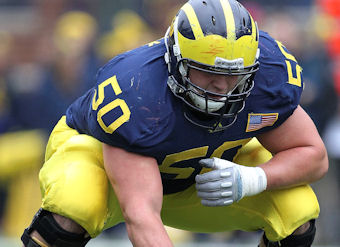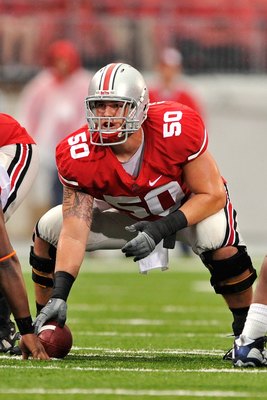 One of these guys was the Rimington Award winner
"He never played against me," Molk said. "I don't think a finesse player has ever had defensive linemen quit during a game; quit and give up because you're hurting them. I don't think a finesse player has ever done what I do, which is just ground kids out of the hole."
Mayock might do well to remember Molk's Sugar Bowl performance, essentially playing on one leg after hurting a foot in pregame. He can also reportedly squat over 700 pounds and bench close to 500. That's one tough and strong SOB. He probably won't get drafted in the first three rounds, but it won't be because he's a finesse player.
But that wasn't the only thing that ticked Molk off. He also said that he didn't like that Wisconsin center Peter Konz was ranked ahead of him and was a first-team All-American. He says that he's better than both Konz and Ohio State center Mike Brewster.
"I have skills he (Konz) doesn't have," Molk said. "Obviously my strength is far better, I'm faster, I would say I'm smarter. Obviously, he's an intelligent person, I've talked to him, but I just think I have a technique that's unmatched (by him)."
About Brewster, he added, "He's nowhere near me as a player."
Brewster took offense to the comment and tweeted "If they are talking then you are doing something right. And Molk, keep my name out of your mouth…"
Molk knows first hand how much better he is than Brewster. Molk's teammate, defensive tackle Mike Martin, dominated Brewster in Senior Bowl practices. The numbers at the NFL Combine didn't hurt Molk's case either. Molk ranked second among all players with 41 bench press reps, compared to Brewster's 29 and Konz's 18.
Molk may end up getting drafted below both Konz and Brewster, but one thing is for sure: whichever team does draft Molk will be getting a steal. You really can't fault a guy for being confident in himself, especially an offensive lineman where a mean streak is often appreciated.
Stealing our thunder is like stealing credit cards…
As everybody knows, Michigan is tri-Big Ten champions with rivals Michigan State and Ohio State. It took rooting for Ohio State on Sunday afternoon and a heroic effort by Buckeye senior William Buford to send Michigan into a frenzy for capturing a share of its first title in 26 years.
That is pure joy, pure exuberance by a group of underdog college kids ending a two-and-a-half decade drought, accomplishing the main goal it set out to achieve. But that didn't stop ESPN's Doug Gottlieb from raining on their parade. On his radio show on Monday, he criticized Michigan's share of the title because the Wolverines didn't play Wisconsin twice.
He does have a point that, in a perfect world, all teams in a conference should play the same in-conference schedule, but he's off base in saying that because Michigan didn't play Wisconsin twice it didn't deserve a share of the title.
Michigan beat Wisconsin by 18 in its one meeting in Ann Arbor and Wisconsin went an unusual 5-3 at home in conference play, losing to Michigan State, Ohio State, and Iowa. Michigan went 4-4 on the road in Big Ten play – the same as Michigan State – so a Wisconsin win would be far from certain. On the other hand, Michigan's other one-play teams were Iowa, who it lost to on the road, Nebraska, who it beat by 16 on the road, and Minnesota.
Michigan State didn't have to play Illinois or Northwestern twice – two teams it lost to in its only meeting – as well as Iowa and Penn State. Ohio State didn't have to play at Purdue, who it barely beat at home, or Iowa, Minnesota, or Penn State.
Obviously, each of the three missed out on potential losses by not playing an equal schedule, but that's the conference's fault, not Michigan's. At the end of the day, the banner will be raised, the year 2011-12 will be added to the record books, and the 16 members of the Michigan basketball team will go on as Big Ten champions regardless of what an ESPN talking head says.
No sleep til Brooklyn…
Michigan and West Virginia agreed to a basketball game in the new Barclay Center in Brooklyn, New York next season as part of the Brooklyn Hoops Winter Festival. It's the only game not featuring a regional team – the others being Princeton vs. Fordham, Long Island vs. Seton Hall, and Manhattan vs. South Carolina.
This is definitely intriguing for multiple reasons, the obvious being John Beilein's first matchup against his former school. Beilein put West Virginia basketball on the map, taking the Mountaneers to the Elite 8 in 2005, falling to Louisville in overtime.
Secondly, Michigan has a huge alumni and fan base in greater New York city and this will give them a chance to see the Wolverines in action. The only other opportunities are when Michigan plays in either the preseason or postseason NIT, the last being the 2008-09* season when Michigan beat UCLA and lost to Duke in Madison Square Garden.
Finally, it will be a good opportunity for Michigan to play a quality non-conference opponent on a national stage. There will be plenty of fanfare about the new arena, which is bringing the NBA's New Jersey Nets to Brooklyn, and a Michigan win on that stage would only help with recruiting.
As mentioned above, Michigan got its 14th verbal commitment yesterday when Trotwood, Ohio linebacker Mike McCray revealed his intentions to play for Brady Hoke and co. McCray is a four-star, currently rated the 44th-best overall player by Rivals. You might remember Trotwood as being where some guys named Roy Roundtree, Michael Shaw, and Brandon Moore hail from. It's a perennial power in western Ohio and Michigan is building itself quite the pipeline.
Michigan now has five commits from Ohio for the 2013 class, four of them currently rated four stars. Add those to the nine incoming freshmen from Ohio and one has to wonder what Jim Tressel is thinking right now, watching guys who he used to have in his pocket fleeing the state for "that school up north."
The recruiting surge over the last month has been unheard of and has everyone talking about Michigan. Even Michigan State fans are starting to fear the return of the big two and little eight (ten).
* Michigan did play two games in Atlantic City, N.J. last season, but that's not exactly in New York city.