---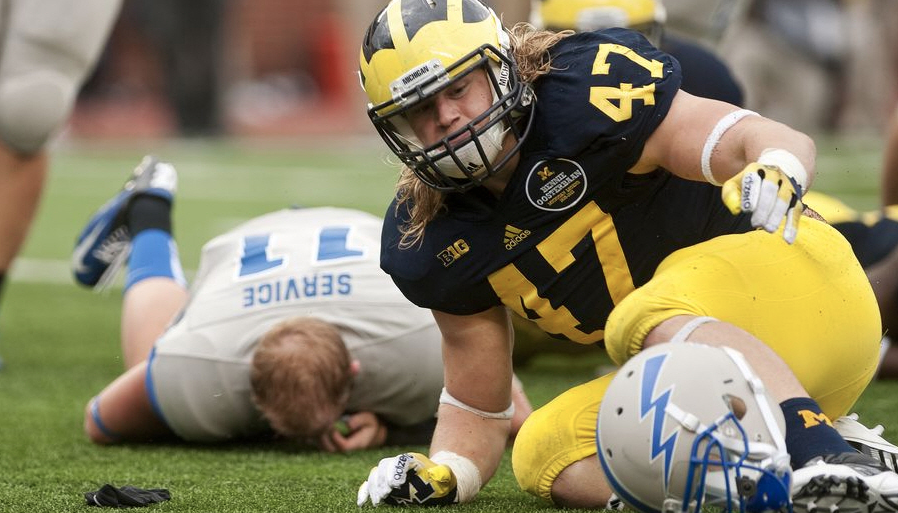 (Daniel Brenner, AnnArbor.com)
Today we continue our position preview and predictions series with the linebackers. For previous positions, see quarterbacks, running backs, wide receivers, offensive line, tight ends, and defensive line.
Wounded Warrior: Jake Ryan
Brady Hoke and his staff have had an extremely successful offseason. They brought in a second straight top-10 recruiting class, convinced star left tackle Taylor Lewan to return for his senior season and even found a way to force students to show up to games earlier. However productive the team has been since the Outback Bowl, the news that Jake Ryan had torn his ACL and would miss some of the 2013 season has lingered like a dark cloud over the optimism in Ann Arbor. Ryan, who is possibly the best player on the entire team, let alone the defense, is recovering quickly but doesn't figure to play for at least the first several games of the year.
When he is on the field, the redshirt junior has a knack for finding the ball. Ryan was a savior for the Michigan defense many times during the 2012 season, making open-field tackles to limit big gains. He is a versatile defender who can get pressure on the quarterback or stay back and cover his zone. Ryan was a nightmare for offenses in the backfield, recording 16 tackles for loss last year alone. While his ability to stuff the running back is impressive, what separates Ryan is his added ability to make the big play. He added 4 forced fumbles to his 4.5 sacks last year, and fans got used to seeing their long-haired leader celebrate flashy plays on a weekly basis.
It's unfair to expect Jake Ryan to be the type of player he was in 2012 immediately after his return from injury, but something about the fire and intensity he plays with gives Ann Arbor hope that he will. Ryan is the reliable defensive leader that Michigan couldn't afford to lose, and until he returns it will be a challenge for Greg Mattison to fill that hole.
Career Stats – Ryan

Year
Solo
Assisted
Total Tackles
Sacks
TFL
FF
FR
INT
2011
20
17
37
3.0
11.0
1
2
0
2012
56
32
88
4.5
16.0
4
1
0
Totals
76
49
125
7.5
27.0
5
3
0
Picking Up The Slack
Fortunately for the Wolverines, a couple of veteran linebackers are returning to the defense this season to help dull the pain of losing Ryan. The temporary leader of this unit will likely be redshirt senior Cam Gordon, who has played all over the field in his career. Gordon's time at safety makes him a very useful linebacker to have on the field against the pass. He converted to outside linebacker in the spring of 2011 after an incredible first season in which he recorded 77 tackles and picked off three passes. Since that great year, Gordon's career has hit a bit of a lull. A back injury in 2011 put his season on hold and he didn't appear in a game until week seven in East Lansing. Gordon could never really catch up after getting such a late start to the season, and played mostly on special teams finishing the season with just four tackles.
Last season similarly failed to live up to the standard that Gordon set for himself in his redshirt freshman year, but it was significantly better than the injury-riddled 2011. Gordon was a reserve linebacker and starred on kick coverage for the special teams. He finished the season with 17 tackles, including three of those for losses. If the linebackers are going to be an effective group without Ryan on the field, Gordon is going to have to be a playmaker like he was at safety in 2010.
Coaches are also expecting big things from junior Desmond Morgan. Morgan accepted the responsibility of being one of the defensive leaders on the team when he changed his number to 48 in honor of former Michigan legend Gerald Ford. Morgan, like Ryan (#47 for Bennie Oosterbaan) have earned the right to play with the Michigan Legends patch on their jersey. This season, Morgan will get a chance to prove his worth. He will be the lone returning starter to take the field at linebacker to open the season, and does so as one of the most productive defenders on the squad. Morgan fell just shy of leading the team in tackles last season with 81, which was seven less than the injured Ryan. The most impressive part about his tackle total is that he almost matched one of the best linebackers in the country, playing in only 11 games, missing two with an injury.
In 2013, Mattison will count on Morgan to be even more of a ball-magnet. The linebackers without Ryan aren't one of the stronger groups on the team, so a standout player like Morgan will be absolutely crucial until his return. The junior has dealt well with pressure in his young career at Michigan, notching a career-high 11 tackles in both the Ohio State and Michigan State games last season. If he continues to play his best football in the big games, he will find himself right next to Jake Ryan in the fans' hearts.
Career Stats – Gordon

Year
Solo
Assisted
Total Tackles
Sacks
TFL
FF
FR
INT
2010
40
37
77
0.0
3.5
0
2
3
2011
3
1
4
0.0
0.0
0
0
0
2012
13
4
17
0.0
3.0
0
0
0
Totals
56
42
98
0.0
6.5
0
2
3
Career Stats – Morgan

Year
Solo
Assisted
Total Tackles
Sacks
TFL
FF
FR
INT
2011
26
37
63
1.0
4.0
0
1
0
2012
41
40
81
0.5
5.5
0
0
0
Totals
67
77
144
1.5
9.5
0
1
0
Battle To Start
Gordon and Morgan will likely be starters at linebacker when the Wolverines take the field against Central Michigan on the last day of August. However, in Greg Mattison's 4-3 defense, there is one more spot up for grabs while Ryan recovers from injury. At this point, there are a few players that seem to have realistic shots to win that spot.
One of the nice surprises on defense last year was freshman James Ross III's play at linebacker. In 13 games, only two of those starts, Ross recorded 36 tackles, including 2.5 of them for losses. As a sophomore, Ross appears to be the early frontrunner to take over the third starting spot. When Desmond Morgan missed the UMass and Iowa games with an injury, it was Ross that the coaches called on to make the starts at linebacker. In that one Big Ten start, the fearless freshman lead the team in tackles with 12, which should be a major talking point while deciding the third starting linebacker in 2013.
Perhaps Ross's toughest competition for the starting spot is fellow 2012 ESPN.com All-Big Ten Freshman Team linebacker Joe Bolden. Though both players received this honor, along with being named to the BTN.com All-Big Ten Freshman Team, Ross gets a slight edge over his classmate because he was called on to make starts last season while Bolden played every game as a reserve. Though Bolden recorded five less tackles than Ross, he did spend a bit more time in the backfield. He had four tackles for losses on the year and a memorable 24-yard sack against UMass. The Cincinnati native will have every opportunity to earn big minutes in the upcoming season.
A third sophomore has an outside chance of starting, if he can have an exceptional camp. Royce Jenkins-Stone played 13 games on special teams last season, but only one at linebacker, the position he was recruited to play. The reason Jenkins-Stone has a chance to start is just because of pure ability. As a top-five linebacker recruit last season, the sophomore definitely has the talent to put on a show during practice and fight his way up the depth chart. If he doesn't win a starting job, expect Jenkins-Stone to contribute more as a reserve linebacker than he did last season.
After moving to linebacker this season, junior Brennen Beyer probably has a chance to start as well. Though the talented sophomore class will likely dominate the linebacker position during the rest of Beyer's Michigan career, coaches wouldn't have moved him from his former position at defensive end if they didn't believe he could get in the rotation. After playing as a reserve on the line, Beyer was moved to linebacker to help solidify the position this Spring. He is a big linebacker and would really strengthen the run-stopping ability if he wins the starting spot.
Career Stats – Ross III

Year
Solo
Assisted
Total Tackles
Sacks
TFL
FF
FR
INT
2012
21
15
36
0.5
2.5
0
0
0
Totals
21
15
36
0.5
2.5
0
0
0
Career Stats – Bolden

Year
Solo
Assisted
Total Tackles
Sacks
TFL
FF
FR
INT
2012
16
15
31
1.0
4.0
0
1
0
Totals
16
15
31
1.0
4.0
0
1
0
Career Stats – Jenkins-Stone

Year
Solo
Assisted
Total Tackles
Sacks
TFL
FF
FR
INT
2012
3
3
6
0
0
0
0
0
Totals
3
3
6
0
0
0
0
0
Career Stats – Beyer

Year
Solo
Assisted
Total Tackles
Sacks
TFL
FF
FR
INT
2011
5
6
11
0.0
0.0
0
0
0
2012
9
10
19
0.0
0.5
1
0
0
Totals
14
16
30
0.0
0.5
1
0
0
Fresh Faces
Hoke's 2013 recruiting class also brought in a couple for four-star linebackers to help this group. Mike McCray is a really strong player that is also solid fundamentally.  Athletically, there is room for improvement for this freshman, who would potentially be a better fit playing on the line because of his lack of outstanding speed or agility. That being said, the Ohio native was ranked highly as a linebacker in recruiting and will likely contribute to the team somehow this season; either on special teams or as a substitute on defense.
Fellow freshman Ben Gedeon will also battle to get in the rotation at linebacker, after being recruited as a linebacker out of high school. Gedeon also played running back and tight end before college, but was brought to Ann Arbor to play on the defensive side of the ball. His versatility will likely land him a spot on the special teams unit during his first season, but if he does see some time at linebacker, fans will fall in love with his old-school toughness and all-out mentality. Expect Gedeon to be one of the better defenders on the team before his time at Michigan ends.
Wrapping Up
Though there don't seem to be many standout players in the linebacker core after the injury to Jake Ryan, Hoke and Mattison have several young players that are seemingly ready to make a big difference on defense. A strong sophomore group will likely be the X-factor for this unit in 2013, as they battle for the final starting spot. Depth shouldn't be a problem with the linebackers, as eight or more players will likely contribute upon the return of Ryan.