---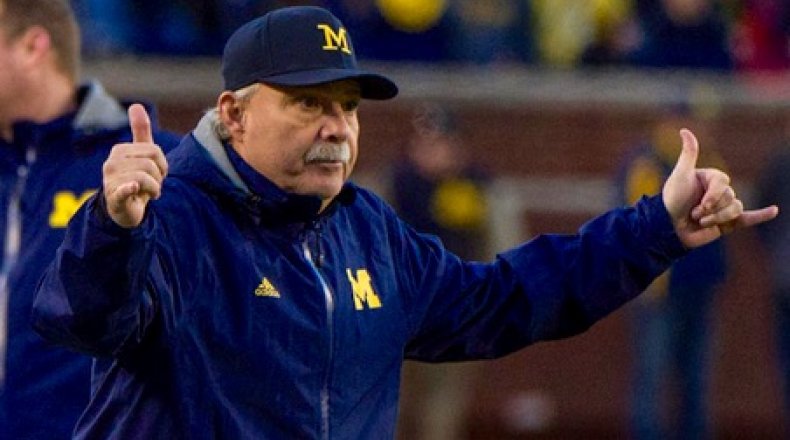 Yesterday we outlined how each team's returning offensive production compares throughout the Big Ten. Today, it's time to take a look at the defensive side of the ball and tie it all together.
A year ago, Ohio State returned the most defensive production with 74 percent of its 2014 tackles, tackles for loss, sacks, and takeaways back. It paid off as the Buckeyes finished third in the Big Ten in total defense and second in scoring defense. However, the team right behind them with 71 percent returning — Illinois– finished just ninth in total defense and eighth in scoring defense. The top two defenses in the conference, Wisconsin and Michigan, began the year with just 61 percent (seventh-most) and 63 percent (fifth-most) of their 2014 production returning.
Aside from Illinois, the teams with the most returning defensive production fared better than those with the least. The seven worst defenses in the conference were the same seven that returned the least from 2014.
Interestingly, the opposite was true the previous season. Maryland, Indiana, and Rutgers returned the most production from 2013, but produced three of the four worst defenses in the conference. Conversely, Iowa, Wisconsin, Michigan State, and Ohio State returned the lease production and turned out four of the top six defenses. So what does that tell us? (Shrug).
Let's take a look at what this season looks like.
Defense
Returning defense
Team
Percent Returning
2015 Total Defense Rating
Purdue
79%
110
Indiana
77%
120
Nebraska
69%
64
Michigan State
65%
26
Wisconsin
64%
2
Northwestern
63%
13
Iowa
63%
22
Minnesota
60%
24
Penn State
59%
14
Rutgers
59%
111
Michigan
54%
4
Maryland
52%
90
Ohio State
46%
9
Illinois
40%
30
Entering this season, two of the three worst defenses in the Big Ten a year ago return the most production by far. Purdue, which ranked 110th nationally in total defense and 111th in scoring defense, returns 79 percent including a whopping 88 percent of its tackles for loss and 83 percent of its sacks. Indiana, which ranked 120th in total defense and 116th in scoring defense, returns 77 percent including 80 percent of its total tackles and 19 of 22 takeaways. However, the Hoosiers do have to replace defensive end Nick Mangieri, who led the team in tackles for loss and sacks.
Nobody expects Purdue or Indiana to factor into the Big Ten race for obvious reasons, but the next few teams with the most returning defensive production certainly will. Nebraska returns 69 percent of its defense which ranked 64th nationally last season. Five of the top six tacklers return as do all but three takeaways. But the Cornhuskers ranked ahead of only Michigan in takeaways.
Michigan State (65 percent), Wisconsin (64 percent), Iowa (63 percent), and Northwestern (63 percent) were all ranked among the top 26 defenses in the country and return two-thirds of that production. Wisconsin has to replace linebacker Joe Schobert, who ranked second in the Big Ten with 19.5 tackles for loss and fourth with 9.5 sacks, and safety Tanner McEvoy, who ranked second in the conference with five interceptions and also added two fumble recoveries. Michigan State has to replace defensive end Shilique Calhoun's 10.5 sacks and 15 TFLs but returns four of its top five tacklers. Iowa lost tackles for loss leader, defensive end Nate Meier, and three of its top four tacklers but returns all but three of its 27 takeaways — a number that ranked second only to MSU's 28 a year ago. Northwestern returns leading tackler, linebacker Anthony Walker, who led the Big Ten in tackles for loss, but will have to make up for the loss of defensive end Deonte Gibson, its sack leader, and the next three leaders in TFLs.
Minnesota, Penn State, and Rutgers all return the same amount of production at 60, 59, and 59 percent, respectively, but one of these is not like the others. While Penn State's defense ranked 14th nationally and Minnesota's 24th, Rutgers' was near the bottom at 111th. Minnesota brings back 70 percent of its tackles for loss, but lost two of the top three tacklers. Penn State has work cut out in replacing end Carl Nassib and tackle Austin Johnson, who combined for 34.5 tackles for loss and 22 sacks. Rutgers, meanwhile, returns all but three of its sacks, though the Scarlet Knights ranked dead last in that category last season.
Michigan brings back 54 percent of its fourth-ranked defense but has to replace its top three tacklers, linebackers Joe Bolden and Desmond Morgan and safety Jarrod Wilson. But replacing tackles is much easier than replacing impact plays, and the Wolverines bring back three of their top four tackles for loss leaders and two of their top three sack leaders from 2015.
Maryland returns just over half of its 90th-ranked defense but lost linebacker Yannick Ngakoue and tackle Quinton Jefferson who were the Terps' top two leaders in tackles for loss and sacks.
Ohio State, which returns the least offensive production, returns the second least on the defensive side thanks to six NFL Draft picks from that side alone. But like on offense, the cupboard is far from bare. Defensive end Tyquan Lewis led the team with eight sacks and was second only to Joey Bosa in tackles for loss. Linebacker Raekwon McMillan is a tackling machine who ranked fourth in the Big Ten last season. And while end Sam Hubbard only recorded 28 total tackles, 8 of them were behind the line of scrimmage, including 6.5 sacks.
Finally, Illinois returns just 40 percent of its 2015 defensive production, the least of any team in the Big Ten since at least 2014 when we started tracking. The Illini were a very respectable 30th a year ago, but lost the conference's leading tackler, safety Clayton Fejedelem, as well as their next two leading tacklers. If there's a silver lining it's that 71 percent of their sacks are back, most notably linebacker Dawuane Smoot.
So what does it all mean? The following chart plots each team by both offensive and defensive production.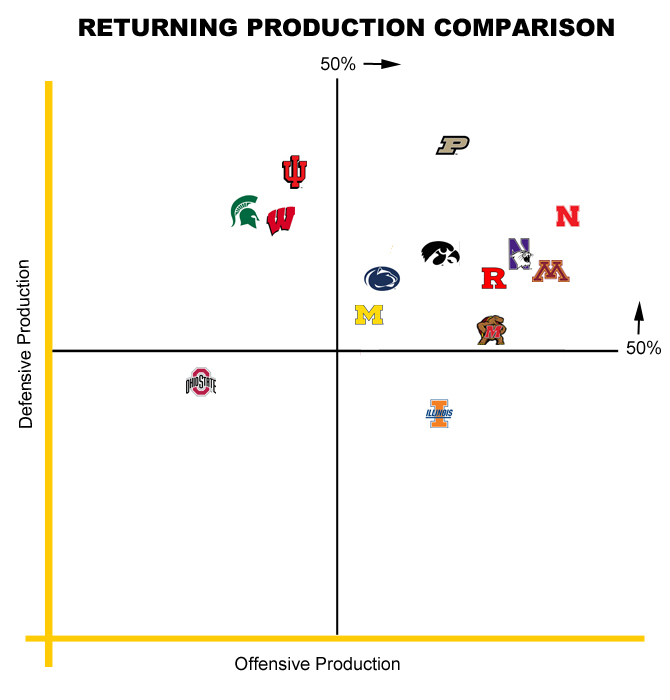 If the trend of the past two seasons continues there are two teams in ideal position to win the Big Ten, plotting very similarly to Ohio State in 2014 and Michigan State in 2015. One is Penn State and the other is Michigan. And while both have room for optimism heading into the season Michigan is better positioned for two reasons: the two biggest weaknesses — quarterback and linebacker — have been addressed.
First, Jim Harbaugh did wonders for Jake Rudock in a short time a year ago and now he gets the luxury of having a quarterback — whether it be John O'Korn or Wilton Speight — who already has more than a year of his tutelage to build on. Looking at Harbaugh's track record coaching quarterbacks, from Rich Gannon to Josh Johnson to Andrew Luck to Alex Smith and Colin Kaepernick and most recently Rudock, it's clear that he could essentially take a tackling dummy and turn it into a serviceable quarterback.
The second issue has been addressed by bringing in Don Brown, a.k.a. Dr. Blitz, to run the defense. He promptly moved the dynamic Jabrill Peppers to a hybrid linebacker position that perfectly complements Brown's scheme and Michigan's defensive strengths — the line and the secondary.
The biggest roadblock to Michigan's title hopes is its schedule that takes the Wolverines to East Lansing, Iowa City, and Columbus in a span of five weeks. The good news is that those all fall in the latter half of the season, after Michigan works out any kinks it may have at the start of the season.
Does this mean Michigan will win the Big Ten? Absolutely not. Since we just started tracking returning production in 2014, it's a very small sample size to draw any definitive conclusions from. And just because Michigan falls right within the returning production sweet spot that produced Big Ten champions each of the last two seasons it doesn't guarantee anything. After all, Rutgers and Minnesota were within that sweet spot last season as well. But it should at least provide a little extra dose of optimism for a Michigan team that already enters the season with plenty of it.