---

The first College Football Playoff rankings were released Tuesday and the Big Ten is well represented with five teams in the top 25.
Ohio State and Michigan State are firmly in the race for the final four with a potential play-in matchup in Columbus coming up later this month. Iowa, which can coast through the rest of its Big Ten West schedule, will need a win in the Big Ten Championship game to have a chance.
Michigan and Northwestern also made the top 25, though they won't be playing in the four-team playoff.
There were also five conference matchups with only one major upset in West Lafayette. Here's a look at how the Big Ten stacks up heading into Week 10.
1. Ohio State (8-0, 4-0) – 

Even

Last Week: Bye
This Week: Sat vs Minnesota (4-4, 1-3), 8pm, ABC
f the College Football Playoff started this week, Ohio State would represent the Big Ten as the No. 3 overall seed. The Buckeyes had a bye this weekend, but took a moral victory on Tuesday when the committee deemed them worthy of such a high ranking. Despite the 8-0 start, Ohio State's two best wins came over Penn State and Northern Illinois, which were both at home. But it wasn't a perfect week for Urban Meyer's team, which saw its starting quarterback arrested because he avoided a DUI checkpoint while driving drunk. What do you do when being the starting quarterback of the No. 1 ranked college football team in the country isn't enough? Apparently you crush a few beers and jump in a car. It was an incredibly stupid move by J.T. Barrett, who won't play in the team's next cupcake game against Minnesota. For a kid with a previously unblemished record, Barrett will have to work on regaining a leadership role on the team.
2. Michigan State (8-0, 4-0) – 

Even

Last Week: Bye
This Week: Sat at Nebraska (3-6, 1-4), 7pm, ESPN
The Spartans also enjoyed a week off in Week 9, sitting pretty with a perfect 8-0 record. The committee ranked MSU No. 7 in the first poll, likely because of close calls against Oregon, Purdue and Rutgers and a somewhat fortunate win over Michigan. But Michigan State still controls its own destiny. A pair of cupcakes separates the Spartans from an essential play-in game in Columbus on Nov. 21. If Mark Dantonio's group can knock off Ohio State, it'll be a win over Iowa away from a playoff berth.
3. Penn State (7-2, 4-1) – 

Up 1

Last Week: Beat Illinois 39-0
This Week: Sat at #21 NW (6-2, 2-2), 12pm, ESPNU
For the first time in three weeks, Penn State demonstrated just how well it can play when everything comes together. Christian Hackenberg completed 21 of 29 passes for 266 yards and two touchdowns and the Nittany Lions outgained Illinois 400-167. The only downer for Coach James Franklin was a pair of fumbles that kept the Fighting Illini within 50, but the defense's first shutout of the season has Penn State at 7-2 with games against three straight ranked opponents on the horizon.
4. Michigan (6-2, 3-1) – 

Down

 1

Last Week: Beat Minnesota 29-26
This Week: Sat vs Rutgers (3-5, 1-4), 3:30pm, BTN
Well, Michigan certainly didn't come out of the bye week in style. Fourteen days after having their hearts ripped out in a last-second loss to MSU, the Wolverines nearly lost the battle for the Little Brown Jug to a Minnesota team that looked heavily outmatched in Big Ten play. Mitch Leidner was a big play machine, passing for 317 yards and rushing for 37 more – finishing with two total touchdowns. Sophomore tight end Brandon Lingen torched the Michigan defense for 111 yards on the night. But the most concerning development for Michigan is a running game that has yet to show up for the Big Ten season. Pre-conference star De'Veon Smith was a nonfactor, picking up just 15 yards on nine carries. Only Drake Johnson, who gained 55 yards on 10 carries, could move the ball on the ground. Jake Rudock went 13 for 21 – for 140 yards, a touchdown and a pick – before being knocked out of the game on a missed target while sliding to the ground.
Luckily for the Wolverines, backup quarterback Wilton Speight completed four passes on the team's final drive to score a touchdown and a two-point conversion that eventually won the game. The defense put up its worst performance of the season – allowing 461 yards to a below-average offense – but made a big stop on a quarterback sneak from the half-yard line to escape with a victory. The Wolverines will try to bounce back Saturday, when they need to blow Rutgers right out of Ann Arbor to get back on track.
5. Rutgers (3-5, 1-4) – 

Up 

1

Last Week: Lost to Wisconsin 10-48
This Week: Sat at #17 Mich. (6-2, 3-1), 3:30pm, BTN
Rutgers scored as many points against Wisconsin as Iowa did, but the positive trends end there for the Scarlett Knights. Saturday marked their second straight loss by more than 30 points and the offense gained just 165 yards without star receiver Leonte Carroo. Kyle Flood's squad needs three wins in the final four weeks to qualify for a bowl game.
6. Indiana (4-4, 0-4) – 

Up 1

Last Week: Lost to #7 MSU 26-52
This Week: Sat vs #9 Iowa (8-0, 4-0), 3;30pm, ESPN
Saturday was the first time since the start of the Big Ten season that Indiana didn't lose in devastating fashion. Even though it was only a bye week, the Hoosiers didn't get blown out or collapse in the fourth quarter. Things will likely go back to normal Saturday against Iowa.
7. Maryland (2-6, 0-4) – 

Down 2

Last Week: Lost to #10 Iowa 15-31
This Week: Sat at Wisconsin (7-2, 4-1), 3:30pm, BTN
When you drop into the cellar of the Big Ten East, things really aren't going well. Maryland tried to hang around in Iowa Saturday, but Perry Hills threw three more picks and the Terrapins fell 31-15. Their bowl dreams will end Saturday against visiting Wisconsin.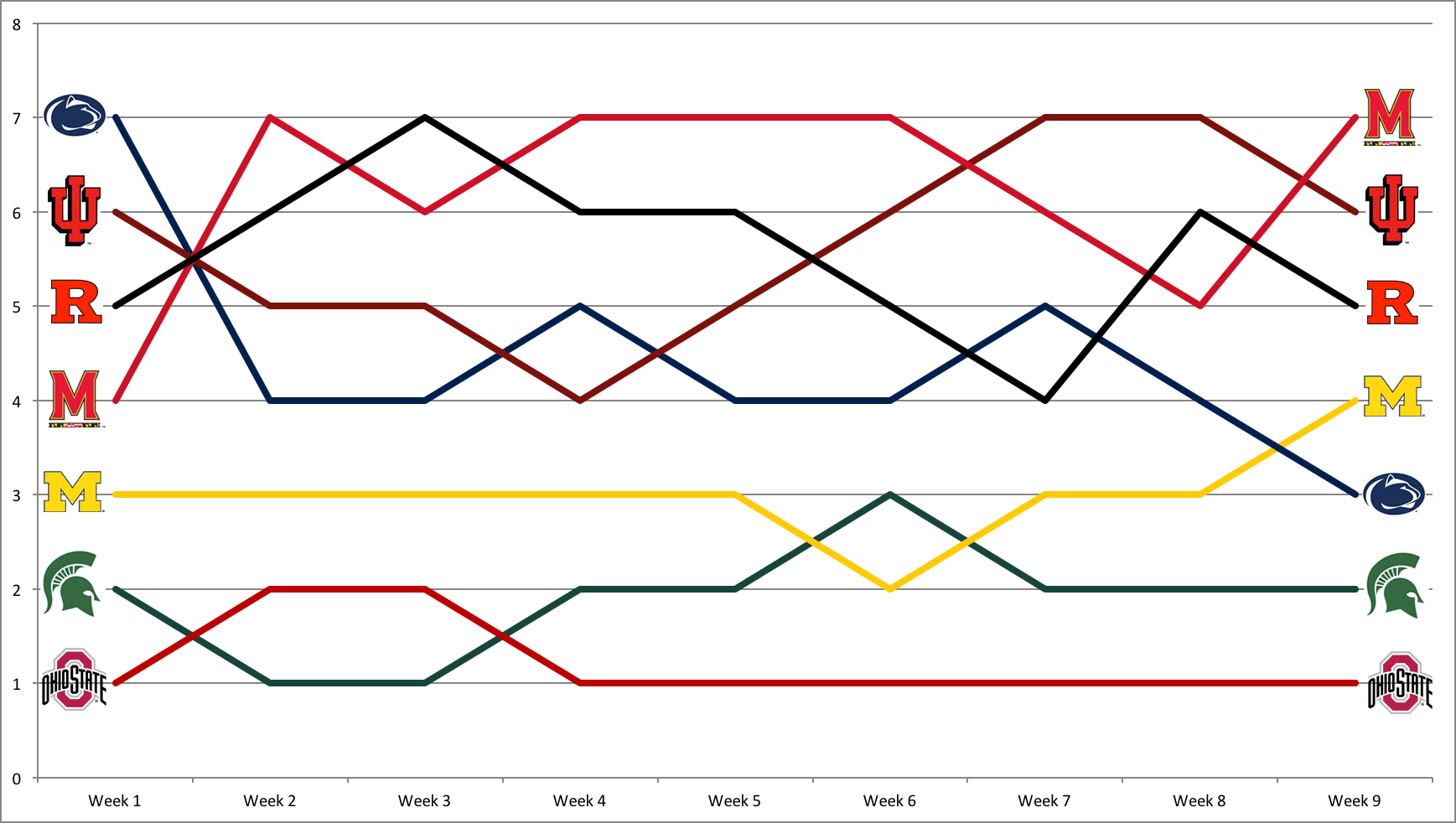 1. Iowa (8-0, 4-0) – 

Even

Last Week: Beat Maryland 31-15
This Week: Sat at Indiana (4-4, 0-4), 3:30pm, ESPN
The West-leading Hawkeyes got back on the field this weekend and outlasted Maryland, though it was far from overwhelming. C.J. Beathard threw for 183 yards for an offense that gained a total of 293 and the defense surrendered 241 yards. Luckily, Iowa forced four turnovers and controlled the ball for nearly 33 minutes. At No. 9 in the CFP poll, Iowa just has to keep winning to punch its ticket to the playoff.
2. Northwestern (6-2, 2-2) – 

Up 1

Last Week: Bye
This Week: Sat vs Penn State (7-2, 4-1), 12pm, ESPNU
Finally, somebody else took notice of Northwestern's impressive body of work. The Wildcats are ranked No. 21 in the first playoff rankings thanks to impressive wins over Stanford and Duke and solid losses to top 20 teams. They can pick up another win over a winning team this weekend when they host 7-2 Penn State.
3. Wisconsin (7-2, 4-1) – 

Down 1

Last Week: Beat Rutgers 48-10
This Week: Sat vs Maryland (2-6, 0-4), 3:30pm, BTN
Wisconsin is flying under the radar at 7-2 thanks to that loss to Iowa that will likely keep them from winning the West Division. But the Badgers have a great chance to win their final three regular season games and enter the bowl season with a quiet 10 wins.
4. Minnesota (4-4, 1-3) – 

Up 2

Last Week: Lost to #15 Mich. 26-29
This Week: Sat at #3 OSU (8-0, 4-0), 8pm, ABC
Mitch Leidner and the Minnesota offense sure looked like they were playing for recently retired Coach Jerry Kill, putting up over 400 yards on the top-ranked defense in the country. But in the end, it was Kill's absence that doomed the Gophers as they mismanaged the clock and failed to score on a 1st and goal from the half-yard line as time expired. Unfortunately, Minnesota will have to beat Ohio State, Iowa or Wisconsin to get to six wins this season.
5. Illinois (4-4, 1-3) –

Even



Last Week: Lost to PSU 0-39
This Week: Sat at Purdue (2-6, 1-3), 12pm, BTN
Illinois was one of the most pleasant surprises in the West through seven games, playing some of the division's top teams wire to wire. But the trip to Penn State got very ugly, as the Fighting Illini failed to score and got bombed by 39 points. Wes Lunt had a day to forget, completing just 16 of 37 passes for 129 yards and a pick.
6. Purdue (2-6, 1-3) – 

Up 1

Last Week: Beat Nebraska 55-45
This Week: Sat vs Illinois (4-4, 1-3), 12pm, BTN
Purdue? Purdue! The Boilermakers came out of nowhere to drop 55 points on Nebraska this weekend and secure their first Big Ten win in more than a year. Unfortunately it wasn't enough to squeeze into the CFP's top 25.
7. Nebraska (3-6, 1-4) – 

Down 3

Last Week: Lost to Purdue 45-55
This Week: Sat vs #7 MSU (8-0, 4-0), 7pm, ESPN
Wow, Nebraska really hit rock bottom this weekend. It doesn't get much worse for a Big Ten team than watching Purdue run up and down the field to hand you a fourth loss in five games and drop you into the cellar of the West Division. Remember when fans got upset with Bo Pelini for winning nine games? What might they do to Mike Riley for losing nine?