---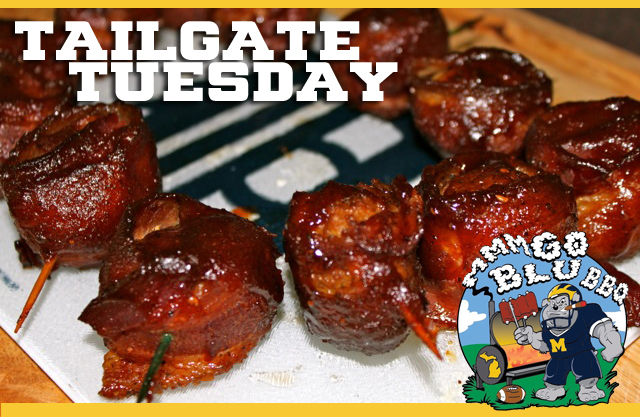 Tailgate Tuesday is our weekly collaboration with Joe from MmmGoBluBBQ. These will be posted each Tuesday throughout the season and each recipe will be themed around that week's opponent. 
Previously: Hot-'n-Fast pulled pork with Carolina mustard slaw, Irish stout pepper beef, Spatchcock RedHawk, Grilled Ravioli, Smoked "Land of 10,000 Lakes" Catfish, pork loin with mustard glaze, Brady Back Ribs.
"MOINKS" are perfect for tailgating for a large crowd against 'Sparty.' Typically, this game gets the biggest crowds in my backyard, so let's make something that feeds a bunch of hungry people and are always a hit. They are easy to make. They include bacon, they are very tasty, they are wrapped in bacon, you can eat them with your fingers, and did I mention the bacon?
Anything that has two ingredients and 50 percent of those ingredients is bacon, I am a fan of. Whenever I make these for a party or at a tailgate, I get two questions. The first is always "What are these?" They are Moinks. The follow up is always "What the wha???" So begins my explanation of what Moink Balls are. Simply put, they are bacon wrapped meatballs. We have beef meatballs — "moo" — wrapped in yummy bacon — "oink." Combine them and cover with your favorite rub and sweet BBQ sauce and we have "Moinks," the perfect tailgating food.
Ingredients:
• Frozen meatballs
• Bacon
• Rub (sweet rub)
• BBQ sauce
Directions:
Set up the smoker or grill for indirect heat at 250-275 degrees. I love Pecan wood for this one as it goes nicely with the bacon.

I prefer to remove the meatballs from the freezer and let them thaw a little. We will need them to be just soft enough to pierce with a toothpick. Next, we cut some bacon in half. The next step is to roll the bacon once around the meatball and hold with a toothpick. Sprinkle the Moink with a little bit of your favorite rub and they are ready for the smoker. That's it. Very easy to make ahead.
Place the Moinks on the smoker and relax. We want to get the bacon a little crispy before we add the BBQ sauce. This takes about 90 minutes.

In about 90 minutes, the bacon will begin to crisp up and we are ready to add some BBQ sauce. This isn't mandatory, but BBQ sauce makes most everything better. Right? Or you can set some out for dippin'.
After adding the sauce and letting it get all thick and gooey (about 30 minutes), they are ready to eat. They will go quick, so make a bunch.

__________________________________________________________________________________________
This week's drink: Choco coffee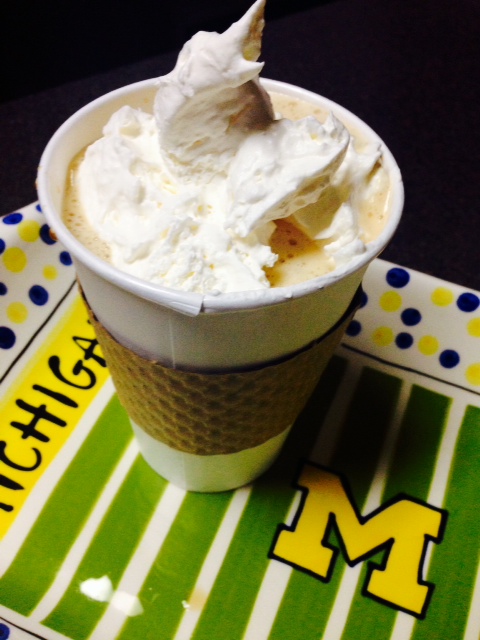 This is a perfect beverage as the cold temps start to roll in. It will perk you up and keep you warm at the same time. Mix first four ingredients and top with cool whip. Enjoy.
Strong coffee
1 shot Baileys
1 shot Frangelico (hazelnut liquor)
1 Tbsp sugar
1 giant spoonful frozen cool whip
For more great recipes, photos, and barbecue ideas, follow Joe on Twitter at @mmmgoblubbq. And don't forget to check out his site, MmmGoBluBBQ, for recipes, product reviews, and more.