---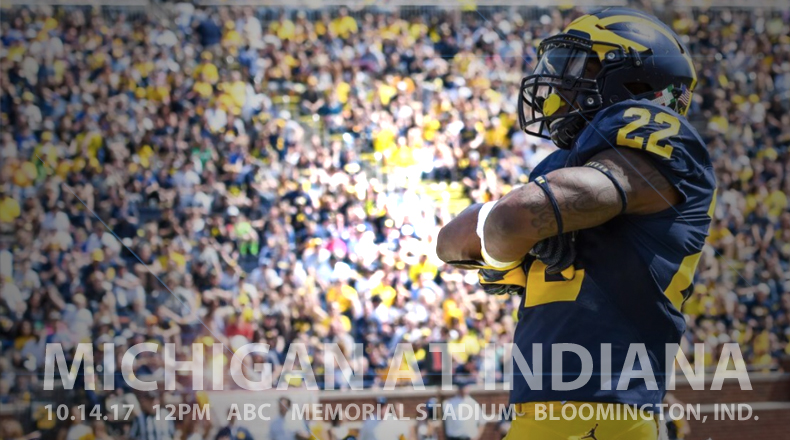 (Isaiah Hole)
Michigan tasted defeat for the first time this season last Saturday, dropping a rainy, windy, ugly affair to its bitter in-state rival, Michigan State. While the Michigan defense was dominant after allowing a pair of first half scores, the offense was impotent, unable to move — or hang on to — the ball, drawing criticism from throughout the fan base.
Quick Facts

Memorial Stadium – 12p.m. EST – ABC
Indiana Head Coach:
Tom Allen (1st season)
Coaching Record:
3-3 (all at IU)
Offensive Coordinator:
Mike DeBord (1st season)
Defensive Coordinator:
Mark Hagen (1st season)
Last Season:
6-7 (4-5 Big Ten)
Last Meeting:
UM 20 – IU 10 (2016)
All-Time Series:
Michigan 56-9
Record in Bloomington:
Michigan 18-2
Jim Harbaugh vs Indiana
2-0
Last Michigan win:
2016 (20-10)
Last Indiana win:
1987 (14-10)
Current Streak:
Michigan 21
Indiana schedule to date
Opponent
Result
#2 Ohio State

L 21-49

at Virginia

W 34-17

Georgia Southern

W 52-17

at #4 Penn State

L 14-45

Charleston Southern

W 27-0
Jim Harbaugh doesn't care about fan criticism though. He's focused on the task at hand and that task is beating a team Michigan has handled 21 straight times and 36 of the last 37.
Indiana has a different look this season than the offensive beast it has the been past few now that Kevin Wilson is the offensive coordinator at Ohio State. Wilson was forced out last December for player mistreatment and Allen, the defensive coordinator assumed the reins for the Foster Farms Bowl, which the Hoosiers lost to Utah. Allen remained the head coach and brought in former Michigan offensive coordinator Mike DeBord to run his offense, signaling a marked change from Wilson.
He also added former Michigan star running back Mike Hart as his running backs coach and former Michigan quarterback Nick Sheridan as his quarterbacks coach.
They had a tough first assignment with Ohio State to open the season and actually held a 14-13 halftime lead before surrendering five second-half touchdowns. They bounced back in Week 2 with a 34-17 win at Virginia, which looks better and better each week as the Cavaliers are now 4-1.
Indiana got an unexpected bye week in Week 3 when Hurricane Irma forced their matchup with Florida International to be canceled. A 52-17 win over Georgia Southern was as expected — the Eagles are 0-4 with an average margin of defeat of more than 24 points.
The Hoosiers then had to travel to Happy Valley where they were summarily handled by the fourth-ranked Nittany Lions. Penn State raced out to a 28-0 first quarter lead and cruised to a 45-14 win. But Indiana got back in the win column last week, topping Charleston Southern of the FCS, 27-0. IU held the Buccaneers to just six first downs and 134 total yards.
So how good is Indiana in its first season post-Wilson? Who really knows. They've beaten an FCS team, an 0-4 Sun Belt team, and a perennial ACC bottom-feeder that hasn't had a winning season since 2011, and they've lost to the top two teams in the Big Ten.
It could be said that Michigan is the first happy medium on the Hoosiers' schedule. Granted, Michigan was ranked 7th nationally just a week ago, but the way the offense is playing Michigan is nowhere near a top-10 team. The defense may be the nation's best, but unless the offense shows significant midseason progress with its backup quarterback, it will continue to hold the team back and give teams like Indiana a fighting chance.
Let's take a look at the matchup.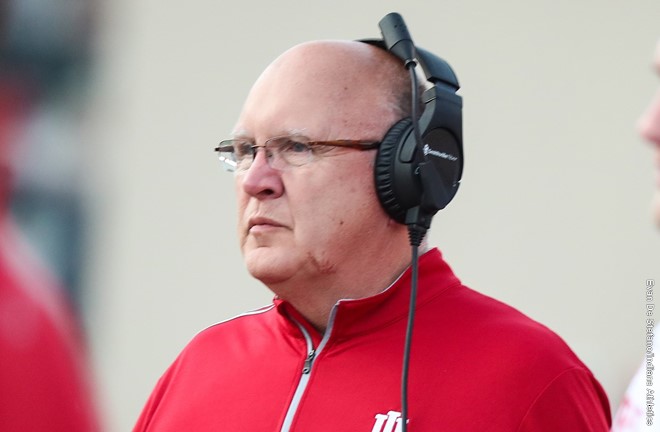 (IU Sports)
Mike DeBord has had a long and winding career since playing NAIA football in northern Indiana in the late 1970s. He worked his way up the coaching ranks as an offensive line coach at Fort Hays State, Eastern Illinois, Ball State, Colorado State, and Northwestern before landing at Michigan under Gary Moeller. He was kept on staff by Lloyd Carr and was named offensive coordinator for the first time in 1997, helping guide the Wolverines to the national title.
Following the 1999 season, he left to take his first head coaching position at Central Michigan, where he went just 12-34 before retuning to Michigan for the remainder of Carr's career. From there, he spent two years with the Seattle Seahawks and three with the Chicago Bears and returned to the college game as Tennessee's offensive coordinator the past two seasons before moving to Bloomington.
So far this season, DeBord's offense ranks fourth in the Big Ten and 69th nationally in total offense (408.4 yards per game), fifth and 67th in scoring (29.6 points per game), ninth and 78th in rushing (148.8 yards per game), and fifth and 46th in passing (259.6 yards per game) — a far cry from the high-powered offenses under Wilson.
Unlike Harbaugh, who will stick with his starting quarterback until he can't anymore, DeBord began the season utilizing a two-headed quarterback system at IU. Fifth-year senior Richard Lagow and redshirt freshman Peyton Ramsey split time through the first four games before Ramsey got the full-time nod against Charleston Southern last week. I'm not sure how telling a 32-of-41, 321-yard performance is against a team that ranks 75th in the FCS in pass efficiency defense, but the Cincinnati native was a combined 11-of-20 for 88 yards, a touchdown, and an interception in limited time against Ohio State and Penn State. Lagow, meanwhile, was the Big Ten's second-leading passer last season, but is completing just 56.3 percent of his passes this season.
True freshman Morgan Ellison has taken command of the running game, averaging 71.6 yards per game. The three-star product from Ohio State's back yard (Pickerington Central) did most of his work this season against Georgia State, rushing for 186 yards and two touchdowns on 25 carries. He did manage 5.9 yards per carry against Penn State, but got just nine carries as IU fell behind by 28 points in the first quarter. Ramsey is the second-leading rusher with 171 yards on 3.5 yards per carry, while redshirt freshman Cole Gest is the only other Hoosier with more than 100 yards and he leads the team with 6.1 yards per carry.
Simmie Cobbs seems like he has been at Indiana forever and leads the team with 33 receptions for 370 yards and three touchdowns. The redshirt junior was an honorable mention All-Big Ten performer in 2015, ranking third in the league with 1,035 yards, but suffered a season-ending injury a year ago. He was unstoppable in the opener against Ohio State, catching 11 passes for 149 yards and a score. He also caught 10 passes for 98 yards against Charleston Southern and leads the Big Ten with 6.6 per game.
Fellow redshirt junior Luke Timian is second on the team with 22 receptions out of the slot, but is ahead of only third-down back Mike Majette with 6.4 yards per reception. Junior Donovan Hale and redshirt freshman Taysir Mack are both tall targets on the outside with a combined 245 yards and three touchdowns so far. Mack had a big game against Charleston Southern, catching seven passes for 111 yards and two touchdowns, while Hale leads the team with 16.6 yards per reception. Senior tight end Ian Thomas is the team's second-leading receiver with 254 yards and three scores.
The offensive line is middle of the pack in the Big Ten with 2.2 sacks allowed per game (Michigan allows 3.2) but struggles on the interior and hasn't been able to get much push in the running game.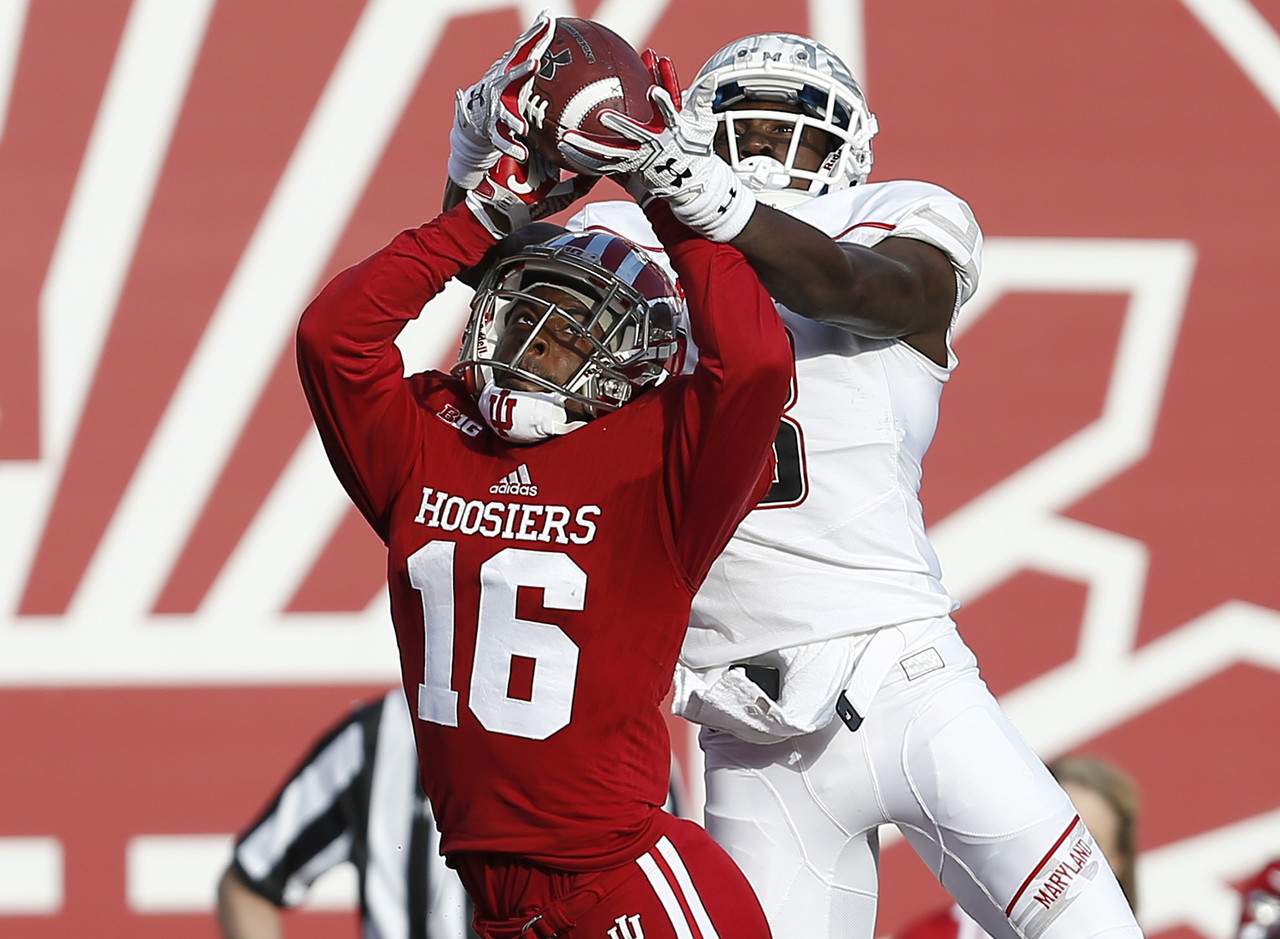 (Sam Riche, AP)
Defensive coordinator Mark Hagen is a former IU linebacker who spent about a decade building his resume at Purdue before returning to his alma mater in 2011. He left to coach linebackers and defensive tackles at Texas A&M from 2013-15 and came back to Bloomington as the assistant defensive coordinator last season. When Allen was promoted to head coach he gave Hagen the reigns of the defense.
His senior-laded Hoosier defense ranks eighth in the Big Ten and 47th nationally in total defense (357.8 yards per game), ninth and 59th in scoring defense (25.6 points per game), 12th and 67th in rush defense (152.4 yards per game), and seventh and 42nd in pass defense (205.4 yards per game). But while those stats don't show much, IU's defense ranks 22nd nationally in S&P+.
The most notable player on the Indiana defense is senior linebacker Tegray Scales, who was a second-team All-American last season while leading the nation with 23.5 tackles for loss. He led the Big Ten with 126 tackles. So far this season he's slacking off, only ranking fifth in the conference in both tackles (42) and tackles for loss (6.5). The linebacker corps is made up of experienced seniors and Chris Covington and Tony Fields join Scales. Covington, who started his career at IU as a quarterback, recorded a sack and fumble against Michigan last season and ranks second on the team with 32 tackles. Fields has 23 tackles and two for loss.
Indiana's defensive front is led by fifth-year senior nose tackle Nate Hoff, who takes on double teams and clogs the middle effectively. He notched 1.5 tackles for loss against Michigan a year ago. Junior Jacob Robinson and redshirt freshman Jerome Johnson split time at the three-tech and have a combined 15 tackles, three for loss, and two sacks. Seniors Greg Gooch and Robert McCray II aren't stars, though they may look like it against Michigan's tackles. The ends and have combined for three tackles for loss and two sacks this season.
Fifth-year senior Rashard Fant is one of the Big Ten's best corners after recording 39 pass breakups the past two seasons. He was a second-team All-Big Ten performer last season. He has three pass breakups so far this season and will present a very tough challenge for Michigan's young receivers. Redshirt sophomore Andre Brown Jr is the other, less heralded corner and has 12 tackles and one pass breakup. Junior Jonathan Crawford and senior Chase Dutra are a pair of experienced safeties that have combined for 45 tackles, a tackle for loss, an interception, and four pass breakups so far this season. Crawford was honorable mention All-Big Ten last season.
Placekicker Griffin Oakes is the top kicker in Indiana history with 58 career field goals and a 74.4 percent career clip. He was the Big Ten's Bakken-Andersen Kicker of the Year in 2015 and has made all five attempts so far this season with a long of 51. Redshirt sophomore punter Hayden Whitehead is an Aussie who ranks ninth in the Big Ten with an average of 40.3 yards per punt. He has downed 12 of 36 inside the 20 with three touchbacks.
Redshirt junior receiver J-Shun Harris II is a dangerous punt returner coming off an ACL injury in 2016. He leads the Big Ten with 22.8 yards per return and two touchdowns. Running back Devontae Williams is the main kick returner, averaging a modest 18.2 yards per return.
I'm not looking forward to this game. I'm not worried about Michigan's defense slowing down a Mike DeBord offense, but I am worried about this Michigan offense doing much against a pretty good IU defense. Unlike last week, weather shouldn't be a problem with 80 degrees and sun expected in Bloomington, but weather was one of just many problems a week ago. This game has all the makings of a defensive slugfest.
Michigan's receivers are going to have a hard time getting open in the secondary, so John O'Korn will have to rely on his tight ends. Indiana's defense ranks fifth in the Big Ten with 2.8 sacks per game and Michigan's line hasn't protected its quarterbacks, so with tight coverage, O'Korn could be running for his life quite a bit. Perhaps Harbaugh, Tim Drevno, and Pep Hamilton will develop a different game plan this week, but it's hard to see Michigan's offense moving the ball consistently.
On the other side, there's no way Indiana should more than about 10 points. Indiana is at its best in the air, but Michigan features the top pass defense in the nation. The Hoosiers may get a big play or two through the air, and may get another from Ramsey's legs, but won't get much from its running game.
Michigan wins a low-scoring game that doesn't leave us feeling much better heading into a showdown at Penn State.
Score Prediction: Michigan 17 – Indiana 10