Posts Tagged 'National Signing Day'
---
National Signing Day came and went on Wednesday and when all was said and done, Head Coach Brady Hoke announced a 25-member recruiting class. The day started off well with a surprise commitment from four-star running back Dennis Norfleet from Martin Luther King High School in Detroit. The rest of the day went as expected with all 22 signed Letters of Intent arriving (three are already enrolled for spring semester).
There still remains a shot at Chicago Simeon offensive lineman Jordan Diamond, who makes his announcement on Friday, and Colorado offensive lineman Alex Kozan who verbally committed to Iowa on Sunday but didn't fax in his LOI on Wednesday.
Below is a position-by-position breakdown as well as a location-based look at this year's class. Stay tuned tomorrow for in-depth bios of each offensive recruit and then Saturday morning for the defensive side.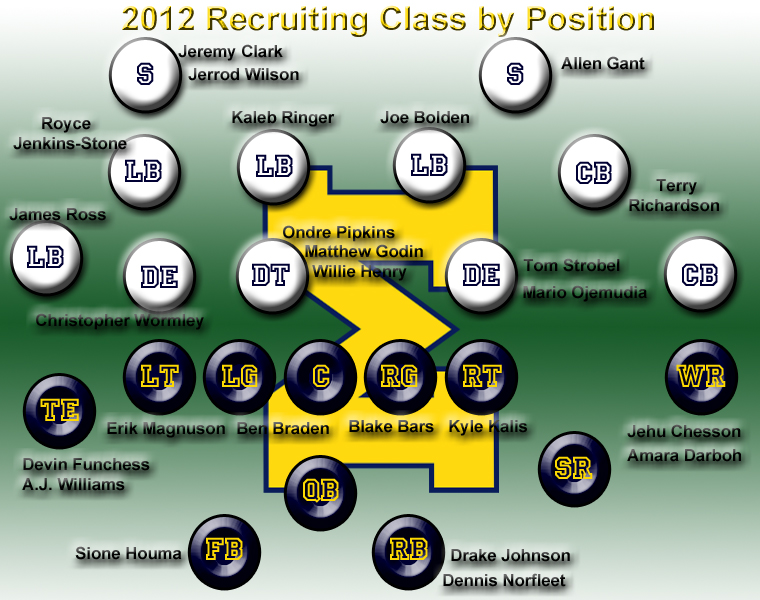 As you can see above, Michigan didn't sign a quarterback in this year's class, but has Shane Morris committed for next year's class. He'll enter as Denard Robinson graduates and battle for the starting spot with Devin Gardner. The four offensive linemen are all listed as tackles but in tomorrow's individual breakdown, we'll discuss where they project on the line. The same can be said for the four defensive backs. Terry Richardson is the only one listed as a cornerback; the other three as safeties.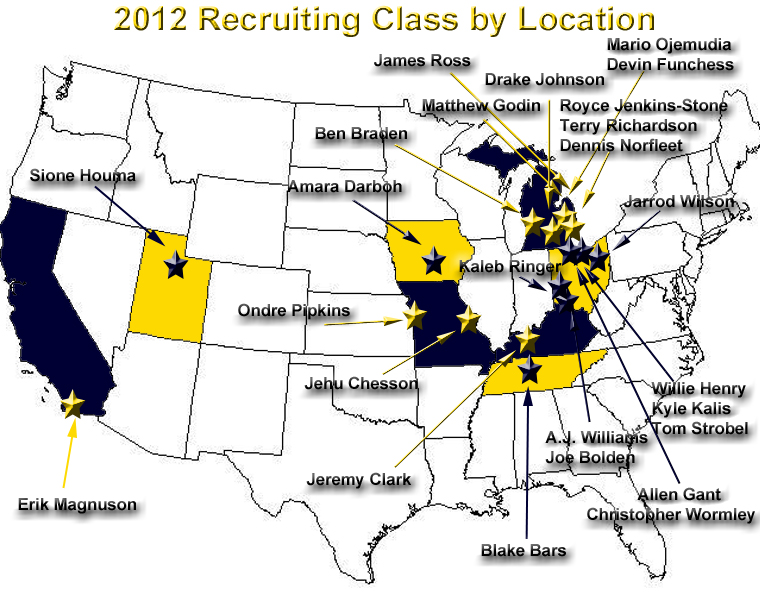 Michigan's class is very Midwest-focused this year, as opposed to the classes we saw under Rich Rodriguez which pulled a bit more from the south, most notably Florida. Hoke didn't get anyone south of Tennessee, and only ventured out west for two – Erik Magnuson from Carlsbad, Calif. and Sione Houma from Salt Lake City, Utah. If Kozan switches his commitment to Michigan, that will add another player from the west, as he hails from Colorado, but we won't bet on that happening. If Diamond commits to Michigan on Friday, he will add yet another player from the Midwest.
---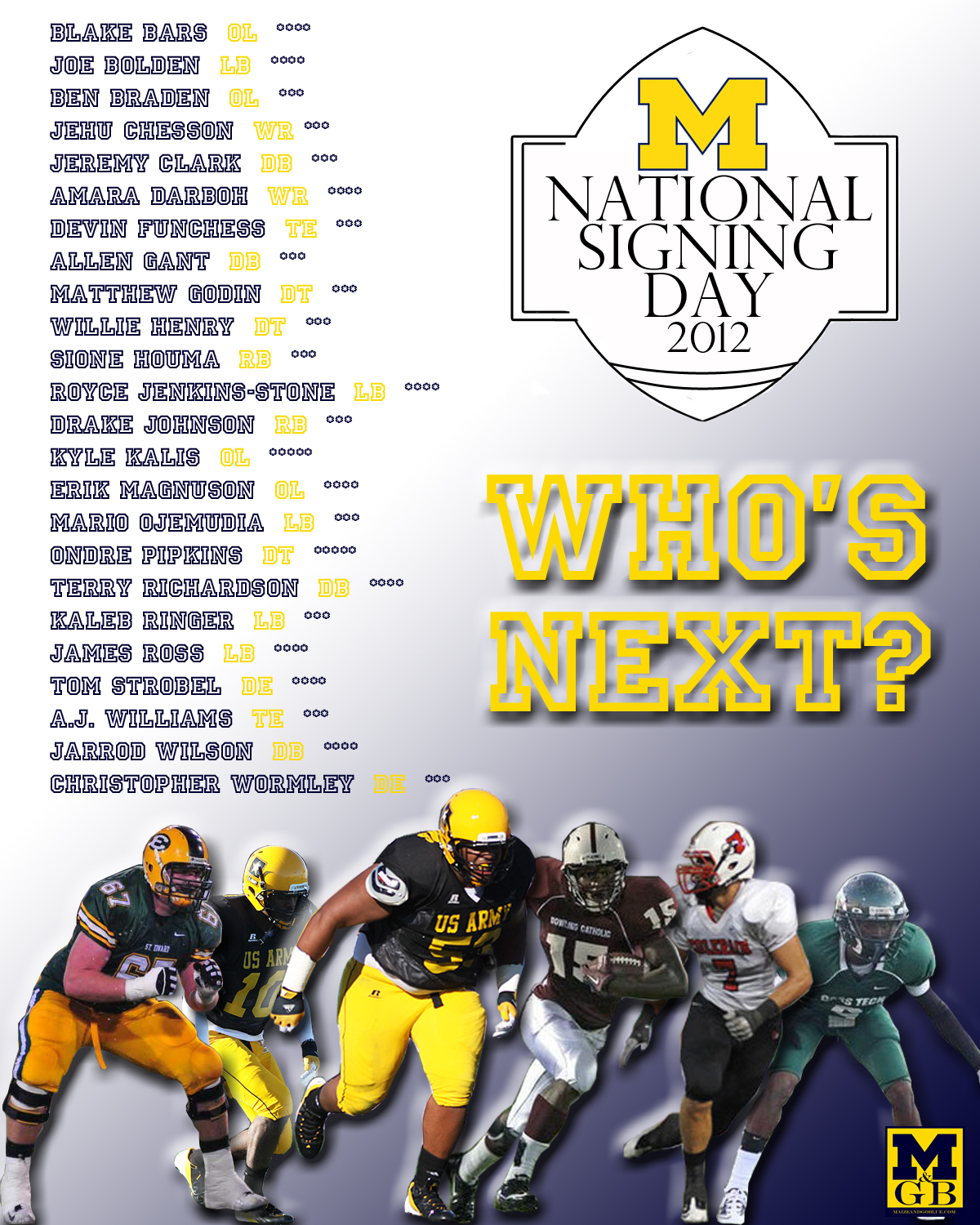 National Signing Day has arrived and high school seniors around the country will sign and send their letters of intent to the colleges of their choice. Coaches and fans alike will sweat out each LOI and by the end of the day a new class of Michigan Men will be announced.
Brady Hoke's staff did a great job of locking in a solid class early on, creating a somewhat boring NSD for those who crave the "will he or won't he" last-minute announcements. But that shouldn't take away from the class Hoke is pulling in.
With a pair of five-stars (offensive lineman Kyle Kalis and defensive tackle Ondre Pipkins) and a host of four-stars, Hoke and Co. have set the foundation for the future of Michigan football. Three are already enrolled – four-star linebacker Joe Bolden, three-star linebacker Kaleb Ringer, and four-star defensive back Jarrod Wilson, so no need to fret about them. The other 21 are expected to fax their LOIs today and Hoke will announce the class in a 2pm press conference which can be viewed on MGoBlue.com.
Michigan has the opportunity to sign 28 players in this year's class, and yesterday, Michigan picked up commitment number 24 when Cleveland Glenville defensive tackle Willie Henry chose the Wolverines. That means four more could potentially fill the class today, though the number of recruits Michigan still has a shot at is fairly low. With offensive linemen Joshua Garnett and Alex Kozan off the board, Michigan hopes to pull in Jordan Diamond, but he won't make his announcement until Friday. Diamond has narrowed his list down to four: Michigan, Wisconsin, Arkansas and Auburn.
One possible signing day surprise was foreshadowed last night by Sam Webb, who tweeted "There is indeed ANOTHER potential signing day surprise for Michigan. Definitely caught me by surprise. You never KNOW with recruiting." In addition, Scout's Allen Trieu hinted at expecting 25 letters of intent.
So perhaps the National Signing Day Santa will bring us another present, but don't be crushed if it doesn't. Hoke is bringing in the building blocks for a fantastic future. Check back in the following days for profiles on each new Wolverine.