---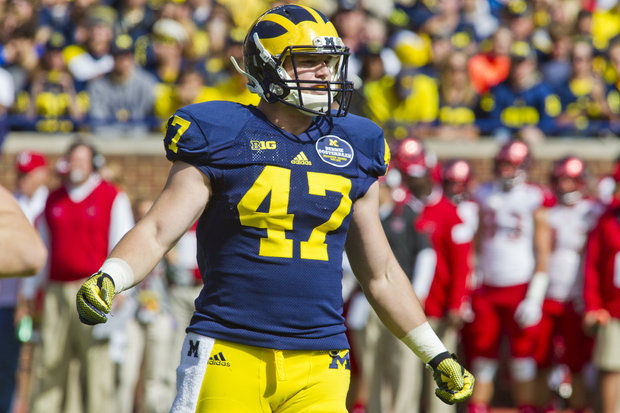 (Tony Ding, AP)
A day after former Michigan standouts Devin Funchess and Frank Clark were drafted in the second round of the NFL Draft, Michigan linebacker Jake Ryan found a home in the NFL with the Green Bay Packers as the 129th overall pick.
Ryan, who played defensive end and outside linebacker before moving to middle linebacker for his senior season at Michigan, fits the mold of recent Packers linebackers A.J. Hawk and Clay Matthews, in number, looks, and talent. While some viewed Ryan as an outside linebacker in the NFL, the Packers had a need for an inside linebacker after Hawk signed with the Cincinnati Bengals and Brad Jones signed with the Philadelphia Eagles.
"His instincts are something that really stand out," said Eliot Wolf, the Packers' director of pro personnel. "He can get through traffic and make plays on the outside, penetrate and make plays on the inside run. He's pretty good in coverage. Kind of an all-around guy who adds really good value to our team."
Ryan collected 267 tackles during his five-year career at Michigan that included an injury-shortened junior season. He tallied 45.5 tackles for loss, 9.5 sacks, seven forced fumbles, three fumble recoveries, and an interception. As a middle linebacker last season, Ryan led the team with 112 tackles (67 solo), to go along with 14 tackles for loss and two sacks, earning All-Big Ten first team honors by both the media and coaches.
After the draft ended, two other former Wolverines signed undrafted free agent contracts. Quarterback Devin Gardner, who entered the draft as a wide receiver, joined fellow former Michigan quarterback Tom Brady on the New England Patriots, while defensive end Brennen Beyer signed with the Baltimore Ravens.
Gardner started 27 games at quarterback for Michigan, passing for 6,336 yards and 44 touchdowns, but his struggles at the position — due at least in part to playing for multiple head coaches and offensive coordinators and behind a poor offensive line — caused him to change positions. He started the 2012 season at receiver, catching 16 passes for 266 yards and four touchdowns, until Denard Robinson went down with an injury that forced Gardner to move back to quarterback.
The good news for Gardner is that his new team has a precedent for quarterbacks-turned-receiver. Julian Edelman started at quarterback for three seasons at Kent State before being drafted in the seventh round of the 2009 NFL Draft by the Patriots. He caught 37 passes for 359 yards and a touchdown his rookie season, but it wasn't until the past two seasons that his career as a receiver took off. In 2013 and 2014 Edelman caught 197 passes for 2,028 yards and 10 touchdowns, including a nine-catch, 109-yard one-touchdown performance against the Seahawks in Super Bowl XLIX.
At 6'4″, 218, Gardner has a much different body type than the 5'10", 200-pound Edelman, but he'll have a chance to earn a roster spot on a team that has had trouble drafting receivers the past few years. Aside from Edelman and tight end Rob Gronkowski, the Patriots have lacked a true outside receiver as of late. Last season, Brandon LaFell came on with 74 catches for 953 yard and seven touchdowns, but the three receivers the Pats added from the 2013 draft — Aaron Dobson, Josh Boyce, and Kenbrell Thompkins — were non-factors.
Beyer will likely have a tougher job securing a roster spot with the Ravens. Like Ryan, Beyer played both defensive end and linebacker for the Wolverines over the past few years, but while he was a solid contributor, he didn't have the same type of impact Ryan did. The Ravens feature one of the league's best defenses and aren't exactly thin at either position. Still, he came highly recommended by Greg Mattison — a former Ravens defensive coordinator — and that was enough for John Harbaugh to give him a chance.