---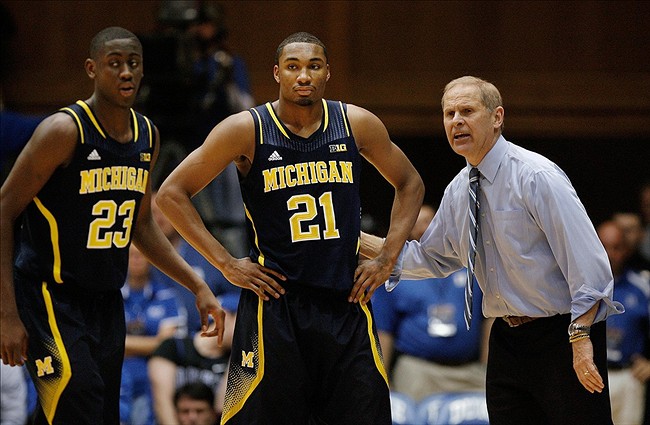 Coming off an NCAA Championship game appearance and, last season, an Elite Eight finish that was inches from back-to-back Final Fours, Michigan basketball was thought to have climbed the hump from the scrappy opponent who gives the superior teams a run for their money now and again to a year-in, year-out bona fide contender.
After all, going into this season, it felt eerily similar to the start of the 2013-14 season that saw the Wolverines run away with the Big Ten title outright and earn a 2-seed in the Big Dance.
Yes, John Beilein would have to find a way to replace Big Ten Player of the Year Nik Stauskas, but Trey Burke was the Wooden Award winner the year before that, and Michigan bounced back just fine.
And yes, Mitch McGary and Jordan Morgan would no longer be donning the Maize and Blue, but McGary hardly played at all last year and Morgan was a solid, if unspectacular, big man who rarely wowed offensively.
And sure, Glenn Robinson III decided to pursue his NBA dreams after two years in Ann Arbor, but Little Dog never seemed to live up to his monstrous hype anyway and was an inconsistent shooter and competitor.
Certainly some new faces would be playing the majority of minutes and plenty of shots would open up, but Beilein has elevated this program to one that can simply reload, not replace — right?
It turns out that maybe we were all a little bit ahead of ourselves – national pundits, local journalists, and Michigan fans alike – in thinking that the Wolverines would once again dominate offensively with another incredibly youthful and inexperienced team. It's not every year that you see players the caliber of Trey Burke, Tim Hardaway Jr, Nik Stauskas, Glenn Robinson III, Mitch McGary, and, yes, even Jordan Morgan, sport your team's colors.
And Michigan fans are finally beginning to appreciate the glory those youngsters brought to the program rather than to expect it.
Today, the Wolverines find themselves well out of the NCAA Tournament picture at 10-7 overall and 3-2 in Big Ten play, with a couple of unbelievable losses and even fewer marquee wins.
So what went wrong?
In short, a lot went wrong.
The offense has disappeared for long stretches, the defense has been porous against lowly competition, and the replacements that were expected to be reinforcements have a lot of learning to do.
I don't think there is any one player to point a finger at for all of Michigan's shortcomings, and I don't think John Beilein went from coaching the best offense in the country for two years straight to forgetting how to coach at all (resulting in an offense that's outside the top 100 in offensive efficiency).
Instead, there are a bevy of problems coming from a number of different areas.
To start, let's take a look at Michigan's "Big Three" returning guards: Caris LeVert, Derrick Walton Jr, and Zak Irvin.
Those three players were largely expected to take on the bulk of the Wolverines' offense, and while they are contributing nearly 60 percent of Michigan's points – a slightly higher percentage, in fact, than Michigan's Big Three of Stauskas, Robinson III, and LeVert contributed last season – the points are down overall by a whopping eight per game. To put that number into a bit more perspective, this team is scoring more than 0.2 points fewer on every possession.
The reasons for that dramatic drop-off are numerous, but probably stem from the top. Michigan lacks a go-to scorer with a killer instinct. Scoring droughts have seemingly become the norm for this team rather than the rare exception, and that falls onto the veteran leaders of the team.
LeVert is certainly a capable scorer, and his 14.8 points per game are nothing to scoff at, but I think he is much better suited for the role of Robin to Stauskas' Batman that he played so adeptly last season as opposed to the alpha dog spot. When Michigan falls down by a handful of points and starts struggling to score points of any kind – as they did the other night at Ohio State for the first seven minutes of the second half, effectively sealing their blowout – they need a leader to step up and demand the ball. But LeVert is not that kind of player. He's a quiet assassin with no shortage of moves or skills, but a killer that doesn't quite know exactly when or how to move in and take over.
When he does take matters into his own hands, the young junior from Columbus makes things happen. LeVert single-handedly kept Michigan alive against NJIT with 32 points and led the Wolverines with three straight crucial buckets to secure a big win at Penn State last week. But for as many times as LeVert has taken over, Michigan has gone on long scoring droughts that have buried them – against Villanova, Eastern Michigan, SMU, Arizona, Purdue, and Ohio State. With Stauskas at the helm and LeVert as a second option, that wasn't an issue last year.
Irvin, like LeVert before him, was expected to go from freshman role player to sophomore sidekick. That transition has proved a bit tenuous for the former Indiana Mr. Basketball.
Undoubtedly, Irvin has taken his game to another level this season, upping his scoring average by nearly eight points per game and adding many inches to his vertical leap, but he is simply not the creator this team so desperately needs. Irvin was comfortable in his role as an off-the-bench sniper, and he thrived to the tune of 42.5 percent from downtown, even though opposing defenses knew he was only going to shoot threes. Now, Irvin has attempted to shoulder a bigger load and his shooting has suffered. He's still capable of big, efficient scoring nights – take, for example, his first four games in which he poured in 20.3 points per game on 51.9 percent shooting from downtown – but the pressure and increased usage have seen his three-point shooting percentage drop more than six points while his overall field goal percentage is down nearly three points.
Lastly, Walton looked to improve on a very solid freshman campaign to become more of a scoring point guard this season, but a toe injury suffered early in the season is clearly hampering the Detroit native's play all over the floor. Last year, Walton's quickness and deft play on the break were crucial to Michigan's ridiculous offensive output, but this year, Walton is a step and a half slower because of his toe. If you don't believe me, watch Michigan's win at Ohio State from last season and then re-watch the Wolverines' loss at Ohio State from a couple nights ago. Like Irvin, Walton's shooting numbers are drastically worse than last year, but the cause is much different.
With these Big Three struggling to produce with the same efficiency as last season, Michigan's role players would need to pick up the slack, but that's been far too big a task for Spike Albrecht and a company of freshmen who were probably forced into action before they were ready.
Kam Chatman, the jewel of Michigan's six-man recruiting class, was expected to come in and seamlessly replace Glenn Robinson III. That, more than anything, has turned out to be the biggest single shortcoming on this squad. Robinson III, though sometimes inconsistent from long range and almost always quiet in his ways, was an incredibly efficient and reliable scorer and a terrific finisher around the basket. Chatman, on the other hand, has been almost the exact opposite, to the point where Beilein has decided to replace him in the starting lineup with the 5'11" Albrecht.
The Portland native was seen as a high four-star from most recruiting publications, and his basketball savvy was projected to translate into a solid, if unspectacular, freshman season. But Chatman has struggled to pick up the offense, his confidence appears to be wavering, and his shooting has been downright miserable – mothers, cover your children's eyes – to the tune of 31.5 percent on twos and 25 percent on threes for 4.1 points per game. Contrast that with Robinson's freshman season (65.2 percent 2-pt, 32.4 percent 3-pt, 11 ppg on nearly three shots more per game) and you see where things really start to go awry.
Robinson's biggest strength was his ability to finish everything around the bucket with his strength and athleticism. If GRIII caught a pass sitting open within five feet from the hoop, it was two points guaranteed. If he rebounded a teammate's miss, it was an easy deuce for him. If he received an alley-oop, there was no doubt about the finish. The same cannot be said of Chatman, who doesn't have the strength or hops to work magic in the lane like his predecessor at the 4-spot and whose confidence is waning (never more clearly than in a missed alley-oop layup attempt against Penn State in which there wasn't a defender within 15 feet of him).
Fellow wing man Aubrey Dawkins has had one shining game against Illinois, but he's also been fairly quiet the rest of the way despite flashing signs of tantalizing potential, while Muhammad-Ali Abdur-Rahkman is just starting to get consistent playing time and looks to be a couple seasons away from being an offensive threat.
Down low, Ricky Doyle has performed admirably for a freshman big man, but his defense has certainly made Michigan fans yearn for the days of Jordan Morgan manning the post, and his free throw shooting has been curiously poor of late. Doyle also needs to work on improving his hands, fighting for rebounds, and learning the offense (as does every other freshman). Redshirt freshman Mark Donnal has gone from starter to backup, and while he's also shown some nice glimpses, he's probably a season or two away from being a consistent scorer. Lastly, D.J. Wilson – my pick for freshman MVP – was unimpressive early on before falling prey to the injury bug, making a redshirt season (pretty please!) seem like a reasonable outcome for the high-potential California native.
As a whole, this Michigan team is lacking in more ways than could have been imagined, and while the defense is actually significantly better than last season, the offense has collapsed into a rocky mess. What was expected to be around a top-20 squad competing in the Big Ten once again looks instead to be a team that has a steep and treacherous path to simply earn a ticket to the Big Dance.
The good news for Michigan is that there's still a long way to go until March, and anything can happen in the wonderful world of college basketball – especially when your average player on the court has just over one year of experience. And of course, there's always the chance to win an automatic bid with the conference tournament, but I certainly wouldn't bet on the Wolverines' chances there.
Instead, the Maize and Blue will need to quickly improve on a resume that sports two black eyes and little muscle. Michigan has two terrible losses – NJIT and EMU – that are really hurting and only two top-50 KenPom home wins – Syracuse and Minnesota (neither of which is in the top 40) – that leave much to be desired. Right now, Michigan's players are certainly kicking themselves over those two December losses, but perhaps even more crucial was the neutral court game against Villanova that the Wolverines let slip away after a crazy comeback. Change that L into a W and Michigan is squarely on the bubble already.
So what exactly will it take from here on out for the Wolverines? I think to have a realistic chance at being solidly on the bubble, Michigan needs to go 8-5 the rest of the way and win at least one game in the Big Ten Tournament.
Which eight games do those have to be? I'm not sure if that makes a huge difference. Michigan obviously needs to take care of their matchups with conference cellar dwellers (Northwestern,  at Rutgers, Nebraska, at Northwestern, Rutgers) and win a few marquee games as well. If the other three wins are Iowa, at Indiana, and at Illinois, I'd be a little concerned. To be safe, I think Michigan needs to take at least two from some combination of Wisconsin, Maryland, Michigan State, and Ohio State.
With five games left against that group, the opportunity is there. Will the Wolverines seize it?
You may want to temper those expectations again.