---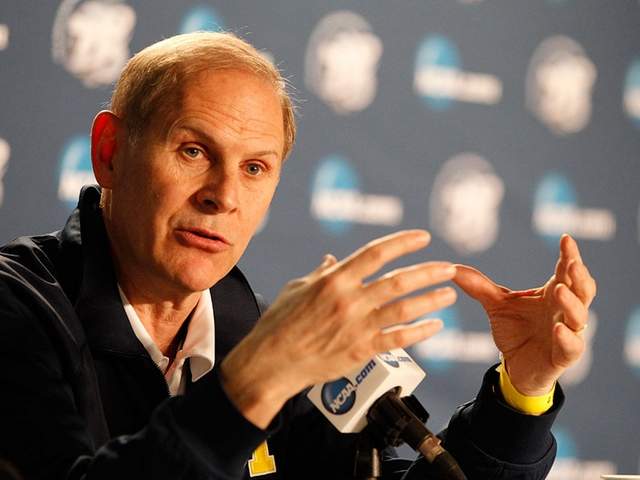 (Julian H Gonzalez, Detroit Free Press)
John Beilein took the podium for the first time in this new season Thursday morning to preview Michigan's upcoming season. Big Ten Media Day came just one day after the preseason conference media rankings were released, pegging Michigan as the fifth-best team in the Big Ten.
"It is good to be here and get the season going again," Beilein said in his opening statement. "We've been practicing for a little bit, but Oct. 15, yesterday, was the first day we really opened up camp and said we're in it now."
Beilein was peppered with questions about this season's young team and whether it's equipped with the tools to make another deep tournament run in March. When asked what challenges standin the way of a return to the Final Four, Beilein spoke from experience, having reached that stagejust two seasons ago.
"I'm as hungry or probably hungrier than ever to get back there," he said. So I think it's great motivation for everybody because they've experienced that run."
Last season the Wolverines were just seconds away from another trip to the Final Four, but a deep three-pointer by Kentucky's Andrew Harrison with virtually no time remaining took Michigan out of the running.
But Beilein wasn't brooding over the past, he's ready for what promises to be another long journey with the 2014-15 team, though one filled with ups and downs.
"It's maybe not getting [to the Final Four], it's the way you get there and how you get there and those moments in between, the journey," Beilein said. "It makes it so valuable. So yes, it's hard. You'd like  to stay injury-free…it's very normal to have times during that year where you're not going to play well. You won't look like a Final Four team, and that's exactly what you may need in February or late January or even in March."
Questions surround a Michigan program that lost starters Nik Stauskas, Glenn Robinson III and Jordan Morgan along with big men Mitch McGary and Jon Horford. Beilein's group will count on another big year from their guards to lead the team.
Among the returning guards is junior Caris LeVert, who was named to the All-Big Ten first team.Beilein thinks his star shooting guard can handle the spotlight in Ann Arbor.
"He was in it a bit last year," Beilein said. "I mean, there were several games where we just wentto him because people were doing things with Nik or Glenn, Jordan Morgan, Mitch, so we just went with him. He's sort of used to it."
Beilein said he loves LeVert's personality because he doesn't let anything both him. His level demeanor keeps him from getting too high when the team is rolling or too low when times get hard.
Of the trip to Italy, the head coach said it helped his team learn more about the world as a whole, but also about the game of basketball. He said the coaching staff has a better understanding of who can make adjustments on the fly and adapt to situations quickly.
Michigan will start the regular season against Hillsdale College on Nov. 15 in Ann Arbor.