---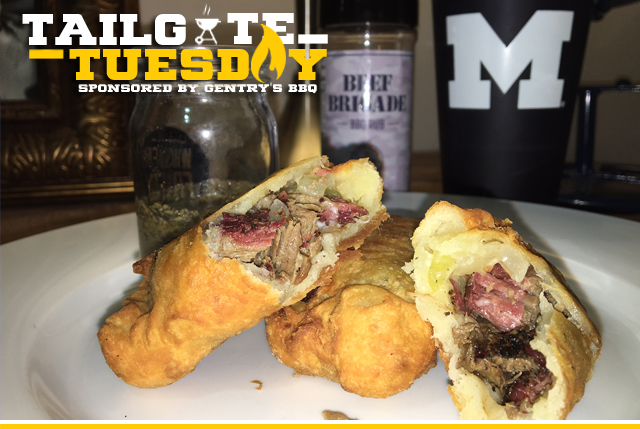 Tailgate Tuesday is our weekly contribution from our resident pitmaster, Joe Pichey from GoBlueBBQ. Joe has limited time this season, so we will be tag-teaming the weekly recipes. These tailgate recipes will be posted each Tuesday throughout the football season and will feature a variety of appetizers, main courses, and sides to help you be the king of your next tailgate. Gentry's BBQ, a Orlando, Fla. based BBQ and catering company, sponsors this season's feature by providing their killer rubs and sauces for use in the recipes. Buy them here. In addition, Fogo Charcoal provides charcoal to use in each recipe. Buy it here.
Previous: Gator kabobs; Steak tacos nortenos with bacon fat flour tortillas; Brisket burnt ends; Fried pork tenderloin sammy with fire roasted green chile jam and savory corn casserole; Smoked onion dip; Jalapeno balls; Sous vide french dip cheesesteak; Western style chopped pork and red slaw; Carolina hush puppies; 
Recipe Archive
A few weeks ago I mentioned my favorite lunch spot in Chicago, Nini's Deli. I can't recommend this place enough if you're ever in the Windy City. It has been featured on Chicago news and even on the Travel Channel's Food Paradise this year. It's Cuban-Mexican fusion inspired by the owner, Juan's parents, who are from Cuba and Mexico. My absolute favorite sandwich is the ropa vieja burrito, but you can't go to Nini's without getting an empanada or two. That's what inspired this week's recipe.
Ingredients
4-6 pound beef shoulder roast
3 onions
1 can diced green chiles
Monterey jack cheese
Gentry's Beef Brigade BBQ Rub
1 bottle dark beer
1 egg
2 TBSP milk
1/8 tsp salt
2.25 cups sifted flour
1.5 tsp salt
1 stick butter
1 TBSP apple cider vinegar
1/3 cup water
Vegetable oil for frying
Start with your beef shoulder and rub it all over with your Gentry's Beef Brigade BBQ Rub. As its name suggests, this stuff is great on beef, delivering a nice salty and peppery flavor with hints of coffee and garlic. Fire up your smoker to 225-250 using your preferred type of wood. I like a mix of hickory and oak.

Pour a bottle of dark beer into a foil pan and fill it the rest of the way with water. You can use two bottles of beer if you want, or just drink one of them. Put the foil pan in the smoker underneath your meet to provide moisture during the smoke process. Depending on the size of your beef, it will cook for anywhere from five to eight hours, so plan accordingly.

About halfway through the smoke, you can start your empanada dough. First, whisk together one egg, two tablespoons of milk, and an eight teaspoon of salt. Set it aside. In a separate bowl, mix 2.25 cups of sifted flour and a teaspoon and a half of salt. Now chop a stick of butter into a few smaller chunks and put them into your flour mixture. Using clean bare hands, kneed it all together until the butter is well incorporated into your flour. It should resemble crumbs at this point. Now, pour your whisked egg into it along with a tablespoon of cider vinegar (white will work too) and a third-cup of cold water. Mix it all together.
Dump it out onto a floured surface and form it all together. No need to really kneed it at this point, just make sure it's compact so you can wrap it in plastic wrap and put it in the fridge until you're ready for it.
When your beef reaches an internal temperature of between 195 and 205 degrees, it's ready to be pulled. Remember, during the smoking process, it will hit a stall in the 150s and this is perfectly normal. Don't panic if it takes a while to power through it. Just let the process work. You can also spritz with beer, cider vinegar, or water throughout the process if you want. When it's done, pull it, wrap in foil, and set in a cooler for at least 30 minutes, up to a couple hours. This lets the juices redistribute throughout the meat. You could cut or shred it at this point, but trust me, it's better to let it rest for a bit.
While it's resting, slice up three onions and then sauté them with olive oil. Do this on a medium heat so they can sweat out instead of cooking quickly. Then toss in a can of diced green chiles and cook with your onions until heated through. Set aside. Your beef should be ready to shred at this point. I shredded and chopped mine out of preference.

Take your dough out of the fridge and roll out on a floured surface. Get it nice and thin, but not too thin. Use your best judgment here. Take a cup, bowl, or any other circular shaped object with a crisp edge and cut out circles as small or big as you want your empanadas to be. If you want to make them as appetizers, a standard-size glass will do. I used a cereal bowl and wish I had done them a little bit bigger, but they turned out great.

Now, spoon some beef into the middle of each circle, then top with a spoonful of your onion and green chile mixture. Finally, top with some monterey jack cheese. When you are filling them, just be careful not to over fill them or it will be hard to do the next step, which is fold them over. Fold one side over the filling to connect to the other side. Press with your thumbs all around where they connect. Use a fork to press into them to seal the two sides together, or braid them over each other.

Heat up some vegetable oil in a cast iron skillet and place a few of your empanadas in. After a couple minutes give them a turn so both sides can cook. Keep a close eye on these so they don't burn. You want a nice golden brown color. Once they're ready, remove from the oil and set on a paper towel to cool, then they're ready to eat! These are fantastic dipped in a Mojo sauce. I suggest ordering a bottle of Mojo sauce from Habana Cafe in Gulfport, Fla. I had dinner there on a work trip a couple weeks ago and that stuff is like liquid crack.
These may not be a traditional tailgate menu item, but I can assure you that after you try them they'll be a crowd pleaser and you'll want to make them again.

Visit Gentry's to purchase their great rubs and sauces. You can follow them on Twitter at @gentrysbbq and you can also follow our resident pitmaster Joe at @mmmgoblubbq.