---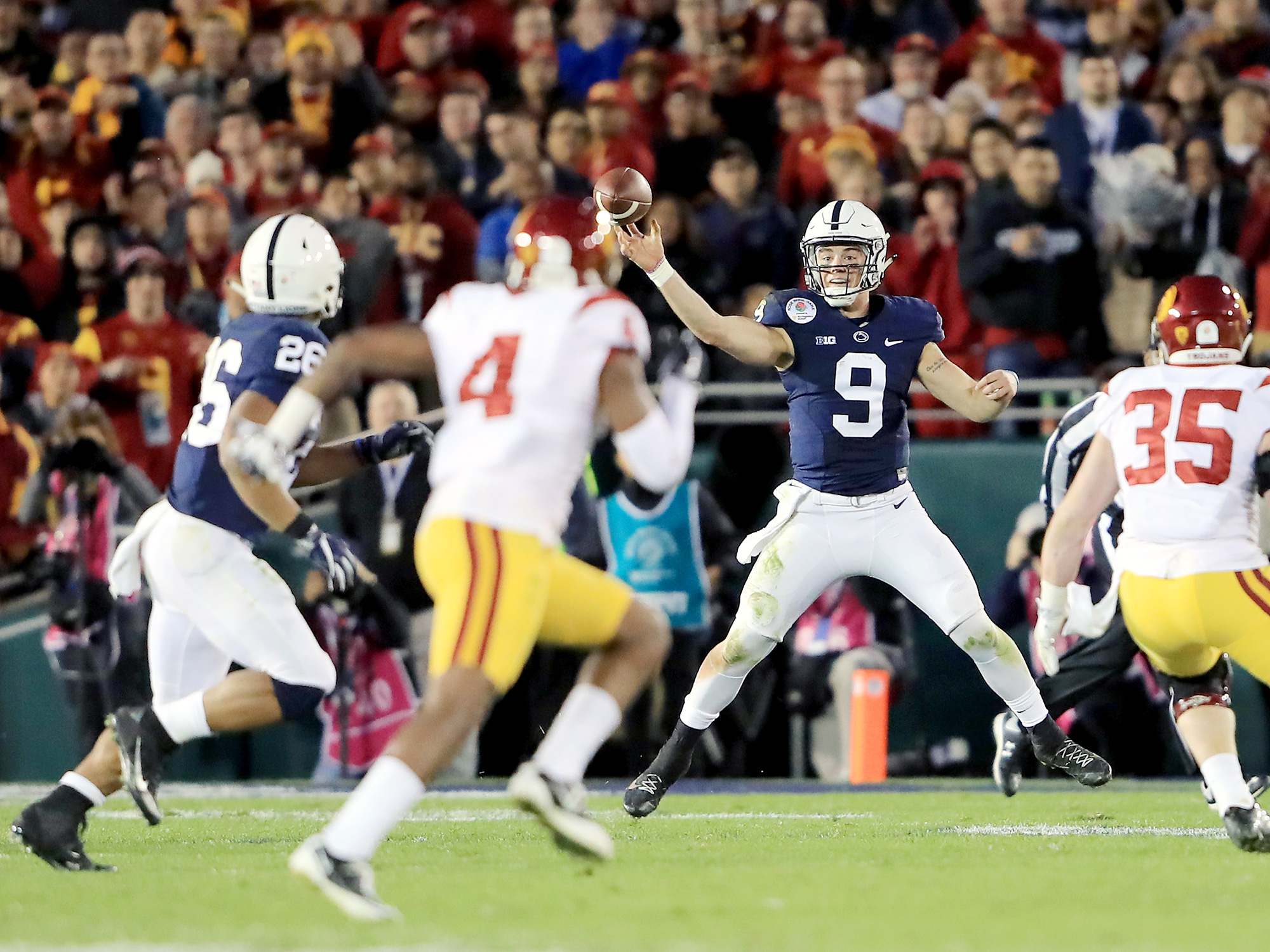 (Sean M. Haffey, Getty Images)
Independence Day has come and gone, which means fall camp kicks off in a couple weeks and college football season will be here before we know it. While Michigan doesn't have quite the hype it had entering last season the Wolverines still find themselves ranked in the top ten in most preseason publications.
It's time to kickoff our preseason coverage with a look at how each team in the Big Ten compares in terms of returning production. It's certainly not the end all be all when it comes to determining how each team will fare, but in the three years that we've been tracking this, it has produced some interesting results. All three years, the eventual Big Ten champion returned nearly the exact same mix of offensive and defensive production.
In 2014, Ohio State returned 60 percent of its offense and defense and won the conference. In 2015, Michigan State returned 54 percent of its offense and 67 percent of its defense — roughly 60 percent overall — and won the league. Last season, Penn State returned just under 60 percent of its total production and, you guessed it, won the Big Ten.
Could that sweet spot hold true again this year? We'll get to that, but let's start with the offense.
Offense
Returning offense
Team
Percent Returning
2016 Total Offense Ranking
Penn State
90%
49th
Northwestern
81%
73rd
Purdue
74%
80th
Ohio State
71%
31st
Indiana
64%
56th
Michigan
62%
58th
Illinois
61%
123rd
Rutgers
53%
128th
Wisconsin
50%
89th
Maryland
50%
95th
Minnesota
47%
107th
Michigan State
39%
75th
Iowa
30%
121st
Nebraska
22%
90th
Returning scoring offense
Team
Percent Returning
2016 Scoring Offense Ranking
Penn State
88%
21st
Northwestern
82%
87th
Purdue
73%
101st
Ohio State
67%
13th
Michigan
65%
11th
Illinois
63%
122nd
Indiana
62%
88th
Minnesota
54%
63rd
Wisconsin
53%
67th
Rutgers
52%
127th
Maryland
50%
88th
Michigan State
38%
104th
Iowa
30%
95th
Nebraska
20%
79th
Penn State joins last year's Nebraska, 2015's Ohio State, and 2014's Maryland as the teams with the most returning offensive production from the year prior. But that's not necessarily good news for the Nittany Lions. None of those three won their division that fall as Nebraska finished third in the West at 9-4, Ohio State went 12-1 but finished second behind Michigan State in the East, and Maryland finished third in the East at 7-6.
Like Ohio State in 2015, Penn State is the returning Big Ten champion and only has to replace its top receiver. The Nittany Lions return the Big Ten's top passer, Trace McSorley, and the second-leading rusher, Saquon Barkley. The pair accounted for nearly 5,500 yards of offense and 54 touchdowns in 2016. James Franklin will have to find a replacement for receiver Chris Godwin, who was drafted 84th overall by the Tampa Bay Buccaneers after leading the team with 982 receiving yards and 11 touchdowns. But Gesicki is the leading returning tight end in the conference with 679 yards and five touchdowns a year ago and rising seniors DeAndre Thompkins and Saeed Blacknall combined for nearly 800 yards and four scores in 2016.
Top returning Big Ten quarterbacks by passing production
Name (Yr.)
Team
Comp/Att (%)
Yards
TDs
Trace McSorley (RS Jr.)
Penn State
224/387 (57.9)
3,614
29
David Blough (RS So.)
Purdue
295/517 (57.1)
3,352
25
Richard Lagow (5th)
Indiana
253/438 (57.8)
3,362
19
Clayton Thorson (RS Jr.)
Northwestern
280/478 (58.6)
3,182
22
J.T. Barrett (Sr.)
Ohio State
233/379 (61.5)
2,555
24
Wilton Speight (RS Jr.)
Michigan
204/331 (61.6)
2,538
18
After Penn State, Northwestern returns the second most offensive production with 81 percent of its offense and 82 percent of its scoring offense back for another year. The Wildcats finished fifth in the Big Ten West with a 7-6 overall record and a 5-4 conference record and their offense wasn't the strength, finishing 73rd nationally in total offense and 87th in scoring.
Quarterback Clayton Thorson is the fourth-leading returning quarterback in the Big Ten after throwing for more yards (3,182) than any other sophomore in Northwestern history. Running back Justin Jackson lead the Big Ten in rushing last season, averaging 117.2 yards per game, and he's back for his senior season. Like Penn State, Northwestern has to replace its top receiver, Austin Carr, who was far and away the Big Ten's leading receiver a year ago. His 1,247 yards were 252 more than the next best. Junior Flynn Nagel is NU's leading receiver with 447 yards and two touchdowns.
Top returning Big Ten running backs by production
Name (Yr.)
Team
Rush Att.
Yards
TDs
Justin Jackson (Sr.)
Northwestern
298
1,524
15
Saquan Barkley (Jr.)
Penn State
272
1,496
18
Rodney Smith (RS Jr.)
Minnesota
240
1,158
16
Mike Weber (So.)
Ohio State
182
1,096
9
Akrum Wadley (5th)
Iowa
168
1,081
10
Ty Johnson (Jr.)
Maryland
110
1,004
6
Purdue returns the third-most offensive production with 74 percent of the nation's 80th-best offense and 73 percent of the 101st-best scoring offense coming back. Redshirt sophomore quarterback David Blough was one of the lone bright spots for the Boilermakers, who went just 3-9 overall and 1-8 in the Big Ten. Blough lead the conference with 279.3 passing yards per game and finished second with 25 passing touchdowns. His 517 passing attempts were 38 more than any other conference quarterback despite playing one fewer game.
Ohio State is an intriguing story this fall, returning the fourth-most offensive production from last season with 71 percent of their total offense and 67 percent of their scoring. But the big addition that isn't shown in the returning production statistics is the offseason hiring of offensive coordinator Kevin Wilson, the offensive guru who was Indiana's head coach the past six seasons. His hiring was music to the ears of OSU fans who had become increasingly angered with Ed Wariner and Tim Beck's erratic play calling.
Wilson will install his tempo-based spread attack into an offense that returns more than two-thirds of its production and that could be a scary thing. The Buckeyes do have to replace Curtis Samuel, who finished third on the team with 771 rushing yards and lead the team with 865 receiving yards, racking up 15 touchdowns in the process, but with Mike Weber returning from a 1,000-yard freshman campaign and J.T. Barrett back for another season behind center, Ohio State should take a step forward on offense this fall. The only question mark is at the receiver position where tight end Marcus Baugh is the leading returner with just 269 yards and two touchdowns.
Top returning Big Ten receivers by production
Name (Yr.)
Team
Receptions
Yards
TDs
Nick Westbrook (Jr.)
Indiana
54
995
6
Malik Turner (Sr.)
Illinois
48
712
6
Mike Gesicki (Sr.)
Penn State
48
679
5
D.J. Moore (Jr.)
Maryland
41
637
6
Jazz Peavy (5th)
Wisconsin
43
635
5
Troy Fumagalli (5th)
Wisconsin
47
580
2
Indiana, Michigan, and Illinois all return about the same amount of offensive production — in the low 60 percent — but Michigan stands out among the three for a couple of reasons. Whereas Michigan and Indiana both ranked about the same in total offense last season (Indiana 56th, Michigan 58th), Illinois had the nation's 123rd-best offense. And Ohio State's gain was Indiana's loss with regards to Wilson. The Hoosiers' offense is sure to take a step back under new offensive coordinator Mike DeBord.
Michigan, meanwhile, returns quarterback Wilton Speight — the first returning starter at the position since Harbaugh has been in Ann Arbor — and also returns plenty of experience at the running back position. Chris Evans is slated to assume the starter role which he shared with De'Veon Smith a year ago. Evans showed flashes of brilliance as a true freshman and now looks to expand that into a full season this fall. Receiver is the main question mark for the Wolverines after losing Amara Darboh, Jehu Chesson, and Jake Butt to the NFL. But there is plenty of young talent ready to step up.
The next level of returning offensive production includes Rutgers, Wisconsin, Maryland, and Minnesota, who each return around half of last season's production. Rutgers had the nation's worst offense and second worst scoring offense last season, so they won't factor into the discussion. Maryland had four different quarterbacks who passed for at least 200 yards last season and returns two of them, but also returns a 1,000-yard rusher in Ty Johnson. Minnesota has to replace quarterback Mitch Leidner, who passed for 2,169 yards and rushed for 366, but brings back the third-leading returning running back, Rodney Smith, who rushed for 1,158 yards and 16 touchdowns.
Wisconsin is the team that could be poised for another run at a Big Ten title this fall with solid talent returning. Quarterback Alex Hornibrook will take the reigns fully this fall after sharing with Bart Houston. The redshirt sophomore completed 58.6 percent of his passes for 1,262 yards, nine touchdowns, and seven interceptions a year ago. He has two of the Big Ten's top six returning receivers to throw to in Jazz Peavy and tight end Troy Fumagalli, who combined for 1,215 yards and seven scores last season, but does have to find a replacement for Corey Clement in the ground game. Bradrick Shaw rushed for 457 yards on 5.2 yards per carry and the Badgers add Pitt transfer Chris James, who averaged five yards per carry in 2015.
A trio of usual stalwarts bring up the rear in terms of returning production as Michigan State, Iowa, and Nebraska have the least returning this fall. The Spartans found themselves in the same position last year and their total offense went from 73rd nationally in 2015 to 75th in 2016, while their scoring offense fell from 60th to 140th. They do have running back L.J. Scott back, but have to replace their top four receivers and quarterback Tyler O'Connor. Brian Lewerke figures to start the season behind center, but Dantonio's offense has as many question marks as any team in the conference.
Iowa brings back just 30 percent of its total offense and scoring offense, both of which ranked among the Big Ten's worst in 2016. Quarterback C.J. Beathard, running back LeShun Daniels, and receiver Riley McCarron are all gone, but Akrum Wadley does bring back his 1,081-yard, 10-touchdown performance.
Finally, Nebraska has just 22 percent of its 90th-ranked total offense and 20 percent of its 79th-ranked scoring offense returning. The Cornhuskers have to replace quarterback Tommy Armstrong, their top two rushers, and three of their top four receivers. Redshirt junior Tanner Lee and redshirt freshman Patrick O'Brien will battle for the starting quarterback position and head coach Mike Riley will have to find playmakers everywhere to step up.
It's shaping up to be an interesting Big Ten race this fall, at least as far as offenses are concerned, with a lack of top-flight quarterbacks and not many household names returning. The rich seem to be getting richer as Penn State and Ohio State have the clear advantage offensively. If the Nittany Lions can continue the torrid offensive pace that they closed 2016 with they'll be a force to be reckoned with, and if Kevin Wilson can improve the Buckeyes' offense, we could be looking at a two-team race.
Stay tuned as we take a look at the returning defenses later this week.