---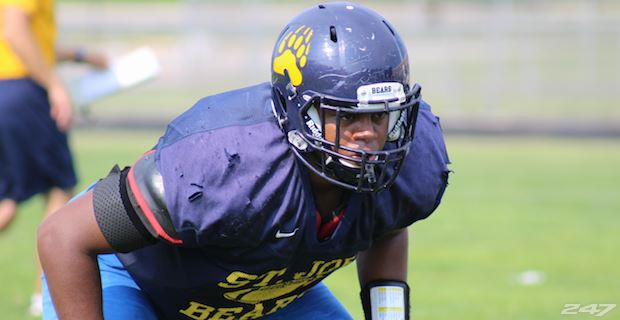 (247 Sports)
Corey Malone-Hatcher – DE 

|

 

6-3

, 246 | St. Joseph's, Mich.

 (St. Joseph's)

ESPN

: 4-star, #20 DE

Rivals

: 4-star, #13 SDE

247

: 4-star, #12 WDE

Scout

: 4-star, #24 DE
247 Composite: 4-star #16 WDE
Other top offers: Alabama, OSU, MSU, Oklahoma, Notre Dame, Tennessee, UCLA, Iowa, Wisconsin
Jim Harbaugh's summer satellite camp tour just started, but he has already picked up a commitment. Rather than coming as a result of a camp, it came from his own backyard in the form of St. Joseph's, Mich. defensive end Corey Malone-Hatcher. The 6-foot-3, 246-pound senior-to-be announced his commitment on Thursday afternoon.
Malone-Hatcher is a consensus four-star recruit accoridng to the four major recruiting services. 247 Sports ranks him the highest at his position as the 12th-best weakside defensive end, while Rivals has him as the 13th-best strongside end. ESPN and Scout list him 20th and 24th, respectively. Nationally, 247 has him the highest as the 169th-best overall player in the 2017 class. ESPN ranks him 254th, Scout 287th, and Rivals doesn't have him in their top 300. According to the 247 Composite, he's the 247th-best player, 16th-best weakside end, and sixth-best player in the state of Michigan.
Scout lists Malone-Hatcher's strengths as backside pursuit, pass rushing skills, and techniques and moves, while noting his area to improve as injury history. A foot injury — and ultimately surgery — ended his junior season last fall. Scout expanded on their analysis.
"Great pass rusher who can dip his shoulders, bend the corner and get around offensive tackle. Agile kid who does a good job with his hands as well. Closes on quarterbacks quickly and has improved on his ability in coverage but can continue to work in that department. Main concern are a couple of injuries the last few years, but when he's been on the field, he's made an impact."
Malone-Hatcher chose Michigan over a top ten that he released on Sunday that also included Ohio State, Michigan State, Alabama, Oklahoma, Notre Dame, Tennessee, UCLA, Wisconsin, and Penn State. According to the 247 Crystal Ball, Michigan has always been the favorite, while Alabama had a few votes. But since he tweeted out his top ten, 10 crystal balls were given in Michigan's favor and by Wednesday night the Wolverines were the 100 percent favorite.
Michigan already has two of the state of Michigan's top six — offensive tackle JaRaymond Hall (third) and inside linebacker Josh Ross (fourth) — and Malone-Hatcher's commitment would give them a third. The biggest prize, receiver Donovan Peoples-Jones, who ranks sixth nationally, is considered a Michigan lean, but the Wolverines still have to fight off Ohio State and Michigan State for his commitment.
Malone-Hatcher is the 13th commitment in the class, joining Hall, Ross, quarterback Dylan McCaffrey, running backs Kurt Taylor, O'Maury Samuels, A.J. Dillon, and Chase Lasater, tight end Carter Dunaway, defensive tackle Phillip Paea, linebacker Ben Mason, and defensive backs Benjamin St-Juste and J'Marick Woods.