---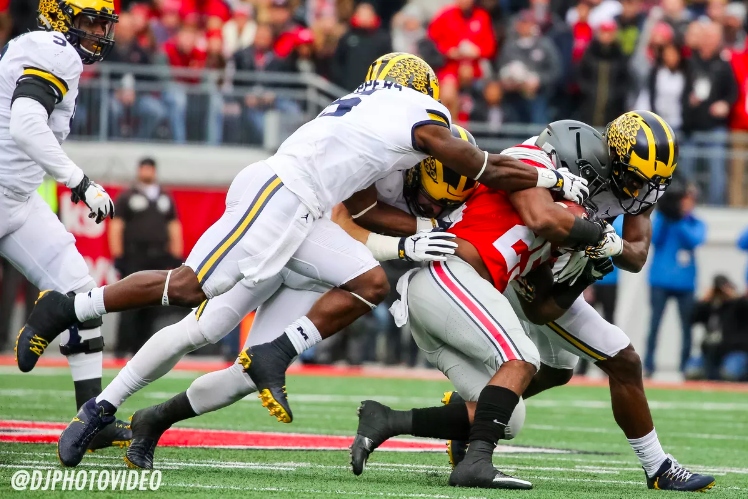 (Dustin Johnson, Maize 'n Brew)
Previously: Is Don Brown's defense high-risk? The numbers say no, Michigan's Harbaughfense will be more explosive in Year 2, Run game makes big plays in Week 1, While UCF loaded the box Michigan went to the air for big plays, Michigan offense doubles 2015 big play pace through 3 weeks, UM's smothering defense narrows gap between 2015 D's big play pace, U-M offense maintains big play pace versus tough Wisconsin D, Michigan out-big-plays Rutgers 16 to 1, Michigan's big play stats continue to tell good news, U-M offense third most explosive, defense best at preventing big plays, MSU wins big play battle, Michigan wins the war, As big play defense falls back to earth, U-M offense continues to soar, U-M's dynamic big-play offense stalls in Iowa loss, U-M offense, defense remain among nation's best entering The Game
Let me get this out of the way first: while the officiating was egregious, it was NOT why Michigan lost last Saturday's game. It sure didn't help when Ohio State was getting the calls on identical plays where Michigan wasn't, but in comparison to the three turnovers it was insignificant. You simply cannot turn the ball over three times, especially on the road, and expect to win. Take away just one of the interceptions and Michigan wins comfortably in regulation. Regardless, it was a game that came down to the wire and Michigan had shot itself in the foot too many times to win and still almost pulled out a win. Heartbreaking? Absolutely. But let's not forget that just two years ago this was a 5-7 team.
Now, some good news. Michigan racked up an absurd 13 total tackles for loss and eight — yes EIGHT — sacks. They held a potent OSU offense that was averaging over 11 big plays per game to eight — two of which came in overtime. The bad news is the offense couldn't generate many big plays of their own, recording just three total — one run and two pass. That's well below their season average of 11.36 coming in. Add in losing the turnover battle three to one and Michigan's toxic differential this game was minus-7, a far cry from their per game average of plus-6 coming in.
Losing both the big play battle and the turnover battle, on the road, is not a recipe for winning and yet they were still there in the end and could have won. Despite all that, with some chaos this weekend there is an ever so slight chance Michigan could make the playoff. #HarbaughEffect #DonBrownEffect
Michigan offense – 2015 vs 2016 regular season comparison
Year
Big Run Plays
Big Pass Plays
Total Big Plays
Big Play %
Big Play Diff
Toxic Diff
2016
83
45
128
14.71%
4.67%
59
2015
43
42
85
10.25%
-0.70%
-4
Michigan's three  total big plays is by far the lowest total of the year. Wilton Speight's undisclosed injury likely led to no downfield shots and a contributing factor for the lack of big plays, but that is neither here nor there.
For the 2016 regular season Michigan averaged 6.92 explosive runs per game (27th nationally) and 3.75 explosive passes (46th) for a total of 10.67 explosive plays per game (24th) with a big play percentage of 14.71 percent (28th) and a total toxic differential of 59 — good for eighth on a per game basis.
The last three weeks of the season have seen Michigan drop dramatically in all of those metrics, from 12th to 27th in explosive runs, 14th to 46th in passes, second to 24th overall big plays, and 4th to 28th for big play percentage. Not ideal, as the end of the year is not when you want to see your team come back down to Earth, but as I said above, two years ago this was a 5-7 team. For some additional context, and to help hammer home the point that Jim Harbaugh is indeed building a DeathStar with this program let's look at the 2015 end of regular season numbers.
The 2015 Michigan offense averaged 3.58 explosive runs per game and 3.5 explosive passes for a total of 7.08 explosive plays per game. Their big play percentage was 10.25 percent and their total toxic differential was minus-4.
The 2016 run game took huge leap forward, almost doubling the per game output, the pass game got slightly better and the overall was 50 percent better than last year's at this point. Their toxic differential went from a negative to a very large positive (-4 to 59) and we're only scratching the surface of what Jim Harbaugh is bringing to Michigan. It's great to be a Michigan Wolverine.
There was no garbage time during this game, and I expect future versions of The Game to stay that way. For the year just over one-third — 35.94 percent — of Michigan's explosive plays came during garbage time. They did the bulk of their damage before the game got out of hand.
Defensive big play allowed
Michigan defense – 2015 vs 2016 regular season comparison
Year
Big Run Plays/gm
Big Pass Plays/gm
Total Big Plays/gm
Big Play %
Big Play Diff
Toxic Diff
2016
4.33
1.92
6.25
10.04%
4.67%
59
2015
4.67
2.25
6.92
10.95%
-0.70%
-4
The defense held its ground during regulation, keeping Ohio State to just six explosive plays, which is right at Michigan's average coming in and almost half of OSU's average. Unfortunately, the Buckeyes added two very big plays in overtime and finished the day with those eight explosive runs. Michigan did not allow a single explosive pass.
For the regular season, Michigan's defense averaged 4.33 explosive runs per game (34th) and 1.92 explosive passes (2nd) for a total of 6.25 explosive plays per game (9th). Their big play against percentage was 10.04 percent and their big play differential was 4.67 percent (16th). Michigan improved upon every single defensive measurement under the tutelage of Don Brown. Not by leaps and bounds, but significant going by rankings.
Their 2015 numbers were 4.67 explosive runs per game and 2.25 explosive passes per game for a total of 6.92 explosive plays given up per game. Their big play against percentage was 10.95 percent and their big play differential was -0.70 percent. In 2016, those would rank, 45th in runs, 10th in passes, and 25th in overall big plays surrendered. Big play against would be 28th compared to this year's numbers and big play differential would have been 82nd. Michigan had a very good defense last year, and Don Brown came in and managed to improve upon it. Taking out the two overtime explosive runs and this defense held OSU to half their 2015 total versus Michigan. I think it's safe to say Don Brown knows what he's doing.
Again, there was no garbage time during this game. For the year Michigan allows 37.84 percent of their big plays during garbage time.
Sacks and tackles for loss
Michigan's eight sacks and 13 tackles for loss adds to their already impressive season totals. Their 44 total sacks at 3.67 per game both rank second nationally. Their 114 total tackles for loss and 9.5 per game are both first overall. They are the only team to average over nine TFL per game. This is just the first year under Don Brown's aggressive scheme, and I think it's safe to say the Michigan defense will find itself amongst the top teams in sacks and TFL as long as he's in Ann Arbor.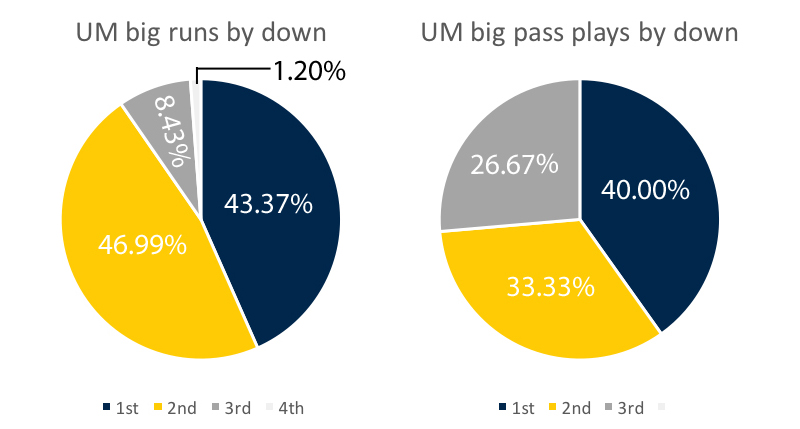 An explosive play was equally as likely on first down (54) as it is on second down (54). An explosive run was more likely on second (39) than first down (36) and an explosive pass play was slightly more likely on first (18) than second down (15). Third down is highly unlikely to see an explosive run (only 8.43 percent of explosive runs happen on third down) but better than a quarter (26.67 percent) of the explosive pass plays happen on third down.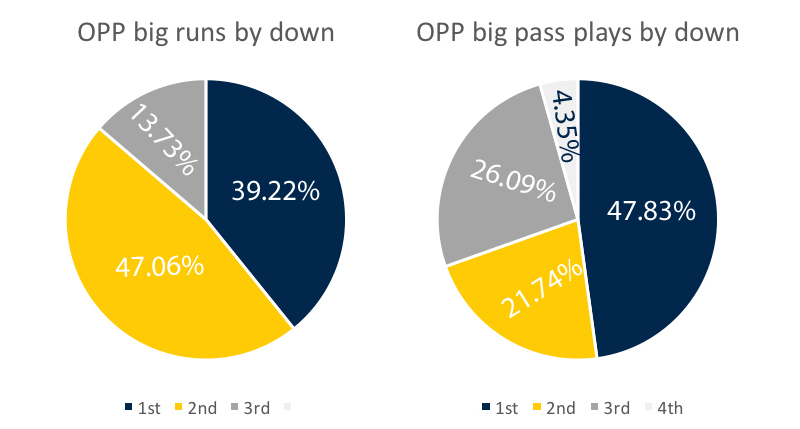 On defense, Michigan was also about almost as likely to give up an explosive play on first down (31) than second down (29) with third down a good deal behind (13). They only surrendered one fourth down explosive play. Almost half of the explosive runs given up happen on second down (24), followed by first (20), and then third (7). Explosive pass plays are more likely to occur on first down (11) than second (5), third (6), and fourth (1) downs.
Big play percentage of total yards
Ohio State had six drives with at least one explosive play against Michigan and they scored on three of them. However, during regulation, they had four drives but only scored on one of them. They were two for two during overtime. Michigan had just one drive with at least one explosive play and scored on it. For the year, Michigan has had 82 total drives on which they've had at least one explosive play, and they've scored on 60 of them, or 73.17 percent of the time. On defense, they've surrendered just 20 scores on 54 drives with an explosive play, just 37.04 percent of the time.
What this means is that almost two-thirds of the time an opponent had a drive with an explosive play (which doesn't happen often) they still can't score on this Michigan's defense. Remember, teams are likely to score 75 percent of the time they have an explosive play on a given drive.
Since we do not know Michigan's bowl fate we cannot take a look ahead at their next opponent so we'll end our regular season edition with a look at the individual big play leaders.
Michigan's big play leaders
De'Veon Smith was the overall leader with 22 big plays (all runs), averaging an astounding 19.55 yards per big play. Amara Darboh led the pass catchers in big plays with 16 and a 33.81 yards per big catch average. Freshman Chris Evans was second overall in total and run plays with 17 and Karan Higdon held the highest average per run with 23.9 on his 10 big run plays. Overall, thirteen players recorded at least one explosive run, 10 recorded at least one explosive catch and five had at least one run and one catch.