---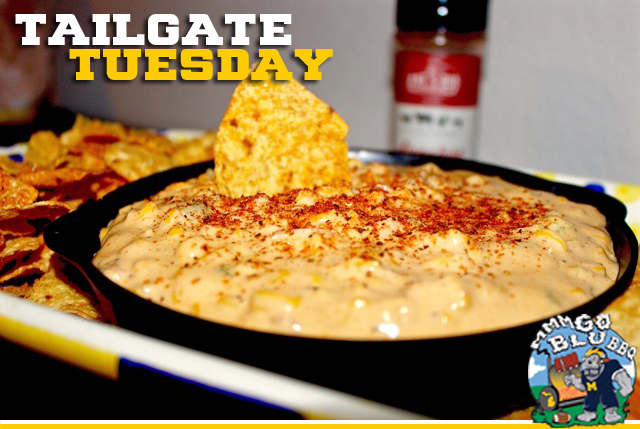 Tailgate Tuesday is our weekly contribution from our resident pitmaster, Joe Pichey from GoBlueBBQ. These tailgate recipes will be posted each Tuesday throughout the football season and will feature a variety of appetizers, main courses, and sides to help you be the king of your next tailgate. Lane's BBQ, a Bethlehem, Ga. based BBQ company, sponsors this season's feature by providing their killer rubs and sauces for use in the recipes. Buy them here. In addition, Fogo Charcoal provides charcoal to use in each recipe. Buy it here.
Previous: Cedar planked scotch eggs, Pork tenderloin sliders with grilled cheese, Chicken street tacos, Sausage and cheese poppers, Tomato pie, smoked corn pudding, Maple planked salmon, Sous vide steak and burgers, Bacon cream cheese, Brazilian style protein
Full Archive here.
Sometimes it's necessary to break out the crockpot and do things the easy way. We're nearing the end of the regular season and the grills are tired. The bags of Fogo Lump Charcoal are running low and the crockpot wants some attention. I've been making this recipe for years and it's always a hit. You can make this on the grill or even on the smoker if you'd like. It would be fantastic either way. Since it's getting a little cooler and chili season is right around the corner, let's dust off the Michigan crockpot and set the temp knob to low. This one has all the big hitters in it. We have bacon….cheese….jalapeños……Lane's BBQ Signature Rub…….cream cheese, and of course O'KORN. Once it gets all OOEY GOOEY, grab a chip and go to town.
• 3 cans of whole kernel corn (drained – 15.25 OZ)
• 2 jalapeños – diced and seeded
• 8-oz cream cheese
• 2 TBSP Lane's BBQ Signature Rub
• 8-oz sour cream
• 6 slices crispy bacon (chopped)
• 16-oz Velveeta Cheese (1/2 a small brick)
• Tortilla chips
One of the best inventions in recent years is the crockpot liner. If you don't have a pantry full of these, it's time you go out and stock up. These things are greatness. Line your favorite Michigan crockpot with the liner bag and set on low.

As the crockpot is heating up, start cooking your bacon. If you want to take the easy way out, buy the pre-cooked bacon and chop into small pieces. Do the same with your cream cheese and Velveeta cheese. Now, cut the ends off the jalapeños and remove the seeds. If you want a spicier dip, leave some of them in. It's up to you. I like some heat in mine, so I left about half of the seeds in.

Drain the corn and add to the crockpot. Toss in the remaining ingredients and let cook for about two hours. Reserve some of the bacon as a topping. I love the crunch of the crispy bacon on the the cheesy corn. It's super flavorful. I like to add my Lane's Rub directly on the corn as I think is soaks into each kernel and gives more flavor in each bite. It's probably just my imagination, but it's my dip, so I do it. Go ahead and season that cheese as well. It's a great rub!

After about two hours, mix it well and it should be ready to eat. Grab some tortilla chips and go to town.
Visit Lane's BBQ to purchase their fantastic line of rubs and sauces. You can follow them on Facebook and Instagram.
Visit Fogo to purchase their premium lump charcoal. You can follow them on Twitter, Facebook, andInstagram.
After growing up in Michigan, Joe now lives in North Texas where he can barbecue year 'round. He cooks mostly on Big Green Eggs and some Webers and has competed in BGE competitions. When he's not watching Michigan football, he also teaches BBQ classes at a local grilling store and does some catering. You can follow Joe on Twitter at @mmmgoblubbq and Instagram at @gobluebbq.