---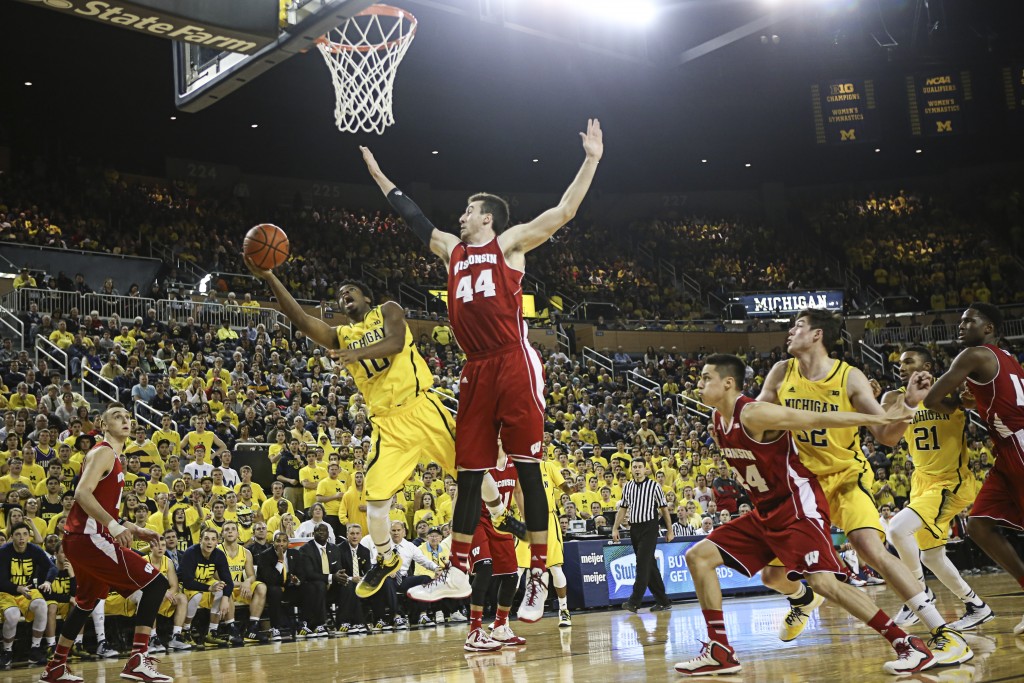 (Teresa Mathew, UMHoops)
ESPN's College Gameday was in Ann Arbor for Michigan's matchup with the Wisconsin Badgers on Saturday night, but that doesn't mean anyone was really expecting a good game between the two teams at opposite ends of the experience spectrum.
The Badgers, led by the eccentric but outstanding Bo Ryan, came in as the 6th-ranked team nationally, boasting a lineup replete with size, experience, talent, and cohesiveness. Frank Kaminsky, a preseason All-American 7-footer, is arguably one of the three best players in the country, but he's joined by fellow senior Josh Gasser, junior (and surefire first-rounder) Sam Dekker, and experienced sophomores Nigel Hayes — a skilled big man — and Bronson Koenig. Coming off the bench, Ryan prefers another senior and another pair of sophomores being weaned into a handful of minutes per game. On Saturday night, not a single visiting freshman checked into the game.
Wisconsin returned just about everyone coming off a trip to the Final Four last season, and they've looked the part so far this year, with their only losses coming to Duke and a puzzling fall at Rutgers, where Kaminsky sat out and point guard Traevon Jackson injured himself in the second half.
Compare that to this season's Michigan outfit, which is now down to nine scholarship players and starts two freshmen, two sophomores, and a junior – along with a bench full of more freshmen and walk-ons – and you see why the Badgers entered the evening as double-digit favorites. And though the Wolverines were just one round away from dancing in Dallas with the Badgers, injuries and NBA attrition have forced coach John Beilein into playing multiple lineups with almost no experience; on Saturday night, five freshmen and two sophomore walk-ons logged minutes for the home Maize and Blue.
For much of the night, the inklings of the Badgers' superiority proved accurate, with Wisconsin jumping out to an early seven-point lead, enduring Michigan's first-half run, then bringing it back to seven at the break before opening the lead up to 11 four minutes into the second half.
Dekker used his 6'9″ frame and athleticism to shoot over and drive past the defense on his way to eight first-half points, Koenig knocked down three of four shots for seven, and bigs Hayes and Kaminsky pitched in six a piece before the break. Michigan also displayed some nice balanced scoring, with six different players getting on the board in the first half, but no one scored more than Max Bielfeldt's six. The Wolverines stuck in the game by taking advantage of an uncharacteristic six first-half giveaways from the Badgers – prompting Bo Ryan to quip that he was pondering opening a bakery because of so many turnovers in one of the more bizarre jokes I've ever heard in a press conference – and an even more surprising five offensive rebounds, including three for Bielfeldt that were all put back up and made.
The sloppy play for the Badgers wouldn't continue forever, though, as the visitors turned it over just once in the second half, allowing them to use their full possessions and dominate with their size. A couple times, Spike Albrecht was comically caught trying to body up Kaminsky, who had his way in the post for much of the game to the tune of 22 points on 8-of-13 shooting without a single triple attempt.
Despite the odds, Michigan still fought back as they have so many times this season. Missing leader Caris LeVert for just the second game, the Wolverines seemed to move the ball a little better around the perimeter with less reliance on the three. After falling down early in the game, Bielfeldt stepped up down low for three offensive boards and buckets to help the home squad take a 17-16 lead before fellow big man Mark Donnal checked in to score four more quick points, including one bucket on a pretty 15-foot turnaround fadeaway baseline jumper to keep Michigan up two with 3:13 remaining.
The Maize and Blue wouldn't score the rest of the half, however, while Wisconsin quickly reeled off nine points courtesy of a Hayes and-one and buzzer-beating three and a ferocious dunk from Dekker, who had to leave the court after converting the three-point play due to a sizable amount of blood coming from his hand.
Early in the second half, it looked like Wisconsin would finally escape the ties of Michigan's dizzying array of defenses and run away with it, but four straight buckets from four different Wolverines and a pair of Derrick Walton free throws tied things up at 38 midway through the second half. A Bronson Koenig three finally halted Michigan's 11-0 run, but Muhammad-Ali Abdur-Rahkman stepped right up and nailed a three of his own to knot it up again.
With a veteran savvy that is becoming increasingly rare in college basketball, however, the Badgers remained unfazed and immediately scored seven in a row to go up 48-41 with just 7:33 remaining. It looked like the book would finally be closed on the evening, but Michigan fought back valiantly with five straight from Zak Irvin and a huge pair of makes from Rahk and Walton to cut things to two with 22 seconds left right after Josh Gasser missed the front end of his 1-and-1 try.
Michigan, with no choice but to foul, sent Koenig to the line for a 1-and-1 opportunity, and happily saw the second miss. Walton quickly got fouled, drained a pair to cut the lead to one, then Aubrey Dawkins put Koenig back to the line for two.
This time, the sophomore made good on both to give Wisconsin a three-point lead with just 10 seconds remaining.
The Wolverines would have one chance to send it to overtime, and with Bo Ryan electing not to intentionally foul, Dawkins caught a pass from Walton on the left wing, went up to shoot – drawing two defenders – and deftly laid it back off to an open Walton on the left.
The shot hung in the air for a few memorable moments before finding nothing but net, causing Crisler to erupt in a deafening roar as Michigan took it to OT.
Unfortunately for the terrific crowd and the scrappy Wolverines, the dream comeback died shortly after. Frank Kaminsky started off the extra period with an incredible and-one finish over Ricky Doyle, then Josh Gasser hit a three after a Michigan turnover to put Wisconsin up six before Beilein's team knew what hit them.
And although the Wolverines had mustered up comeback after comeback all night long, this lead proved insurmountable. Kaminsky would finish the overtime period with eight of his game-high 22 while Gasser pitched in the three and Dekker made one free throw, giving Wisconsin the 69-64 win.
After the epic battle, Beilein said there would be no moral victories taken despite the encouraging performance, but that Michigan will certainly learn from the loss and continue to key in on what they did well.
It's hard to not see this game as a positive for Michigan performance-wise, though, even if they let another potential season-changing win fall through their grasp.
Nine different Wolverines scored, led by Derrick Walton's 17, while only Wisconsin's starting five got on the scoreboard. Particularly encouraging for Michigan also was the collective output of bigs Doyle, Donnal, and Bielfeldt, who combined for 19 points on 8-of-14 shooting and 13 rebounds, including six offensive, while doing about as well as you could hope against the likes of Kaminsky and Hayes down low. That pair scored 32 points, but it took them 23 shots to get there.
Muhammad-Ali Abdur-Rahkman (Rahk) was another bright spot, as the freshman scored nine points on four shots and showed positive signs for the third straight game, according to Beilein. Rahk continues to display a better grasp of the offense and greatly increased confidence, but perhaps most impressive has been the drastic improvement in his outside shot. The knock on the Philadelphia native coming in was his inability to provide a deep threat, and he certainly struggled shooting earlier this year, but his shot looks terrific right now, and he has not been afraid to take the big ones.
The Wolverines will now face a Nebraska team this Tuesday coming off a home win over Michigan State before a gauntlet of games awaits in February.
At this point, Michigan has lots of catching up to do in order to have even an outside shot at making the Big Dance, but if they can play like this on a nightly basis, there should be a few reasonable opportunities for big wins in the near future.
The first step has been taken. Now the effort must be sustained.
• In his press conference, Beilein confirmed that Michigan was fouling on purpose at the end of the first half, but that, looking back on it, they executed very poorly. The Wolverines had two fouls to give, but the confusion started when Walton, who already had one foul on the night, picked up a second foul some 30 feet from the hoop with 19 seconds on the clock. Michigan fouled again with nine seconds remaining, but that still gave Wisconsin plenty of time to score, which they capitalized on with a corner three from Nigel Hayes.
The controversial strategy from Beilein is designed to take advantage of "free" fouls at the end of the half in order to give the other team very little time to get set up and finish with a bucket, but in order to work, Michigan would like to leave the team with four seconds or fewer to operate. By fouling with 19 seconds left, the strategy was destined to fail, as Michigan couldn't possibly utilize just one more foul to give effectively with so much time left.
***Derrick Walton Jr.***
17 points (4-of-12 FG, 2-of-5 3pt, 7-of-8 FT), five rebounds (two offensive), two assists, one steal, one turnover in 39 minutes
**Max Bielfeldt**
9 points (4-of-6 FG, 1-of-3 3pt, 1-of-2 FT), five rebounds (three offensive) in 13 minutes
*Muhammad-Ali Abdur-Rahkman*
9 points (3-of-4 FG, 1-of-1 3pt, 2-of-2 FT), two rebounds in 23 minutes
Final Game Stats

#

Name

FG-FGA

3FG-3FGA

FT-FTA

OR

DR

TOT

PF

TP

A

TO

BLK

S

MIN

21
Zak Irvin*
5-15
2-6
0-0
1
1
2
0
12
2
1
0
1
40
24
Aubrey Dawkins*
1-3
1-3
0-0
0
3
3
4
3
2
0
1
0
24
32
Ricky Doyle*
1-3
0-0
2-2
1
4
5
3
4
0
0
0
0
23
02
Spike Albrecht*
1-4
0-2
0-0
0
1
1
0
2
2
1
0
0
25
10
Derrick Walton Jr*
4-12
2-5
7-8
2
3
5
4
17
2
5
0
1
40
03
Kameron Chatman
1-2
0-0
0-0
1
2
3
2
2
0
0
0
0
22
04
Andrew Dakich
0-0
0-0
0-0
0
0
0
0
0
0
1
0
0
2
12
M-A. Abdur-Rahkman
3-4
1-1
2-2
0
2
2
4
9
0
0
0
0
23
20
Sean Lonergan
0-0
0-0
0-0
0
0
0
0
0
0
0
0
0
1
34
Mark Donnal
3-5
0-0
0-0
2
1
3
0
6
0
0
0
0
11
44
Max Bielfeldt
4-6
1-3
0-0
3
2
5
3
9
0
0
0
0
14
Totals
23-54
7-20
11-12
11
22
33
20
64
8
9
1
2
225
Wisconsin
24-51
7-21
14-19
9
21
30
12
69
12
8
1
4
225

Full Stats