---
(Isaiah Hole, 247 Sports)
On Sunday, we showed how this season's offense has outperformed last season's offense at the midpoint of the season against a comparable schedule and slightly better defenses. Today, we take a look at how Don Brown's first Michigan defense compares to D.J. Durkin's one and only Michigan defense.
As I said on Sunday, the six opponents Michigan has faced to date have essentially the exact same record as the first six a year ago (20-14 compared to 20-13), so strength of schedule is comparable. One difference to keep in mind is that a year ago Michigan opened its season on the road in a hostile environment at Utah and also played Maryland on the road, whereas this year the only road game thus far has been at Rutgers.
Let's start the comparison by taking a look at Michigan's scoring defense.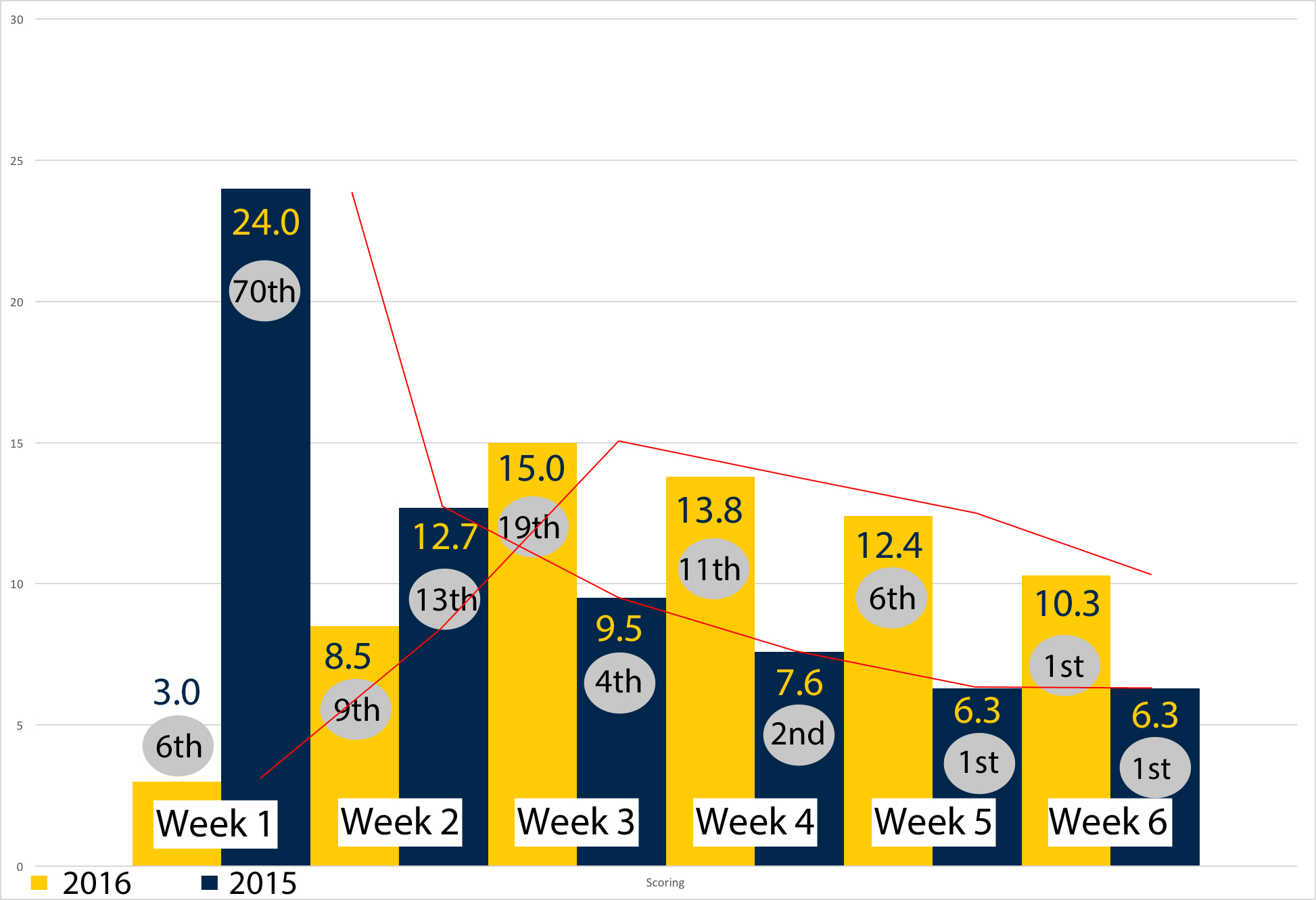 Scoring defense average (national ranking in circle) 
This year's defense started the season strong, holding Hawaii to just three points. Hawaii has averaged 34.4 points in its other five games. But UCF scored 14 and Colorado 28 in the next two games, and all of the sudden some began to be concerned about the Michigan defense. Michigan rebounded with just 17 points allowed over its next three games to hit the midseason point as the nation's top scoring defense. The Wolverines' defense held five of six opponents to their lowest point total of the season to date — the only outlier being Colorado, which only scored 17 points against USC two weeks ago.
Last year's defense struggled in a season opening loss at Utah, allowing 24 points, but settled in and allowed just 14 points total in its next five games, three of which were shutouts. Like this year's defense, it lead the nation in scoring defense at the midway point. But that's where the wheels fell off for last year's defense, which allowed 26 points or more in four of its final seven games. After allowing just 6.3 points per game in its first six games, Michigan's scoring average during the final seven games was 25.
The scoring offenses Michigan faced in the first six games a year ago were worse than those they  have faced so far this year with an average national ranking of 80.8 compared to 67.3 this year. The best offense of the six Michigan faced last year was BYU (40th), and three of the six ranked in the bottom fourth nationally. This year, Colorado currently ranks 22nd in scoring, UCF is 43rd, and only one — Rutgers — ranks in the bottom fourth (125th).
So while Michigan's 2015 defense allowed fewer points in the first six games than this year's (38 compared to 62), it faced less potent offenses.
Let's take a look at the run defense.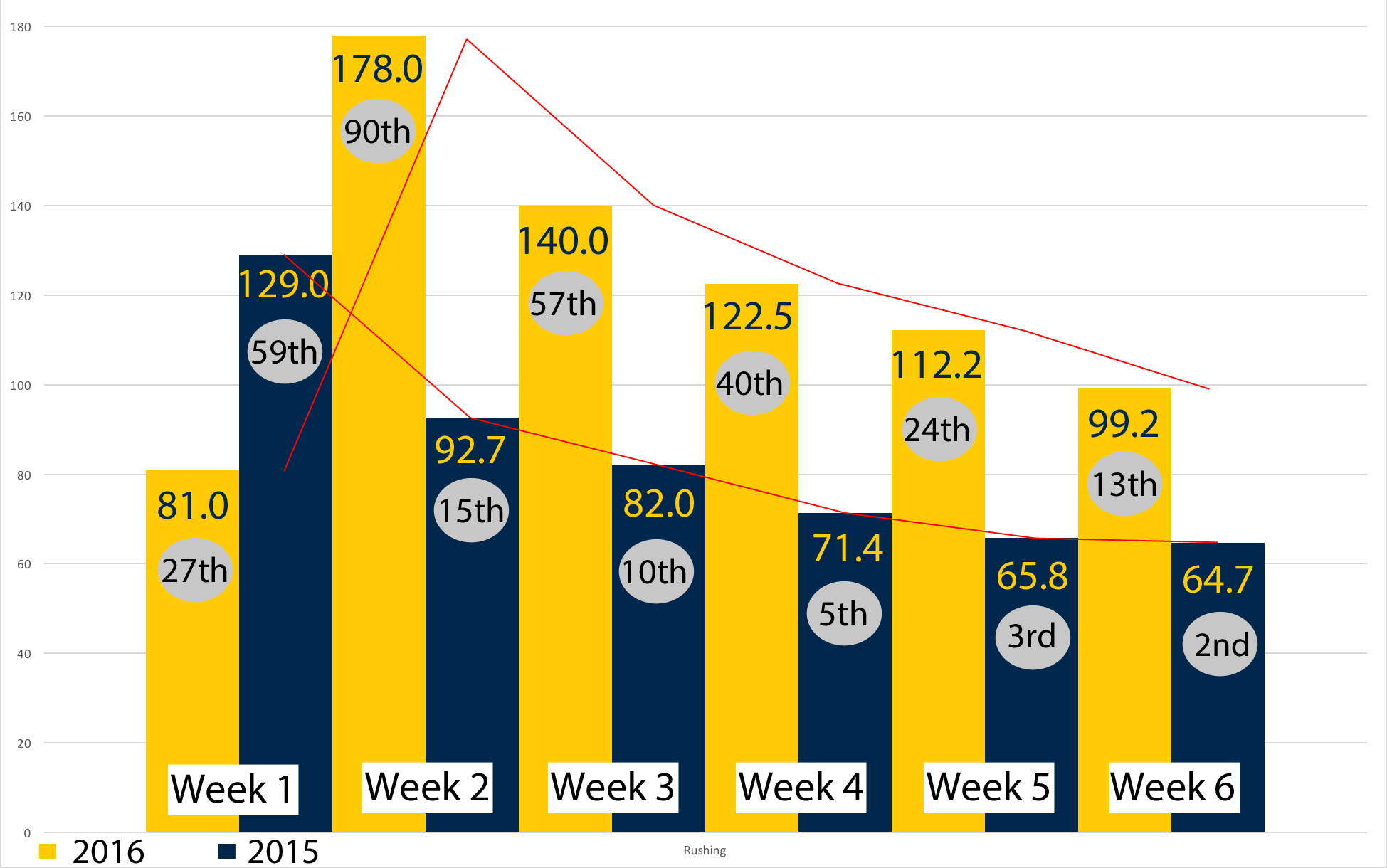 Rush defense average (national ranking in circle) 
There is one major outlier throwing off the current defense's numbers and that's Week 2 where you see the big spike. UCF rushed for 275 yards despite losing 51-14, thanks to a couple of big runs including an 87-yarder. But that's the exception rather than the rule. In Michigan's other five games, the Wolverines' run defense has held opponents to just 64 yards per game on the ground for a paltry 1.97 yards per carry.
Last season, Michigan gave up 127 yards to Utah in the opener but then ran off six straight games of allowing 92 yards or fewer on the ground. In the five games between Utah and midseason, the U-M defense allowed just 53.6 rushing yards per game on 1.89 yards per carry. After midseason, however, five of the final seven opponents topped 100 yards with Indiana and Ohio State gashing the Wolverines for 307 and 369, respectively. Nose tackle Ryan Glasgow's injury played a big part in that drop-off.
Although the current squad has allowed more rushing yards per game at this point, both defenses surrendered just two rushing touchdowns through six games. And if this year's team is to win the Big Ten title, it will need to avoid the fall-off that last year's team suffered.
How about the pass defense?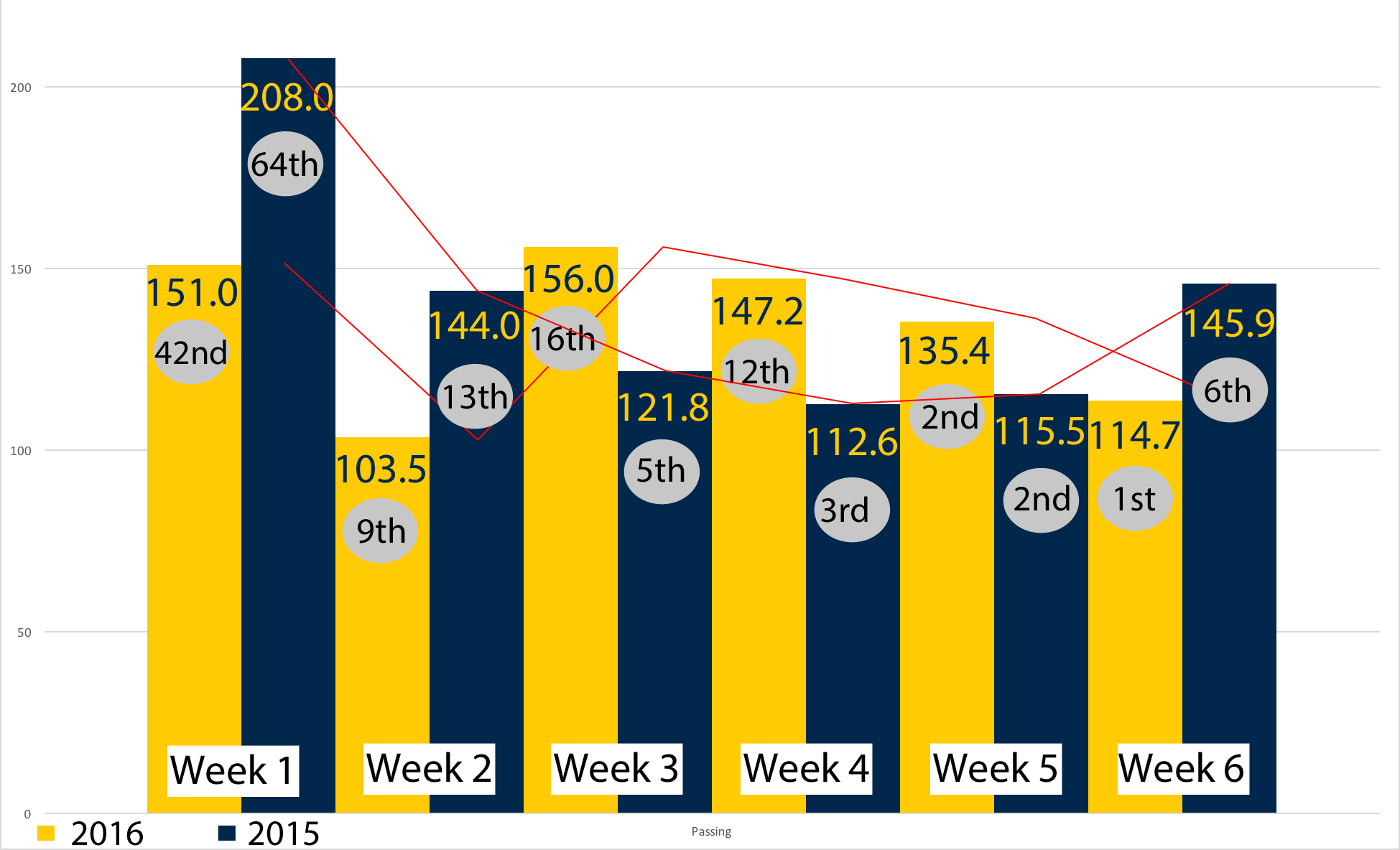 Pass defense average (national ranking in circle) 
This category is a little bit more even year over year as both units were outstanding in the first half of the season. Last year, Michigan gave up over 200 passing yards to Utah in the opener, but didn't allow more than 143 in its next five games. However, in the first two games of the second half of the season, Michigan State and Minnesota both topped 300 passing yards.
This year's pass defense struggled against Colorado, allowing 261 passing yards, but has allowed 88 or fewer in three of six games, including just five to Rutgers the last time out. Opponents are completing just 42.3 percent of their passes against this year's defense compared to 47.7 percent at the midway point a year ago.
Can this year's pass defense continue its pace? One disparity between this year's and last year's is quarterback pressure. This year's defense has recorded 24 sacks compared to just 15 at this point last season. The pressure hasn't translated into an increase in turnovers, though, as this year's team has six picks compared to seven last season. But this year's secondary has returned two of those interceptions for touchdowns compared to one at this point last season.
Finally, let's look at the defense as a whole.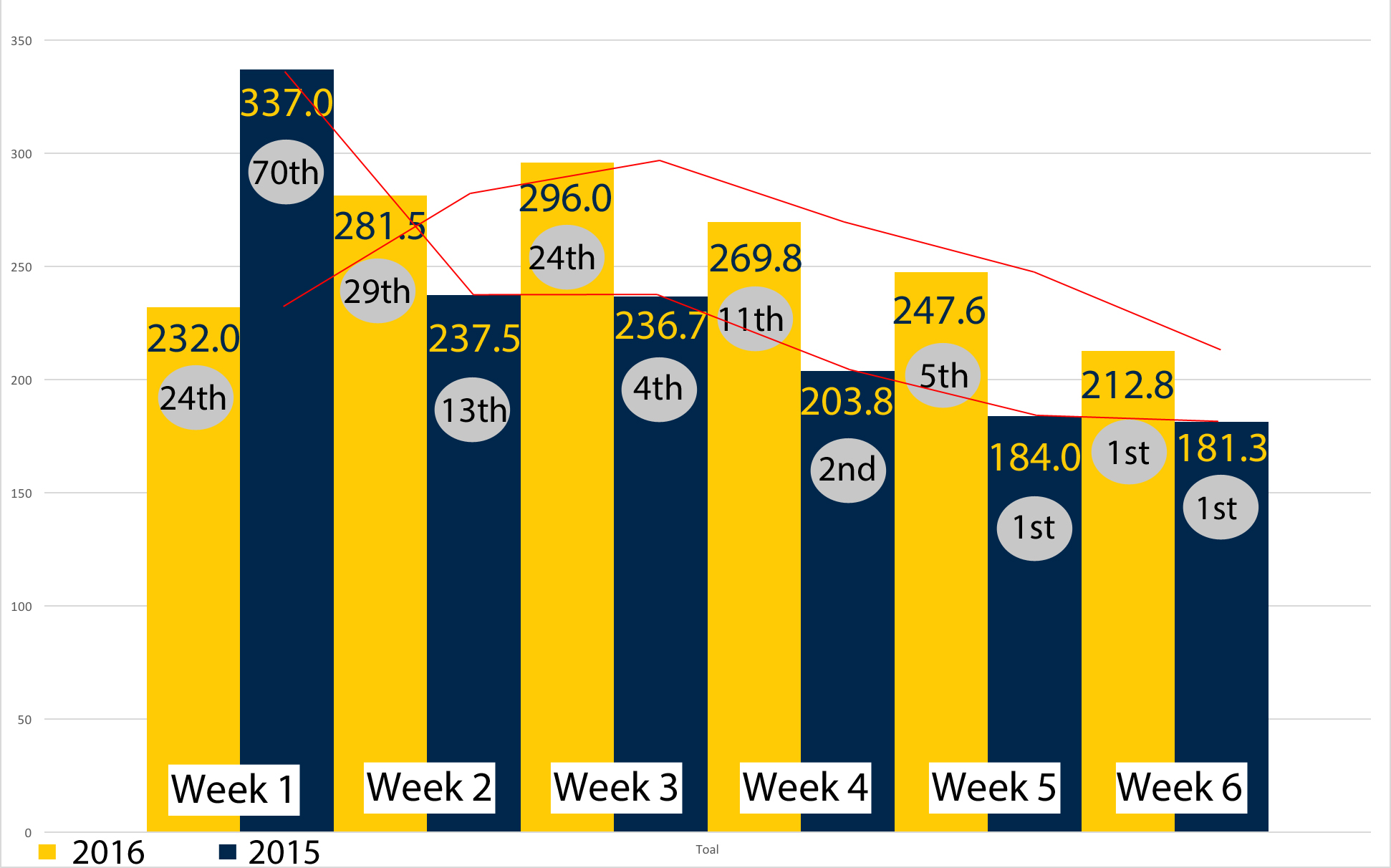 Total defense average (national ranking in circle) 
There was a big disparity in Week 1 as Utah racked up 105 more yards on the Michigan defense than Hawaii did this year, but as we hit the midseason point, the two units find themselves both ranking first nationally. Last year's defense allowed 31.5 fewer yards per game.
Last year's defense really was a tale of two halves as it allowed just 181.3 yards per game in the first six but 365.9 per game in its final seven. This year, Michigan is giving up 212.8 yards per game and it's hard to see many teams having much success against it in the second half. The only offense Michigan faces in the next six games that ranks higher than 50th nationally in total offense is Ohio State, which ranks 12th. That bodes well for Michigan's defense as it looks to win a championship.