---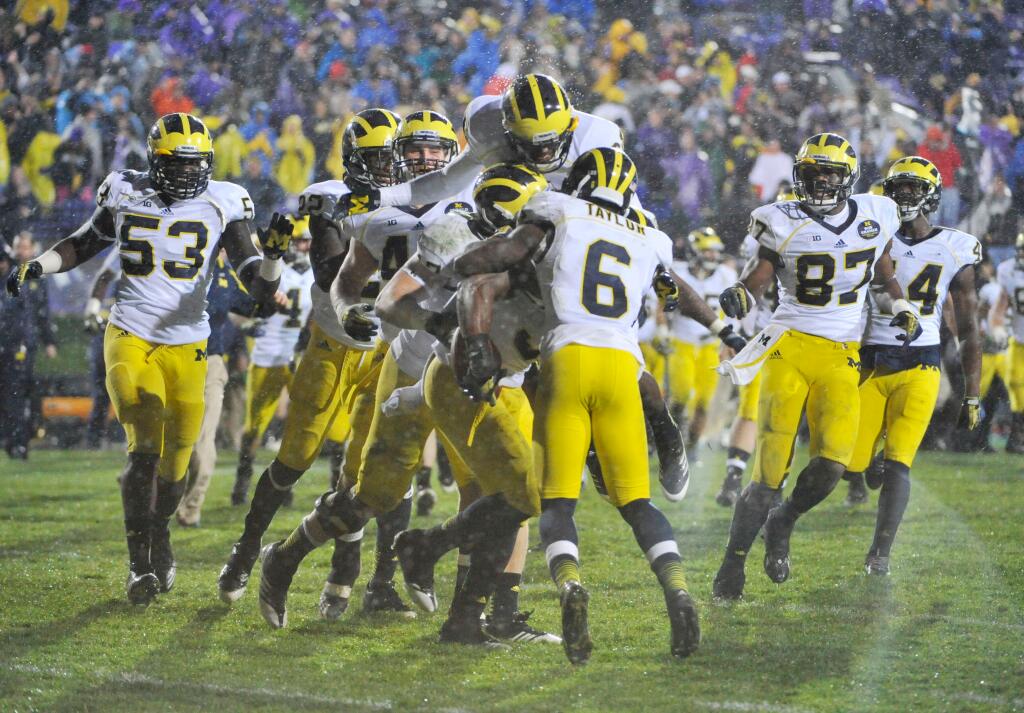 (USA Today Sports)
In a driving wind and rain along the shores of Lake Michigan, a Michigan offense that struggled to move the ball with any consistency for 60 minutes suddenly came alive in overtime.In the first extra period Devin Gardner connected with freshman tight end Jake Butt for the first touchdown of the game by either team. After Northwestern responded with a touchdown of its own, and then a field goal on its next possession, Michigan answered with a field goal. In two overtime periods both teams topped their regulation point totals.
Michigan started with the ball again in the third stanza and found the end zone once again, this time on a 5-yard run by Gardner. Forced to go for two, Michigan was able to convert as Gardner ran it into the left corner. Michigan's defense held the Wildcats and the Wolverines escaped Evanston with an ugly but much-needed victory.
Final Stats
Michigan
Northwestern
Score
27
19
Record
7-3 (3-3)
4-6 (0-6)
Total Yards
337
304
Net Rushing Yards
137
141
Net Passing Yards
200
163
First Downs
26
18
Turnovers
0
1
Penalties-Yards
1-15
3-20
Punts-Yards
6-255
6-180
Time of Possession
27:20
30:22
Third Down Conversions
2-of-18
5-of-19
Fourth Down Conversions
2-of-4
1-of-2
Sacks By-Yards
2-23
5-40
Field Goals
4-for-5
4-for-4
PATs
1-for-1
1-for-1
Red Zone Scores-Chances
4-of-5
4-of-4

Full Box Score
But the game would have been over in regulation if not for a controversial play in the final seconds. Michigan was trying to drive down the field to tie or win the game, trailing 9-6. After converting two fourth downs, Gardner connected with Jeremy Gallon for 16 yards on 3rd-and-23. But Gallon was tackled in bounds. Michigan's field goal unit sprinted onto the field. Luckily, holder Drew Dileo was already on the field on the previous play and slid into position. Kicker Brendan Gibbons didn't mark off his steps as a kicker normally would, but instead lined himself up approximately where he should be just as the snap went to Dileo. Gibbons booted a line drive through the uprights for the improbable game-tying 44-yard field goal as time expired.
It can certainly be argued that Gibbons – and possibly others – weren't set when the ball was snapped, but the play stood and the game went to overtime. Credit should be given to the coaching staff for having the field goal unit ready to spring onto the field with no timeouts remaining.
Michigan may not have needed the heart-stopping field goal if Hoke had kicked a field goal to tie the game at nine on the previous drive. Instead, he chose to go for it on 4th-and-2 at the Northwestern 4-yard line. Gardner was tackled for a loss of one  and Northwestern took over.
Michigan started the game on offense and looked good marching 63 yards on 12 plays, but the drive stalled in the red zone and the Wolverines had to settle for a field goal. After opening with completions of 17 yards to Gallon and 13 yards to Devin Funchess, Al Borges turned to freshman running back Derrick Green who started instead of Fitzgerald Toussaint. Green rushed for eight yards and then three to pick up the first down. After a Gardner run for eight, Green again picked up three yards and a first down. De'Veon Smith then came in and picked up seven and then five to put Michigan 1st-and-goal.
For the remainder of the first half, Michigan was unable to move the ball. The next four drives went 28 yards, one yard, 20 yards, and eight yards and Michigan went into the locker room trailing 6-3.
The third quarter was much of the same with Michigan's three drives going 12, 39, and 27 yards. Northwestern wasn't much better, but was able to put together a 10-play, 77-yard drive that ended in a field goal to take a 9-3 lead.
At the beginning of the fourth, Michigan downed a punt on the Northwestern 1-yard line. The Wildcats were only able to move the ball two yards on the next three plays and had to punt it back to Michigan. But Brandon Williams' punt into the strong wind was shanked and went out of bounds at the 11-yard line, just an 8-yard punt. Michigan was in prime position to capitalize, but the Wolverines managed just a field goal. It pulled Michigan within three at 9-6, setting up the crazy sequence of events on the final two possessions.
Michigan finished the game with 337 total yards, its best offensive performance since setting a school record against Indiana four weeks ago. After being held to negative rushing yards in back-to-back games, the Wolverines ran for 137 on 45 carries.
Gardner finished 24-of-43 for 226 yards and a touchdown. Green led all backs with 79 yards on 19 carries – an average of 4.2 yards per carry. Smith added 41 yards on nine carries, averaging 4.3. Gallon became the first Michigan receiver since Mario Manningham in 2007 to surpass 1,000 yards in a season. He caught 10 passes for 115 yards. Funchess added seven receptions for 61 yards. James Ross led the way defensively with 11 tackles and a sack.
It was anything but pretty, but it assures Michigan a winning record for the season and could give the team back some of the confidence it lost the last two weeks. The Wolverines travel to Iowa City next Saturday to face an Iowa team coming off a bye week and then host unbeaten Ohio State to close the regular season on Nov. 30.