---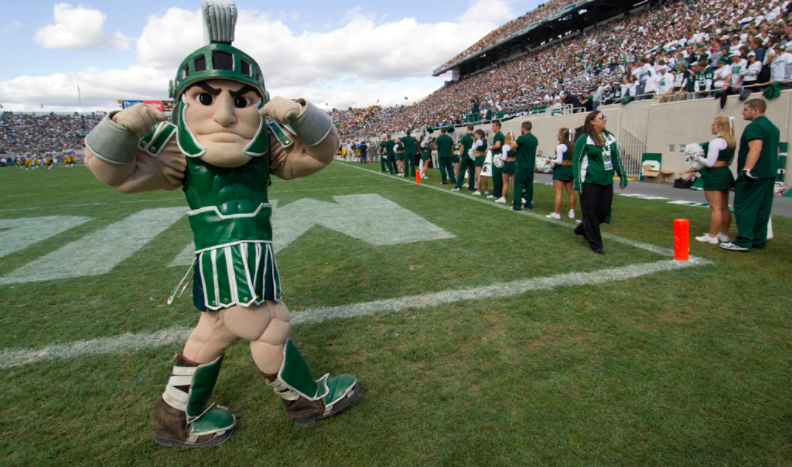 Michigan opened Big Ten play with a 28-10 win over Purdue, dominating the Boilermakers in the second half after trailing 10-7 at the break. Sitting at 4-0, the Wolverines got a bye week this past Saturday to get healthy and work out any issues that plagued them over the first four weeks.
This week, Michigan returns to action against bitter in-state rival Michigan State. The Wolverines finally got the best of their rival last season and will look to make it a streak on Saturday. Let's take a look at how the two teams compare through the first third of the season.
Michigan State & Michigan team stats comparison

Offense
Defense

Average

Rank

Average

Rank

Average

Rank

Average

Rank

24.5

95th

31.5

58th
PPG

18.0

21st

13.5
8th

750

737

Rush Yds

384

277

187.5

48th

184.3

50th
Rush/Gm

96.0

16th

69.3
1st

4.5

4.3

Rush Avg

3.1

2.2
968

892

Pass Yds

609

536
242.0

60th

223.0

72nd
Pass/Gm

152.2

9th

134.0
4th
1,718

1,629

Total Off.

993

813
429.5

52nd

407.3

73rd
Total Off./Gm

248.2

5th

203.3
1st

24.0

31st

17.6

104th
KR Avg

27.2

116th

15.9
14th

5.7

75th

13.5

20th
PR Avg

5.0

48th

2.8
25th
34:37

6th

33:18

18th
Avg TOP
25:23
26:42
49%

12th

35%

94th
3rd Down%

27%

12th

19%
3rd

6-26

39th

12-69

109th
Sacks-Yds

9-58

52nd

18-125
1st

13

13

TDs

9

6

2-3 (67%)

11-13 (85%)

FG-ATT

3-3 (100%)

4-7 (57%)

11-16 (69%)

119th

12-13 (92%)

28th
Red Zone

6-8 (75%)

29th

5-6 (83%)
63rd
9-16 (56%)

4-13 (31%)

 RZ TD

5-8 (63%)

3-6 (50%)
OFEI/DFEI

28.0

66

32.5
39
S&P+

20.1

16

12.6
2
Michigan State has already matched last season's win total just four games into the season. The Spartans opened with a pair of cupcake wins over Bowling Green (35-10) and Western Michigan (28-14) before laying an egg at home against Notre Dame, falling 38-18 in a game that wasn't really that close. They returned to the win column with a 17-10 victory over Iowa last Saturday.
This Saturday will be Michigan State's first trip away from East Lansing this season, and although it's only about 70 miles, the Big House presents different beast than the friendly trash tornado confines of Spartan Stadium.
Michigan State's offense has been middle-of-the road nationally in terms of moving the ball — though better than Michigan's — but has had trouble scoring, averaging a full touchdown per game less than Michigan does. Granted, Michigan has scored three defensive touchdowns and a special teams touchdown. The Spartan offense has scored 12 touchdowns and its defense has one. Comparatively, Michigan has just nine offensive touchdowns, so MSU's offense has found the end zone more often. But even when you throw out defensive and special teams touchdowns, Michigan's offense has still outscored MSU's 87-78 thanks to 11 made field goals by Quinn Nordin.
MSU is averaging 187.5 rushing yards per game, which is essentially the same as what Michigan is averaging (184.3). Two Spartans have more than 200 rushing yards, but the leading rusher is quarterback Brian Lewertke, who is averaging 62 yards per game and 6.5 yards per carry. L.J. Scott, who nearly reached 1,000 yards on 5.4 yards per carry in 2016, is managing a meager 3.7 yards per carry so far this season. While the 48th-ranked rushing offense is above average, it did most of its work against Bowling Green and Western Michigan, rush defenses that 117th and 79th nationally. Notre Dame's 64th-ranked rush defense held the Spartans to 151 yards and Iowa's 57th-ranked rush defense held them to just 88 yards on 40 carries. Michigan has the nation's best rush defense, allowing just 69.3 rushing yards per game.
Lewertke is leading a passing game that ranks 60th nationally, averaging 242.0 yards per game. It did most of its work while playing from behind against Notre Dame. In the other three games, Lewertke averaged just 27 pass attempts, but against Notre Dame he threw the ball 51 times, gaining 35 percent of his 963 passing yards on the season. Michigan State trailed 28-10 early in the third quarter and 35-10 midway through and ran just 12 rushes compared to 28 called passes in the second half. In the other three games, State averaged just 208 passing yards, which would rank 82nd nationally.
Defensively, Michigan State has been much closer to the defense that carried the Spartans through the early part of this decade than it was last season. They currently rank 21st nationally in scoring defense (18.0 points per game), 16th in rush defense (96.0 yards per game), 9th in passing (152.2 yards per game), and 5th in total defense (248.2 yards per game).
But the Spartans haven't exactly faced good offenses yet this season. Only Notre Dame (30th nationally) ranks among the top 90 in total offense. Bowling Green ranks 103rd, Western Michigan 91st, and Iowa 102nd. And we know how that Notre Dame game turned out.
Still, Michigan State's defense held Bowling Green to just 67 rushing yards and Iowa to just 19(!) rushing yards on 25 carries. Now, 19 yards is a remarkable statistic (Michigan held Florida to just 11 in the season opener) but Iowa's offense has only eclipsed 164 yards once all season and it was against North Texas, so the Hawkeyes don't exactly boast a potent rushing attack. Iowa did, however, top 200 yards passing — the only team to do so against Michigan State so far this season.
Overall, Michigan State is a solid team this season. They're not as good as they were when they were taking advantage of the Rich Rodriguez and Brady Hoke years, but they're much better than they were a year ago. They'll be a tough test for a young Michigan team that features many players playing in the first big rivalry game of their career. Both teams feature very good defenses and so-so offenses, so expect a defensive battle on Saturday night.