---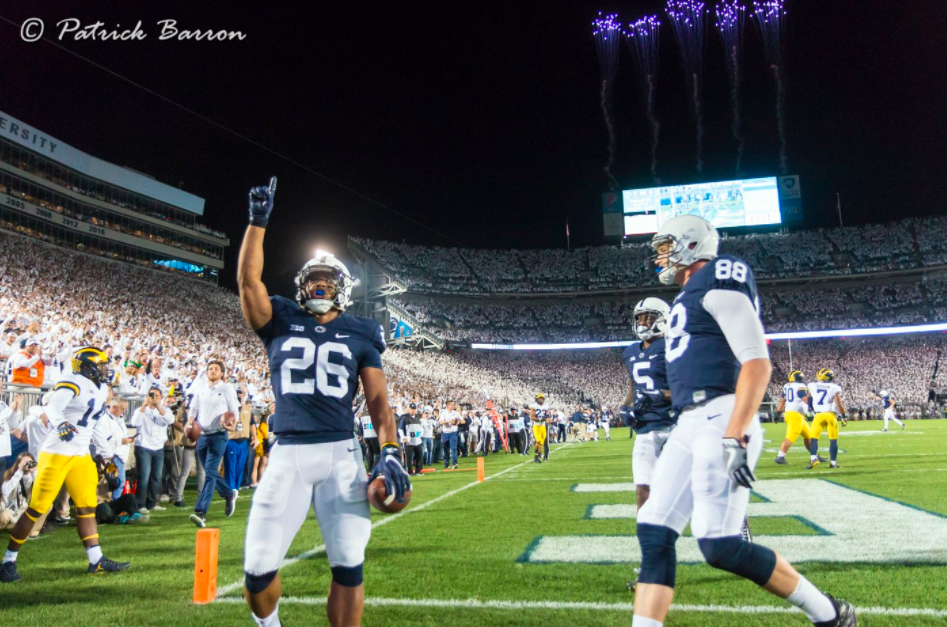 (Patrick Barron)
Michigan entered Saturday night's matchup with No. 2 Penn State with a chance to make a statement in front of a Beaver Stadium whiteout and a primetime national television audience. They did make a statement, but not the kind they wanted, falling 42-13 and dropping out of the Top 25.
Final Stats
Michigan
 Penn State
Score
13
42
Record
5-2 (2-2)
7-0 (4-0)
Total Yards
269
506
Net Rushing Yards
103
224
Net Passing Yards
166
282
First Downs
16
25
Turnovers
1
1
Penalties-Yards
6-59
1-10
Punts-Yards
6-233
2-99
Time of Possession
32:56
27:04
Third Down Conversions
6-of-16
4-of-7
Fourth Down Conversions
2-of-4
0-of-1
Sacks By-Yards
2-11
7-49
Field Goals
0-for-0
0-for-0
PATs
1-for-2
6-for-6
Red Zone Scores-Chances
2-of-2
4-of-5
Red Zone TDs-Chances
2-of-2
4-of-5

Full Box Score
It was all Penn State from the outset as the Nittany Lions scored touchdowns on each of their first two drives while Michigan went three-and-out on their first two.
Heisman Trophy frontrunner Saquon Barkley didn't waste any time making his statement, taking the game's second play 69 yards for a touchdown. On Penn State's second possession, it took just four plays to move 78 yards for another touchdown.
Michigan cornerback David Long intercepted Trace McSorley on Penn State's third possession — which was threatening to score once again — and that allowed Michigan to show a little life. John O'Korn led a 11-play, 59-yard touchdown drive that was capped with a 1-yard Karan Higdon touchdown run. But freshman kicker Quinn Nordin, who was once committed to Penn State before flipping to Michigan, missed the extra point to a chorus of boos.
Michigan's defense forced a three-and-out, but the offense wasn't able to do anything. Penn State's next possession stalled at the Michigan 33-yard line on a failed fourth-down conversion, and Michigan took advantage with a 8-play, 67-yard drive capped off by a 6-yard Ty Isaac touchdown run to pull within 14-13.
But it was all downhill from there. Penn State drove for another touchdown to take back the momentum just before the half and when Michigan couldn't put points on the board on the first possession of the second half, Penn State put the nail in the coffin with a 9-play, 80-yard touchdown drive to go up 28-13. From there, the only drama was whether or not James Franklin would try to top the 49 points that Michigan hung on Penn State in Ann Arbor a year ago. They didn't quite get there, but the damage was done.
Penn State gained 506 yards on a Michigan defense that was allowing just 223.8 yards per game. Penn State rushed for 224 yards on a rush defense that was allowing just 85.5 yards per game. Penn State scored 42 points on a defense that was giving up just 14.7. Barkley rushed for 108 yards and two touchdowns on 7.2 yards per carry and also caught three passes for 53 yards and a score. McSorely completed 17-of-26 passes for 282 yards and a touchdown and added 76 rushing yards and three touchdowns on 6.9 yards per carry.
Michigan, meanwhile, failed to top 20 points in regulation for the third straight week, managed just 269 total yards, and gave up seven sacks. O'Korn went 16-of-28 for 166 yards but failed to throw a touchdown pass for the third straight game. Higdon rushed for 45 yards on just three yards per carry, while Grant Perry led the way in the air with three receptions for 46 yards.
It was an outcome that most expected, even die-hard Michigan fans, but the matter with which it happened was a worst-case scenario. And now it has a chorus of hot takes and Twitter crusaders calling for Jim Harbaugh's head. It will die down a bit if Michigan can take care of business the next three weeks against Rutgers, Minnesota, and Maryland, but it won't go away completely until he wins a big game. With Wisconsin and Ohio State scheduled to close the regular season, he'll get that shot, but unless there is significant improvement between now and then, it'll likely just turn up the noise.
Michigan returns home to face Rutgers (3-4, 2-2) next Saturday at noon. The game will be televised by Big Ten Network.
None
Higdon averaged just 3.0 yards per carry. Issac averaged 6.0 but got just six carries. O'Korn threw for just 166 yards with no touchdowns and was sacked seven times. Kekoa Crawford made a nice catch, but it was his only one. Donovan Peoples-Jones got involved in the passing game but dropped a bubble screen that had potential for a huge play. Eddie McDoom is probably the best candidate for this week's game ball with three receptions for 29 yards and a rush for eight yards, but it didn't have much impact on the game. The offensive line was horrendous. So no game ball is being given out on offense this week.
Previous:
Week 1 – Quinn Nordin (4-of-6 field goals, 2-of-3 from 50-plus)
Week 2 — Ty Isaac (20 carries for 133 yards, 6.7 yards per carry)
Week 3 — Donovan Peoples-Jones (2 receptions for 52 yards, 2 punt returns for 104 yards and 1 touchdown)
Week 4 — John O'Korn (18-of-26 for 270 yards, 1 touchdown, 1 interception, 5 rushes for 12 yards)
Week 5 — Karan Higdon (12 carries for 65 yards, 5.4 yards per carry, 2 receptions for 33 yards)
Week 6 — Karan Higdon (25 carries for 200 yards, 3 touchdowns, 8.0 yards per carry)
Khaleke Hudson (7 tackles — 4 solo — 1 tackles for loss, 1 quarterback hurry, 1 pass breakup)
Michigan's defense had its worst game of the season defensively as Penn State offensive coordinator Joe Moorhead did a great job of picking on matchups where the Nittany Lions had advantages. That mostly involved getting Barkley matched up with linebacker Mike McCray who couldn't keep up, but it also involved utilizing slot receivers against Michigan's safeties. Hudson certainly wasn't perfect himself, but he made his impact felt with a tackle for loss and a pass breakup that was nearly an interception in the end zone early in the game.
Previous:
Week 1 – Devin Bush (7 tackles, 5 solo, 3 tackles for loss, 2 sacks)
Week 2 – Tyree Kinnel (9 tackles, 8 solo, 1 tackle for loss, 1 sack, 1 interception return for touchdown)
Week 3 – Chase Winovich (9 tackles – 3 solo – 2 tackles for loss, 1.5 sacks, 1 quarterback hurry)
Week 4 — Chase Winovich (6 tackles — all solo — 4 tackles for loss, 3 sacks
Week 5 — Maurice Hurst (8 tackles — 6 solo — 2.5 tackles for loss)
Week 6 — Rashan Gary (7 tackles — 3 solo — 2.5 tackles for loss, 1 sack, 2 quarterback hurries)