---
(Kirthman F. Dozier, Detroit Free Press)
A year ago Penn State opened Big Ten play with a visit to Ann Arbor and left with a humiliating 49-10 defeat. It got so bad that, trailing 28-0 in the third quarter and facing 4th-and-goal from the 2-yard line, James Franklin elected to kick a field goal shorter than an extra point simply to put points on the board rather than try to make a comeback.
Quick Facts

Beaver Stadium – 7:30p.m. EST – ABC
Penn State Head Coach:
James Franklin (4th season)
Coaching Record:
55-30 (31-15 at PSU)
Offensive Coordinator:
Joe Moorhead (2nd season)
Defensive Coordinator:
Brent Pry (4th season)
Last Season:
11-3 (8-1 Big Ten)
Last Meeting:
UM 49 – PSU 10 (2016)
All-Time Series:
Michigan 13-7
Record in State College:
Michigan 6-4
Jim Harbaugh vs PSU
2-0
Last Michigan win:
2016 (49-10)
Last Penn State win:
2013 (43-40)
Current Streak:
Michigan 3
Penn State schedule to date
Opponent
Result
Akron

W 52-0

Pitt

W 33-14

Georgia State

W 56-0

at Iowa

W 21-19

Indiana

W 45-14

at Northwestern

W 31-7
Somehow, that lifeless group of guys went on to win their next nine games, capturing the Big Ten title and narrowly missing out on the College Football Playoff. They knocked off Ohio State and then topped Wisconsin in the Big Ten championship game before losing a shootout to USC in the Rose Bowl.
If anything, that performance gives hope to Michigan to pull off a similar feat this season. The Wolverines' offense looked inept in a 14-10 loss to rival Michigan State two weeks ago and then they survived an overtime game at Indiana last week. Penn State followed up their loss to Michigan last season with an overtime win over Minnesota before tearing through the rest of the schedule.
Penn State carried enormous expectations into this season and they have so far lived up to them, breezing through the first six games with one of the nation's best scoring margins, winning by an average of 30.7 points per game. That's 2.5 more points than Michigan averages per game.
But the Nittany Lions haven't exactly played anybody yet. The highest-ranked team they've beaten, according to S&P+, is Iowa, which is 38th, and it took a last-second touchdown pass to escape Iowa City. The other wins have come over Indiana (44th), Northwestern (69th), Pitt (96th), Georgia State (106th), and Akron (112th).
Penn State is favored by more than a touchdown, but they haven't faced a defense like Michigan's or a team with as much talent and athleticism yet this season. Michigan's young team, however, hasn't faced an atmosphere like a Beaver Stadium whiteout. So what will give? Let's take a look at the matchups.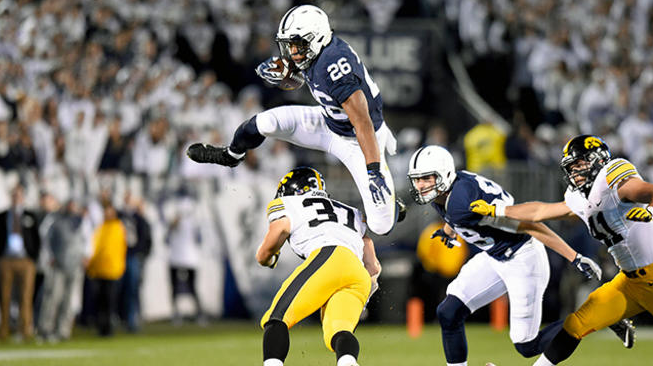 (Gordie Jones, NBC Sports)
Joe Moorhead's offense ranks 17th nationally and second in the Big Ten in scoring (39.7 points per game), 66th and eighth in rushing (165.0 yards per game), 22nd and second in passing (291.2 yards per game), and 33rd and third in total offense (456.2 yards per game). It's a potent offense no doubt with a Heisman candidate running back and a dynamic quarterback, but let's take a moment to consider the defenses it has faced thus far. Iowa and Indiana's defenses rank 23rd and 22nd, respectively, in S&P+. The Hawkeyes held Penn State to just 21 points — seven coming on the game's final play. Michigan's defense ranks No. 2 behind only Alabama. Every other defense Penn State has faced ranks no higher than 44th.
The workhorse is junior running back Saquon Barkley, who may be the leading candidate for the Heisman Trophy at this point in the season. He leads the team in both rushing and receiving with 649 yards and six touchdowns on 6.4 yards per carry and 395 yards and two touchdowns on 13.6 yards per reception. In fact, he ranks third in the Big Ten in rushing (108.2 yards per game), tight for fourth in receptions per game (4.8), and seventh in receiving (65.8 yards per game). Yes, only a handful of receivers catch more passes for more yards than Penn State's running back.
Beyond Barkley, however, only one other player has more than 63 rushing yards and that is quarterback Trace McSorley. The senior leads the Big Ten and ranks 27th nationally with 266.2 passing yards per game, but he's also effective with his feet with 178 yards and four touchdowns on the ground. He also leads the conference with a 67.0 percent completion rate and has a 13-to-4 touchdown to interception ratio.
Even though Barkley leads the team in rushing, it doesn't mean he's the only talented pass catcher. Redshirt sophomore Juwan Johnson ranks ninth in the Big Ten with four receptions per game, averaging 50.5 yards per game, while fifth-year senior Daesean Hamilton ranks eighth in the conference with 61.0 yards per game. However, Hamilton has just one game with more than three receptions and that was a nine-catch, 122-yard, three-touchdown performance against Indiana. Johnson, meanwhile, has caught at least four passes in four of six games, including a total of 19 in the last three. Senior tight end Mike Gisecki was a second-team All-Big Ten performer last season and is a good safety valve for McSorley. He has four touchdowns on the season, but hasn't had one since Week 2.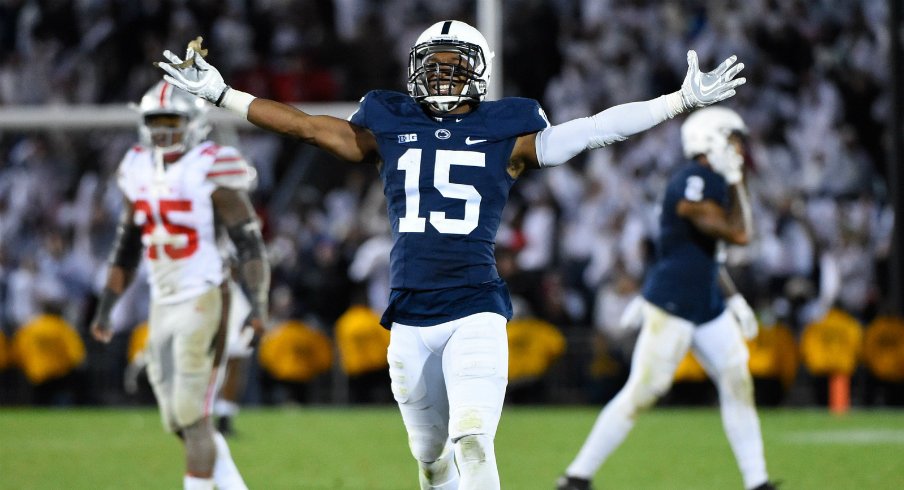 (Rich Barnes, USA Today Sports)
Defensively, Penn State's numbers are pretty impressive in the first half of the season. The Nittany Lions lead the nation in scoring defense (9.0 points per game), rank fifth in the Big Ten and 24th nationally in rush defense (117.3 yards per game), second and ninth in pass defense (167.8 yards per game), and fourth and ninth in total defense (285.2 yards per game).
But while Penn State's offense hasn't faced a top-tier defense, its defense hasn't even faced a competent offense. Northwestern's 73rd ranked offense (per S&P+) is the best so far. Despite Michigan's offensive struggles, it's right on par with that (76th). Penn State allowed the nation's 113th-best (Pitt), 104th (Georgia State), and 92nd (Indiana) rushing offenses to each rush for over 150 yards. Michigan's running game, while not a world-beater by any means, ranks 49th, so it should be able to have some success on the ground.
Make no mistake; this is a deep and talented defense. It seems that Penn State always has solid linebackers, and although they had a couple injured in last year's meeting, that's true again this year. Senior middle linebacker Jason Cabinda is the team's leading tackler with 40 tackles, three for loss, and one sack. WILL linebacker Manny Bowen and SAM linebacker Koa Farmer (a converted safety) are both experienced and have combined for 50 tackles, 5.5 for loss, and 1.5 sacks.
The defensive front is deep and strong similar to Michigan's. Redshirt sophomore end Shareef Miller leads the team with 6.5 tackles for loss and also has 2.5 sacks and three quarterback hurries, while fellow redshirt sophomore end Ryan Bucholz has two tackles for loss, 1.5 sacks, and two quarterback hurries. The combination of fifth-year seniors Curtis Cothran and Parker Cothren create a formidable interior. The latter was an honorable mention All-Big Ten selection last season.
Saving perhaps the best unit for last, the secondary is one of the best in the conference. Senior free safety Marcus Allen has been around forever and has been an All-Big Ten performer in each of the past two seasons. He ranks second on the team with 35 tackles, second with four tackles for loss, and also has a sack and an interception. Senior strong safety Troy Apke has 24 tackles and an interception. Corners Christian Campbell and Grant Haley are very good defenders and have a combined 17 passes defended, 14 pass breakups, and three interceptions.
Senior kicker Tyler Davis made 32 of his first 34 field goals in 2015 and 2016, earning All-Big Ten second-team honors last season. But he has struggled so far this season, making just 6-of-13 with a long of 47. Sophomore punter Blake Gillikin ranks second in the conference with an average of 44.2 yards per punt. He has booted seven of his 26 punts over 50 yards and has downed 16 of 26 inside the 20.
In addition to rushing and receiving, Barkley is a dynamic kick returner, averaging 32.2 yards per return with one touchdown. Redshirt junior receiver DeAndre Thompkins is the main punt returner with an average of 17.1 yards per return and has also scored a touchdown.
There's a reason Penn State is a heavy favorite and nearly everyone is writing Michigan off. With backup quarterback John O'Korn under center due to Wilton Speight's injury, Michigan's offense has struggled immensely against Michigan State and Indiana the past two weeks. Penn State is very good on both sides of the ball and is one of the hottest teams in the nation dating back to last season's matchup in Ann Arbor. A primetime whiteout is not the type of environment that one of the nation's youngest teams playing with a backup quarterback can feel confident about going into and earning a win.
But there are a couple of factors working in Michigan's favor. With Don Brown's defense playing as perhaps the nation's best — only Alabama can have an argument about that — the Wolverines will have a great chance to keep the game within striking distance. Even more, it matches up well with Penn State's offense. As dynamic as the Nittany Lions are, they've struggled in a couple areas: third downs and allowing sacks.
Guess what.
Michigan's defense leads the nation in third-down defense and ranks sixth in sacks. Penn State ranks 77th nationally with a 37.8 percent third-down conversion rate, while Michigan's defense allows conversions at just a 20.5 percent clip. Penn State ranks 101st nationally with 16 sacks allowed — the same number Michigan's offense has allowed — and Michigan's defense is averaging more than three sacks per game. Penn State has allowed 14 of those 16 sacks in the last three games. Iowa, who recorded just eight sacks in its other five games, had four against Penn State. Indiana, who recorded nine its other five games, recorded five against Penn State. And Northwestern, who got to the quarterback eight times in its other five games, sacked McSorley five times.
Additionally, for as good as Penn State's offense is, they aren't dynamic in terms of big plays. They average just five explosive runs per game (fewer than Michigan) and 4.3 explosive pass plays per game (Michigan averages three) for a total of 9.3 total explosive plays, which ranks just 40th nationally. They also give up 8.3 tackles for loss per game, a number that only 12 teams nationally can top.
So there's hope that Michigan's defense can considerably slow down the Penn State offense. The question is whether Michigan's offense can put up enough points to make it count. I certainly wouldn't expect the Wolverines to move the ball consistently, but I'd look for a big night from kicker Quinn Nordin, who chose the Wolverines over Penn State. Michigan will get a touchdown, but will settle for field goals, which in a game like this isn't necessarily a bad thing. Points are good. I see this game going down to the wire with Penn State scoring a touchdown late to pull out a win.
Score Prediction: Penn State 23 – Michigan 19