---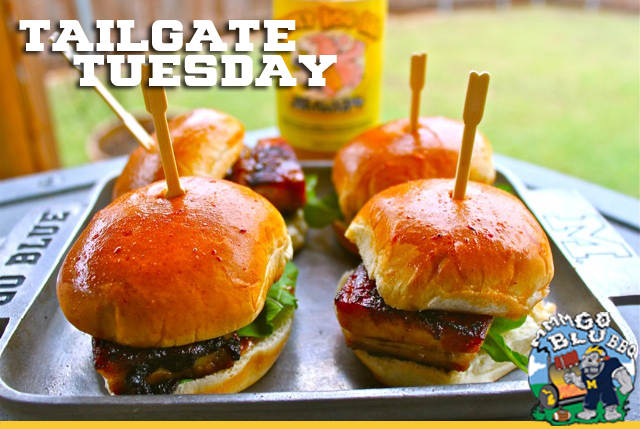 Tailgate Tuesday is our weekly collaboration with Joe Pichey from MmmGoBluBBQ. These tailgate recipes will be posted each Tuesday throughout the football season and most of the time will be themed around that week's opponent. Meat Church, a Dallas, Texas based BBQ joint sponsors this feature by providing their killer rubs for use in the recipes. Buy them here. Seriously, you won't regret it.
Previously: Frog legs, smoky spiced beaver nuts, build the perfect tailgate smoker, pig shots, lamb shank, flat iron fajitas, country style ribs with bock glaze, or visit our whole library of recipes here.
I'm a huge lover of bacon. All things bacon. Heck, who isn't? Whether it's wrapped around a onion ring forming my favorite grilled appetizer, the Oinkion, or served next to a few sunny side up eggs, bacon is greatness. One of my new favorite things to toss on the smoker is PRE-BACON. No, it's not a baby pig, it's a pork belly. This couldn't be any easier to prepare and is rather inexpensive. It's about a six hour process, which is perfect for a 7pm game against the Golden Gophers. Fire up the smoker around 10am and enjoy some pork belly sliders at kick-off.
• 2-4 pound pork belly
• Meat Church Deez Nuts Honey Pecan Rub and Honey Hog Rub
• Apple juice
• Slider buns
Mustard Maple Sauce:
• 2 TBSP stone ground mustard
• 2 TBSP pure maple syrup
Fire up the smoker to 225 degrees and toss on a few pecan or apple wood chunks. As the smoker is heating up, take the pork belly and season it up with 2 TBSP per 2 pounds of pork belly. Do not season the skin as we will be removing after the belly reaches 205 degrees.

Once the belly is seasoned, throw it on the grill over indirect heat with skin side down. This will smoke for about five hours.

After a few hours, the belly will start to turn a beautiful mahogany color. Start to baste with apple juice every 45 minutes or so and dust with some Honey Hog each time you baste. Check it with your ThermoPop. If you don't have an instant read thermometer, get one. These are a must and not very expensive.
Once the belly reaches 205 degrees internally, it's time to remove from the heat. Place on a cutting board and let it rest for about 15 minutes. Not only do the Meat Church rubs taste great, but they give the meat a great color. This is a beautiful thing.
After it has cooled a little, remove the skin with a sharp knife.

Save this skin for a pot of bbq beans later. It keeps in the freezer for months and months.
Slice the pork belly into 2 inch cubes and place in a hot cast iron pan. Place the side that formerly had the skin on it facing down.
After two minutes on the hot pan, glaze with the mustard maple sauce and return to the smoker. Let sit in the smoker for about 10 minutes as the glaze thickens. Place cubes in some tasty slider buns along with some arugula and you are in business. The arugula gives it a nice peppery flavor and adds some color. If you want to just put a toothpick in the cubes and eat as it, go ahead. These are super tender and will melt in your mouth. And as always……GO BLUE!!!


Visit Meat Church to purchase their new Bacon BBQ rub or any of their other great rubs and seasonings. You can follow them on Twitter at @MeatChurch and you can also follow Joe at @mmmgoblubbq.