---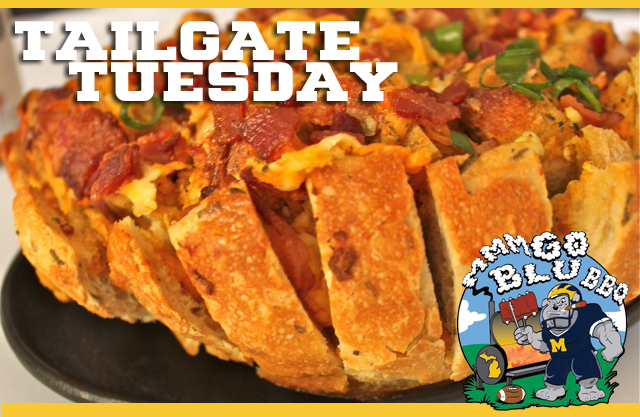 Tailgate Tuesday is our collaboration with Joe from MmmGoBluBBQ. These were be posted each Tuesday throughout the football season and each recipe was themed around that week's opponent. 
Previously: Hot-'n-Fast pulled pork with Carolina mustard slaw, Irish stout pepper beef, Spatchcock RedHawk, Grilled Ravioli, Smoked "Land of 10,000 Lakes" Catfish, pork loin with mustard glaze, Brady Back Ribs,Moink Balls (a.k.a. Moinks), Caveman style Tri-Tip, Crockpot reuben dip, Caveman cowboy ribeye, Smoked Gobbler Legs.

This is one of my favorites and your SUPER BOWL guests will love you for it. What is better than cheesy garlic bread topped with bacon? I can't think of anything, can you? Feel free to add some leftover BBQ that you have collecting frost in the freezer like a pulled pork or brisket. Both work well. Shrimp would be phenomenal here. Go crazy with your toppings and let me know how it turns out.
Ingredients:
• Loaf of crusty bread (French or Sourdough)
• 1 Stick unsalted Butter – melted
• 1 clove garlic – finely chopped
• 1 Tbsp dry Ranch seasoning
• 8 slices of crispy bacon – chopped into bacon bits
• 8-oz sharp cheddar cheese
• 8-oz mozzarella cheese
• 4-oz cream cheese, softened
Directions:
Preheat Grill or Oven to 350 Degrees.
While the grill is preheating, mix all three cheeses and half of your bacon in mixing bowl. Set aside. Lay your bread loaf on a flat surface. Using a bread knife, slice diagonally into the bread loaf, repeating every inch or so. Make sure you do not cut all the way down. Stop about three-fourths of the way down. Leave the bottom crust intact. Turn your loaf 90 degrees and repeat. This should leave a cross hatched look with one-inch cubes.

With your hands, spread the cheese and bacon mixture into the cuts of the bread loaf. Be careful not to tear apart the bread.
Mix garlic and dry ranch seasoning into melted butter. Pour the melted butter mixture over the bread and make sure it gets down into the deep cracks in the bread loaf. Add remaining bacon to the top of your bread loaf.

Wrap the entire loaf in aluminum foil and place on your grill or in the oven. Cook at 350 degrees for 20 minutes. After 20 minutes, remove the foil and cook uncovered for another 10 minutes.
Remove from the heat source, sprinkle on green onions, and serve immediately.

This is a tasty appetizer that travels well. It can be assembled early and cooked once you arrive at your SUPER BOWL PARTY. Feel free to use leftover BBQ Pork, brisket or shrimp along with crispy bacon for the perfect BBQ Cheesy Bread. GO BLUE!!!
For more great recipes, photos, and barbecue ideas, follow Joe on Twitter at @mmmgoblubbq. And don't forget to check out his site, MmmGoBluBBQ, for recipes, product reviews, and more.