---
All 14 Big Ten coaches got 15 minutes apiece at the podium in front of the assembled media in the Hilton Chicago on Monday. Each delivered an opening statement and then fielded a few questions. Typically, there isn't much news to come out of these sessions. It's more of a time to drum up excitement about the upcoming season and tout all the things they're excited about. Every coach has fantasies about Big Ten titles this time of year and doesn't want to reveal too much, so to spice things up a bit we took an idea that we really liked from the SEC SB Nation blog Team Speed Kills and applied it to each of the Big Ten coaches' speeches.
We used Wordle to spit out a word cloud for each coach based on the transcript from his 15 minutes at the podium. The bigger the word, the more often it was used, so you can get an idea of what each coach places the most emphasis on. As a Maize and Go Blue exclusive, we also scrubbed away the coach speak and translated what each coach was really saying.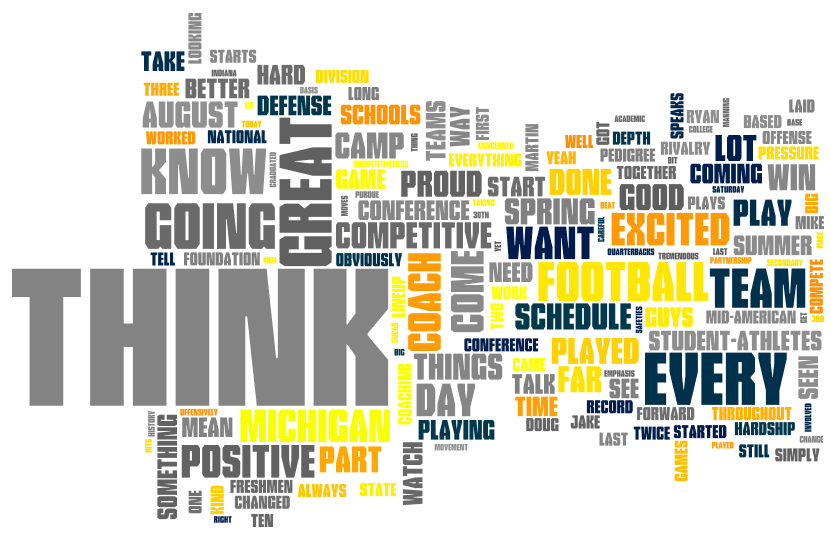 There must be something wrong with this thing. "Tremendous" doesn't fill the entire page. Neither does "Well…" or "Fergodsakes". And contrary to popular belief in Columbus and East Lansing, although "think" was his most-used word today, Hoke does "think" about more than just donuts. He didn't even mention them once in his 15 minutes. But I wouldn't blame him if he did. There's a great donut shop a short walk from the Hilton.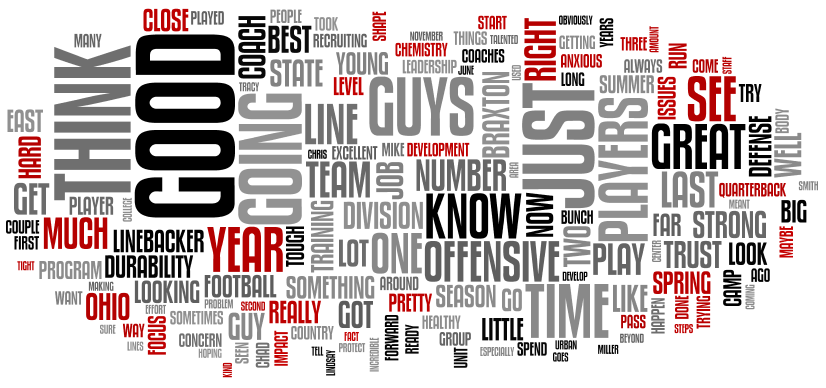 I THINK we're GOING to be GOOD you GUYS. Good enough to have a grand total of zero Big Ten titles and zero bowl wins in my first two seasons. You know what else is good? This Chicago pizza. Have you guys ever had this stuff? It's JUST so cheesy and…deep. So much better than that other stuff.
Mark Dantonio – Michigan State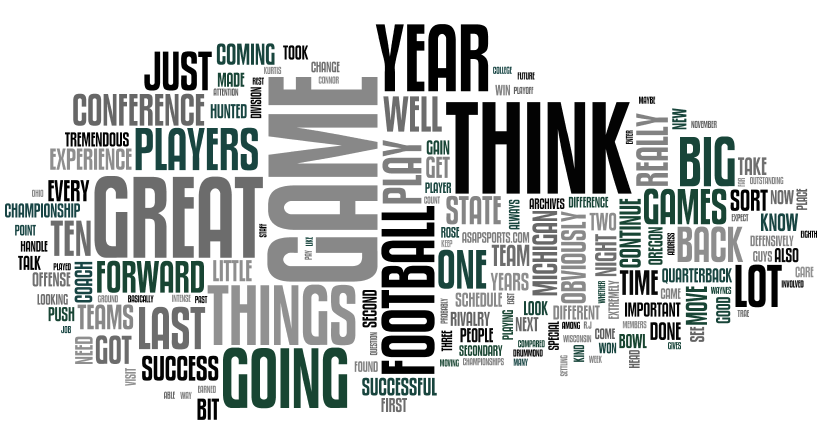 You know, we had a GREAT season last YEAR and it was all because of that one GAME when we beat Michigan. The way THINGS are GOING, we're number ONE in the state as far as FOOTBALL is concerned. Oh, we won the Rose Bowl? Well, we beat Michigan. Where's the threat?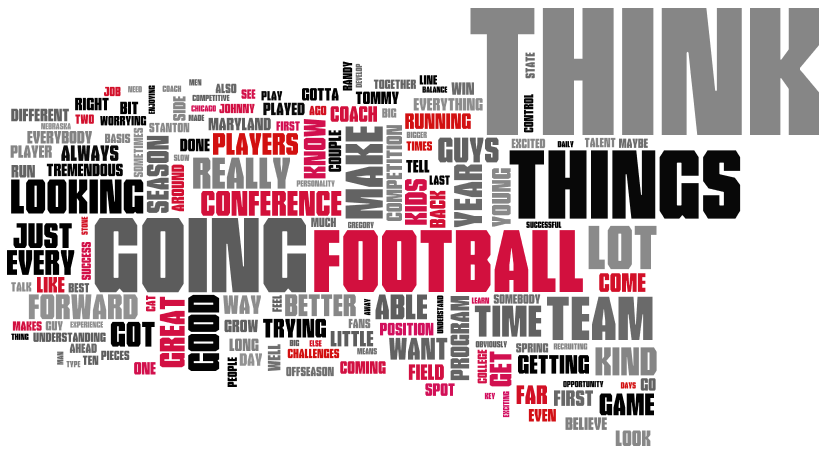 I THINK my cat is enjoying himself up in the room. As soon as I'm done talking about FOOTBALL, I'm GOING to take him to see a LOT of Chicago THINGS. It will MAKE his day. You know, it's LOOKING like he's the secret ingredient to the TEAM's success this season. I wouldn't be where I am today without him.
James Franklin – Penn State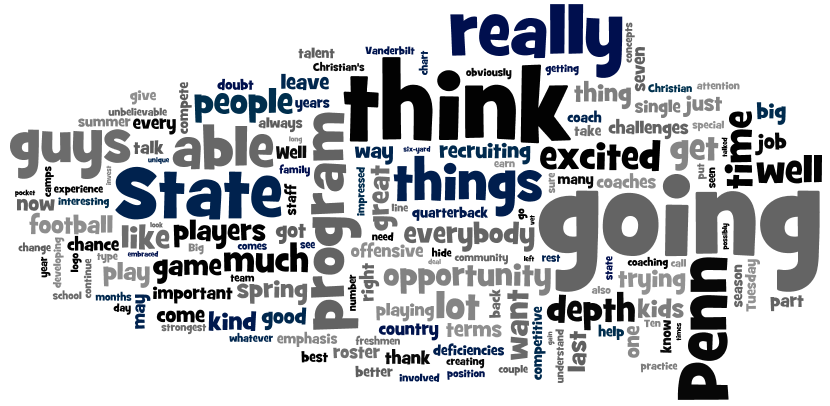 I'm REALLY EXCITED about this PROGRAM. I THINK it's GOING to be much easier than it was in the SEC. THINGS aren't really comparable as far as facilities are concerned, but hey, it's an OPPORTUNITY and I can't wait to meet Sandy Barbour woman.
Gary Andersen – Wisconsin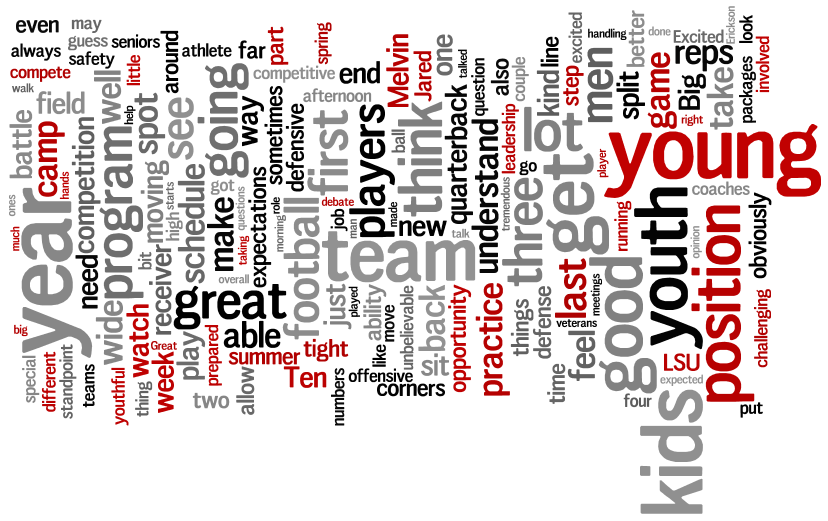 I'm glad to begin my second YEAR at Wisconsin. We don't hear much about Brigham YOUNG around here and that's always a GOOD thing. These cheese-loving folks are about as GOOD as it GETs. You know, the Packers have that tradition where they let the KIDS give the PLAYERS bike rides, and with the YOUTH we have I THINK that's a good POSITION to take with this TEAM.
Pat Fitzgerald – Northwestern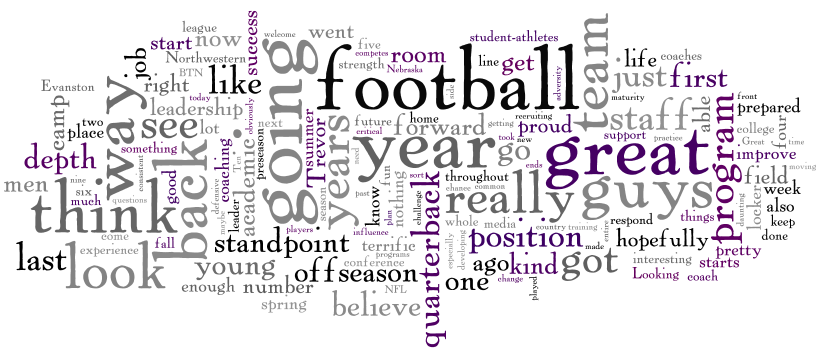 I THINK it's so GREAT that you GUYS haven't asked about unions yet. We just want to play FOOTBALL. I'm not GOING to talk about the WAY our former QUARTERBACK tried to hurt our PROGRAM last YEAR by trying to unionize. These guys are a TEAM, not employees. LOOK, I won't talk about it at all.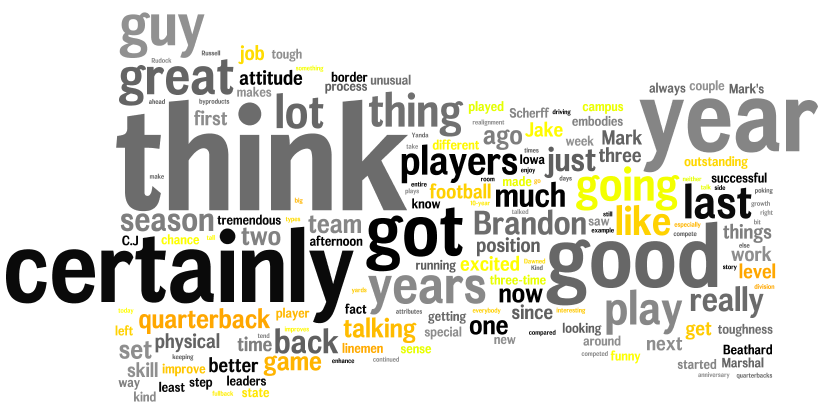 It's CERTAINLY a GREAT YEAR for Big Ten Media Days with the addition of Rutgers and Maryland. I've been coming to this THING for 16 YEARS and it has gotten stale. Don't get me wrong, we've GOT some GOOD coaches in this conference but I THINK Kyle and Randy have what it takes to spice things up a little bit, kind of like Greg Davis and Phil Parker did for me in Iowa City last season.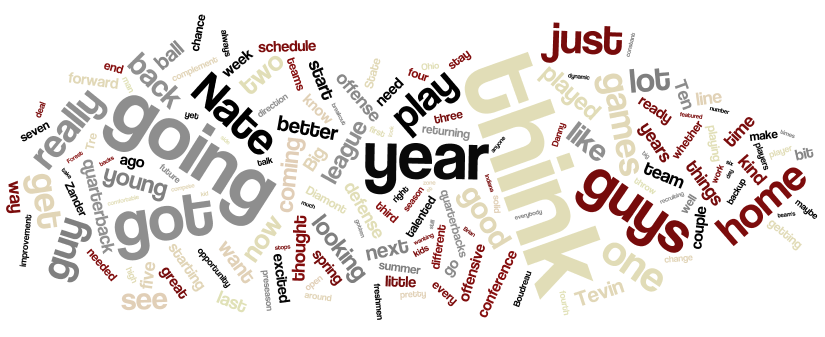 Wait, we can't JUST PLAY offense in the Big Ten? Why didn't you GUYS tell me that three YEARs ago? My boy Rich Rod told me that's how you succeed in this conference. I'm starting to THINK he was just pulling my chain. I had to bring in a new defensive coordinator this offseason and he's GOING to have to get the job done. Go big or go HOME, right?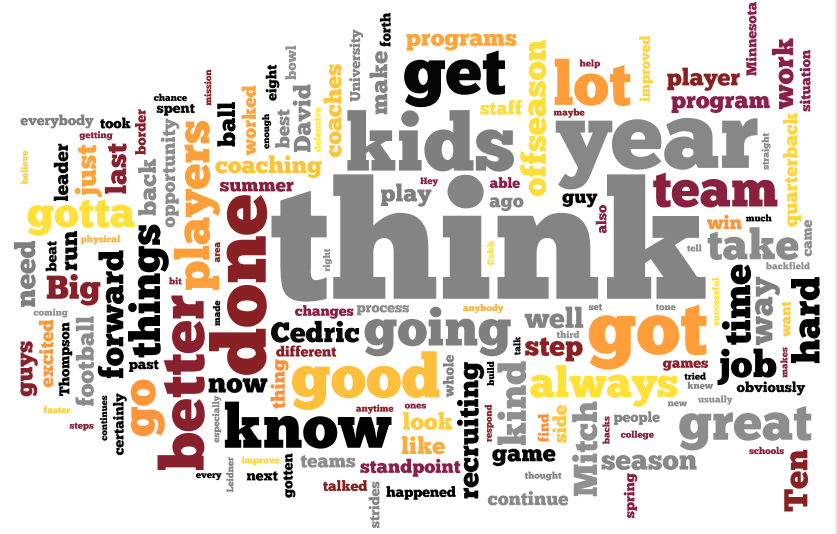 I've GOT this program trending in the right direction, getting BETTER each YEAR, and I THINK that will continue. Have you guys seen that brown jug thing? My KIDS were asking about it, but I've GOTTA say, I don't think that thing actually exists. If it does, our PLAYERS are going to GET it DONE this season. Oh, who am I kidding?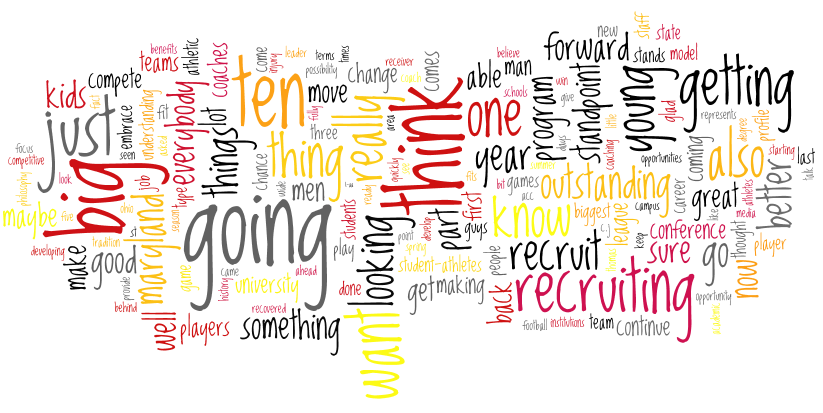 Crabcakes and football. That's what MARYLAND does! We're GOING to win the BIG East…I mean ACC…I mean American Athletic Conf…wait, what conference am I in now? Big TEN! That's right. I THINK I'm gonna need Kirk to show me around.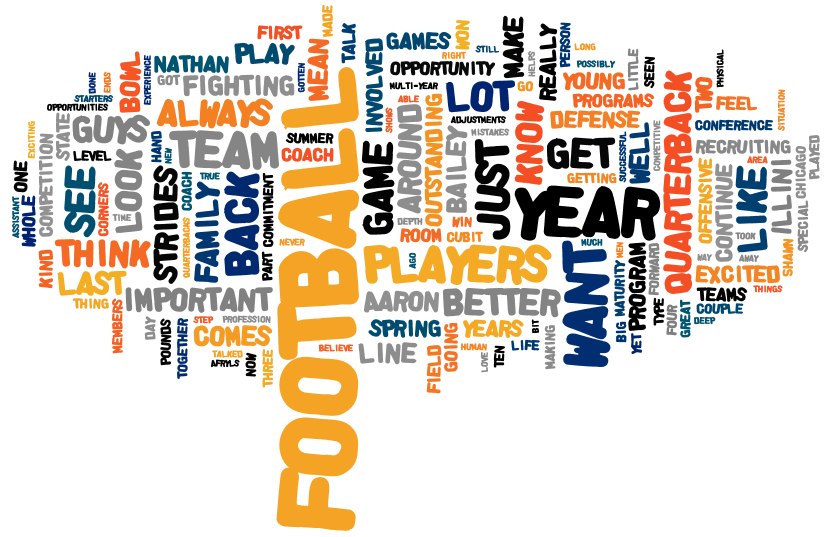 FOOTBALL! We've got lots of PLAYERS, man. But with Scheelhaase gone we need a new QUARTERBACK, so this offseason I set up shop in Tallahassee when I heard Famous Jameis might be in trouble. I really WANT that guy. But it didn't work out. Anyone else have sanctions going on this YEAR?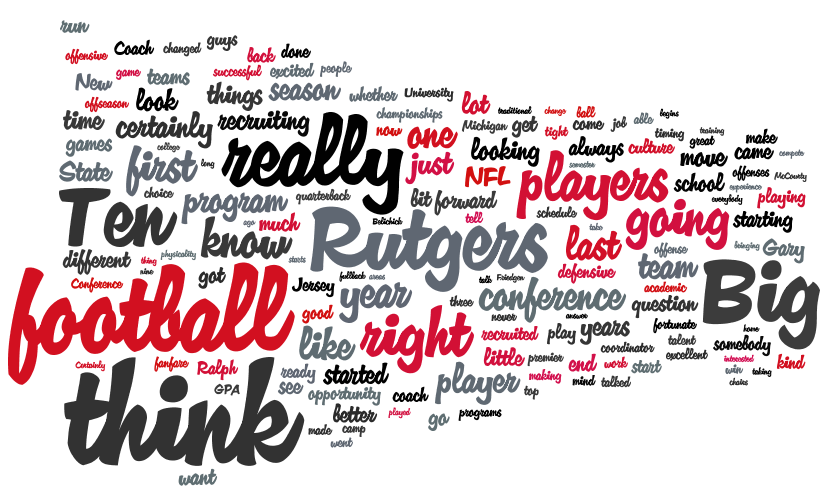 This is a cute city you midwestern folks have out here. I mean, REALLY, it's cute, but it doesn't compare to the BIG city we have in my part of the country. Chicago has one FOOTBALL team, New York have two, and you know what: they play in Jersey, home of RUTGERS, the school that started football.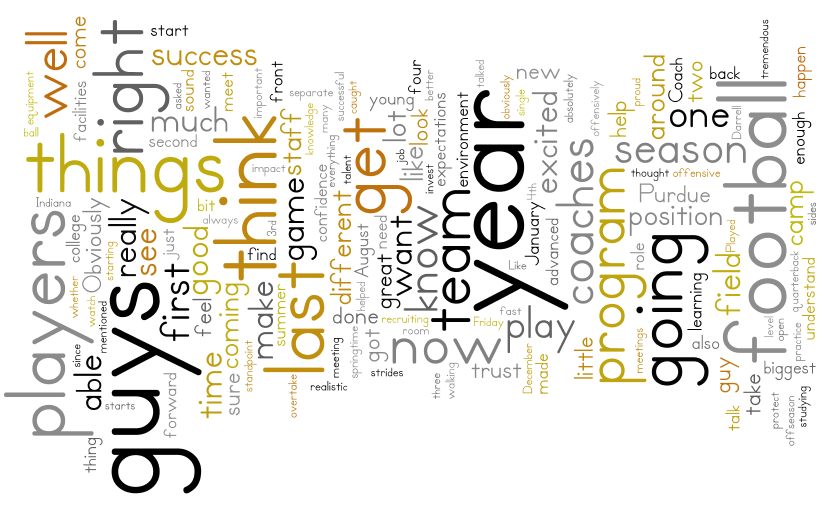 Alright you GUYS. THINGS are GOING just RIGHT for us this YEAR. Have you heard about our 6-foot-8, 400-pound PLAYER? We've got the biggest drum and now the biggest FOOTBALL player in the conference. That should guarantee us at least two wins this year.