---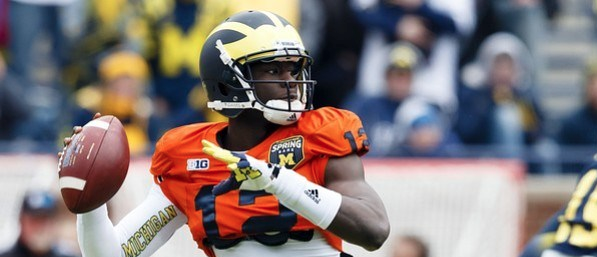 With less than six weeks remaining before Michigan opens its season against Central Michigan, we are kicking off a preview series of position breakdowns and predictions. Naturally, we're starting with the quarterbacks, and the newest member of our team, Derick, dives into what we can expect from the position this season.
Looking Back
The Denard Robinson era is officially over. While the flashy 5'11″ quarterback that Michigan fans so affectionately referred to as 'Shoelace' basically passed the baton to Devin Gardner midway through the 2012 season, his days in the Maize and Blue have officially come to an end. Robinson often drove fans crazy by forcing throws and tucking the ball too quickly to run during his tenure as starting quarterback, but the last couple of years could have been very ugly for Michigan without his unconventional play that kept defenses guessing to the tune of a Sugar Bowl victory and a streak-snapping win over the hated Buckeyes.
Denard was a once-in-a-lifetime player. His ability to turn any play into a big gain made the last two seasons exciting for the Michigan faithful who had little hope following three difficult seasons under former Head Coach Rich Rodriguez. Now the best rushing quarterback in college football history has moved on to the Jacksonville Jaguars, so it's time to see what the future will hold for the Wolverines.
The Savior: Devin Gardner
Robinson's elbow injury on October 27 against Nebraska left a terrifying question mark for the rest of the 2012 season: Who will lead the offense? Gardner's transition to wide receiver left redshirt freshman Russell Bellomy as the only backup option, and his struggles in the second half of the Nebraska game left the Michigan faithful panicking.
Brady Hoke had no choice but to move Gardner back to his original position against Minnesota the following week, and the former Elite 11 quarterback did not disappoint. Gardner, who was recruited as a top-5 quarterback, led the Michigan offense with explosive running and accurate passing, finishing the game with three touchdowns and a 12-of-18 completion rate.
Gardner continued to look comfortable at home, completing a miracle pass to Roy Roundtree with seconds left en route to forcing overtime against Northwestern, and then scoring six touchdowns on Senior Day against Iowa. Robinson's injury that had initially created questions about Michigan's short-term plans quickly turned into an outline for the future.
Thanks to Gardner's late-season play, Michigan enters the 2013 season without even a hint of the dreaded "quarterback controversy." The redshirt junior will lead an offense that promises to look more like that of the old Michigan teams before the Rich Rod era. Gardner has the ability to stand in the pocket and hit receivers downfield, an option that has been noticeably absent from the offense in recent years. He developed a strong connection with speedy receiver Jeremy Gallon in 2012, and the duo promises to frustrate defenses in the coming months. Expect Gardner to throw for a higher completion rate than Denard, even with his willingness to throw the ball away when there are no better options.
While Devin should improve the Michigan pocket-passing attack, when plays break down he can also improvise with his feet. Unlike other recent Michigan quarterbacks, Chad Henne and John Navarre, Gardner is more than capable of breaking a big run with his legs. Even more importantly, he extends plays by keeping his eyes downfield rather than breaking for the line of scrimmage as soon as pressure comes. This keeps options open and gives the offense flexibility.
Devin's dual-threat ability gives him multiple weapons on a play-by-play basis. He is a complete quarterback that brings intangibles to an offense transitioning back to a more physical style of play. He showed the ability to create free plays for the offense by using the hard count and pulling the defense offside in 2012, a move that demonstrates how comfortable his is in his natural position. The temporary move to wide receiver will likely help Devin in the big picture. It taught him another side of the offensive game and gave him a more complete understanding of his receivers. In the end, he belongs in the backfield behind the center, as he will be in 2013.
Projected Stats

Passing Yds
Pass TD
INT
Comp %
Rush Yds
Rush TD
3,100
25
9
62%
550
8
Career Stats
2012
1,219
11
5
59.5%
101
7
2011
176
1
1
47.8%
53
1
2010
85
1
0
70.0%
21
1
Totals
1,480
13
6
58.5%
175
9
The New Kid: Shane Morris
If it is possible to be a fan favorite before stepping foot on campus, Shane Morris has accomplished just that. The local quarterback made his loyalty to the University of Michigan clear when he signed before his senior year of high school. In the months that followed, Morris was very public about his attempts to recruit fellow highly-ranked recruits to join him at Michigan. The result was a top ten class and a fresh wave of excitement around Brady Hoke and the new staff.
Shane's role in the 2013 season is still unclear. After missing much of his senior season with mononucleosis and coming in behind Gardner, many believe the lefty will redshirt. The move, however, is far from certain. Morris has shown through his recruiting and public support of Michigan that he is destined to be a leader in the future. Hoke may decide he would rather use the energetic freshman on the field at times to groom him for a leadership role in the near future.
On the field, expect Morris to be solid. He is athletic and, like Gardner, has the ability to extend plays and keep his eyes downfield. Listed at 6'3″, Morris is not afraid to be physical while running the ball, and his toughness should keep him on the field. Barring a redshirt, Shane will likely win the backup spot and potentially see time early in the year against teams like Akron and Central Michigan.
Projected Stats

Passing Yds
Pass TD
INT
Comp %
300
2
2
55%
The Injury Bug: Russell Bellomy
The second half of the Nebraska game was a nightmare for Bellomy, as he completed the same number of passes to Cornhuskers defenders (three) as he did to his own team, finishing the game 3-of-16 for 38 yards, no touchdowns and three interceptions. While this game definitely left fans frustrated, understand that Bellomy was thrust into a difficult situation and this game was far from career-defining.
There was a chance, if Shane Morris had received a redshirt, that Bellomy could have played a major role in the upcoming season. The backup quarterback spot is always important on a team that has a dual-threat starter with rushing ability. That was before Bellomy suffered a torn ACL in April during a practice, however, and now it is likely that the former three-star recruit will miss the entire 2013 season.
Projected Stats

Passing Yds
Pass TD
INT
Comp %
INT
Comp %
None in 2013
Career Stats
2012
46
0
4
19%
16
0
Totals
46
0
4
19%
16
0
This Year's Bellomy: Brian Cleary
Redshirt freshman Brian Cleary has a chance to see some game action during the 2013 season. The Michigan native out of Detroit Jesuit would seemingly serve as the backup to Devin Gardner if Shane Morris receives a redshirt. Hoke may decide to keep Morris off the field as long as possible this season to keep the option of a redshirt open, and the result might be some clean-up time for Cleary in games like Akron that are destined to be blowouts by halftime. At this point, he does not seem to be in line for meaningful minutes during the 2013 season.
Projected Stats

Passing Yds
Pass TD
INT
Comp %
150
1
1
50%
The Odd Man Out: Alex Swieca
Many fans may have never heard of Alex Swieca. The walk-on has yet to take a snap at Michigan, and it is highly unlikely that will change during the upcoming season. Swieca didn't play any football in high school, but did play overseas in the Israel Football League for a year before enrolling at Michigan. Swieca's love of the game makes for a cool story, as he continues to attend practices and workouts despite not seeing even a second of playing time, but there doesn't seem to be much of a chance that he sees the field this year.
Projected Stats

Passing Yds
Pass TD
INT
Comp %
None in 2013
Wrapping Up
Al Borges has to like what he's working with at quarterback this season. The Michigan offense is in good hands when Gardner is on the field, which should be every meaningful snap. His athletic body and intelligence will help him avoid injury, something that the Maize and Blue faithful have had to worry about too often the last few years.
If something unexpected does keep Gardner off the field for an extended period of time, expect Hoke to call on Morris without hesitation. While the coaching staff would love to save Morris a year of eligibility to develop and learn the offense, the injury to Bellomy gives them no other option. Morris is highly regarded coming into his freshman year and would at least help Michigan remain competitive in most games. Obviously a drop-off from Gardner would be inevitable.
After Morris, there are nothing but question marks. Even the deepest teams in the country would be hard-pressed to win games with their fourth or fifth options at quarterback. In a conference like the Big Ten, Michigan will need a big year from Gardner to compete for their first championship since 2004. Thankfully for Michigan fans, as showcased last season, the dual-threat junior definitely has it in him.