---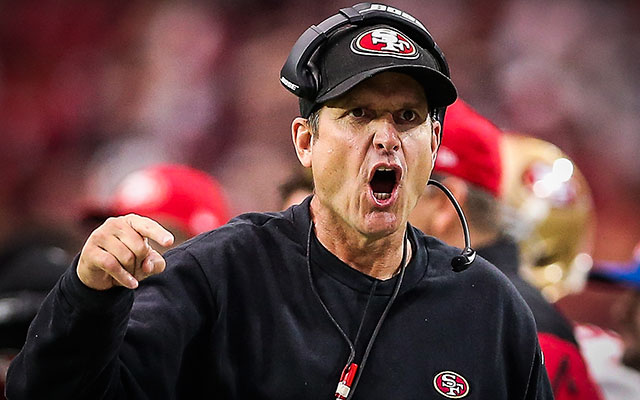 (Getty Images)
Michigan's football season ended nearly a month ago, but the program landed its biggest win of the season on Monday when San Francisco 49ers head coach Jim Harbaugh landed in Detroit with his family to accept the same position at Michigan.
The move had been rumored for weeks as Michigan insiders gradually raised their odds with each passing day and NFL insiders maintained their stance that other NFL teams would swoop in and land the former Michigan quarterback. But John U. Bacon tweeted the first solid confirmation on Saturday night, ESPN's John Clayton stated on Sunday morning on ESPN Radio that Harbaugh had begun contacting possible assistants, and Fox Sports college football writer Bruce Feldman confirmed on Sunday afternoon. Harbaugh himself made it official on Monday, a day after closing his 49ers tenure with a 20-17 win over the Arizona Cardinals.
Harbaugh went 44-19-1 in his four years in San Francisco, taking the 49ers to Super Bowl XLVIII, which they lost to the Baltimore Ravens, and the NFC Championship game in 2011 and 2013. His winning percentage of .698 ranks fifth in NFL history behind only Guy Chamberlain (.784 from 1922-27), John Madden (.763 from 1969-78), Vince Lombardi (.738 from 1959-69), and George Allen (.712 from 1966-77).
Prior to the NFL, Harbaugh turned around a suffering Stanford program, taking a team that went 1-11 in 2006 to four straight seasons with improving records. The Cardinal went 4-8 in his first season, 5-7 in his second, 8-5 in his third, and 12-1 in his fourth, finishing second in the Pac-10 and beating Virginia Tech in the Orange Bowl. He jumped to the NFL following that season, but the roster he recruited went on to records of 11-2, 12-2, and 11-3 in the next three seasons.
Harbaugh did the same at the University of San Diego before Stanford, taking a team that had achieved just 10 seven-plus win seasons since 1956 and going 7-4, 11-1, 11-1 in his three seasons. The latter two were USD's first double-digit win seasons in program history.
Harbaugh also spent eight seasons as an assistant coach for his father at Western Kentucky while finishing his NFL playing career, and officially began his coaching career as a quarterbacks coach for the Oakland Raiders in 2002-2003.
As a player, Harbaugh started 140 games in 14 seasons with the Chicago Bears, Indianapolis Colts, Baltimore Ravens, and San Diego Chargers. He totaled 26,288 passing yards and 129 touchdowns and ranks second in Bears history in completions (1,023), attempts (1,759), and third in yards (11,567). He was also inducted into the Colts Ring of Honor in 2005.
Harbaugh is most beloved in Ann Arbor for his playing days at Michigan under Bo Schembechler when he led the Wolverines to a 24-4-1 record as a starter. He led the nation in pass efficiency in 1985 while leading Michigan to a Big Ten title and Fiesta Bowl victory. The following season, he finished third in the Heisman trophy voting and was named Big Ten Player of the Year. He became the first Michigan quarterback to throw for 300 yards in a game and finished his career in the top five in passing attempts, completions, completion percentage, passing yards, and touchdown passes.
Harbaugh becomes the 20th head coach in the 136 year history of Michigan football, replacing Brady Hoke, who went 31-20 in four seasons. He will reportedly be officially introduced on Tuesday at a 12 p.m. press conference and again during that afternoon's basketball game against Illinois, which tips off at 3 p.m.
Stay tuned for more coverage and analysis in the days to come.