---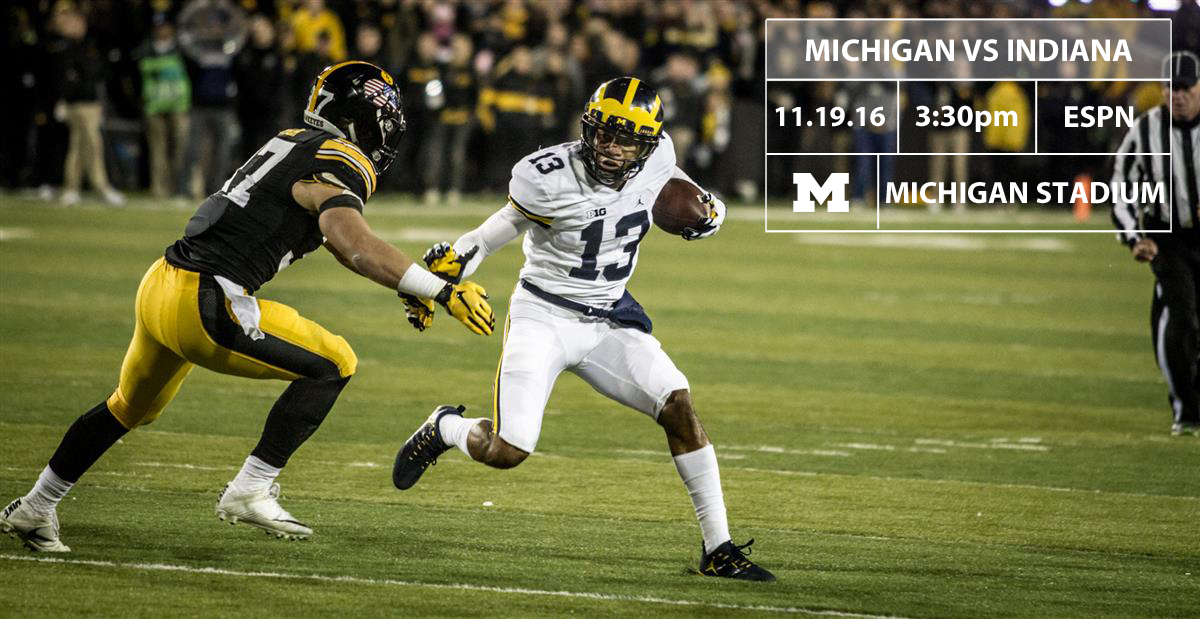 Michigan suffered its first loss of the season last weekend, but in the big picture, it didn't really hurt them. Sure, it reduced the margin for error, but the Wolverines remain in the same position: win the next two and they're in the Big Ten championship game. Win that one and they're in the College Football Playoffs.
Quick Facts

Michigan Stadium – 3:30p.m. ET – ESPN
Indiana Head Coach:
Kevin Wilson (18th season)
Coaching Record:
25-46, 11-36 (all at IU)
Offensive Coordinator:
Kevin Johns (6th season)
Defensive Coordinator:
Tom Allen (1st season)
Last Season:
6-7 (2-6 Big Ten)
Last Meeting:
UM 48 – IU 41 2OT (2015)
All-Time Series:
Michigan 55-9
Record in Ann Arbor:
Michigan 32-7
Jim Harbaugh vs Indiana
1-0
Last Michigan win:
2015 (48-41 2OT)
Last Indiana win:
1987 (14-10)
Current Streak:
Michigan 20
Indiana Schedule to date
Opponent
Result
at FIU
W 34-13
Ball State
W 30-20
Wake Forest
L 28-33
#17 Michigan State
W 24-21
at #2 Ohio State
L 17-38
#10 Nebraska
L 22-27
at Northwestern
L 14-24
Maryland
W 42-36
at Rutgers
W 33-27
#10 Penn State
L 31-45
The final stretch begins tomorrow against the Indiana Hoosiers. Perhaps the silver lining of the Iowa loss is that Michigan won't get caught looking ahead to Ohio State next week. They'll be focused and prepared to get back on track this Saturday. And a win there will give them confidence heading into Columbus after Thanksgiving.
Indiana comes in with a 5-5 record, looking for one more win to gain bowl eligibility. They should be able to secure that next week against in-state rival Purdue, but head coach Kevin Wilson would love to beat Michigan to set up a great chance at the first winning season of his career.
Wilson is in his sixth season in Bloomington and has yet to turn the corner after going 1-11 in his first season. The Hoosiers have won between four and six wins in each of the past four seasons, topping out at six a year ago. They snuck into the Pinstripe Bowl and had a chance to finish 7-6, but lost to Duke on a field goal in overtime.
This season, Indiana opened with wins over Florida International and Ball State, but lost to Wake Forest. Then they beat Michigan State, which looked to be a big win at the time, but we later found out wasn't worth much more than a win over FIU and Ball State.
Indiana then hit the meat of its schedule, falling by 21 at Ohio State, five against Nebraska, and 10 at Northwestern. They bounced back with wins over Maryland and Rutgers, but suffered a 14-point loss to 10th-ranked Penn State last Saturday.
Last season, the Hoosiers nearly beat Jim Harbaugh's first Michigan squad, but the Wolverines pulled it out in overtime. Delano Hill batted down a fourth down pass at the goal line to secure the win. Harbaugh hopes to leave no doubt this time around.
Let's take a look at the matchups.
When Indiana has the ball
Offense has typically been the strength of the Hoosiers under Wilson, but it's not quite as potent this season as it has been the past few. The Hoosiers rank seventh in the Big Ten and 71st nationally in scoring with 27.5 points per game, ninth in the Big Ten and 77th nationally in rushing (164.6 yards per game), second and 20th in passing (302.7 yards per game), and third and 32nd in total offense (467.3 yards per game).
Redshirt junior quarterback Richard Lagow ranks second in the Big Ten in passing in his first season as the starter. He has completed 61 percent of his passes for 2,866 yards, 17 touchdowns, and 13 interceptions. He has topped 200 yards passing in all but two games this season. Ohio State held him to 182 yards and Nebraska to 196. He has turned the ball over in six of 10 games and has multiple turnovers in four of them, so while he trails Purdue's David Blough by fewer than six passing yards per game, he ranks just sixth in pass efficiency, about 10 rating points behind Wilton Speight.
Lagow has a group of talented receivers to throw to. Fifth-year senior Mitchell Paige ranks fourth in the Big Ten with 4.9 receptions per game, while sophomore Nick Westbrook ranks sixth at 4.4 and fifth-year senior Ricky Jones ranks seventh with 4.3. Westbrook is the conference's second-leading receiver, averaging 79.3 yards per game. He has three 100-yard games including a 10-catch, 126-yard performance against Northwestern, but he didn't catch a touchdown pass in that one. Last week, he caught his first touchdown pass since Week 3. Jones ranks sixth, averaging 71.3 yards. In Weeks 3 and 4, he caught a combined 13 passes for 332 yards and a touchdown. Since then, he has averaged 4.5 receptions for 60.5 yards. Paige isn't as big of a home run threat, avearging just 10.9 yards per catch, but he also has two 100-yard games.
The running game has been the weakness offensively after losing Jordan Howard to the NFL. Junior Devine Redding is the Big Ten's sixth-leading rusher, averaging 90.1 yards per game. He has topped 100 yards in half of the Hoosiers' games and needs 99 yards on Saturday to eclipse 1,000 on the season. Ohio State, Nebraska, and Northwestern — three defenses somewhat comparable to Michigan's — held Redding to just 59 yards and 3.6 yards per carry. But he went for 108 yards and two scores on 4.7 yards per carry against Penn State last Saturday. After Redding, Indiana's backfield is pretty thin. Freshman Tyler Natee is the team's second leading rusher with 220 yards, but he averages just 3.7  yards per carry. Sophomore Mike Majette and redshirt freshman Devontae Williams average about four carries apiece per game.
When Michigan has the ball
In years past, Indiana's defense wasn't able to stop, well, anyone. Most games were shootouts. This season, however, they're actually somewhat respectable under the guidance of Tom Allen, who spent last season as South Florida's defensive coordinator. The Bulls turned in the American Athletic Conference's best scoring defense, allowing 19.6 points per game.
The Hoosiers rank 11th in the Big Ten and 67th nationally in scoring defense (28.4 points per game), 10th and 52nd in rush defense (156.2 yards per game), 13th and 73rd in pass defense (235.8 yards per game), and 11th and 55th in total defense (392.0 yards per game).
Junior Greg Gooch and sophomore Jacob Robinson are the starting defensive ends have combined for 6.5 tackles for loss and one sack. The defensive tackles, redshirt junior Nate Hoff and fifth-year senior Ralph Green III are a little more impactful with 11 tackles for loss and 3.5 sacks.
The linebacking corps is the strength of the defense, lead by junior middle linebacker Tegray Scales, who ranks second in the Big Ten with 94 tackles. He also ranks second with 15 tackles for loss — one more than Jabrill Peppers — and leads the team with four sacks. Redshirt junior SAM linebacker Marcus Oliver is the team's second-leading tackler with 74 and has 10.5 tackles for loss, which ranks ninth in the conference. True freshman Marcelino Ball plays the HUSKY linebacker position and has had a pretty good inaugural campaign, ranking thid on the team with 68 tackles and tied for the team lead with two interceptions. He's also third with seven pass breakups.
Redshirt junior cornerback Rashard Fant is the Big Ten's leading pass defender in terms of passes defended with 18 and pass breakups with 16. By comparison, Channing Stribling leads Michigan with 13 and nine, though he does have twice as many interceptions as Fant. True freshman A'Shon Riggins is the other corner and he ranks second on the team with eight pass breakups. Safeties Jonathan Crawford and Tony Fields have combined for 108 tackles, 13 pass breakups and three picks.
Redshirt junior kicker Griffin Oakes won the Big Ten Bakken-Andersen Kicker of the Year award in 2015, but has struggled this season, converting just 12-of-21 attempts. He does have a big leg with a long of 54 yards, but has lacked the consistency that he displayed a year ago. Redshirt sophomore punter Joseph Gedeon ranks ninth in the Big Ten with an average of 40.6 yards per punt. He has been accurate, landing 21 of 45 punts inside the 20 with no touchbacks.
Williams averages 19.8 yards per kick return, while Paige averages 7.8 yard per punt return.
Last week I had a bad feeling about the Iowa game all week leading up to Saturday. It just felt like a trap game in every sense of the word and unfortunately, I was right. This week, I have the opposite feeling. Even with starting quarterback Wilton Speight out, Michigan is going to roll Indiana and gain a lot of confidence heading into Columbus.
Indiana's offensive strength — its passing game — goes up against the best pass defense in the nation and won't be able to move the ball consistently enough to score man points on Michigan. Sure, the Hoosiers passed for nearly 300 yards and scored 31 points against No. 10 Penn State last Saturday, but let's not forget the PSU's pass defense ranks in the bottom half of the Big Ten. Let's also note that Indiana has trouble putting the ball in the end zone and finishing drives.
The Hoosiers rank dead last in the nation with a 68 percent red zone scoring rate. And they've scored touchdowns on just 47 percent of their red zone trips. Michigan has done so on 71 percent of theirs. In other words, when in the red zone, Michigan converts touchdowns more often than Indiana converts points. To make matters worse for Indiana, Michigan's defense is the nation's best in the red zone, holding opponents to just 65 percent scores and 41 percent touchdowns.
On offense, Michigan will move the ball just fine with John O'Korn's mobility giving an added dimension that wasn't there with Speight behind center. Indiana will surely try to force O'Korn to beat them with his arm, and he'll do so against the second worst pass defense in the Big Ten. He'll throw for over 200 yards, opening up the running game for another 200-plus as the offense gets back to its high-scoring ways.