---

For the first time this season, all 14 Big Ten teams hit the field against conference opponents as the first half of the college football regular season came to an end. And though there were no surprises in the outcomes of these games, some of the winning margins definitely stood out.
In the only intra-division battle, the third-highest East Division team beat the highest-ranked West Division team into a pulp, branding the former as the more dominant half of the conference. Four East teams are 2-0 in conference while only Iowa is unbeaten in the West.
As a whole, the Big Ten has a legitimate chance to send 10 teams to bowl games at the end of the season. Three 6-0 squads are already bowl eligible and another three are just one win away. Assuming Minnesota and Wisconsin can win two more games each, it's up to Indiana to find two more victories to give the conference 10 bowl-eligible teams.
Here's how both division stack up after six weeks of football.
1. Ohio State (6-0, 2-0) – 

Even

Last Week: Beat Maryland 49-28
This Week: Sat vs Penn State (2-3, 0-1), 8pm, ABC
Ohio State holds onto the top spot this week because of the reemergence of the dangerous quarterback tandem that landed them the preseason No. 1 spot in the first place. No, being tied with Maryland in the 3rd quarter isn't pretty, but the Buckeyes did pull away and win the game by 21 points. Cardale Jones completed 21 of 28 passes for 291 yards and two touchdowns while J.T. Barrett got a few red zone chances and scored three rushing touchdowns. Ezekiel Elliott rushed for a cool 106 yards and two touchdowns to cap off one heck of an afternoon for the trio. Ohio State did allow nearly 400 yards to a team that struggled to reach 100 against Michigan last week, but a 499-yard effort from a Buckeye offense that limped into the game eased any concerns. OSU didn't turn the ball over, controlled the pace with 31 first downs and even got Braxton Miller going – finding the receiver five times for 79 yards and a touchdown.
2. Michigan (5-1, 2-0) – 

Up 1

Last Week: Beat #13 NW 38-0
This Week: Sat vs #7 Michigan St. (6-0, 2-0), 3:30pm, ESPN
That's right, even though the Wolverines have a loss on their resume, they've finally jumped into the No. 2 spot in the rankings. Michigan put up one of the top performances of the year Saturday, dominating No. 13 Northwestern in all three phases for a 38-0 victory. Jehu Chesson drew first blood on the opening kickoff, returning it 96 yards for a quick touchdown. Michigan followed its first kick return touchdown since 2009 with drives of 59 yards and 75 yards against the No. 1 scoring defense in the country to stretch the lead to 21-0 in the 1st quarter. A Jourdan Lewis pick-six put the nail in the coffin before the Wildcats could even get to halftime. In addition to notching its third straight shutout, Michigan's defense surrendered just 168 yards (after allowing 105 to both BYU and Maryland) and held Northwestern to 2-13 on 3rd downs. Jim Harbaugh has his team playing at a higher level than anybody could have expected this early in his regime. If the Wolverines can pull off an unthinkable sixth straight win on Saturday, it'll enter into the Big Ten title discussion.
3. Michigan State (6-0, 2-0) – 

Down 1

Last Week: Beat Rutgers 31-24
This Week: Sat at #12 Michigan (5-1, 2-0), 3:30pm, ESPN
Mark Dantonio will probably use these power rankings as motivation for his team as it heads into Ann Arbor on Saturday. The Spartans drop out of the top two after needing a heroic Connor Cook-led drive in the final minute to beat a hapless Rutgers team. Cook made three legitimate NFL throws during the drive – highlighted by a 29-yard strike to R.J. Shelton on 3rd and 9 with MSU in danger of punting it back to the Scarlett Knights with three minutes remaining. Cook was great on the night, throwing for 357 yards and two touchdowns, but the Michigan State defense allowed recently-reinstated Leonte Carroo catch seven passes for 134 yards and three touchdowns to stay in the game. Carroo is an NFL talent, but the Spartan secondary is starting to look more and more porous as the season stretches on. Michigan doesn't have the greatest passing attack, so if Jake Rudock can pick apart the Spartans on Saturday, it'll be panic time for Dantonio.
4. Penn State (5-1, 2-0) – 

Even

Last Week: Beat Indiana 29-7
This Week: Sat at #1 Ohio State (6-0, 2-0), 8pm, ABC
Much like Utah's resurgence has improved Michigan's resume, Temple's six-game winning streak to start the season is starting to make Penn State's 5-1 start look much more respectable. The Nittany Lions smacked Indiana, 29-7, for their fifth straight win and have a chance to shake up the entire East Division in Columbus Saturday night. Christian Hackenberg was just average passing against a terrible Indiana defense – 21 of 39 for 262 yards and two scores – but rushed nine times for two more touchdowns. Indiana was without star running back Jordan Howard and quarterback Nate Sudfeld, so the PSU defense cruised in the victory.
5. Rutgers (3-2, 0-2) – 

Up

 1

Last Week: Lost to #4 MSU 24-31
This Week: Sat at Indiana (4-2, 0-2), 3:30pm, BTN
Maybe Rutgers has a little fight left after the return of Carroo to the offense. The senior wideout has caught six touchdown passes in just three games and gives the Scarlett Knights their only dangerous weapon on offense. Defensively, Rutgers can't stop a nosebleed. Michigan State converted 11 of 17 chances on 3rd down en route to 489 total yards and 31 points. Only Norfolk State, an FCS team, and Kansas, the worst power five team in the country, couldn't score at least 28 points against Rutgers this season. It'll be up to the offense if Kyle Flood's team wants to play in a bowl game.
6. Indiana (4-2, 0-2) – 

Down 1

Last Week: Lost to Penn St. 7-29
This Week: Sat vs Rutgers (3-2, 0-2), 3:30pm, BTN
Poor Indiana. Just when it looked like the Hoosiers could make some noise in the Big Ten – 4-0 and beating top-ranked Ohio State in the 3rd quarter – they lost their two best offensive players and spiraled into a familiar abyss of irrelevance. A huge home game against Rutgers could get Indiana a step closer to bowl eligibility. If the Hoosiers drop that contest, they'll need two road wins over Maryland and Purdue at the end of the season.
7. Maryland (2-4, 0-2) – 

Even

Last Week: Lost to #1 OSU 28-49
This Week: Bye (10/24 vs Penn State)
Despite hanging with Ohio State for the better part of three quarters, Maryland is the lucky recipient of this week's Dumpster Fire Award. Firing head coach Randy Edsall won't teach Perry Hills, or Caleb Rowe, or Daxx Garman how to throw the football. The three quarterbacks own a combined completion percentage of just 44.1 percent and have thrown 17 picks to just 10 touchdowns. Hills – 47.4 percent, five touchdowns and four interceptions – might be the best option, but he still won't get the Terrapins anywhere near bowl eligibility. On defense, look no further than the three teams (Bowling Green, West Virginia and Ohio State) who put up well over 40 points apiece against Maryland. The next four weeks will be a train wreck for the Terrapins. Athletic Director Kevin Anderson might have actually done Edsall a huge favor.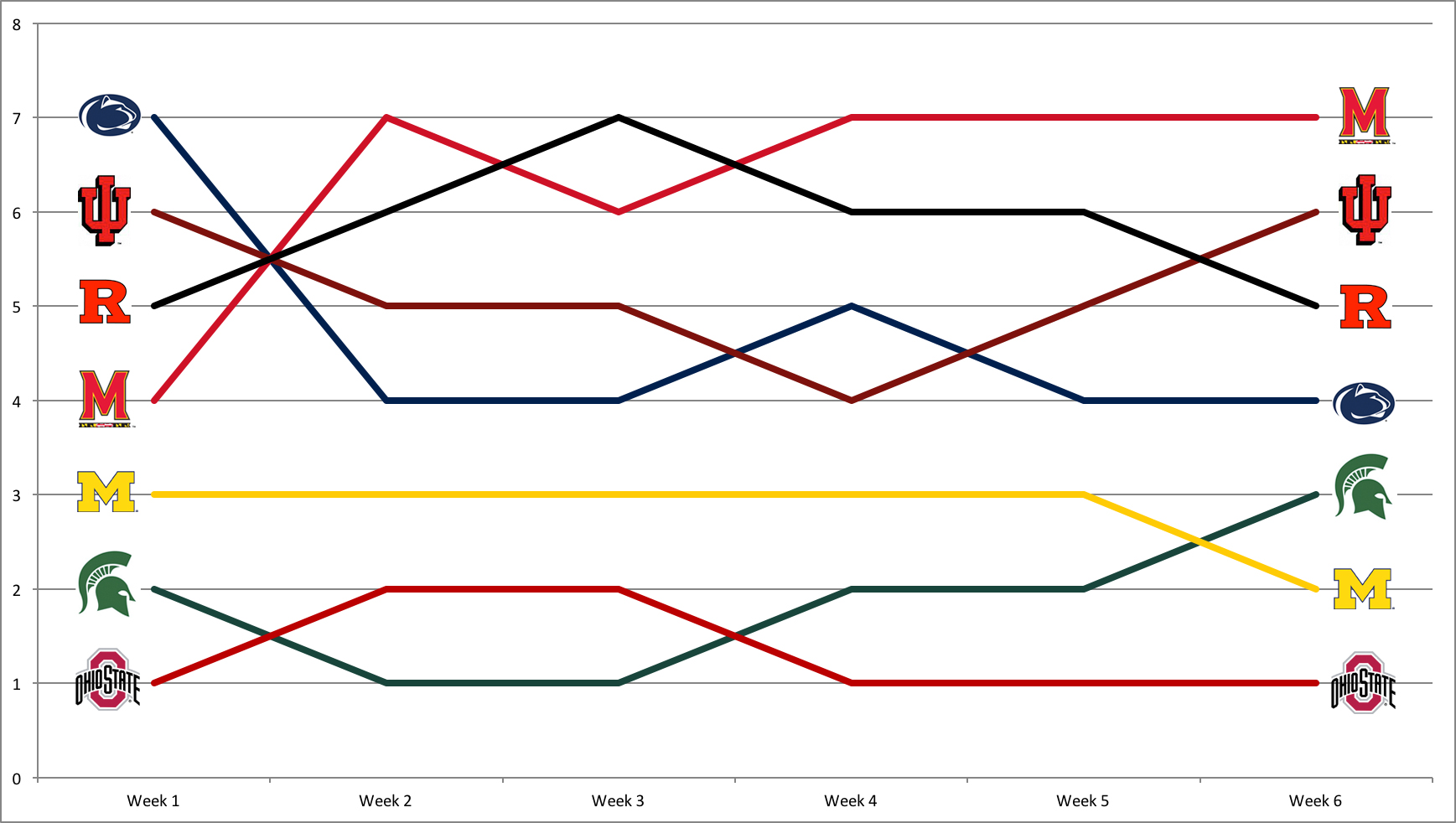 1. Iowa (6-0, 2-0) – 

Up 1

Last Week: Beat Illinois 29-20
This Week: Sat at #20 NW (5-1, 1-1), 12pm, ABC
For the first time this season, a new team sits upon the West Division throne. Iowa wasn't overly dominant in a 29-20 win over Illinois, but Jordan Canzeri proved he's the real deal, carrying the ball 43 times for 256 yards and a touchdown. Quarterback C.J. Beathard did just enough in the passing game to open the field for Canzeri, completing 15 of 31 passes for 200 yards and two touchdowns. His favorite target on Saturday was freshman Jerminic Smith, who made his first career catches (4) for 118 yards. As the only remaining undefeated team in the Big Ten West, Iowa sits in the driver's seat heading into a crucial top-20 matchup in Evanston. If the Hawkeyes can escape with a win over Northwestern, the final five weeks will be a cakewalk to Indianapolis.
2. Northwestern (5-1, 1-1) – 

Down 1

Last Week: Lost to #18 Mich. 0-38
This Week: Sat vs #17 Iowa (6-0, 2-0), 12pm, ABC
After winning five games to open the season and knocking off Stanford and Duke – neither of which has lost since falling to the Wildcats – Northwestern finally put itself on a national stage with the chance to make a statement. Simply put, it didn't go well. The Wildcats fell behind by three touchdowns in the 1st quarter and never even made a peep as the Wolverines shattered their perfect record. Clayton Thorson's best drive ended in a missed field goal and Justin Jackson rushed 12 times for only 25 yards. Luckily, Pat Fitzgerald only has to wait a week for a chance at redemption. A home win against Iowa Saturday would put Northwestern back on top of the West.
3. Minnesota (4-2, 1-1) – 

Up 2

Last Week: Beat Purdue 41-13
This Week: Sat vs Nebraska (4-2, 1-1), 3:30pm, ESPN2
Minnesota finally broke out of its offensive slump in Week 6, rushing for 326 yards and dropping 41 points on Purdue. Mitch Leidner only threw for 59 yards, but there was little reason to pass as the Gophers had seven different ball carriers combine to average 6.8 yards per carry. The defense bounced back from the 27-0 drubbing it suffered against Northwestern, allowing just 275 yards and forcing four turnovers. Minnesota needs a win over Nebraska this weekend before dates against Michigan and Ohio State after the bye.
4. Wisconsin (4-2, 1-1) – 

Even

Last Week: Beat Nebraska 23-21
This Week: Sat at Minnesota (4-2, 1-1), 3:30pm, ESPN2
Wisconsin nearly dropped to 0-2 in the Big Ten Saturday, but a 46-yard field goal from Rafael Gaglianone with four seconds left in the game lifted the Badgers over the Cornhuskers, 23-21. Joel Stave threw the ball an uncharacteristic 50 times, completing 24 passes for 322 yards and one touchdown. Dare Ogunbowale added 117 yards rushing to give Wisconsin just enough for its first conference win. Nebraska gained just 13 first downs against the Badger defense and scored only one in the second half. Wisconsin faces an easy four-game stretch – Purdue, Illinois, Rutgers and Maryland – while it waits for Iowa to let it back into the race.
5. Illinois (4-2, 1-1) –

Down 2



Last Week: Lost to #22 Iowa 20-29
This Week: Bye (10/24 vs Wisconsin)
For a few glorious moments in the 4th quarter, it looked like Illinois might actually pull a road upset at Kinnick. But the offense managed just two touchdowns as the Fighting Illini fell back to even in conference play. The Illini defense embraced the 'bend but don't break' mentality Saturday, allowing 478 total yards but surrendering just three touchdowns. Marshall Koehn made three field goals after stalled Hawkeye drives to eventually outlast Illinois.
6. Nebraska (2-4, 0-2) – 

Up 1

Last Week: Lost to Wisconsin 21-23
This Week: Sat at Minn. (4-2, 1-1), 3:30pm, ESPN2
Nebraska has really got this heartbreak thing down to a science. After losing on a last-second field goal on Saturday, the Cornhuskers have lost four games by a combined 11 points. Two of those losses came on Hail Mary passes and a third came in overtime. If Mike Riley can't teach his team to finish, they'll watch the rest of the conference from home during the bowl season.
7. Purdue (1-5, 0-2) – 

Down 1

Last Week: Lost to Minnesota 13-41
This Week: Sat at Wisconsin (4-2, 1-1), 12pm, BTN
To nobody's surprise, Purdue's near upset of Michigan State turned out to be a one-week wonder. The Boilermakers turned the ball over four times – including three picks by David Blough – in a 41-13 home loss against Minnesota. Purdue held the ball for under 24 minutes and converted just three of 17 attempts on 3rd down. Rutgers and Maryland have a better chance to play each other in a bowl game than Purdue has to qualify.