---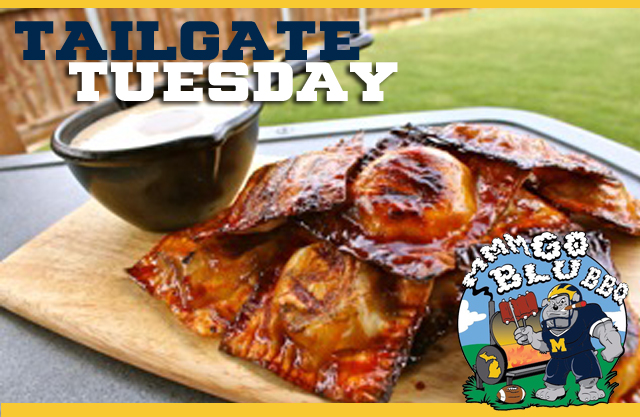 Tailgate Tuesday is our weekly collaboration with Joe from MmmGoBluBBQ. These will be posted each Tuesday throughout the season and each recipe will be themed around that week's opponent. 
Previously: Hot-'n-Fast pulled pork with Carolina mustard slaw, Irish stout pepper beef, Spatchcock RedHawk.

Okay, I've gotta admit a little something. Trying to find a tailgate recipe with a "Utah Utes" theme was more difficult than trying to squeeze into my national championship t-shirt from 1997 last weekend. That darn dryer shrinks everything. I reached out to several friends with Utah connections and not a one of them could think of anything. Really guys??? Nothing??? Finally, one of my buddies mentioned they like to grill ravioli's on game day and that was more than good enough for me. I've made these before and had the ingredients on hand, so let's get to it. These are a crowd pleaser and super easy to make. Plus, 90 percent of the prep work can be done ahead of time, so it's WIN/WIN. The filling options are endless, so go nuts!
Ingredients:
• Won Ton Wrappers – (I like the Nasoya All Natural)
• Shrimp…..Shredded cooked chicken….beef….pork….veggies (Pre-Cooked)
• Havarti Cheese (Great melting cheese)
• Jalapenos (optional)
• Egg (egg wash)
• BBQ sauce for glazing (optional)
Directions:
Set your grill up for medium direct heat. While the grill is heating up, we can start making some raviolis. You will need two wrappers per ravioli. Lay out as many won ton wrappers as you can and start adding your ingredients. Do Not Overfill or they will open up on the grill. Once you have the filling in place, you can make an egg wash. Mix one egg and add one tablespoon of water. Once the egg wash is mixed, apply to the four edges of each won ton wrapper that has filling. Now you can add the other wrapper and press down firmly.

Once the raviolis have been assembled, use a fork to secure the edges. Press down hard until you have some ridges along the edge. The egg wash acts as a glue and holds it all together. The great thing about these is that you can make em 24 hours ahead of time and hold them in the fridge until game time. Once the grill is at temp, make sure to oil the grates. This will keep the raviolis from sticking. You will want to cook them over medium direct heat for about 2-3 minutes per side. Don't walk away or these will burn. Flip them every minute or so until you have the crispiness you want. If they start to burn, you can move them to the cool side of the grill to finish the cooking process. They take about five minutes total.

At this point, they are ready to eat. Be careful as the cheese on the inside is like lava. Gooey, tasty lava. If you would like to add another layer of great flavor, apply a nice thin coat of your favorite BBQ sauce and grill for another minute. I love em both ways. These are also extremely DIPPABLE. I'm partial to queso, salsa, guacamole and ranch as well as a sweet chili sauce on these tasty, crispy buggers. Like I said, the options are endless.

I want to thank my buddy Dave at BBQ Dry Rubs for the grilled ravioli idea. Genius!
Let me know if you try them and what your filling was made of. Please send pics of your BBQ so I can post on www.mmmgoblubbq.com GO BLUE!
___________________________________________________________________________________________
This week's drink: Beefy Spicy Go Blue Brew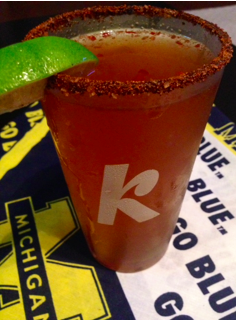 • 12 oz mexican beer
• 1 TBS Stubbs Beef Marinade
• BBQ Rub
• Lime
Pour some of the beef marinade into a shallow bowl and dip the top of the glass into the marinade. You want to get the rim of chilled mug wet so it will hold some BBQ rub. Once the rim is wet, dip into some BBQ rub. The spicier, the better. Add a tablespoon of beef marinade to the chilled mug and add your ice cold beer. Garnish with lime. Enjoy. These things are spicy and tasty.
For more great recipes, photos, and barbecue ideas, follow Joe on Twitter at @mmmgoblubbq. And don't forget to check out his site, MmmGoBluBBQ, for recipes, product reviews, and more.