---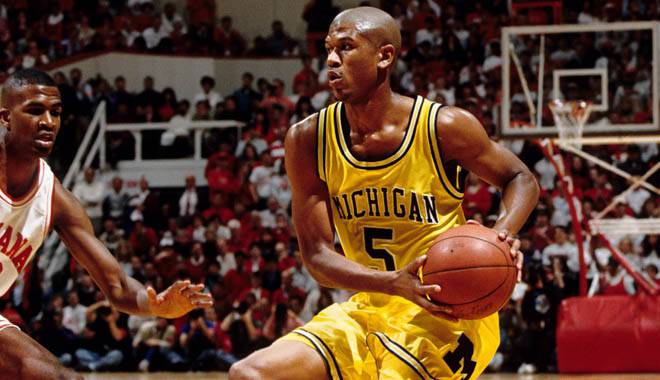 The Michigan basketball program has had some great teams and great moments since 1986, in addition to some lean times. The Wolverines won the national championship in '89 and made it to the title game in '92, '93, and last season. But none of those great teams or any other in between accomplished what Michigan did on Tuesday night when it captured the outright Big Ten title.
Perhaps the most outspoken player on the most iconic team during that span, Jalen Rose, took the time to chat with Maize and Go Blue about the success of the current team, why coach Beilein is so successful, who would win a one-on-one matchup between sophomore Jalen Rose and sophomore Nik Stauskas, and much more.
Maize and Go Blue: How happy are you with the recent success of the Michigan basketball program?
Jalen Rose: "I'm a huge fan of John Beilein, not only the way he carries himself as a man, but his leadership over the basketball team and over the program, how he continues to bring in players from their freshman year who you can tell how they continue in their work. I use (Caris) LeVert as an example, I can use (Nik) Stauskas as an example, how he's developed a style of play, he's developed a system and he recruits to that system, and therefore, it allows him to get the results that he's had — winning the outright Big Ten for the first time since '86, making it to the national championship game last year. I mean, the program is definitely trending up and it starts with his direction. And I'm really happy about that."
M&GB: How is Beilein able to identify unheralded players and get the most out of them?
Rose: "It kind of gets overstated but he recruits to his style of what he wants to get accomplished. If you notice when you watch Michigan's team play, especially without (Mitch) McGary, there may be times where there are four guys on the court that are 6'6" and below that can all shoot threes. He's recruiting to his style of play. So when he gets those guys on campus, he gets them in the weight room, gets them in the gym working on their skill work and their drills, he does a good job of having them work on things that they can actually implement into their game. Now, once the game starts – look at a player like a Zak Irvin, the way he shoots the basketball – he was recruited to play a style.
"So I really enjoy watching this team play. The development of Glenn Robinson III has been awesome also. And hopefully they can continue to have success in the conference tournament and the NCAA Tournament where they're ultimately going to be judged."
M&GB: Would you have enjoyed playing in John Beilein's system?

Rose: "I would have. But obviously, you can't knock the success and the system that I got a chance to play for in Steve Fisher, when I would venture to say since he's been at San Diego State they've probably been ranked in the top 25 more weeks than Michigan."
M&GB: What was it like for you returning with the rest of the Fab 5 to watch the team in the Final Four last year?
Rose: "It was awesome. I'm mad we didn't win, but it was awesome. I promised Tim Hardaway and Trey Burke, who I was in contact with the entire season, I was going to make sure for only the second time since 1993 that the Fab Five would be in the same place at the same time for support."
M&GB: Will you be there again this year if they make it that far again?
Rose: "Absolutely. With the same dumb hat I had on last year."
M&GB: How do you assess the balance of power in the state of Michigan right now?
Rose: "It all depends on if you're talking about a marathon, then it's not close. Since Tom Izzo has taken over the program at Michigan State it's not close. But Michigan at this point is trending upward. As a Michigan fan I was happy that we got a chance to play them without (Adreian) Payne, with a hobbled (Keith) Appling, without (Branden) Dawson, but they're starting to get healthy now. They're going to be a tough out in the conference tournament and in the NCAA Tournament. I think when healthy, overall they've shown that they, probably along with Florida, to be the best teams in the country – on paper. But the games aren't played on paper. And I'm happy we still beat them twice this year.
"But don't be surprised, I'm kind of watching the tea leaves with Tom Izzo and seeing that his team has gotten older, maybe he gets that itch to try to go to Auburn Hills and coach."
M&GB: Are there really are any legs to that?
Rose: "Stay tuned."
M&GB: How far do you see this Michigan team going in the NCAA Tournament?

Rose: "Shooting is a tricky thing. You get hot and you can really roll a couple of weekends. If your three-point shooting goes cold or teams do a good job of defending it or going inside and getting to the free throw line, then that creates a different game – a slow-down game. At this point, it's all about seedings. It's all about who you get matched up with."
M&GB: Michigan has ranked outside the top 50 in adjusted defensive efficiency all season. What's the most important aspect that needs to improve for a deep run in the NCAA Tournament?
Rose: "Well, that's the sacrifice that I was talking about. When you decide to play small, you give up size. And you have to with Mitch McGary out. They've got to play to the strength of the roster that they have. So while they're shooting threes and they're going in it allows us to win games. But when we're not shooting the three well and teams are driving it to the basket, transition, and really pounding us on the offensive boards that's when it's an issue. You hope you don't get matched up against those teams that like to play two and three bigs up front."
M&GB: What player is Michigan's x-factor in the NCAA Tournament?
Rose: "It's clearly Nik Stauskas. He's had his single-digit games. Indiana comes to mind and I think at Iowa where the team really struggled and really lost. He's got hot in some games and before you know it we won the outright Big Ten title. So I think he's the key along with Glenn Robinson III."
M&GB: What impresses you the most about Stauskas' progression from fourth option last year to go-to guy this year?
Rose: "He continued to work on his game. We knew he was a shooter, but also he improved his ball handling and his ability to drive to the basket, ability to finish at the hoop."
M&GB: Is Stauskas an NBA lottery pick?
Rose: "That's a tricky question because I don't know who all is coming out, but I definitely see him as a first round prospect. I remember telling people that Tim Hardaway Jr. was going to be a good pro. I remember talking about it during the actual draft when I was naming people that were getting drafted and his name was still on the board. Now, all the sudden you see him playing with the Knicks and if you're one of the three people that actually still cares about what the Knicks are doing this year, he's still being a productive player. So I hope that Nik Stauskas can kind of trend up the way he did."
M&GB: If sophomore Jalen Rose played sophomore Nik Stauskas one-on-one, who would win?
Rose: "I want to take the humble route, so I think it's smart for me to go ahead and say he would win."
M&GB: Can Caris LeVert lead the team next season if Stauskas and Robinson III go pro?

Rose: "I think he can. You get Derrick Walton back, another year of LeVert, Irvin shooting the ball, you get Mitch McGary back in the lineup. I think that's very formidable."
M&GB: Entering the season most expected Glenn Robinson III to be Michigan's top scoring option. While he has had a good season, he hasn't been the go-to guy most thought he would be. How do you evaluate his season so far?

Rose: "He's one of the best players on a team that just won the Big Ten title. He's one of those players that plays within the team concept. He doesn't really force shots, he doesn't thump his chest, he has a very stoic demeanor whether the team is struggling or he's playing well. That demeanor sometimes gets taken for granted. I actually really like that about him.
"The one thing about this journey is, as a player, you have to approach it like this: what's happened up to now still means nothing. You still want to win the conference tournament. More importantly, you get to the NCAA Tournament and there's 30 teams that won their conference tournament. That's not breaking news. People in the SEC don't care who wins the Big Ten. People in the Pac-12 don't care who wins the Big Ten."
M&GB: In your opinion, which players on the team should go pro after this season?
Rose: "We've got to see how this plays out. There's still some work to be done. You've still got to ball in the conference tournament. You've still got to ball in the NCAA Tournament. You get bounced in either one of them and that performance is your lasting memory. At this point, it's only 33 percent of the book. Look at Marcus Smart for example. He had a terrific season – All-America-type season – last year and got bounced in the tournament and had to come back to school."
M&GB: What did you think about what Ray Jackson said yesterday, that — no offense to Steve Fisher — if Beilein was the coach of the Fab Five you would have won a national title.
Rose: "I didn't know he said that. He's just excited about watching the team and the 20-year alumni. They're both great coaches but when you look at the bottom line, I think the things that Beilein wants to get accomplished are things that Steve has already gotten accomplished. They may not have a picture or banner of him up in Ann Arbor, but he did make it to three national championship games and won one title. For a school that has only been there seven total times. It's not like Michigan goes to the Final Four every single year."