---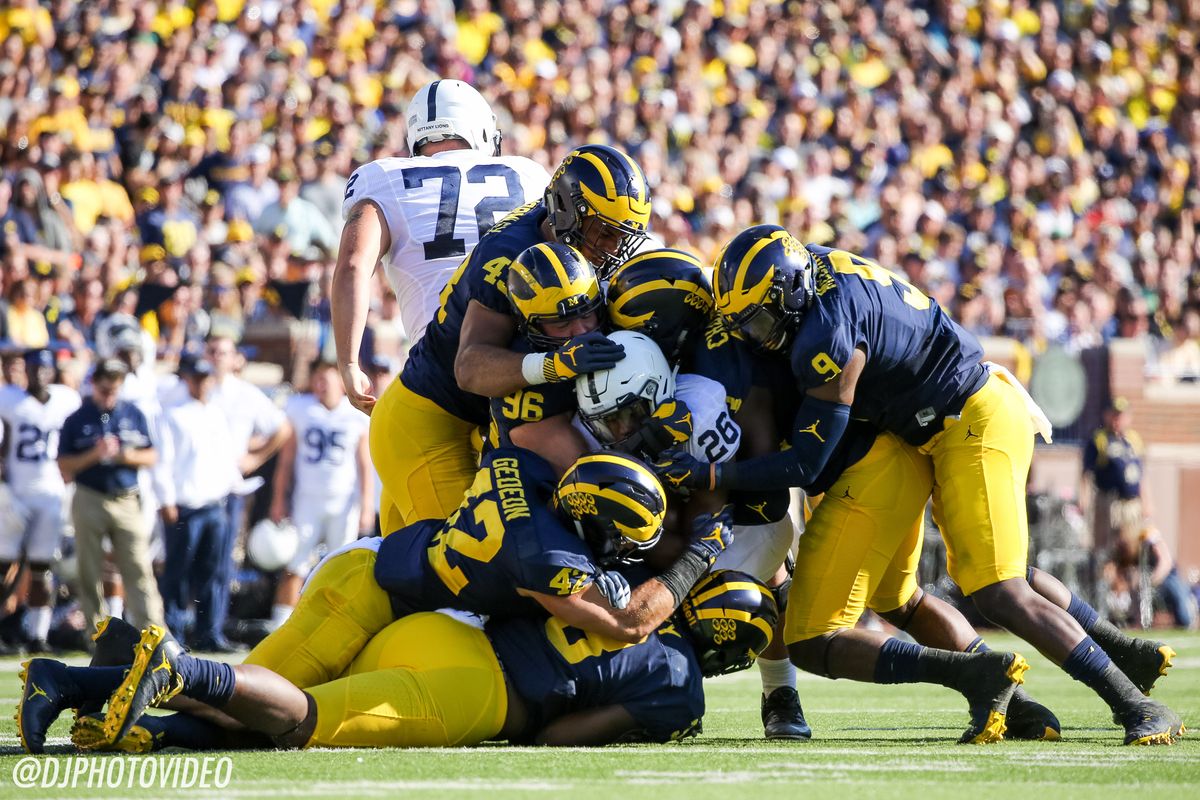 (Dustin Johnson)
A few weeks ago, we outlined the returning offensive production throughout the Big Ten, which showed that last year's Big Ten champion, Penn State returns the most production in the conference and Michigan finds itself just inside the top half. Today, we take a look at the defensive side, which will show a much different story for the Wolverines.
A year ago, Purdue returned the most defensive production, but finished just 91st nationally in total defense, going just 3-9 overall. Conversely, Michigan returned the fourth-fewest defensive production and finished with the best defense in the nation, and Ohio State returned the second-fewest and finished with the nation's sixth-best total defense.
The story was different in 2015 as Ohio State entered that season with the most returning defensive production and backed it up with the conference's third-best defense.
So what does this year have in store? Let's take a look at the Big Ten's returning defensive production. At the end, we'll tie it all together with the offense to see if there are any indications of who will capture the Big Ten title this December.
Defense
Returning defense
Team
Percent Returning
2016 Total Defense Rating
Maryland
78%
77
Indiana
78%
45
Iowa
74%
23
Rutgers
72%
97
Wisconsin
71%
7
Penn State
71%
37
Ohio State
69%
6
Northwestern
67%
60
Nebraska
59%
30
Purdue
59%
91
Minnesota
53%
21
Michigan State
51%
32
Illinois
46%
61
Michigan
40%
1
As a whole, there is more returning defensive production throughout the Big Ten than there was a year ago, which is contrary to the other side of the ball which seems less offensive production returning than there was in 2016. Like last year, a weak defensive team leads the way in returning production as Maryland brings back 78 percent if its 77th-ranked defense. The Terps went 6-7 overall and 3-6 in the Big Ten in D.J. Durkin's first season at the helm, but look to improve on that with their top three tacklers, top five in tackles for loss, and four of their top five sacks returning. They'll have to create more turnovers if they want to see improvement, as Maryland forced a Big Ten-worst 12 turnovers last season and only seven of those are returning.
Indiana brings back the second-most production for the second straight season and there might just be something there for once. The Hoosiers improved significantly from 120th in 2015 to 45th in 2017 under Tom Allen, who became the head coach when Kevin Wilson was fired this offseason. In the first few seasons of Wilson's guidance, defense was an afterthought to the electric offense, but Allen changed that last fall. It's a safe bet to assume the Hoosiers will be more defense-oriented under Allen, especially with the pieces he has coming back, most notably linebacker Tegray Scales, who lead the Big Ten with 126 tackles and 23.5 tackles for loss. Safety Jonathan Crawford, who lead the team with seven takeaways, and corner Rashard Fant, who lead the Big Ten with 20 passes defended, are also welcome returns.
Top returning Big Ten defensive linemen by production
Name (Yr.)
Team
Tackles
TFL
Sacks
Gelen Robinson (Sr.)
Purdue
61
8
5
Dre'Mont Jones (RS So.)
Ohio State
52
4
0
Jesse Aniebonam (Sr.)
Maryland
46
14
9
Sam Hubbard (RS Jr.)
Ohio State
46
8
3.5
Matt Nelson (RS Jr.)
Iowa
43
6.5
5.5
Kingsley Opara (5th)
Maryland
41
11.5
3
Iowa, Rutgers, Wisconsin, and Penn State each return just over 70 percent of their defenses this fall. The Hawkeyes have 74 percent of the nation's 23rd-best defense returning, most notably linebacker Josey Jewell, the Big Ten's second-leading returning tackler. Iowa's defense really tightened the reigns during the second half of the 2016 season, allowing just 16.2 points per game over their last five, but they were destroyed by Florida, 30-3, in the Outback Bowl. And now they return seven starters including the entire linebacking corps, which figures to be one of the best in the conference.
Rutgers returns 72 percent of its defensive contributions and eight of 11 starters, but the Scarlet Knights still have a long way to go. In Chris Ash's first season, the Rutgers defense ranked 97th nationally in total defense and 116th in scoring defense, giving up 37.5 points per game. Ohio State, Michigan, Michigan State, and Penn State beat Rutgers by a combined 224-0 — an average of 56 points allowed. Ash was Ohio State's defensive coordinator prior to taking the job in New Brunswick, so a betting man would be wise to expect an improvement over last year, but just how much is the question. Nearly the entire back seven returns, in addition to Michigan transfer Ross Douglas, who may win a starting job as a hybrid linebacker.
Top returning Big Ten linebackers by production
Name (Yr.)
Team
Tackles
TFL
Sacks
Tegray Scales (Sr.)
Indiana
126
23.5
7
Josey Jewell (5th)
Iowa
124
6
1.5
Jermaine Carter Jr. (5th)
Maryland
110
9
6
Shane Cockerille (5th)
Maryland
108
8
3
Tre Watson (RS Jr.)
Illinois
102
4.5
0
Trevor Morris (Jr.)
Rutgers
102
3.5
1
Wisconsin and Penn State both return 71 percent of their defensive production from 2016. Whereas the Badgers posted one of the nation's best defenses — seventh in total defense and fourth in scoring defense — Penn State was an above average defense, ranking 37th in total and 47th in scoring. Wisconsin has to replace T.J. Watt and Vince Biegel at outside linebacker, though Garret Dooley got significant playing time while Biegel was injured a year ago. The inside linebackers, Jack Cichy and T.J. Edwards, are among the Big Ten's best. The biggest losses in the secondary were safety Leo Musso and cornerback Sojourn Shelton, who accounted for 10 of the team's 28 takeaways.
Penn State somehow came out of nowhere to win the Big Ten last season after starting the season 2-2 including a 49-10 blowout loss at Michigan. Now, with the most offensive production returning from what became an explosive offense, the Nittany Lions are in great shape in 2017 if the defense improves even slightly. Six starters return along with 71 percent of the defensive production. Free safety Marcus Allen lead the team with 110 tackles a year ago and he's back to lead a secondary that has some questions marks. Penn State has a strong linebacking corps returning with Jason Cabinda and Manny Bowen bringing back 149 tackles 12.5 for loss, and three sacks.
Ohio State and Northwestern return 69 and 67 percent of their defensive production, respectively, but Ohio State featured the nation's sixth-best defense and Northwestern had an uncharacteristically bad 60th-ranked unit. The Buckeyes bring back six full-time starters including most of their front seven. Dre'Mont Jones, Sam Hubbard, and Tyquan Lewis lead what most pundits are calling the best defensive line in the Big Ten — though Michigan's should have something to say about that — while Jerome Baker and Chris Worley return at linebacker. The main question mark is the secondary which returns only free safety Damon Webb, but has a lot of talent filling in.
While Northwestern's total defense wasn't great in 2016, it's scoring defense ranked 24th, giving up just 22.2 points per game. The Wildcats lost three games that its defense played well enough to win and that was the difference between a good season and a mediocre season. Now, seven starters return including three from the line and three from the secondary. Safety Godwin Igwebuike lead the team with 108 tackles last season, while fellow safety Kyle Queiro and cornerback Montre Hartage return. The three combined for 11 takeaways a year ago. Nate Hall is the only returning starter at linebacker, and Pat Fitzgerald will have to find a replacement for Anthony Walker, who was one of the Big Ten's best linebackers in 2016.
Nebraska and Purdue both return 59 percent of their defensive production. The Cornhuskers return six starters from the nation's 30th-best total defense and 33rd-best scoring defense. Most of the secondary returns to form what should be one of the Big Ten's best secondaries this fall. Only four teams nationally allowed fewer passes per game of 20-plus yards than Nebraska's 2.2, and most of their interceptions return. Safeties Aaron Williams, Joshua Kalu, and Kieron Williams and cornerback Chris Jones combined for 234 tackles, 16.5 tackles for loss, four sacks, and 12 takeaways and all are back for more.
Top returning Big Ten defensive backs by production
Name (Yr.)
Team
Tackles
TFL
Takeaways
Marcus Allen (Sr.)
Penn State
110
6
2
Godwin Igwbuike (5th)
Northwestern
108
6
3
Brandon Snyder (RS Jr.)
Iowa
85
3
5
Patrick Nelson (RS So.)
Illinois
75
2.5
1
Jonathan Crawford (Jr.)
Indiana
71
0.5
7
Tony Fields (Sr.)
Indiana
70
0.5
2
Purdue also has six returning starters, but its defense ranked 91st nationally last season and 117th in scoring. It wasn't quite Rutgers bad, but it was close, giving up 38.3 points per game. Defensive tackle Gelen Robinson is the conference's top returning defensive lineman in terms of production with 61 tackles, eight for loss, and five sacks. Linebackers Markus Bailey and Danny Ezechukwu should form the strength of the defense, while a pair of additions to the secondary — T.J Jallow from East Mississippi Community College and Josh Okonye, a grad transfer from Wake Forest — will add some depth to an inexperience secondary.
Minnesota and Michigan State return 53 and 51 percent of their 2016 defensive production, respectively. Both ranked in the top 32 nationally last season, but the Gophers are breaking in a new head coach. Landing P.J. Fleck, who took Western Michigan to a New Year's Six bowl, was a big coup for the program but he has to replace about half of his defensive production and six starters. Michigan State, meanwhile, felt the sting of losing defensive coordinator, falling from 25th in scoring defense in 2015 to 61st last season, allowing 27.8 points per game. To make matters worse, the MSU defense lost its best player, Malik McDowell, to the NFL and the team has been dealing with arrests and suspensions all offseason.
Illinois and Michigan return the least production this fall with the Illini bringing back 46 percent and Michigan just 40 percent. Illinois had just the 61st-best total defense and 94th-best scoring defense in Lovie Smith's first season last fall. The former NFL head coach was known as a defensive minded coach and he added former NFL cornerback Donnie Abraham to his staff this summer. Linebacker Tre Watson is the fifth-leading returning tackler in the Big Ten and safeties Stanley Green and Patrick Nelson are good pieces to build around.
Michigan had the nation's best defense in Don Brown's first season running the unit and most expect a big dropoff this fall. The Wolverines lost 10 of 11 full-time starters, eight of which were drafted, including Heisman Trophy candidate Jabrill Peppers. But although it seems hard to believe, this year's defense figures to be faster and more athletic than the one that was made up of Brady Hoke recruits a year ago. Replacing Peppers will be no easy task, but that's a spot that Brown has proven he can mold playmakers to succeed in throughout his career. Rashan Gary is a popular pick for a breakout season on the line and a host of young but talented defensive backs are ready to step in. The Wolverines may not lead the nation in defense in 2017, but the dropoff won't be as big as many expect.
Since we began analyzing returning production four years ago, the eventual Big Ten champion fell within a very similar range when offensive and defensive returning production numbers were plotted on a chart. Ohio State, Michigan State, and Penn State all fell within the grey oval in the chart below.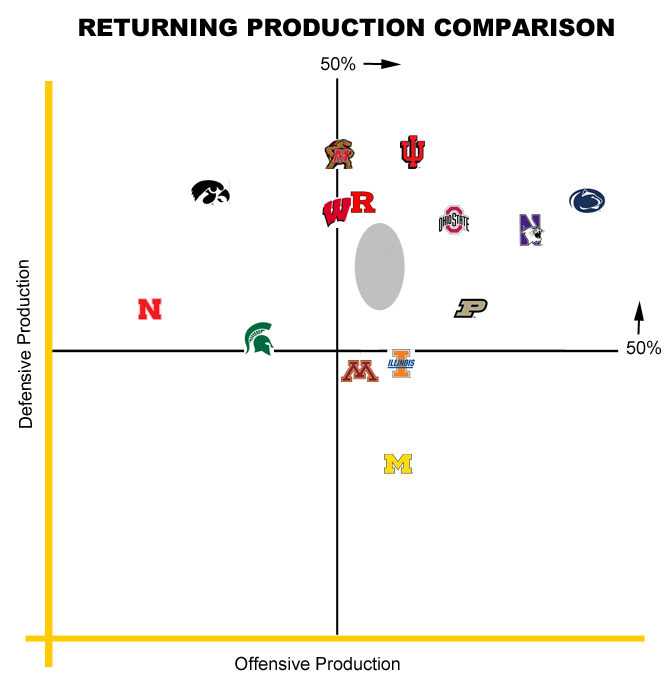 As you can see, no teams fall within that zone this season, but the closest are Rutgers and Wisconsin. It's a pretty safe bet that Rutgers won't win the Big Ten, but Wisconsin has a very real chance to do so. If the Badgers were in the East they'd have a tougher road, but they're the clear favorite to win the West with a favorable conference slate that has them traveling only to Nebraska, Illinois, Indiana, and Minnesota. They host Northwestern, Iowa, and East crossover Michigan.
The Badgers have approximately the right mix of returning production on both sides of the ball to make a run at the Big Ten title, and if the past three years hold true they very well may do so this December.