---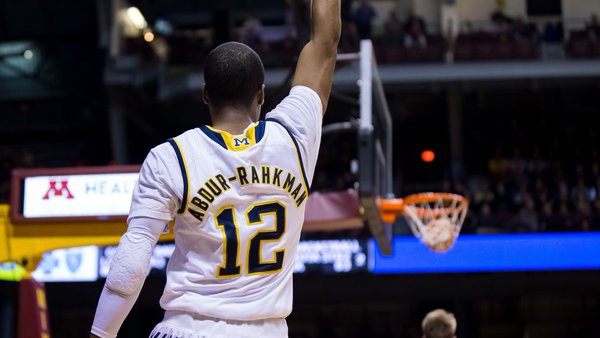 (Brad Rempel, USA Today Sports)
After the roughest week of the season with back-to-back lopsided home losses, Michigan desperately needed a win at Minnesota to boost their confidence with the conference season coming to the final stretch.
Luckily for the Wolverines, the Golden Gophers looked like the perfect bounceback opportunity, having a still-winless Big Ten record. And for the majority of Wednesday night, it looked like Michigan would coast to the all-important victory to maintain their spot on the right side of the NCAA Tournament bubble behind Derrick Walton's remarkable 19-point first half.
With 7:30 left to play, Duncan Robinson hit his second straight inexplicably wide open three-pointer to give Michigan a massive 70-53 cushion, and Minnesota seemed ready to call it a night.
Two minutes and 40 seconds later, however, and the Golden Gophers had scored 11 straight points – mostly at the free throw line – to cut the gap to just six points.
A little more than three minutes after that, Michigan found itself up a mere two points despite yet another timely triple from Robinson along the way. This time, Minnesota was simply slicing through the ever-porous Wolverine defense for uncontested layups – no fouls needed.
For those of you who struggle with math (and I'm one of them), that's a 19-4 run that Minnesota managed to orchestrate in a less-than six minute stretch.
A loss tonight, and Michigan's hopes of dancing would probably be toast.
Muhammad-Ali Abdur-Rahkman knew it, and decided to finally do something about the inexplicable comeback launched by a miserable team.
The sophomore received the ball in the right corner and, instead of settling for a jumper, drove straight along the baseline, lowered his shoulder, and drew an and-1 foul on senior Carlos Morris. Rahk finished the three-point play to give Michigan a bit of breathing room once again, and finished with 16 points on a perfect shooting night (2-of-2 2pt, 3-of-3 3pt, 3-of-3 FT).
Following a missed three on the other end, Michigan got the ball back with time to kill. But Walton and Robinson ran into each other, causing the ball to spill into the hands of Morris, who looked to be leading a two-on-zero break for the Gophers, giving them a chance to make it a one possession game yet again.
Yet again, though, Rahk wouldn't have it, racing from behind to poke the ball away from a streaking Morris, then gathering it on Minnesota's baseline and forcing up a pass before falling out of bounds. The pass was tipped by Nate Mason out of bounds, and Michigan would survive by making five of their six free throws to secure an 82-74 win, bringing their conference record to 8-4 with an 18-7 overall mark.
It's a sigh of relief for a team that many thought was spiraling downward – and fast – after looking lifeless against Indiana and Michigan State last week. And though the defense is still far from fixed and a closer-than-it-should-have-been win over Minnesota is nothing to brag about, Michigan needed to answer the bell in an undeniably must-win situation.
This was the last matchup with one of the doormat teams in the Big Ten for John Beilein's squad, and outside of a home tilt with Northwestern, the remaining games will not be easy.
Perhaps there is still reason for some optimism, with Michigan getting back on track from deep tonight to the tune of a 14-of-25 (56 percent) final three-point mark, led by Walton (5-of-8), Robinson (4-of-7), Rahk (3-of-3), and Aubrey Dawkins (2-of-4). That will be key moving forward, considering the Wolverines still lack a killer one-on-one threat with Caris LeVert having missed his 11th straight game tonight. And with Purdue coming to town Saturday in another monumental matchup, nothing will come easy inside.
For now, Michigan will take the win and continue to look for Walton and Robinson to carry the offense as they did tonight, with a career-high 26 points and 14 points, respectively.
From here on out, it's one game at a time. After all, that's the only way.
***Derrick Walton Jr.***
26 points (4/7 2pt, 5/8 3pt, 3/5 FT), eight rebounds (one offensive), seven assists, two steals, three turnovers in 37 minutes
**Muhammad-Ali Abdur-Rahkman**
16 points (2/2 2pt, 3/3 3pt, 3/3 FT), one rebound, two assists, two steals, one turnover in 35 minutes
*Duncan Robinson*
14 points (1/2 2pt, 4/7 3pt), nine rebounds, one assist, one block, one turnover in 30 minutes
Season Three-Stars Standings
Derrick Walton Jr – 26
Duncan Robinson – 17
Caris LeVert – 15
Zak Irvin – 10
Muhammad-Ali Abdur-Rahkman – 6
Aubrey Dawkins – 5
Mark Donnal – 1
Spike Albrecht – 1
Moritz Wagner – 1
Final Game Stats

#

Name

FG-FGA

3FG-3FGA

FT-FTA

OR

DR

TOT

PF

TP

A

TO

BLK

S

MIN

34
Mark Donnal*
4-8
0-1
0-0
1
0
1
4
8
1
0
1
0
19
10
Derrick Walton*
9-15
5-8
3-5
1
7
8
1
26
7
3
0
2
37
21
Zak Irvin*
1-8
0-1
2-4
0
2
2
2
4
3
4
0
2
36
22
Duncan Robinson*
5-9
4-7
0-0
0
9
9
3
14
1
1
1
0
30
12
Muhammad-Ali Abdur-Rahkman*
5-5
3-3
3-3
0
1
1
1
16
2
1
0
2
35
11
Andrew Dakich
0-1
0-1
0-0
0
2
2
0
0
2
0
0
0
3
13
Moritz Wagner
0-0
0-0
0-0
0
0
0
0
0
0
0
0
0
1
24
Aubrey Dawkins
3-5
2-4
0-0
0
3
3
2
8
1
0
0
0
19
32
Ricky Doyle
1-1
0-0
4-8
0
1
1
4
6
0
0
0
0
20
Totals
28-52
14-25
12-20
3
25
28
17
82
17
10
2
6
200
Minnesota
27-58
4-19
16-19
7
26
33
14
74
14
7
3
6

200

Full Stats