---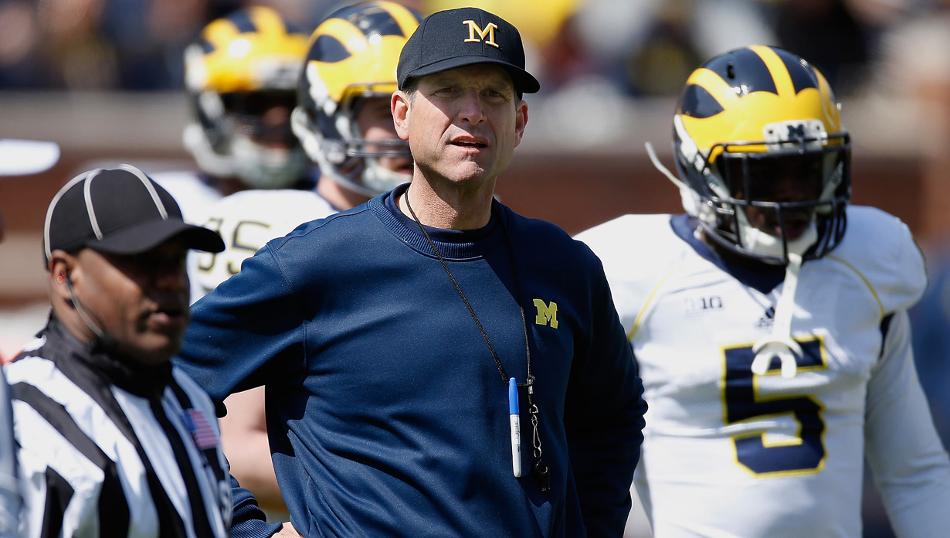 (Getty Images)
The last Friday before the first game week is traditionally when we put forth our season previews in roundtable form. That day has come and it's time to put our predictions in ink. We won't fully revisit last season's predictions because, well, why would anyone want to? But our record predictions ranged from 8-4 to 10-2 and we all know how that went. Here's to hoping this year is a bit more accurate.
What are you most excited about this season?
Justin: Of course the main source of excitement entering this season is Jim Harbaugh. He has nearly made Michigan fans forget about a 5-7 season and turned what would have been a long, painful offseason into the most exciting in recent memory. But what I'm most excited about this season is seeing a well-coached team play up to its full potential.
One of the areas Brady Hoke succeeded was recruiting, and although he missed on several big targets during his four years, he left the team well stocked in terms of talent. He just had trouble developing that talent to its potential. That's an area Harbaugh has always excelled at, from San Diego to Stanford to San Francisco. I don't expect a Big Ten title this year, but I do expect to see a well-prepared team that gets better as the season goes along, which will be a nice change of pace from the last seven years.
Derick: It looks like it's a full go for the former five-star after an injury-riddled freshman campaign, and his move to safety, along with possible snaps on offense and returning kicks, should give us our first full look at what he can do. If he plays to his ceiling, Peppers could be the best player on both sides of the ball for Michigan this season.
Sam: I'm sure everyone can summarize their excitement in one word: Harbaugh. It's still yet to hit a lot of Michigan fans, including this one, that one of the premier football coaches at any level of the game is now in Ann Arbor, and it will be a site to behold when Harbaugh joins the team running onto the field at Rice-Eccles Stadium. After four years of relative incompetency on the sidelines, the Wolverines will be well-coached, well-prepared, and hungry.
Josh: Competent coaching. I liked Brady Hoke but as time went on it became very clear that he and his staff were way in over their heads and just not cut out for big time college football. Harbaugh and his staff all have high level college and/or NFL experience and a proven track record. If Harbaugh's past stops are any indication, and I think they are, we won't be complaining about lack of development or lackluster play-calling. This staff will identify, develop and place their players in the best position available to succeed.
What worries you the most entering this season?
Justin: The non-conference schedule worries me most. Not Oregon State or UNLV, but the opener at Utah and then the fourth game against BYU. Both are very good opponents that could beat Michigan, and those two games will go a long way toward the success of this season. I expect Michigan to gain strength as the season progresses, but no one really knows what to expect next Thursday. So many questions abound offensively, most notably at quarterback. If Michigan can survive Utah and BYU, a very good season awaits. But lose both of those and they'll have to pull off an upset to get to seven or eight wins.
Derick: The passing game. With the questions at quarterback and the glaring lack of a dominant receiver, Michigan's passing game could be in for another ugly year. Either Jake Ruddock or Shane Morris will take the reins, and though they can't be worse than Devin Gardner was last season, there are only a few reliable targets to throw to. Jake Butt will have to finally put together a complete season, and Amara Darboh and Jehu Chesson will have to make plays downfield.
Sam: There are questions all over the offensive side of the ball, which is certainly not a good sign after Michigan struggled to move the ball in recent seasons, but I think Jake Rudock and the offensive line will be solid enough considering the perceived strength of the defense. What worries me most, however, is the schedule. The season opener will be a battle in a hostile stadium in Salt Lake City, BYU always seems to have a great offense, Michigan State and Ohio State figure to be strong yet again, and Minnesota and Penn State are on the rise and should prove to be formidable road tests.
Josh: I'm still very worried about the offense in general. While we can all assume Rudock is the QB the fact remains that there are no proven game changing play-makers on this roster. What we've seen from De'veon Smith and Derrick Green doesn't exactly instill confidence, maybe Ty Isaac steps up but reports out of camp don't seem promising. If Drake Johnson was 100 percent I'd feel much better, as he was the only running back that has shown enough to think he could be the No. 1 guy.
At receiver we have two guys with experience, and neither have really lit it up. Maybe Drake Harris or Brian Cole or Grant Perry step up, but they are all unknowns at this point and that is the problem. There is potential on this offense but no one has shown they are the man yet. Until a couple of them prove that this offense could be very pedestrian and unlikely to have the firepower to keep up with higher scoring teams.
Who will be the breakout player on offense this season?
Justin: While I think Jake Butt will have a huge season in Harbaugh's offense, I see him as an already proven commodity and not worthy of breakout player consideration. That said, Drake Harris has to be the obvious choice here as the preseason hype continues to build. Michigan has lacked a game-changer at receiver the past couple of seasons, and Amara Darbor and Jehu Chesson are running out of time to step up. Harris missed his senior season at Grand Rapids Christian and then a hamstring injury kept him out of his freshman season a year ago. Provided he can stay healthy, he has the size — 6-foot-4, 174 pounds — and talent — he caught 91 passes for 2,015 yards as a junior — to be a star in the Maize and Blue.
Derick: I look for Jake Butt to break out as Michigan's most reliable target over the middle this season. He should finally have a more accurate quarterback to get him the ball this season, and he's playing for Jim Harbaugh, who pumps out NFL-caliber tight ends like an assembly line. Butt has had his moments over the past two seasons, but he's never even put up 250 yards in a year. I think that'll change in 2015.
Sam: After nearly two full years off the field, Drake Harris seems to finally be healthy and right in the mix at the wide receiver spot. Harris, a redshirt freshman from Grand Rapids, has all the physical tools and a full set of skills to be an excellent downfield threat or move-the-chains type of pass catcher. If his hamstring holds up and his blazing speed is still there, I think he could potentially emerge as the number one threat at a position of need for Harbaugh's offense.
Josh: Jake Butt. We all know Harbaugh loves the tight end and now that Jake Butt is healthy he should be in for a monster year. Unlike Devin Funchess, Butt is a decent blocker so he can be lined up on the line, and has the athleticism to line up on the outside, in the slot or maybe in the backfield. Harbaugh and Co. are going to have a field day with Butt. Couple that with Rudock's reputation, fair or not, for taking the safe, easy throw and Butt is primed for a huge season. I would be shocked if he didn't lead the team in receptions and receiving touchdowns.
Who will be the breakout player on defense this season?
Justin: Last year's pick, Jourdan Lewis, enjoyed a successful season as the team's best defensive back and is poised for an even better season this fall. But how can I pick anyone other than Jabrill Peppers? We had to wait a full year for this, since he only made it a couple of games last fall. But now, with a full year in the program and a coaching staff that will allow him to thrive — potentially in all three phases of the game — his time has come.
Derick: Jourdan Lewis is going to put on a show this season. He burst onto the scene as Michigan's top cornerback in 2014, and now he's primed to take the next step as a shutdown defensive back. It's a bit of a thin secondary behind Lewis heading into the season, so he'll need to be everything Blake Countess wasn't during his encore.
Sam: Michigan's defense looks like it could be excellent on paper, and I think the addition of D.J. Durkin as the new coordinator will boost an already great unit that boasts a terrific linebacker corps, a potentially dynamic safety in Jabrill Peppers, a star-in-waiting in Jourdan Lewis, and a number of stout defensive tackles. Defensive end, however, remains a question mark, making my breakout defensive player pick, Taco Charlton, all the more important. Like Harris, Charlton has the body and raw potential to be excellent, but he needs to get his technique down to be a consistent threat to pressure the quarterback.
Josh: I wish I could pick someone other than Jabrill Peppers but I can't. He's just a freak athlete and by all accounts appears to be capable of not only playing multiple positions but playing them well. Depending on where he plays he's either gonna be a big hit playmaker or a shut down corner. Either way, this should be the guy that takes this defense from good to great.
Michigan will win the Big Ten if…
Justin: Braxton Miller gets hurt. Wait, then J.T. Barrett. And maybe Cardale Jones too? Oh, I give up. Michigan won't win the Big Ten this season, but by season's end will look much more like a conference title contender heading into the offseason. Disclaimer: I would never wish a player to get hurt, and I certainly hope it doesn't happen again.
Derick: the running game is dominant, the passing game is adequate, the defense doesn't drop off dramatically and Ohio State secedes from the conference to join the SEC. Michigan was a hot mess when Jim Harbaugh got to town, and one year isn't going to be enough to turn that around. A Big Ten title will be the goal in Year 3 of this regime. Until then, look for obvious improvement across the board and set realistic expectations.
Sam: dogs fly? In reality, I don't really think Michigan has a legitimate shot at a Big Ten title this season with two top-10 teams in their division and four very challenging conference games. The only way they have a chance is if they win all but one Big Ten game (requiring wins in three of Michigan State, Ohio State, @Minnesota, and @Penn State) and MSU or OSU unexpectedly slips up elsewhere.
Josh: East Lansing and Columbus sink into the center of the Earth. Seriously. Unless both Michigan State and Ohio State don't show up (in the literal sense, as in they stay at home) to Ann Arbor and Michigan plays perfectly all season I don't see how this is even something to ponder.
What is your prediction for the season? Record, who will Michigan lose to, and what bowl game will Michigan play in?
Justin: I think we're looking at a 9-4 team when all is said and done. Losses to Utah, Michigan State, Ohio State, and Penn State. All four losses will be competitive and it will be clear that Michigan isn't the pushover it has been in recent years. An Outback Bowl win over an SEC squad will heighten expectations heading into 2016.
Derick: I'll say Michigan goes 9-4, though that might be a bit generous. Utah will be a good test right out of the gate, and I think Michigan will go through some growing pains and drop the opener. The Michigan State and Ohio State games are both at home, but I don't give Michigan much of a chance in either of those contests. Michigan State plays with the physicality Michigan aspires to attain and Ohio State is one of the deepest teams in the country at all positions, not just quarterback. I also think the Wolverines drop the Nov. 21 game in Happy Valley, with the home game against Ohio State looming. Penn State is an elite defensive team and Michigan's offense is a complete unknown, so I'll give the edge to the Nittany Lions.
A late September home game against BYU will be a tough test for Michigan heading into the Big Ten season, and the Golden Gophers won't be a pushover in Minnesota, coming off an eight-win season. But if Michigan can pull out both of those games and finish the regular season with eight wins, I think they'll get an invite to the Outback Bowl and beat up on an overrated SEC team. I like Harbaugh's chances after a month of preparation and a full season of coaching up his players.
Sam: While I don't think Michigan will win the Big Ten, I do think it will be a very solid season overall, with a 9-3 regular season finish, losses to Michigan State, at Penn State, and Ohio State, and a bowl win in the Gator Bowl (TaxSlayer Bowl) for a 10-3 final record.
Josh: There are two trains of thought when it comes to Michigan's recent lack of success. One is that these kids weren't as good as their recruiting rankings suggest and they are just a bunch of busts. The other is that they've been victims of a losing culture and very poor coaching. I fall on the inept coaching/losing culture side and while I know Harbaugh will bring us back to the Michigan of old it's going to take time, likely a few years. Rome wasn't built in a day, or so I hear.
Right now I think this is a borderline seven or eight win team, the defense should be very good but the offense has a lot to prove and while there may be 'potential' I'll believe it when I see it. The fact that neither of two former five-star running backs (or anyone else for that matter) have separated themselves from the pack and the one consistent commodity (Drake Johnson) is recovering from his second torn ACL concerns me. I think it'll be better than last year (Rudock isn't going be a turnover machine) but unless someone like Drake Harris or Ty Isaac step up and just dominate it's not going to be explosive by any stretch.
Losses will come to Utah, MSU and OSU with another between the "toss-up games" BYU, Minnesota and Penn State. The fact that Minnesota and Penn State are on the road really worries me and but I think we're still looking at a 8-4 season with a decent pre-New Year's bowl because it's Michigan and Harbaugh. However, I wouldn't be completely surprised if this team got to nine or 10 wins (not including the bowl game).