---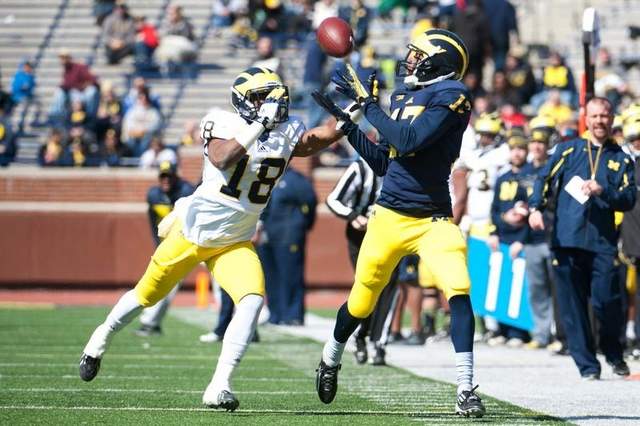 So far this offseason we have discussed the status of Hoke's hot seat (we pretty much all agreed this is not a make or break season for him) and the Michigan Football Legends jerseys program (we're all in agreement that we like them, but they need a few guidelines). As we continue our offseason staff roundtable series today, we're providing our thoughts on freshmen. You may have heard about this incoming defensive back named Jabrill Peppers, but we're not talking about him. Here's the question:
Which freshman — true or redshirt — are you most excited about this season, not named Jabrill Peppers? Who, other than Peppers, do you think will have the biggest impact this fall, and why?

Jabrill Peppers is undoubtedly the freshman everyone is excited about. At Big Ten Media Days, it seemed that every other question for Brady Hoke, Devin Gardner, Jake Ryan, and Frank Clark was about Peppers. The amount of hype for an 18-year-old kid that hasn't played a down of college football yet is unreal, and while we all hope it's warranted, it was clear that Hoke and Michigan's player representatives were tired of talking about it.
The only other freshman that has received a good amount of hype is receiver Freddy Canteen, and he's who I'm most excited about. He was the talk of spring practice, showing off great speed, agility, and explosiveness — a combination Michigan has lacked at receiver for years. Jeremy Gallon, Roy Roundtree, and Junior Hemingway have been very good receivers the past few years, but they were all different types of receivers than Canteen. Michigan hasn't had the Mario Manningham or Steve Breaston type of receiver (yes, I know Manningham played outside) that can complement the bigger possession receivers. And with the 6'5″, 230-pound Devin Funchess out wide, a speedy Canteen in the slot would be the perfect complement.
The big question mark for the receiving corps is redshirt sophomore Amara Darboh, who was the offseason hype machine and in line to start last season before breaking his foot in fall camp. That allowed Jehu Chesson, who was behind Darboh at the time, to work his way into the lineup. Chesson had an okay season (15 catches for 221 yards and a touchdown), but didn't show the consistent playmaking ability. He flashed it — a catch-and-run across the middle touchdown against Akron and a jump ball in double coverage at Michigan State — but averaged barely over one catch a game. His blocking ability — a very important trait for a receiver, especially in Michigan's offense — will keep him in the rotation, but he'll likely battle with Darboh for the second outside spot opposite Funchess.
Canteen will likely battle with Dennis Norfleet for the slot job, and if they spring hype is accurate, has the leg up. Norfleet is just 5'7″, 169-pounds, and although shifty, has yet to fulfill the hype many expected of him. He was used sparingly on offense last season, and to mild success, because when he was on the field, it was a tell-tale sign that he was getting the ball on a trick play. Canteen's size and game-breaking ability will allow him to stay on the field and be available for those trick plays without giving them away.
With Funchess playing the Gallon, Roundtree, and Hemingway role as The Man, Darboh and Chesson providing consistency and reliability on the other side, and Canteen giving big-play potential in the slot, this could be a very good receiving corps. There are a lot of 'ifs' but the potential is there, and for the first time in several years, there doesn't appear to be a weak link in the group. The ideal situation would be for Darboh to return to the level he was pre-injury and start opposite Funchess with Canteen in the slot and Chesson rotating in for Darboh. Of course, the possibility exists that Canteen grabs the No. 2 receiver job on the outside — opposite Funchess — but that would leave Norfleet in the slot and both Darboh and Chesson coming off the bench, so that's not ideal.
There really are only a few legitimate candidates that can be considered. For the first time in a few seasons, Michigan finally will have experienced depth at most positions this fall thanks mostly to Brady Hoke's work on the recruiting trail. In 2012 and 2013, the years he brought in his first two full recruiting classes, Hoke received commitments from 53 prospects. Currently, 52 of them still are on scholarship at Michigan, with only linebacker Kaleb Ringer transferring after he suffered a significant knee injury. The superb retention rate and lack of attrition in the 2012 and 2013 classes have allowed talented juniors and sophomores to flood Michigan's depth chart. Accordingly, there are very few spots where Michigan needs freshmen—true or redshirt—to contribute immediately.
The only freshmen—other than Jabrill Peppers—that have an opportunity to start or see extensive playing time on either offense or defense are wide receiver Freddy Canteen and defensive tackle Maurice Hurst, Jr. There are a few other freshmen that could make notable contributions, though. Tight ends Khalid Hill and Ian Bunting may be valuable assets early in the season while Jake Butt completes his recovery from an ACL tear. Defensive tackle Bryan Mone, an early enrollee, may work his way into the defensive-line rotation by season's end. And there are multiple offensive linemen with freshman eligibility that may be promoted to first string if the presumed starters—four sophomores and a junior—cannot improve upon what was arguably the nation's worst offensive line last season, but Michigan fans are hoping this development does not come to fruition. Nevertheless, no freshman other than Peppers will have the impact that Canteen or Hurst, Jr. will have.
Although Hurst, Jr. may have a bigger impact as a plausible starter on the defensive line, the freshman not named Peppers that I am most excited about undoubtedly is Canteen. Canteen was a complete unknown when he committed to the Wolverines shortly after participating in Michigan's summer camp in 2013. However, it was clear that he was unheralded only because his high school team played just three games his junior season. Once Michigan fans saw his game film and Vines of his terrific footwork, they started buzzing. Then, after he enrolled early last January, the coaching staff and his teammates began buzzing, too. Canteen provided a small taste of what he is capable of in the "spring game" when he flashed his swift speed and brisk footwork for what should have been two long completions, including one where he burned All-Big Ten first-team cornerback Blake Countess deep. With his crisp routes, he has the ability to be a playmaker immediately.
Canteen may not start, but he will play many snaps as a true freshman. Michigan lost four wide receivers, including record-setter Jeremy Gallon, to graduation in the offseason. Although the Wolverines still have arguably the Big Ten's best wideout in Devin Funchess, they will need the younger guys to step up as the No. 2 and No. 3 options. Canteen will compete with sophomores Amara Darboh and Jehu Chesson for those spots and already may have the edge on both. Plus, Michigan always could slide him in at slot receiver ahead of Dennis Norfleet. Either way, few freshmen will earn as much playing time in 2014 as Canteen, and he should dazzle all of us with his moves.

In a perfect world we wouldn't be asking this question. Personally, I would like to see ALL first year players get redshirted, sit and learn and pack on some weight without any pressure to perform. Sadly we don't live in that world and so here we are. At first I wanted to say Freddy Canteen after his spring game showing. I mean c'mon it makes perfect sense, with Jeremy Gallon in the NFL and Jake Butt sidelined, someone has to catch the balls not thrown to Funchess. But after I thought about it a while a certain press conference came to mind, and to paraphrase of one of the greatest sports rants ever; "We talkin' bout practice. Not a game, not a game, not a game, we talkin' about practice."
I'm going to head to the other side of the ball and go with Bryan Mone. The defensive line struggles, as with all of Michigan's struggles in '13, were well documented. They didn't generate sufficient pass pressure, didn't stop the run (to put it lightly) and overall were just, well not that good. Mone is a big boy, a very big boy, and by all accounts the kid can move quite well. A guy who can eat up space and occupy more than one blocker can be devastating, and if he can get into the backfield all the better. Now I won't go so far as to say I think he'll be Vince Wilfork, he's a once in a lifetime player, but I do think given the chance Mone can make some noise and help get Michigan's defense back to being a Michigan defense.

I'm hoping I don't jinx him by choosing another wide receiver this year (Darboh didn't exactly break out last season), but how can fans not be excited about Freddy Canteen? The freshman wide receiver stormed onto the stage during the Spring Game, offering one of the few bright spots in what turned out to be a sloppy performance.
Canteen separated himself from a loaded group of young wide receivers and should line up with the starters along with captain Devin Funchess. His speed will give the offense another dimension that it badly needed after the loss of both Jeremy Gallon and Drew Dileo to graduation.
Canteen isn't the most talented freshman receiver in Ann Arbor, but unlike classmates Drake Harris and Maurice Ways, the youngster has the offensive coaching staff buzzing about his ability as the calendar turns to August. Look for Canteen to give quarterback Devin Gardner a second option to Funchess early in the nonconference season.
_________________________________________________________________________________
So what do you think? Is Canteen your guy as well, or are you more excited about another freshman? Do you think any other freshmen will make a big contribution to the team this fall? We'd love to hear your thoughts.