---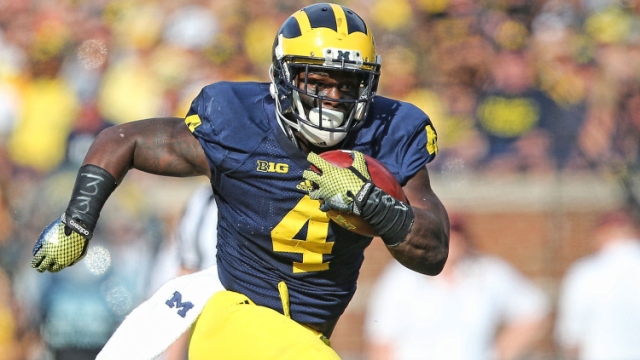 Previous: Quarterbacks
The Michigan rushing attack showed improvement in some areas under Jim Harbaugh in Year 1, but it still has a long way to go if the Wolverines hope to compete for a Big Ten East title.
Michigan returns each of its three most experienced running backs from last season, but none of them have an iron grip on the starting job.
Barring something unforeseen, senior De'Veon Smith will top the running back depth chart when Michigan breaks camp. Smith spent most of the last two seasons as the starting running back and did a solid job, though he struggled in conference play.
In five games against nonconference opponents last season, Smith thrice ran for over 100 yards and scored a combined four touchdowns. In seven conference matchups, he rushed for fewer than 45 yards per game and got shut down in big games like Ohio State, Penn State and Michigan State.
There's a reason Smith carried the ball 180 times last season. Because of Michigan's struggles with run blocking, Smith gave the offense its best chance to break tackles and pick up yards after contact. He was extremely difficult to bring down in the open field and found the end zone in goal line situations.
But Smith's big play potential is limited. There were times throughout the season when the offensive line created a hole and Smith wasn't able to adjust in time to hit it, instead running into tacklers or even the backs of his linemen.
Smith is the all-around best proven option for Michigan this fall, but there are other players with more upside. Smith will likely be the starter against Hawaii, but he'll need to keep earning that role to stay ahead of the pack.
Drake Johnson is the other running back with starting experience in the Maize and Blue. Johnson took the job from Smith late in 2014 and averaged six yards per carry despite sitting out against several of Michigan's weaker opponents.
The Ann Arbor Pioneer product was carrying an undermanned Michigan offense in the Horseshoe on Nov. 29, 2014 before an injury cut his season a few minutes short. He picked up 74 yards and a pair of touchdowns on the ground against Ohio State and had the Wolverines in position for a massive upset.
When he went down, so did Michigan's chances.
Johnson was an afterthought for much of the 2015 campaign despite showing promising signs when he did get in on the action. When Michigan struggled to run the ball against Maryland, Johnson earned 13 carries and turned them into 68 yards and a touchdown. He also took a screen pass 31 yards for a touchdown that basically put the game away.
Since his injury, Johnson has largely fallen off the radar. But in his final year of eligibility, he figures to play a significant role in the Michigan backfield.
Projected Stats – Smith

Rushing Attempts
Rushing Yards
YPC
TDs
YPG
Receiving Yards
160
700
4.4
5
53.8
95
Career Stats
2015
180
753
4.2
6
57.9
159
2014
108
519
4.8
6
43.3
26
2013
26
117
4.5
0
9.8
0
Totals
314
1,389
4.4
12
37.5
185
Projected Stats – Johnson

Rushing Attempts
Rushing Yards
YPC
TDs
YPG
Receiving Yards
50
300
6.0
3
23.1
2
Career Stats
2015
54
271
5.0
4
22.6
96
2014
60
361
6.0
4
30.1
11
2013
2
9
4.5
0
9.0
0
2012
N/A
N/A
N/A
N/A
N/A
N/A
Totals
116
641
5.5
8
25.6
107
Last season Michigan had two former five-star running backs on its roster. Neither of them have come anywhere near their expected potential and neither made a major impact on the 2015 season.
Now Derrick Green is gone and Ty Isaac is surrounded by uncertainty. He wasn't bad last season, but he wasn't good enough to stay in Harbaugh's rotation.
Isaac's first year in Ann Arbor was defined by one 76-yard touchdown dash against UNLV, but he also averaged a solid 4.4 yards per carry the other 29 times his number was called. He fell out of the rotation for one reason: fumbles.
Isaac's role on the team basically evaporated after a near-disastrous goal line fumble in Maryland. Michigan was backed up inside its own five-yard line when Isaac coughed up the ball in a one-possession game. The Wolverines recovered, but it was the last straw for Harbaugh. Isaac received only four touches the rest of the season.
The talent is there, and there's definitely a spot for Isaac in Michigan's backfield. But he's running out of time to make the most of it.
Karan Higdon is the only other returning running back who received double digit carries last season. As a true freshman, Higdon impressed Harbaugh enough to earn playing time against ranked opponents in Northwestern and Michigan State. He figures to be similarly buried on the depth chart this season, but with so many big, bruising running backs fighting for carries, Higdon will be a potential change of pace.
Projected Stats – Isaac

Rushing Attempts
Rushing Yards
YPC
TDs
YPG
Receiving Yards
50
240
4.8
2
18.5
25
Career Stats
2015
30
205
6.8
1
29.3
0
2014
N/A
N/A
N/A
N/A
N/A
N/A
2013
40
236
5.9
2
16.9
57
Totals
70
441
6.3
3
21.0
57
Projected Stats – Higdon

Rushing Attempts
Rushing Yards
YPC
TDs
YPG
Receiving Yards
20
60
3.0
0
4.6
7
Career Stats
2015
11
19
1.7
0
6.3
3
Totals
11
19
1.7
0
6.3
3
Michigan brought in a pair of huge running backs this offseason, including one of the top overall recruits in the nation.
Kareem Walker was one of the most valuable commitments in recent Michigan history after he flipped from Ohio State, not only because he helped recruit guys like Rashan Gary and Michael Dwumfour, but also because he's a five-star talent who fits the Harbaugh offense perfectly.
Walker is a powerful inside runner and makes a living abusing tacklers one-on-one. Michigan fans got their first look at the freshman when he blew up two tacklers on a red zone run in the Spring Game.
Though he admits he doesn't want to be a back who carries the ball 30 times per game, Walker expects to be in the rotation from Day 1. At this point, there's no reason to doubt he will be.
The other, less heralded running back commit is Kingston Davis, who snubbed a handful of SEC schools to make the trip north to Ann Arbor. The Alabama native fits into the same category as Smith and Walker. He's a huge body who welcomes contact and runs between the tackles.
Harbaugh loves big running backs. Now, he has plenty of them.
Projected Stats – Walker
Rushing Attempts
Rushing Yards
YPC
TDs
YPG
Receiving Yards
70
350
5.0
5
26.9
35
Projected Stats – Davis
Rushing Attempts
Rushing Yards
YPC
TDs
YPG
Receiving Yards
20
80
4.0
1
6.2
4
Wyatt Shallman: Senior, 6-3, 245, from Hartland, Mich. (Detroit Central Catholic)
Career stats: 4 attempts for 14 yards, 0 TDs
Joe Hewlett: Junior, 6-0, 195, from Novi, Mich. (Northville)
No career stats