---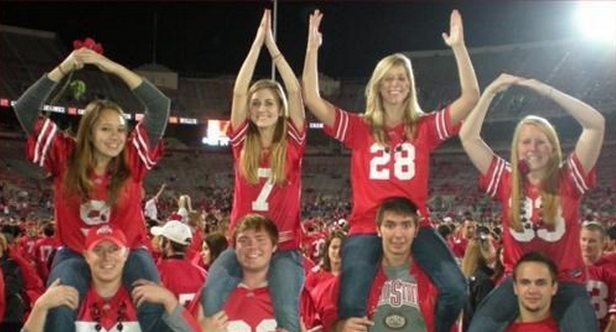 Michigan's season continued its downward spiral on Saturday as the Wolverines blew a 14-point halftime lead and gained a season low 158 total yards of offense in the process. Now, the one game season begins with rival Ohio State coming to town.
The obvious storyline is Ohio State's 23-game winning streak. Urban Meyer still hasn't lost since he took over in Columbus last season and the Buckeyes are still trying to back their way into the BCS title game. With Alabama and Florida State ahead of them, Ohio State needs to not only win, but win impressively to try to gain ground. The Bucks have already locked up a spot in the Big Ten Championship Game against Michigan State, but you can be assured that they won't overlook Michigan.
Ohio State has won its 11 games by an average of 30.4 points per game, beating Florida A&M 76-0, Penn State 63-14, and Purdue 56-0. But not every game has been a blowout. Wisconsin, Northwestern, Iowa, and even Illinois to some extent played the Buckeyes tough despite losing. Wisconsin is by far the best team Ohio State has faced and if not for a dropped interception at the end of the first half that was followed by a 40-yard touchdown strike on the next play, the Badgers might have ended Meyer's streak.
The following week was supposed to be a big showdown at Northwestern. ESPN College Game Day was there and the Wildcats led 20-13 at halftime and 30-27 midway through the fourth quarter. But Northwestern has lost seven straight and with each passing week Ohio State's win looks less and less impressive.
Those were the only ranked teams the Buckeyes have beaten this season and only Wisconsin is still ranked. When it comes to common opponents, aside from Northwestern, Ohio State beat Penn State and Iowa, both teams that Michigan lost to. However, the Bucks had them both at home while Michigan played them both on the road. The fourth common opponent is Indiana, which Ohio State beat 42-14 this past Saturday. Michigan set several offensive records against the Hoosiers, but the Buckeyes didn't even top 500 total yards.
There's no argument which is the better team, but does Michigan have any chance of upsetting the men of the scarlet and grey? Or will Urban's streak continue? Let's take a look at how the two compare statistically.
Ohio State Statistics & Michigan Comparison

Ohio State

| 

Michigan

Rank

Opponent

Rank

Points Per Game

48.7

|

33.1

3

|

47

18.4

|

25.1

8

|

52

Rushing Yards

3,462

| 

1,417

1,048

|

1,280

Rush Avg. Per Game

314.7

|

128.8

5

|

100

95.3

|

116.4

6

|

14

Avg. Per Rush

6.9

|

3.2

2.9

|

3.2

Passing Yards

2,378

| 

2,574

2,619

|

2,603

Pass Avg. Per Game

216.2

| 

234.0

75

|

62

238.1

|

236.6

81

|

80

Total Offense

5,840

| 

3,991

3,667

|

3,883

Total Off Avg. Per Game

530.9

|

362.8

7

|

95

333.4

|

353.0

12

|

26

Kick Return Average

23.5

|

22.6

27

|

41

17.8

|

22.6

10

|

92

Punt Return Average

9.0

|

6.7

52

|

91

16.5

|

7.4

119

|

57

Avg. Time of Possession

32:06

| 

31:41

23

|

31

27:54

|

28:19

3rd Down Conversion Pct

53%

|

38%

7

|

83

33%

|

38

%

16

|

T51

Sacks Allowed-Yards/By-Yards

13-69

|

32-244

T20

|

T110

36-250

|

21-159

T2

|

T69

Touchdowns Scored

73

|

45

26

|

30

Field Goals-Attempts

8-9

|

16-23

7-10

|

23-29

Red Zone Scores

(51-54)94%

|

(39-46)85%

4

|

T52

(24-31)77%

|

(33-39)85%

31

|

T80

Red Zone Touchdowns

(45-54)83%

|

(30-46

)65%

(19-31)61%

| (

19-39

)49%
Ohio State's offense is one of the best in the nation, ranking third in points per game (48.7), fifth in rushing average (314.7), and seventh in total offense (530.9). While Michigan's offense has struggled in Big Ten play, Ohio State's hasn't missed a beat. The lowest offensive total they have recorded in a game this season is 390 yards. Michigan has seven of 11 games with fewer total yards, and in three of Michigan's last four games, the Wolverines gained less than half the total yards of Ohio State's worst game.
Meanwhile, Michigan's defense has held six opponents to fewer than 390 total yards, including Nebraska and Northwestern, so there is some hope that Greg Mattison's crew can at least slow down the Buckeyes.
Ohio State does most of its work on the ground. Led by Carlos Hyde – the first 1,00-yard rusher of Meyer's career – and Braxton Miller, the Buckeyes average a Big Ten best 314.7 rushing yards per game. Hyde has rushed for at least 100 yards in each of his last six games. The most total rushing yards Michigan's defense has allowed in a game is the 168 yards Iowa gained on Saturday.
The Buckeye passing game isn't as explosive, but that's more because it doesn't need to be than because it can't be. Miller's arm has vastly improved since the last time he came to Ann Arbor two years ago. The Bucks average just 216.2 passing yards per game, but Miller completes nearly 68 percent of his passes and has a 19-4 touchdown-to-interception ratio. Michigan's pass defense ranks 80th nationally and has allowed more than 300 passing yards four times this season.
Defensively, Ohio State is similar to Michigan in that it is better against the run than against the pass. Indiana and California both gained 132 yards on the ground and no opponent has gained more. That's bad news for a Michigan running game that has gained just 130 total rushing yards in the past four games combined.
The Buckeyes' pass defense is actually slightly worse than Michigan's, giving up a yard and a half more than Michigan per game. California, which is 1-11 and the only win was over an FCS team, passed for 371 yards on the Buckeyes. Wisconsin, Northwestern, Iowa, Penn State, and Indiana each threw for at least 237 yards.
In addition to gaining a lot of yards offensively, Ohio State ranks seventh nationally in third down conversions (53 percent), 20th in sacks allowed (13), and fourth in red zone offense, having converted 94 percent of their 54 red zone trips and 83 percent of those have been touchdowns.
The Bucks are strong in those categories on defense as well, ranking 16th in third down conversions (33 percent), second in sacks (36), and 31st in red zone defense (77 percent).
If there is one statistical weakness for the Buckeyes, it's a minor one. Ohio State ranks 119th nationally in punt coverage, allowing 16.5 yards per return. However, that stat is a bit misleading as OSU has punted only 34 times all season and only six of those have been returned. Of the other 28, 21 have been downed inside the 20.
When looking at the two teams statistically, there isn't really anything to give much hope of an upset. But they play the games on the field, not on paper, and as the two teams have shown over the long history of the storied rivalry, anything can happen. Michigan could salvage its disappointing season with a win, and that's really all the Wolverines have to play for at this point.
Key Players

Passing
Comp-Att
Yards
TD
INT
Rating
Braxton Miller
132-195
1,626
19
4
165.8
Kenny Guiton
75-109
749
14
2
165.2
Rushing
Attempts
Yards
TD
Long
Avg/Carry
Carlos Hyde
138
1,064
13
55
7.7
Braxton Miller (QB)
116
738
5
70
6.4
Jordan Hall
79
519
8
49
6.6
Kenny Guiton (QB)
40
330
5
44
8.3
Receiving
Receptions
Yards
TD
Long
Avg/Game
Philly Brown
49
596
9
58
54.2
Devin Smith
40
591
7
90
53.7
Jeff Heuerman (TE)
22
314
2
40
28.5
Evan Spencer
22
216
3
25
19.6
Defense
Solo
Assisted
Total Tackles
TFL-Yds
Sacks-Yds
Ryan Shazier (LB)
77
31
108
19.5-72
5.5-44 (4FF)
CJ Barnett (S)
42
19
61
0-0 (2INT)
0-0
Bradley Roby (CB)
46
10
56
1.5-5 (3INT)
0-0 (12PBU)
Noah Spence (DE)
18
24
42
13.0-77
7.5-64 (1FR)
Kicking
FGA
FGM
Long
XPA
XPM
Drew Basil
9
8
45
66
65
Punting
Punts
Yds
Avg.
TB
In 20
Cameron Johnson
34
1,479
43.5
1
21

Full Stats