---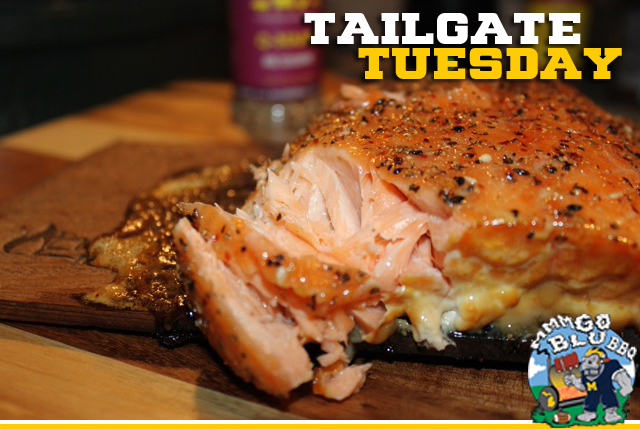 Tailgate Tuesday is our weekly contribution from our resident pitmaster, Joe Pichey from GoBlueBBQ. These tailgate recipes will be posted each Tuesday throughout the football season and will feature a variety of appetizers, main courses, and sides to help you be the king of your next tailgate. Lane's BBQ, a Bethlehem, Ga. based BBQ company, sponsors this season's feature by providing their killer rubs and sauces for use in the recipes. Buy them here. In addition, Fogo Charcoal provides charcoal to use in each recipe. Buy it here.
Previous: Cedar planked scotch eggs, Pork tenderloin sliders with grilled cheese, Chicken street tacos,Sausage and cheese poppers, Tomato pie, smoked corn pudding
Full Archive here.
There are very few things I like better than planked salmon on the grill. Tops has to be a sweet and spicy rack of pork ribs followed closely by a peppery rubbed Texas style brisket. Both of these require at least five hours of my time and typically involve me waking up prior to sunrise for a noon kickoff. While I don't have a problem doing this and typically enjoy the smell of pecan smoke mixing with my 4am coffee, sometimes I need something a little more healthy and easy to prepare. Planked maple salmon is fantastic and is always a crowd pleaser. Give this one a go for the big homecoming game and give your smoker a well-deserved break.
• Salmon filet – skin on
• Lane's BBQ Q-Nami Rub
• Maple syrup or honey
• Chayder Cedar Plank (soaked in water for 30 minutes)
• Fogo Lump Charcoal
Soak your Chayder Cedar Plank in water for 30-60 minutes. This will ensure that the plank doesn't burn on the grill. While the plank is soaking, set your grill up for indirect cooking and shoot for a temp of 275-300 degrees. Always use your Fogo Lump Charcoal as you'll get a cleaner and hotter burn. It really is the best.
Once the plank has soaked for 30-60 minutes, remove from the water, and place over direct heat on the grill. Let burn for about five minutes or until a nice dark color appears on the plank. After five minutes, flip the plank so that the charred side is facing up. Place the salmon filet on the plank and season with your Lane's BBQ Q-Nami Rub. Move the planked salmon over to the indirect side of the grill and away from direct heat. We want to cook this around 275-300 degrees for about 20-30 minutes.

After 20 minutes, check the internal temperature of your salmon. I prefer my salmon cooked medium and that's about 125 degrees internal. If you like yours a little more well done, go a little longer. Once the fish starts to sweat out the albumen — AKA "White Gunk" — you are nearing 125 degrees. This is just coagulated protein that gets squeezed out by the tightening of the fish.
Once the salmon gets to 115 degrees, start drizzling the top with your maple syrup or honey. Cover the entire top of your salmon. I prefer to drizzle than brushing as I want the rub to stay in place. After drizzling the syrup, close the lid and let go for another five minutes. Once the internal temp gets to 120 degrees, give it another drizzle. I actually mixed some maple syrup with some habanero honey I had left over. Great combo!
Once we get to 125 degrees internal, remove the planked salmon from the heat and let rest for five minutes. The syrup/honey will thicken and form a gooey layer of tastiness that you will love! It's fantastic and packed with flavor. The smell from the charred cedar plank will have your neighbors peaking over your fence. If you don't have a fence, they will just walk on up and introduce themselves.

The total cook time on this is about 30 minutes and can be done with salmon, haddock, trout, walleye, etc. It's a winner with most fin and grill combo'd creatures. The Chayder planks are the best on the market and made in Michigan. The owner, John, is a HUGE Michigan fan and can be found tailgating at The Big House several times each season. Give his planks a try and don't forget to grab a few cedar wraps while you're at it.
Let me know how your fish turns out and if you prefer the maple or the honey glaze. You really can't go wrong with either one. GO BLUE!!!!
Visit Lane's BBQ to purchase their fantastic line of rubs and sauces. You can follow them on Facebook and Instagram.
Visit Fogo to purchase their premium lump charcoal. You can follow them on Twitter, Facebook, andInstagram.
After growing up in Michigan, Joe now lives in North Texas where he can barbecue year 'round. He cooks mostly on Big Green Eggs and some Webers and has competed in BGE competitions. When he's not watching Michigan football, he also teaches BBQ classes at a local grilling store and does some catering. You can follow Joe on Twitter at @mmmgoblubbq and Instagram at @gobluebbq.