---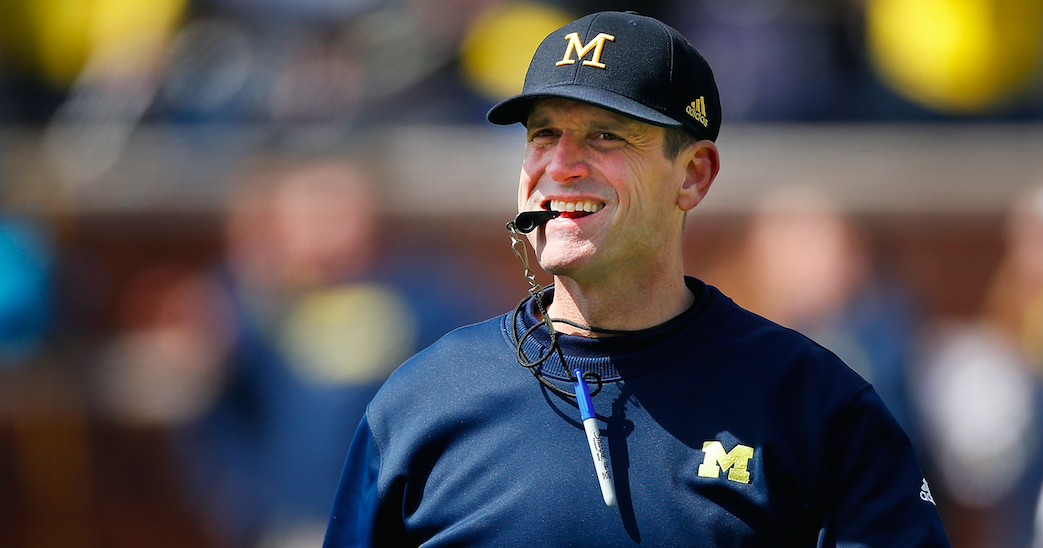 (Gregory Shamus, Getty Images)
With tremendous excitement surrounding the Michigan football program I felt it was fitting to spice up this year's season preview. So instead of a simple paragraph and score prediction for each game, I'm pairing each game with an Avett Brothers song. In my opinion, they're the best band out there right now, and certainly one of the most talented.
Growing up in the Midwest, it was hard to find someone that didn't like country music, but that was me. Even now, I don't. But while Barnes & Noble sells the Avett Brothers' albums in the country section, they're so much more than that. Their Americana blend of bluegrass, country, punk, folk, rock, and ragtime creates a unique sound the keeps getting better, even while every other band on the planet is beating banjos to death.
Sure, the Avett Brothers have nothing to do with Michigan, but they will visit Ann Arbor on Nov. 6 to perform at the Hill Auditorium. Since we're fans of their music, Sam and I paired an Avett Brothers song with each game on Michigan's schedule.
Head Full of Doubt, Road Full of Promise

There's a darkness upon me that's flooded in light
In the fine print they tell me what's wrong and what's right
And it comes in black and it comes in white
And I'm frightened by those who don't see it 
When nothing is owed, deserved or expected
And your life doesn't change by the man that's elected
If you're loved by someone you're never rejected
Decide what to be and go be it
There was a dream
And one day I could see it
Like a bird in a cage I broke in and demanded that somebody free it
And there was a kid, with a head full of doubt
So I'll scream till I die or the last of those bad thoughts are finally out
Heading into the 2015 season we get a perfect dichotomy of doubt and promise. Michigan fans are battered and bruised after the last seven years, most recently a 5-7 season that had one of the worst offenses in program history. That offensive ineptitude — which spans the past two seasons –leaves us weary of getting our hopes up. We've heard it before. Brady Hoke would walk from San Diego to Ann Arbor if he had to to turn things around. Doug Nussmeier would be a huge upgrade from Al Borges.
But on the other hand, Harbaugh does, in fact, bring with him a track record of program turnarounds, and while most don't expect a championship overnight, we can finally start to see the light at the end of the tunnel. Promise abounds with a roster full of talent just waiting to be developed.
On Thursday, senior guard Kyle Kalis shed light on that notion:
"We're definitely grasping more of how to play the offensive line, technique, footwork, stuff that we never would really practice or have a knowledge of before," Kalis said. "Coach Harbaugh is awesome, and the way coach (Drevno) coaches us, it's just working. We've had days where we're rolling guys 10 yards off the ball, and that never happened before. It's not that we couldn't do it, it's just we didn't know how to do it."
But how soon will it pay off? It all starts on Thursday in Utah.
Week 1 at Utah –
The Strangest Thing
The strangest thing that came to me was last night in my sleep
I dreamt you never left
I looked up to thank the moon
And saw a set of lights
A set of red tail lights
I said to myself
I thought that I would never change
but when I woke that night
the strangest thing had come to me, I finally was awake
I slept for seven years
What happened back there?
Nothing has gone like we planned
All of our dreams, they have fell by the way
The true love I once had is dead
And forever our song we will sing
What a strange journey the last seven years have been. Nothing has gone like we planned. Rich Rodriguez was brought in to modernize Michigan football, but after three years we realized a complete rehaul was never needed. Perhaps a tuneup could have sufficed. Brady Hoke came in to bring us back, but four years later, we're still looking up at Columbus.
Jim Harbaugh's return to Ann Arbor still feels like a dream to many of us. He's been dubbed the prodigal son, the savior of Michigan football, but as his first game approaches it's starting to feel like the Michigan football of old never left.
What happened those last seven years? The love we all shared is dead. But we haven't stopped singing The Victors.
While all signs point to Harbaugh turning things around, he's only had a month to work with them so far, so there will surely be growing pains. Unfortunately, Utah is a competent team to face in an opener, especially on the road in an elevation Michigan players aren't accustomed to. Sure, the Utes lost both coordinators this offseason, but they still have head coach Kyle Whittingham and they return quarterback Travis Wilson and a good running back in Devantae Booker. The defense will still be solid even with a 72-year-old coordinator whose last coordinator job was with the Jacksonville Jaguars in 2001-02. Too many questions abound for Michigan on the road.
Utah 26 – Michigan 23
Week 2 vs Oregon State –
Backwards with Time
Folk always told me that my heart would grow
The older the man, yeah, the stronger the stone
Am I losing my mind?
Am I growing backwards with time?
Some say with age that a purpose becomes clear
I see the opposite happening here
Are we losing the fight?
Are we growing backwards with time?
The last time Harbaugh graced Michigan Stadium in a real game the Wolverines lost to Minnesota. But a week later he led Michigan to a 26-24 win over seventh-ranked Ohio State to capture a share of the Big Ten title. Now, 29 years later, he makes his return to the Big House an older man, leading the team he once captained. It's almost unheard of in major college football for a former star return to his Alma mater as head coach. But when the team hits the field on Sept. 12 Harbaugh will receive a heroes welcome.
Oregon State is headed for a rebuilding year after losing the school's and Pac-12's all-time career passing leader, Sean Mannion. Storm Woods is a good running back that will benefit from offensive coordinator Dave Baldwin's run-heavy system, but the OSU defense returns just two starters from last season. Harbaugh will pick up his first win in the Big House since Nov. 1, 1986.
Michigan 35 – Oregon State 17
Week 3 vs UNLV –
Will You Return?
I open my door and here's what occurs
A pretty little gal with pretty little curls
Leans to the side, leans on my mind
I don't want to live, but I sure don't want to die
I'm stuttering again and tellin' her goodbye
Oh m-m-my, goodb-b-bye
Will you come again? It's hard to say
I surely hope so
Will you come again? It's hard to say
I surely hope so
The only cupcake on Michigan's schedule this season is UNLV. Sorry, Rebels, I'm not sending you a box of cupcakes. UNLV went 2-10 last season with wins over FCS Northern Colorado (13-12) and Fresno State by a field goal in overtime. That's how close they were to a goose egg.
Flashy local high school coach Tony Sanchez was brought in to resurrect the program, and although he doesn't have pretty little curls, he has a lot of work to do to bring the Rebels up to a competitive level. Michigan will breeze through this game as Harbaugh will look to send a message to the rest of the Big Ten that he's not here to mess around. Michigan will then beg UNLV to come again, as they provide a bit sexier of a cupcake matchup than the traditional September yawners against Eastern, Western, and Central Michigan.
Michigan 56 – UNLV 13
Week 4 vs BYU –
Please Pardon Yourself
How do I know when it's time to stop?
Runnin' from the things I do, being things I'm not
Oh I have tried, but I just changed my mind
Every night that falls, every morning light
How do I know that you will never stop?
Knowin' me, and trustin' me, and loving' me a lot
Oh I have tried, but I just changed my mind
Every night that falls, every morning light
When Lloyd Carr retired, Michigan tried to be something it's not. They brought in an offensive coach with a flashy style to completely change the program. But when that didn't pan out, they brought in Brady Hoke to transition back to who they used to be. And when that transition didn't work, Harbaugh was hired to bring them fully back to the teams of Bo, Moeller, and Carr.
But while the Michigan of old is what fans long for, the one thing it could never seem to stop was a mobile quarterback, and that's exactly what BYU will bring to town on Sept. 26.  Before Taysom Hill suffered a season-ending leg injury in the fourth game of 2014, he averaged 219 passing yards per game with a 66 percent completion rate and 107 rushing yards per game with 13 total touchdowns. He runs the similar zone read offense as what Rodriguez had success with in 2010 with Denard Robinson. But he'll have to do it without three-year starting running back Jamal Williams, who will miss the season for personal reasons.
Four games into the season, and coming off of big wins against Oregon State and UNLV, Harbaugh will have the Wolverines gaining confidence each week. The defense isn't what we're worried about, and with experience coaching mobile quarterbacks, Harbaugh will find a way to slow down Hill, leading to a close Michigan win.
Michigan 23 – BYU 20
Week 5 at Maryland –
The Perfect Space
Okay part two now clear the house
The party's over take the shouting and the people,
get out!
I have some business and a promise that I have to hold to
I do not care what you assume or what the people told you
Will you understand, when I'm too old of a man?
Will you forget when we've paid our debts,
who did we borrow from? Who did we borrow from?
I wanna have pride like my mother has,
And not like the kind in the bible that turns you bad
And I wanna have friends that I can trust
that love me for the man I've become and not the man that I was.
Part one of Michigan-Maryland was an embarrassment to the Maize and Blue, making a winning record nearly impossible last season and giving the Big Ten newcomers the first bragging rights. Part two should be less embarrassing as Maryland returns the lowest production from last season in the entire conference. Only 29 percent of last season's total offense, 36 percent of last season's touchdowns, and 44 percent of last season's total defense.  That certainly doesn't guarantee a victory for Michigan, but in the conference opener, Harbaugh's squad will show the Terps they're not the same team as last year.
Michigan 33 – Maryland 17
Week 6 vs Northwestern –
I Wish I Was
I wish I was a flame dancing in a candle
Lighting up your living room high on the mantle
I could bring some romance without any scandal
And then when you were done you'd just put me out
I wish I was a tune you sang in your kitchen
Putting your groceries away and washing your dishes
I could roll around your tongue and ease the tension
And then when you were done you'd just quiet down
The last three meetings between Michigan and Northwestern have been nothing but torture for Northwestern coaches, players, and fans alike. In 2012, Roy Roundtree made a circus catch on a Devin Gardner hail Mary to set up a game-tying field goal in the closing seconds. Michigan won in overtime. In 2013, Michigan strung together the most improbable of final-second field goals, featuring a Drew Dileo slide-into-place hold. Michigan again won in overtime. Last season, Michigan won an ugly 10-9 affair that no one wants to relive. Michigan holds a 56-15-2 all-time record against the Wildcats, including wins in four of the last five during the last seven years. In other words, Northwestern wishes they were Michigan.
This season, Northwestern figures to be a middle of the pack Big Ten squad, breaking in a new quarterback — redshirt freshman Clayton Thorson — and hoping for a winning record. Michigan will be coming off of a convincing road win to open Big Ten play and continue that momentum with another convincing win, this time not taking it right down to the wire.
Michigan 31 – Northwestern 15
Week 7 vs Michigan State –
Murder in the City
I wonder which brother is better
Which one our parents loved the most
I sure did get in lots of trouble
They seemed to let the other go
A tear fell from my father's eye
I wondered what my dad would say
He said, "I love you and I'm proud of you both,
In so many different ways"
If I get murdered in the city
Go read the letter in my desk
Don't bother with all my belongings
Pay attention to the list
Make sure my sister knows I love her
Make sure my mother knows the same
Always remember there was nothing worth sharing
Like the love that let us share our name
Michigan State has benefited more than anyone from Michigan's downturn the past seven years, and if you ask those in East Lansing, they've replaced Michigan as the state's top program. They've mastered the art of using manufactured controversies as motivation, ever since the Little Brother comment during Lloyd Carr's final season, and have won six of the past seven meetings since then.
Whichever way they want to spin it, they have a long way to go before they catch up to Michigan in the family pecking order, but the upper hand may continue for another season. Connor Cook figures to be one of the top two quarterbacks in the conference, and possibly the first one taken in next year's NLF draft, and while the Spartans have to replace running back Jeremy Langford and their top two receivers, they do return the third-most defensive production in the Big Ten. That spells trouble for Michigan's still improving offense. Expect a defensive battle in this one with Michigan State pulling out a close one.
Michigan State 20 – Michigan 16
Week 8 at Minnesota –
The Greatest Sum
This and who I used to be
don't matter much at all to me
The pit you dug to plant your feet's
a far cry from my destiny
Not even the clouds
Not even the past
Not even the hands of God
could hold me back from you
Dark and lonely is the ride
the devil always by my side
Though no match for what lies between
a thought of you, your trust for me
Not even the sun
a bullet from a gun
No nothing that this world could bring
Or anything someone could do
Could hold me back from you
What was lost in the Shane Morris concussion aftermath of the game that sealed Brady Hoke's fate last seasonwas the loss of Michigan's most beloved rivalry trophy to the Gophers. The Little Brown Jug has resided in Ann Arbor 76 of the 101 years it has been in use, including 30 of the last 33 years. Michigan even managed to hold onto it during Rich Rodriguez's 3-9 season in 2008 and the first three years of the Hoke regime. But a 30-14 loss last season allowed allowed Minnesota to regain control.
Minnesota was one of the Big Ten's surprise teams last season, going 8-5 overall and 5-3 in the conference, and aims to prove this year that it wasn't just a fluke. With 54 percent of its total offense and offensive touchdowns back and 62 percent of its defensive production, the Gophers still figure to be a formidable foe. And Michigan has to travel to Minneapolis to get its beloved jug back. Coming off a loss to Michigan State, Michigan won't let anything stop it from taking it back.
Michigan 30 – Minnesota 21
Week 9 vs Rutgers –
Talk on Indolence
Well I've been locking' myself up in my house for sometime now
Readin' and writin' and readin' and thinkin'
and searching for reasons and missing the seasons
The Autumn, the summer, the spring, the snow
the record will stop and the record will go
Latches latched, the windows down, 
the dog coming in and the dog going out
Up with caffeine and down with a shot
Constantly worried about what I've got
Distracting my work but I can't make it stop
and my confidence on and my confidence off
And I sink to the bottom and I rise to the top
and I think to myself that I do this a lot
World outside just goes it goes it goes it goes it goes it goes…
and witnesses it all from the blinds of my window
THREE, FOUR
I'm a little nervous 'bout what you'll think
When you see me in my swimming trunks
And last night in New York I got raging drunk
Remember one time I got raging drunk with you
Last season was full of disappointment, but the loss at Rutgers may have been the one that drove us to drinking. A week after the Minnesota loss and ensuing concussion debacle, Michigan visited Rutgers for the first time in school history looking for a win to at least somewhat ease the pain. Instead, Michigan's defense made quarterback Gary Nova look like Tom Brady and the Wolverines suffered a third straight defeat, dropping to 0-2 in Big Ten play for the first time since 1967.
When Rutgers comes to Ann Arbor on Nov. 7 for the first time ever, Michigan will need a win to keep its claim of not having a losing record against any Big Ten foe. Nova is gone, but Rutgers returns its entire running game and the Big Ten's leading returning receiver. The defense has some experience up front but has to replace three starters in the secondary. Rutgers is looking at a potential step back from last year's surprising 8-5 finish. If Michigan loses to Rutgers again, we'll be getting raging drunk with you. But it won't happen.
Michigan 38 – Rutgers 17
Week 10 at Indiana –
Love Like the Movies
Now in the movies they make it look so perfect
and in the background they're always playing the right song
And at the ending there's always a resolution
But real life is more than two hours long
So you want to be in love like the movies
But in the movies they're not in love at all
And with a twinkle in their eyes
They're just saying their lines
So we can't be in love like the movies
Indiana wants football like the movies where Hoosiers can win state titles or walk-on Rudys get carried off the field to a crowd chanting their name. If football were like the movies, perhaps Indiana have more than one winning season in the last 20 years or more than one win over Michigan since 1968. But alas, it's not and Indiana is destined for another Big Ten cellar-dwelling season.
Quarterback Nate Sudfeld is the one bright spot, returning from an injury. But running back Tevin Coleman is gone along with his 2,062 yards and 15 touchdowns. The leading returning rusher is backup quarterback Zander Diamont, who filled in for Sudfeld when he went down. Most of the receiving corps is also gone, leaving Sudfeld with a bevy of unproven receivers to throw to. The Indiana defense returns the second lowest production in the Big Ten (53 percent) from a unit that couldn't stop anybody last year.
Sorry Indiana, this isn't a movie. Behind UVLV, this is the closest thing to a sure bet for Michigan.
Michigan 52 – Indiana 13
Week 11 at Penn State –
I Never Knew You
Well I guess it's kind of funny how
I loved you so way back when
You say I wouldn't know you now
Well I didn't even know you then
We change a lot
And no one here can stop
That train before
It gets to where it's going 
At all
Well I guess it's kind of funny how
I loved you so way back when
You say I wouldn't know you now
Well I didn't even know you then
I heard about the company you're keeping
And for someone who didn't have much interest
In keeping us apart
For four decades Michigan and Penn State were known commodities. Stable, historic, winning programs. But now they're hard to recognize. Michigan is on its third coach since 2008 and Penn State is on its second since 2012. Until 2008, Michigan dominated the series, winning nine in a row from 1997 to 2007. But Penn State captured four in a row before Michigan won 18-13 last fall.
This year's meeting is in State College where Michigan has lost the last three trips. Penn State brings back the second-most offensive production (81 percent) and touchdowns (64 percent) in the Big Ten, most notably quarterback Christian Hackenberg who has been plagued by poor offensive line play the past two seasons. If that improves, Penn State will have a much improved offense. The defense should be among the Big Ten's best, despite losing the Big Ten's leading tackler, Mike Hull.
By this time in the season, Michigan should be much tougher than it was when the season started, but a road game in November the week before Ohio State spells loss for the Wolverines.
Penn State 26 – Michigan 23
Week 12 vs Ohio State –
Vanity
I've got something to say
But it's all vanity, it's all vanity
I found a tune I could play
But it's all vanity, it's all vanity
Call off the guards
Call off the search
Their heads are chopped off
They're running in circles
They're running in circles
While Michigan State has been the biggest beneficiary of Michigan's downturn the past seven years, Ohio State is a close second. A national championship last season and wins in nine of the last 10 meetings have left the Buckeyes full of conceit. Seriously, is there a more vain fan base out there? They still worship the coach that put them on probation and the saddest part of all is that, despite a one-year falloff, it worked to their benefit. They got an even better coach.
Unfortunately, not much is going to change this season as they enter as the unanimous No. 1 team in the nation and favorite to win the Big Ten. They return the most offensive production (88 percent) and touchdowns (83 percent) and defensive production (74 percent) in the conference. The only good news is that they have to come to Ann Arbor, but they've won four of the last five in the Big House.
J.T. Barrett and Cardale Jones are as good as any quarterbacks in the conference and Braxton Miller transitions his talent to receiver. Running back Ezekiel Elliott is a Heisman Trophy favorite and the defense is full of talent and playmakers. Unless Michigan's offense is light years better than it's expected to be, Michigan doesn't have much of a shot in this one. But that's why they play the games.
Ohio State 38 – Michigan 24