---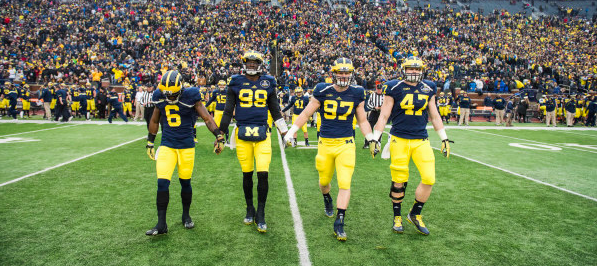 (MGoBlue.com)
Twelve seniors took the field in Michigan Stadium on Saturday for the final time, but their senior day was spoiled by conference newcomer Maryland, who came away with its first ever win over Michigan, 23-16.
After forcing a Maryland three-and-out to start the game, Michigan's offense took over on its own 36. On 4th-and-1, De'Veon Smith was flagged for a false start, moving the ball back five yards and forcing Michigan to punt. But fullback Joe Kerridge took a fake punt 52 yards to the Maryland 8-yard line, setting Michigan up 1st-and-goal. Michigan was unable to punch it into the end zone and had to settle for a 22-yard Matt Wile field goal to take a 3-0 lead.
Neither team was able to muster any offense the rest of the quarter until Maryland quarterback C.J. Brown connected with Jacquille Veii for 21 yards to the Michigan 28 on the final play of the quarter. Michigan's defense stiffened and forced a 38-yard Brad Craddock field goal to tie the game.
Final Stats
Michigan
Maryland
Score
16
23
Record
5-6, 3-4
7-4, 4-3
Total Yards
398
312
Net Rushing Yards
292
147
Net Passing Yards
106
165
First Downs
23
17
Turnovers
1
0
Penalties-Yards
3-24
4-30
Punts-Yards
2-86
4-154
Time of Possession
34:00
26:00
Third Down Conversions
5-of-13
3-of-12
Fourth Down Conversions
1-of-3
0-of-0
Sacks By-Yards
2-17
2-19
Field Goals
3-for-4
3-for-3
PATs
1-for-1
2-for-2
Red Zone Scores-Chances
4-of-4
4-of-5

Full Box Score
Dennis Norfleet returned the kickoff 31 yards, and Michigan quickly moved into Maryland territory. A 24-yard Devin Gardner run followed by a Maryland pass interference set Michigan up 1st-and-goal at the five. But back-to-back runs for no gain and a 11-yard sack on third down forced Michigan to settle for another field goal, this time from 33 yards. Maryland answered with a 41-yards field goal.
On the second play of Michigan's next possession, William Likely intercepted Gardner at the Michigan 37 and returned it 29 yards to the Michigan eight. Yet again, the Michigan defense held strong and forced a 21-yard field goal to give Maryland its first lead of the game, 9-6.
Michigan got the ball at its own 16 with 1:50 remaining in the half. Five straight Drake Johnson runs gained 49 yards before Gardner found Jake Butt for four yards and 17 yards to the Maryland 9-yard line. But with time running out, Michigan had to kick its third field goal of the half, this time from 26 yards out, to knot the game at nine at the half.
The first drive of the second half was the Gardner show as he completed a 7-yard pass to Devin Funchess on 3rd-and-6, rushed for 22 yards to the Maryland 33, and then found the end zone on a 15-yard run a few plays later. Michigan led 16-9.
Michigan forced a Maryland punt and Norfleet returned it 69 yards for a touchdown, but A.J. Pearson was flagged for an illegal block. Instead of taking a 23-9 lead, Michigan's offense moved to the Maryland 32, but couldn't convert a 4th-and-6.
As the third quarter came to a close, Maryland caught the Michigan defense off balance with an up-tempo offense and entered the Michigan red zone. A 3rd-and-12 pass fell incomplete and Maryland had to settle for yet another field goal. But Jourdan Lewis was flagged for roughing the kicker, giving the Terrapins a 1st-and-goal. They took advantage on the next play with an 8-yard Brown touchdown run to tie the game at 16.
Michigan missed a 39-yard field goal on its next possession and Maryland marched right down the field for its second straight touchdown drive, this time a 1-yard Brown run, to take a 23-16 lead.
Johnson ran for 17 yards on the first play of Michigan's ensuing possession, but the offense stalled. Justice Hayes lost three yards and a Gardner pass fell incomplete setting up 3rd-and-13. Gardner ran for 10 yards, but on 4th-and-3 from the 49-yard line, Funchess was unable to reel in Gardner's pass and Maryland took over on downs. The Terps ran the clock out and sent Michigan to its sixth loss.
Gardner completed 13-of-24 passes for 106 yards, no touchdowns, and an interception. He also rushed 14 times for 82 yards and a score. Johnson led Michigan on the ground with 94 yards on 14 carries. As a team, Michigan racked up 292 rushing yards, its second-best performance of the season, and 398 total yards, good for fourth-best. For the third time this season, Michigan out-gained its opponent in total yards, but lost. Maryland gained 312 total yards.
Michigan fell to 5-6 overall and 3-4 in the Big Ten. The Wolverines have to win at Ohio State next Saturday to gain bowl eligibility. A loss would give Michigan its third losing season in the last seven years and the first under Brady Hoke. The Buckeyes clinched the Big Ten East division with a 42-27 win over Indiana, but still have plenty to play for, including a potential spot in the College Football Playoff.