---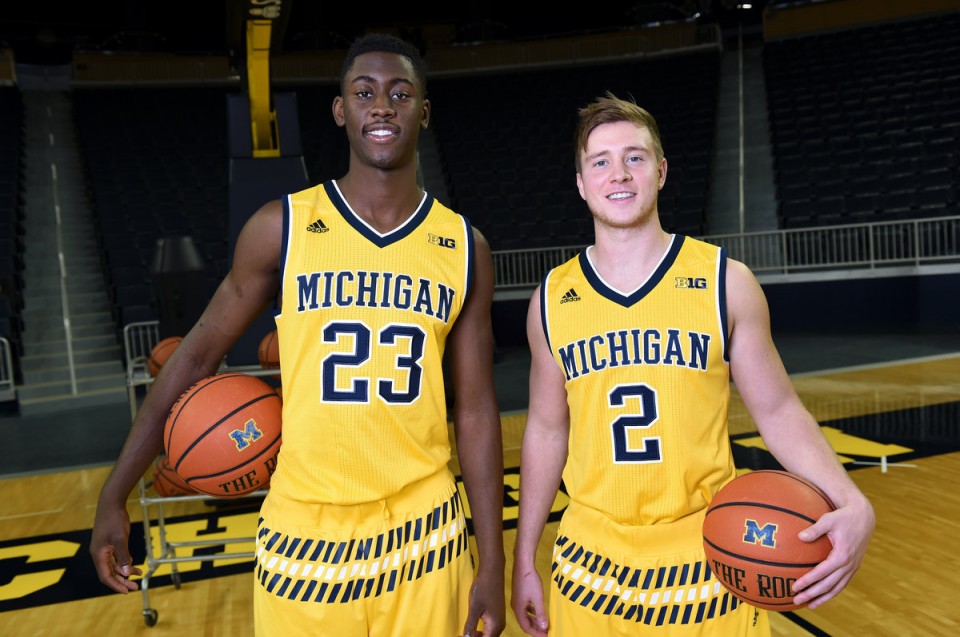 (Melanie Maxwell, The Ann Arbor News)
While we're in the midst of football season – a season of rebirth and return of the Michigan of old – college basketball is here! With the year now underway, let's take a look at the most experienced of the Wolverines – the seniors.
#2 Spike Albrecht
Class
Senior
Major
General Studies
Measurements
5'11", 175
Hometown
Crown Point, Ind.
High School
Northfields Mount Hermon (Mass.)
Position(s)
Guard (1, 2)
Committed
April 6, 2012
Fun Fact
Earned nickname "Spike" after he wore baseball spikes everywhere as a kid
Career Stats
Pts
Reb
Ast
Stl
TO
Min
FG%
3Pt%
FT%
2012-13
2.2
0.8
0.7
0.3
0.4
8.1
47.5
54.5
83.3
2013-14
3.3
1.1
2.0
0.5
0.4
14.7
40.4
38.7
77.8
2014-15
7.5
2.3
3.9
0.9
1.3
32.0
40.4
36.5
91.3
Career
4.1
1.4
2.1
0.6
0.7
17.2
41.5
39.9
81.4
Career Highs: 18; Rebounds: 6; Assists: 9 (twice); Steals 4: Turnovers: 4; Minutes: 47
Favorite Big Ten Opponent: Michigan State
Career to Date: Spike Albrecht came to Ann Arbor as the over-shadowed no-name prospect in a class replete with a trio of stars who all moved on to the NBA after two seasons. After failing to earn any major college interest while playing for his hometown high school in Northwest Indiana, Albrecht decided to take a prep year in the elite New England Prep School Athletic Conference, where he played against the likes of Mitch McGary and plenty of other top-notch prospects. And though the under-sized point guard held his own – even earning MVP honors in a major tournament – he went largely unnoticed.
When it came time to choose a school, Albrecht's options were Appalachian State and no one else. But Albrecht didn't want to play outside of Division I; following a conversation with his father, he decided that he'd go to Indiana University to be a regular student.
That is, until John Beilein stepped in with the unlikeliest of offers – an offer that, reportedly, Beilein thought would potentially make or break his career.
The rest, as they say, is history that many of us are aware of. Albrecht has never been a star player – outside of a first-half outburst in the National Championship game his freshman year – but he's been a steadying force for three seasons. He's a guy that can be called upon to run the offense efficiently, make smart passes, and not turn it over. Albrecht will never be a world beater because of his lack of size and elite athleticism, but he makes up for it with heady play. Every coach would love to have a veteran point guard to bring off the bench who knows the offense like the back of his hand, will knock down a good deal of threes, and doesn't try to do too much. That is Albrecht in a nutshell.
Now back for his senior season, Albrecht is still getting back to full strength after a pair of offseason hip surgeries (he's the oldest guy on the team at 23, but managed to play through the pain last season) following a junior year in which he was asked to carry much of the load later on with Derrick Walton and Caris LeVert sitting out injured. He has likely seen his last career start barring further injuries, but should prove to be an invaluable spark off the bench and will undoubtedly be a leader both on and off the floor. For a kid who will most likely be the only recruit of his five-man class to not be drafted into the NBA, that's just fine.
Area to Improve: Defense
I know, I know – Spike Albrecht is never going to be a plus player defensively, but if he can just be average in man-to-man defense, he'll see a lot more of the floor. John Beilein loves the leadership, confidence, and shooting that his veteran guard brings to the game, but quick opposing players will make it difficult to play Albrecht big minutes night in and night out. With strong positioning, Albrecht can at least minimize his defensive deficiencies and bring his playing time from a floor of around 15 to around 20-25.
Stat Predictions: 6.0 points (45.0 FG%, 41.0 3-PT%, 88.0 FT%), 2.0 rebounds, 3.0 assists in 20 minutes per game
#23 Caris LeVert
Class
Senior
Major
General Studies
Measurements
6'7″, 205
Hometown
Pickerington, Ohio
High School
Pickerington Central
Position(s)
Guard/Wing (2, 3)
Committed
May 11, 2012
Fun Fact
Nickname is "Baby Durant"
Career Stats
Pts
Reb
Ast
Stl
TO
Min
FG%
3Pt%
FT%
2012-13
2.3
1.1
0.8
0.2
0.3
10.8
31.5
30.2
50.0
2013-14
12.9
4.3
2.9
1.2
1.7
34.0
43.9
40.8
76.7
2014-15
14.9
4.9
3.7
1.8
2.2
35.8
42.1
40.5
81.0
Career
9.5
3.2
2.4
1.0
1.3
25.8
41.9
38.9
76.6
Career Highs: Points: 32; Rebounds: 11; Assists: 9; Steals: 4 (three times); Turnovers: 5 (three times); Minutes: 42
Favorite Big Ten Opponent: Wisconsin
Career to Date: Much like classmate Spike Albrecht, Caris LeVert was a very late addition to Michigan's 2012 recruiting class after the coach he originally signed with, John Groce, left Ohio University for the University of Illinois. Groce wasn't interested in bringing his former commit to the Big Ten, but his peer, John Beilein, saw something in him and decided to take a flyer on the young, lanky shooter.
In the years that followed, LeVert has made that look like a fabulous decision on his coach's part. Once a gangly, stick-thin, and off-balance freshman that resembled a bowl of Jell-O more than he did a basketball player, the senior has blossomed into one of the best wings in the country. The Columbus native is an excellent shooter and a deceptive athlete. LeVert is comfortable driving to the rack and finishing or squeaking through two defenders and finding an open teammate for an easy finish. He's a terrific finisher in the open court and a quiet leader, but also a top NBA prospect that will look to back up his own decision to return to school for one last season in Ann Arbor.
Following a junior year that was already headed down the wrong path and eventually cut short by injury, LeVert will look to bring his team back to the land of the Big Dance – a tournament in which LeVert has already experienced runs to the Championship game and the Elite Eight.
He's added the requisite weight for a third straight offseason and appears to be fully healthy. Now, the ball is in LeVert's court – can he seize one last season of opportunity?
Area to Improve: Decision making
I am not accusing Caris LeVert of being a bad decision-maker or a ball hog, but there were times last season when it felt like the then-junior was trying to do a bit too much. He had talent around him in the form of Derrick Walton, Zak Irvin, Spike Albrecht, and company, but often dribbled a bit too much and bore too much of the load before going down with a foot injury. This season, LeVert needs to display a comfort level with deferring to his more-than capable supporting cast – a cast that now not only includes the aforementioned veterans, but also a group of sophomores that got plenty of live action a year ago.
Stat Predictions: 15.0 points (44.5 FG%, 40.5 3-PT%, 83.0 FT%), 5.0 rebounds, 3.5 assists, 1.3 steals, in 33 minutes per game