---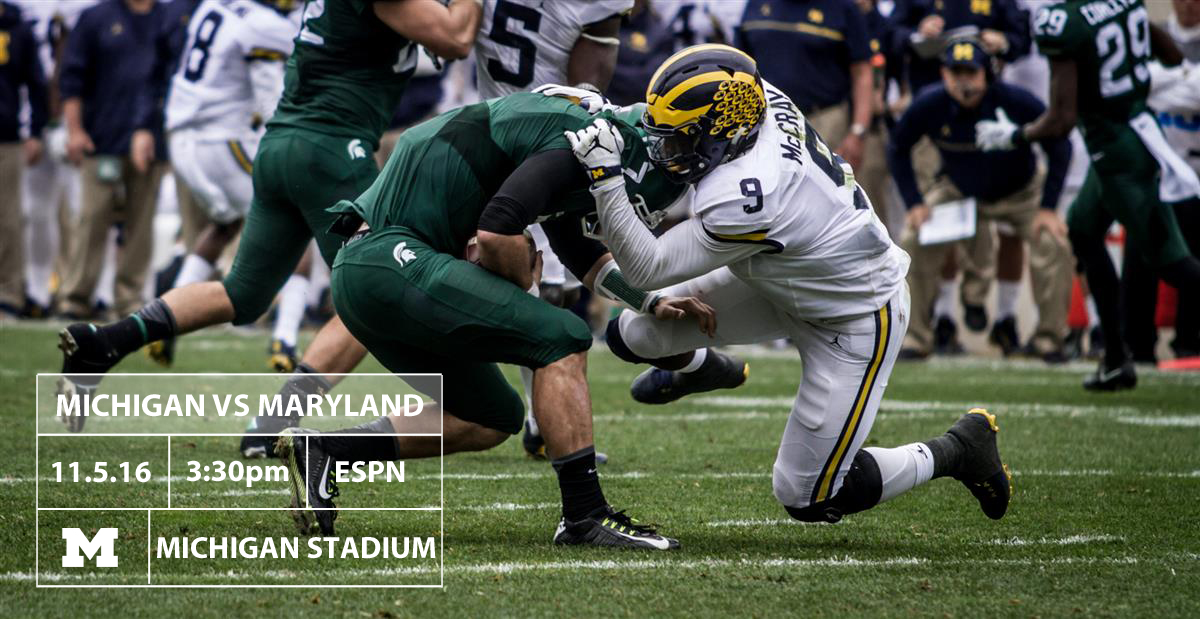 (Isaiah Hole, 247 Sports)
Michigan dropped a spot in the national rankings after beating Michigan State last week. Ah, the universe has returned to normal. But really, Michigan remained second in both the AP Poll and Coaches Poll, but opened third behind Alabama and Clemson in the first College Football Playoff poll of the season.
Quick Facts

Michigan Stadium – 3:30p.m. ET – ESPN
MSU Head Coach:
D.J. Durkin (1st season)
Coaching Record:
6-3 (5-3 at Maryland)
Offensive Coordinator:
Walt Bell (1st season)
Defensive Coordinator:
Andy Buh (1st season)
Last Season:
3-9 (1-7 Big Ten)
Last Meeting:
UM 28 – Maryland 0
All-Time Series:
Michigan 4-1
Record in Ann Arbor:
Michigan 3-1
Jim Harbaugh vs Maryland
1-0
Last Michigan win:
2015 (28-0)
Last Maryland win:
2014 (26-13)
Current Streak:
Michigan 1
Maryland Schedule to date
Opponent
Result
Howard
W 52-13
at FIU
W 41-14
at UCF
W 30-24 2 OT
Purdue
W 50-7
at Penn State
L 14-38
Minnesota
L 10-31
Michigan State
W 28-17
at Indiana
L 36-42
In the grand scheme of things, it doesn't matter one bit. Second and third are essentially interchangeable since they play each other in the CFP semifinal. But there are also still four games remaining, plus a conference championship game standing in the way. In other words, there's a lot of football left to play.
For Michigan, it starts with Maryland tomorrow. The Terrapins enter with a 5-3 overall record and 2-3 in the Big Ten. They won their first four games of the season over Howard (52-13), FIU (41-14), UCF (30-24 in 2OT), and Purdue (50-7) but have lost three of their last four. The only win in the past month was a 28-17 victory over Michigan State two weeks ago. The losses came against Penn State (38-14), Minnesota (31-10), and Indiana (42-36).
Head coach D.J. Durkin is in his first season as a head coach after spending last season as Michigan's defensive coordinator. He's the fifth first-year head coach Michigan has faced in nine games, but he's far from unknown to Jim Harbaugh.
"I follow all the coaches that we work with and pull for them, when they're not playing us," Harbaugh said. "That's a happy-for-the-other-guy's-success attitude that we have here at Michigan. Personally I like it, I like it a lot, professionally to see guys develop, reach their goals, especially when you know going in what their goals are because you ask them, you talk about it. You want to see your friends have success and be good. He definitely has been at every job that he's had. He goes all out, does things at a very high level with a lot of enthusiasm. Kindred spirit, so I'm very happy for him."
Durkin played linebacker for Bowling Green from 1997-2000 and then began his coaching career as a graduate assistant there. He worked his way up through the ranks to defensive coordinator at Florida in 2013-14. When the Gators fired head coach Will Muschamp prior to the Birmingham Bowl in 2014, Durkin assumed the interim head coaching responsibilities and picked up the first win of his career over East Carolina. Harbaugh snatched him up to run his first Michigan defense last season, but when the Maryland job opened up, Durkin couldn't pass up the opportunity to take his first full-time head coaching gig.
Now, he looks to upset his former boss. Will Michigan suffer a post-rivalry win letdown? Or will Harbaugh keep the Wolverines focused to improve to 9-0? Let's take a look at the matchups.
When Maryland has the ball
| | | | | | | | | |
| --- | --- | --- | --- | --- | --- | --- | --- | --- |
| | S&P+ | Rush S&P+ | Rush SR | Rush IsoPPP | Pass S&P+ | Pass SR | Pass IsoPPP | Avg FP |
| MD Off | 65 | 18 | 47.8% (31) | 13 | 81 | 40.7% (69) | 106 | 29.5 (71) |
| UM Def | 1 | 2 | 24.2% (1) | 100 | 1 | 21.4% (1) | 50 | 27.0 (16) |
While Durkin has always been a defensive guy, he needed to hire a good offensive mind, so he looked to Arkansas State for an up and coming offensive coordinator. Walt Bell guided the Red Wolves to the nation's 12th-best scoring offense a year ago, averaging 40 points per game. His high-tempo offense topped 300 yards in 24 of his 26 games, 400 yards 18 times, and 500 yards 11 times. Prior to ASU, he coached tight ends at North Carolina where he developed Eric Ebron into a first team All-American in 2013, and prior to that he coached wide receivers at Southern Miss when they set a school record for total offense and went 11-2 in 2011.
Through eight weeks, Bell's Maryland offense ranks fourth in the Big Ten and 45th nationally in scoring (32.6 points per game), second and 13th in rushing (252 yards per game), 11th and 110th in passing (171.8 yards per game), and fifth and 52nd in total offense (423.8 yards per game).
His quarterback, senior Perry Hills, leads the Big Ten with a pass efficiency of 149.9, but he has thrown just 140 passes all season. By comparison, Wilton Speight, who is right behind him at 149.2, has thrown 207 passes. The past two weeks, however, he has been solid, completing 43-of-60 passes (71.7 percent) for 448 yards, four touchdowns, and one interception. But he fumbled twice in the fourth quarter last Saturday, one leading to an Indiana touchdown.
Sophomore D.J. Moore leads the team in receiving with 400 yards and five touchdowns on 28 receptions. He had a big game against FIU in Week 2 with 147 yards and two scores but then three straights games with less than 20 yards. But he has scored a touchdown in each of the last three weeks and has nine receptions for 142 yars combined in the past two. Senior Teldrick Morgan has the same number of receptions as Moore (28) but 316 yards and three touchdowns. He has been pretty consistent all season with three or more catches in six of eight games and around 40-60 yards per game. Senior Levern Jacobs has 26 receptions, but the lowest yards per catch average of just 7.9. After catching just three passes through the first five games, Jacobs has exploded with 23 in the last three.
The running game is what powers Maryland's offense, lead by the duo of sophomore Ty Johnson and freshman Lorenzo Harrison, who have combined for 1,199 yards and nine touchdowns, averaging 8.6 yards per carry. Johnson leads the way with 624 yards, but has been hot and cold. He had 204 yards on just seven carries against Purdue and has topped 100 yards each of the last two weeks, but managed just 11 against Penn State and 23 against Minnesota — two defenses that are relatively comparable to Michigan's. Harrison gets more carries and is more consistent with just one game all season below 60 yards. Minnesota held him to 35, and he had a season-high 105 yards against Michgian State, but in the other six games he has been between 64 and 78 in each one. Hills is also a capable runner with 283 yards gained and four rushing touchdowns, though he has been sacked 19 times.
Senior left tackle Michael Dunn and junior left guard Mike Minter form a solid run blocking duo on the left side of the line. Dunn was an honorable mention All-Big Ten performer last season and has 45 career starts. Sophomore center Brendan Moore is just another guy, while the right side is made up of true freshman right guard Terrance Davis and redshirt sophomore right tackle Damian Prince. They're better in pass protection than Dunn and Minter, but msot of the running game goes to the left side. Maryland has allowed 24 sacks — worst in the Big Ten — and a big part of that is the pass-blocking weakness of the left side.
When Michigan has the ball
| | | | | | | | | |
| --- | --- | --- | --- | --- | --- | --- | --- | --- |
| | S&P+ | Rush S&P+ | Rush SR | Rush IsoPPP | Pass S&P+ | Pass SR | Pass IsoPPP | Avg FP |
| UM Off | 15 | 21 | 47.3% (33) | 55 | 9 | 46.6% (23) | 31 | 36.3 (1) |
| MD Def | 72 | 127 | 48.4% (113) | 87 | 31 | 40.0% (58) | 3 | 30.6 (90) |
Instead of hiring a young, up-and-comer like Durkin did on offense with Bell, he picked 18-year veteran Andy Buh to run his defense. Buh has served as a defensive coordinator at Stanford, Nevada, and Cal prior to his stint in College Park. In Jim Harbaugh's first season at Stanford, Buh was the linebackers coach, but was then promoted to co-defensive coordinator for the 2008-09 seasons. From there, he took the DC position at Nevada, where he turned around one of the nation's worst defenses and made it a top-50-ish one. He was the linebackers coach at Wisconsin in 2012 before getting another coordinator gig, this time at Cal, where he didn't have much success. Last season, he coached outside linebackers at Kentucky.
Buh's defense ranks eighth in the Big Ten and 36th nationally in scoring defense (23.3 points per game), 12th and 109th against the run (220.1 yards per game), fourth and 18th against the pass (181.4 yards per game), and 11th and 63rd in total defense (401.5 yards per game).
The defensive tackles, junior Kingsley Opara and senior Azubuike Ukandu have nine combined tackles for loss and two sacks, but haven't been very effective in stopping the run. Fifth-year senior end Roman Braglio has 4.5 tackles for loss and three sacks.
Juniors Shane Cockerille and Jermine Carter Jr. are the linebackers in Buh's 4-2-5 system. Cockerille was a fullback last season and played the second half of the Indiana game at quarterback when starter Caleb Rowe was injured. Now being asked to stop the run as one of two linebackers is a tall task. He does lead the team with 73 tackles and ranks third on the team with five tackles for loss. Carter ranks second on the team with 64 tackles and has four for loss, three sacks, and an interception.
The secondary took a huge hit when first-team All-Big Ten corner and first-team All-America punt returner Will Likely tore his ACL against Minnesota, effectively ending his career. Cornerbacks Alvin Hill — a senior — and J.C. Jackson — a sophomore — have three of the team's four interceptions and have combined for 11 passes defended and eight pass breakups. Junior strong safety Josh Woods is the team's third leading tackler with 38 tackles, while free safety Darnell Savage has 28. However, Savage missed last week's game with an injury and freshman Qwuantrezz Knight made his first career start.
Junior kicker Adam Greene has made 6-of-8 field goal attempts, but his long so far is 36 yards. He has tried just two field goals longer than that and missed both (38 and 51). Freshman punter Wade Lees in an Australian League Football veteran from Melbourne but he averages just 39.8 yards per punt with 15 of 43 downed inside the 20 yard line.
Four straight opponents have rushed for at least 200 yards on Maryland's defense — Indiana (414), Michigan State (270), Minnesota (229), and Penn State (372) and there's no reason to believe Michigan will end that streak. Look for Harbaugh to give the ball to Michigan's stable of backs over and over and over again with some jet sweeps mixed in. Of course, Durkin will know that Harbaugh will do this, but his defense won't be able to stop it consistently.
On the other side of the ball, Maryland will probably hit a few explosive runs. Remember, the Terps actually have nine more explosive runs (10 or more yards) than Michigan does so far this season — which ranks sixth nationally — and Johnson and Harrison average 8.6 yards per carry. They won't have consistent success against Michigan's stout defense, especially without a major passing threat, but they'll bust a few.
But it won't be enough as Michigan is simply more talented and experienced on both sides of the ball. The Wolverines top 300 yards rushing and score pass just enough to keep the defense honest. Michigan's defense gets to Hills a few times, but surrenders a few big plays and a couple of touchdowns. Michigan has the game in hand by halftime and cruises to a comfortable win.
Michigan 45 – Maryland 17