---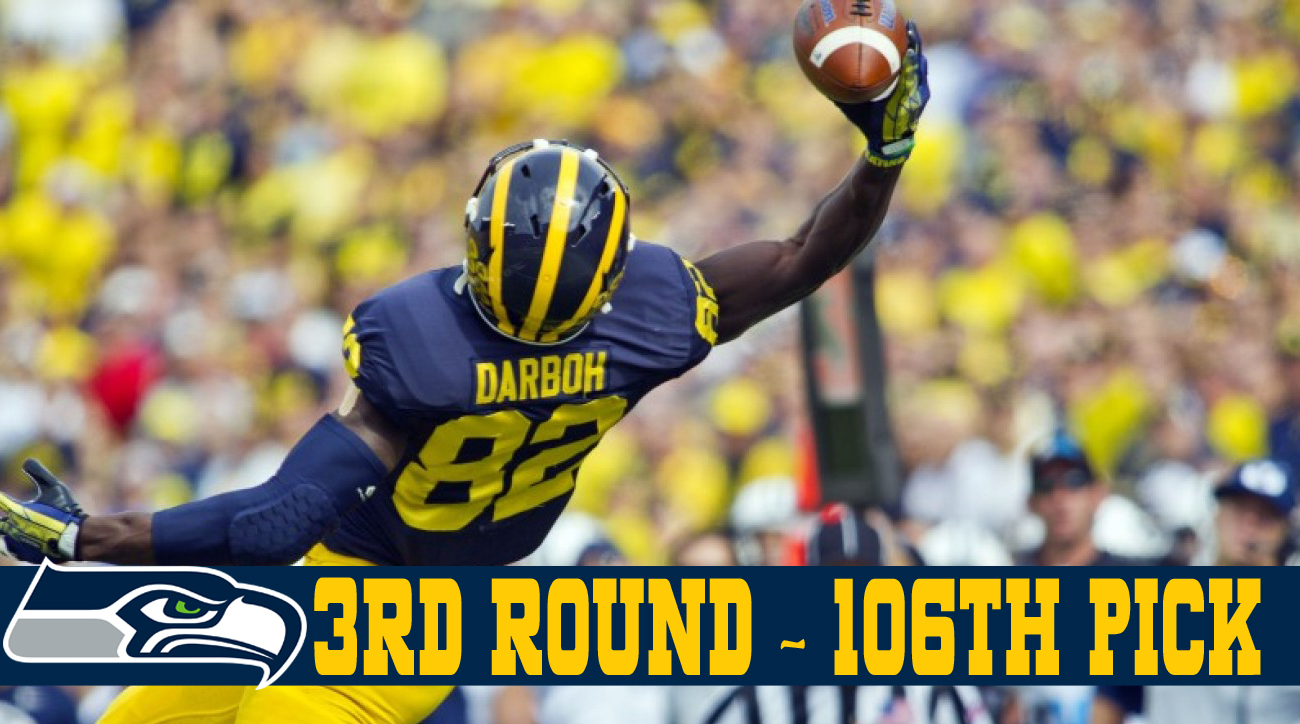 Michigan closed out the third round of the 2017 NFL Draft with a flurry of picks, capped off by receiver Amara Darboh being selected 106th overall by the Seattle Seahawks. He will join teammate Delano Hill, who was picked by Seattle just 11 picks prior.
Darboh was an All-Big Ten Second Team selection by both the coaches and media in 2016 and a Biletnikoff Award candidate. He lead the team with 57 receptions for 862 yards and seven touchdowns. He finished his career with 151 catches for 2,062 yards and 14 touchdowns while making 28 starts. He turned in the fourth-longest reception streak in Michigan history, catching at least one pass in 33 straight games.
In the second game of the season, Darboh caught five passes for 111 yards and two touchdowns against UCF, the first multi-touchdowns game of his career. A few weeks later, he scored the game-winning touchdown against Wisconsin, and he also caught the game-tying touchdown in overtime against Ohio State. Against Michigan State, Darboh caught eight passes for 165 yards. The highlight of his career was a turning, fully stretched out, one-handed snag against BYU in 2015.
Darboh is a feel-good American success story. He was born in war-torn Sierra Leone during the country's civil war that saw both of his parents killed. He was taken in by relatives and adopted by an American family at the age of seven. In 2015, he finally became a United States citizen, and on Friday night he became an NFL player.
The Seahawks had a top 10 passing offense last season, lead by Doug Baldwin's 1,128 yards and 12 touchdowns. But Jermaine Kearse saw a dip in production as the No. 2 receiver despite more targets. Tyler Lockett finished the season as the second-best receiver, despite breaking his leg in Week 16, but he's a slot guy that fills a different role than Darboh. Still, Darboh will have to compete for playing time given that Seattle has now drafted a receiver in five straight drafts. Paul Richardson came on late last season with 15 receptions for 213 yards and two touchdowns in the final four games, while Tanner McEvoy, the former Wisconsin quarterback, is also in the mix.
The NFL Draft will continue on Saturday with rounds four through seven beginning at 12pm Eastern. Jake Butt, Ben Gedeon, Jehu Chesson, Ryan Glasgow, Kyle Kalis, De'Veon Smith, Ben Braden, Channing Stribling, Dymonte Thomas, and Erik Magnuson will all hope to hear their names called.