---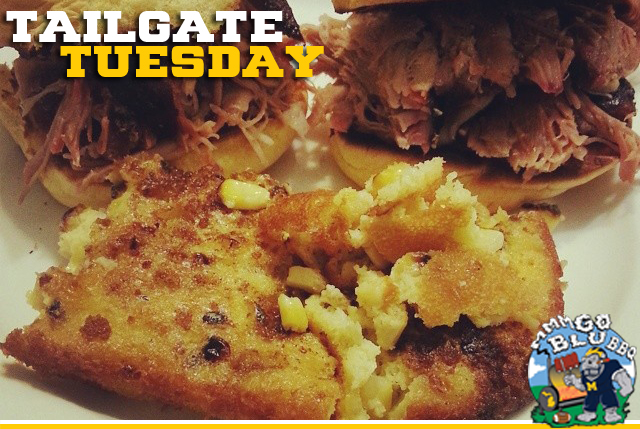 Tailgate Tuesday is our weekly contribution from our resident pitmaster, Joe Pichey from GoBlueBBQ. These tailgate recipes will be posted each Tuesday throughout the football season and will feature a variety of appetizers, main courses, and sides to help you be the king of your next tailgate. Lane's BBQ, a Bethlehem, Ga. based BBQ company, sponsors this season's feature by providing their killer rubs and sauces for use in the recipes. Buy them here. In addition, Fogo Charcoal provides charcoal to use in each recipe. Buy it here.
Previous: Cedar planked scotch eggs, Pork tenderloin sliders with grilled cheese, Chicken street tacos,Sausage and cheese poppers, Tomato pie
Full Archive here.
Joe is still on his extended bye week, so I'm filling in again. If you judge my barbecue style solely from last week's recipe and this week's, you'd probably think I never cook meat. That's not true, of course, but since Joe is our resident pit boss I'll let him bring the big guns.
Like anyone, I love going to a BBQ joint and getting brisket or pulled pork or ribs or beef ribs, or hot links — or all of the above! But a place that serves up top-notch sides along with its meat will always win over my stomach. So when I'm cooking for family and friends I make sure to throw in at least one or two great sides. Like the tomato pie last week, this is another side that you and your guests will have a hard time not going back for seconds. It adds great sweetness to accompany the rich, bold flavors of your main course.
• 4 ears of corn
• 1.5 sticks unsalted butter
• Lane's Signature Rub
• 1 cup heavy cream
• 7 eggs
• 1/4 cup flour
• 6 TBSP sugar
• 2 tsp baking powder
• 2 TBSP dark brown sugar
• 1/4 tsp cinnamon
Like the tomato pie last week, this one is easy to cook and can be thrown into the smoker while your meat is smoking. I love corn pretty much any way you cook it, but in my opinion, grilling or smoking it really enhances its flavor. So when you make corn pudding with grilled or smoked corn, it enhances the recipe considerably over canned corn.
Start by removing the husks from the corn — maybe we should have saved this for Nebraska week — and then sprinkle some Lane's Signature Rub on them. Toss them into your smoker for about 40-45 minutes. If you're grilling them, put them on medium-high heat for 15-20 minutes. You want to get them just started to char, but not completely charred. If on the grill, make sure to turn them to slightly char every side. Once ready, remove and let cool.
In a medium saucepan on the stove or grill, melt your butter over low heat. Stir in the cream, remove the pan from the heat, and let cool. Beat your eggs and then add to the butter and cream mixture, once it's cool enough that it won't start to cook the eggs.
Now its time to mix up the dry ingredients. Whisk together the flour, sugar, and baking powder, then slowly whisk it into your butter, cream, and eggs mixture. You want it to be a loose batter consistency, almost like pancake batter.
Take a sharp knife and cut the corn kernels form the cobs. To do this, stand the cob on one end and cut straight down on all sides until all the kernels are off. Add them to the batter.

Grease a 9″x 13″ pan and pour your batter mixture into it. Toss it back into the smoker for about 15 minutes at approximately 350 degrees. At this point, the batter should be starting to solidify ever so slightly. Mix together the two tablespoons of brown sugar and 1/4 teaspoon of cinnamon, then sprinkle it on top of the batter. It's very important that you do this partway through the cooking process as opposed to sprinkling on top of the batter from the beginning. You don't want the brown sugar to harden because then it will be hard to chew and stick to your teeth. Put the pan back into the smoker for another 20-30 minutes until the top is golden brown and the pudding doesn't jiggle when you shake it (that's what she said).
Now it's time to eat. Serve hot and enjoy.
Visit Lane's BBQ to purchase their fantastic line of rubs and sauces. You can follow them on Facebook and Instagram.
Visit Fogo to purchase their premium lump charcoal. You can follow them on Twitter, Facebook, andInstagram.
After growing up in Michigan, Joe now lives in North Texas where he can barbecue year 'round. He cooks mostly on Big Green Eggs and some Webers and has competed in BGE competitions. When he's not watching Michigan football, he also teaches BBQ classes at a local grilling store and does some catering. You can follow Joe on Twitter at @mmmgoblubbq and Instagram at @gobluebbq.