---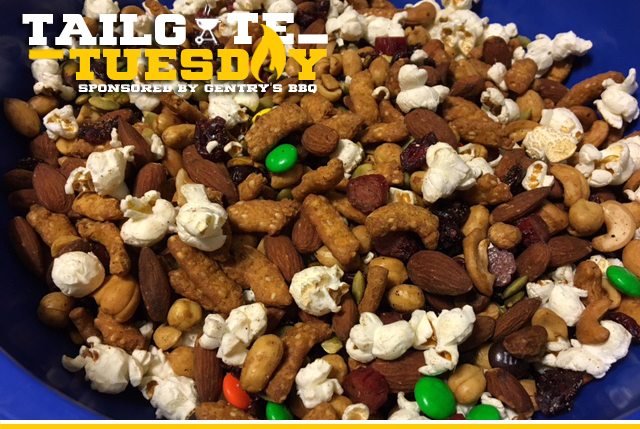 Tailgate Tuesday has traditionally been our weekly contribution from our resident pitmaster, Joe Pichey from GoBlueBBQ. Due to a new job, Joe has had limited time this season, so I have taken the reigns as interim Maize and Go Pitmaster. These tailgate recipes will be posted each Tuesday throughout the football season and will feature a variety of appetizers, main courses, and sides to help you be the king of your next tailgate. Gentry's BBQ, a Orlando, Fla. based BBQ and catering company, sponsors this season's feature by providing their killer rubs and sauces for use in the recipes. Buy them here. In addition, Fogo Charcoal provides charcoal to use in each recipe. Buy it here.
Previous: Gator kabobs; Steak tacos nortenos with bacon fat flour tortillas; Brisket burnt ends; Fried pork tenderloin sammy with fire roasted green chile jam and savory corn casserole; Smoked onion dip; Jalapeno balls; Sous vide french dip cheesesteak; Western style chopped pork and red slaw; Carolina hush puppies; Smoked beef empanadas; Home-cured applewood smoked bacon; Beer cheese soup; 
Recipe Archive
Yes, I know today isn't Tuesday, but I was in San Francisco for work last weekend which meant I wasn't home to smoke anything. Due to my busy schedule I opted not to smoke a bird for Thanksgiving this year, but I wanted to at least smoke something, so since the worthless nuts from Ohio are coming to town this Saturday I decided to smoke some nuts and make my own trail mix. This one requires as few or as many ingredients you want and allows you to mix and match whatever ingredients you please to make your own trail mix. It's easy to make ahead of time and bring to tailgates or homegates, or bag and give out as Christmas gifts. Your friends and family will thank you.
Ingredients
1 pound raw almonds
1/2 pound raw cashews
1 pound raw peanuts
1/2 pound raw pistachios
1 bag salted popcorn
1/2 pound sesame sticks
1/2 pound pepitas
8oz craisins
1 large bag plain M&Ms
1 bag Duke's original smoked shorty sausages
Gentry's Beef Brigade BBQ Rub
Garlic powder
As mentioned above, you can use whatever type of nuts or ingredients you want, but here's the gist of this easy recipe. Honestly, the most time consuming — and fun — part is probably deciding which ingredients to go with. If you have a Caputo's Fresh Market near you, they have a great selection of nuts, candies, dried fruit, etc.
The general rule of thumb with a trail mix is you want nuts, dried fruit, grains, candy, and meat. You don't have to include something from all of those categories, but a good selection makes for a well-rounded trail mix.

Fire up your smoker to 225-275 degrees. This isn't a long smoke, so as long as it falls somewhere in that range you're good. You don't want it too hot because the nuts will burn easily. Put all of your nuts in a bowl and cover with water. Let sit for 10 minutes — no more — and then strain out the water. You can smoke the nuts without submerging in water first, but the water really helps both the smoke and whatever rub or seasonings you apply to stick to the nuts. Just make sure not to soak the nuts for longer than 10 minutes because they'll start to absorb it and become mushy.
Now apply your seasonings. For this recipe I went with Gentry's Beef Brigade BBQ Rub and some garlic powder. The Beef Brigade rub provides a nice savory, peppery taste to counter the sweeter and fruitier taste of some of your other ingredients.

You can use a cookie sheet to smoke these on if that's all you have, but a basket or grill topper that has holes in it is preferred to let the smoke penetrate from all sides. Put all of your nuts into a basket or grill topper in a single layer and place in the smoker. You'll only be smoking these for about 30 minutes, so don't get too comfortable. About halfway through, give them a nice stir to make sure they're all getting smoke. You might have to smoke them in two separate batches depending on how many you have, but with the short smoke time, that's just fine.
After about 30 minutes, pull them out of the smoker and let sit at room temperature for a couple of hours to cool and harden. You'll notice after you take them out of the smoker that they are kind of soft, which is partly due to the water bath and also the smoking process. Once they sit for an hour or two they'll harden back up.

Now it's time to mix in all the other ingredients. I used pepitas, plain salted popcorn, sesame sticks, craisins, Duke's shorties, and M&Ms in addition to my smoked almonds, peanuts, cashews, and pistachios. Side note: if you've never tried Duke's smoked shorty sausages, you've got to give them a try. Duke's is my go-to beef jerky brand and their shorties are great when hiking, golfing, driving, etc. Just hide them from your kids because they'll get hooked too, although if you need to get some protein into them, these are a great way. Anyway, just cut them up into small pieces for your trail mix.
Mix everything together in your preferred proportions and now you're ready to serve! My wife just told me it's the best trail mix she's ever had, so hopefully your family and friends feel the same way!
Visit Gentry's to purchase their great rubs and sauces. You can follow them on Twitter at @gentrysbbq and you can also follow our resident pitmaster Joe at @mmmgoblubbq.