---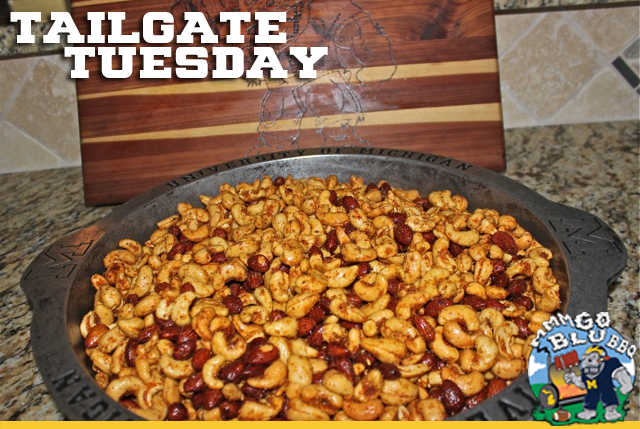 Tailgate Tuesday is our weekly collaboration with Joe Pichey from MmmGoBluBBQ. These tailgate recipes will be posted each Tuesday throughout the football season and most of the time will be themed around that week's opponent. Meat Church, a Dallas, Texas based BBQ joint sponsors this feature by providing their killer rubs for use in the recipes. Buy them here. 
Trying to find a "go to" BBQ recipe that the Beaver fans prefer proved a little tougher than I expected. The one dish that kept coming up (thanks Google) was Buffalo chicken dip. While I love this dip and make it a few times each season, I wanted to make something that you can't find on the side of every single buffalo sauce bottle at your local grocery store. And since we have a brand new sponsor, I decided to go with one of Meat Church's favorites, the Smoked Spicy Nuts. Beavers like nuts, right?
Ingredients:
• 1 pound of nuts (almonds, cashews, and peanuts are all great choices)
• 2 TBSP olive oil
• 1/4 cup Meat Church rub (Bacon BBQ or Deez Nuts)
Directions:
This recipe is not only easy, it is extremely addicting. It will also save you TONS of money. How you ask? You won't need to buy the small tins of nuts at your local grocer for $8 and you can give these away to family and friends around the holidays as Christmas gifts. See that…..you're saving $$$ already.
Fire up your grill for indirect heat. If you're using a smoker, even better. We are looking for a temp of about 275 degrees. I like a pecan wood for this as we don't want to overpower the seasoning. While the grill is heating up, drizzle two TBSP of olive oil per one pound of nuts. Mix with wooden spoon to ensure each nut is coated. Sprinkle ¼ cup of Bacon BBQ Rub or Deez Nuts Rub per one pound of nuts. I also like to toss a few pinches of cayenne in if I'm feeling spicy. While this seems like a lot of seasoning, some will fall off during the smoking process. Use more than you think you need.
Spread nuts on baking sheet in single or double layer. Make sure you do not overload the pan as some may not get exposure to the smoke.

Smoke at 275 for one hour. After an hour, stir nuts with spatula to make sure they all get a little smoke. They will still have a little shine from the oil at this point but will start to dry out around the one hour mark. Smoke for an more hour until the nuts are completely dry. They will lose some of the seasoning once they are dry, which is why we added extra at the beginning. These will go fast, so stock up. They tend to get spicier the longer they sit.
I have been making these weekly for the last few months. I get requests for these from co-workers and friends and they all say the same thing. They love the smoke flavor and they can't get enough of the spice. Whether it's Bacon Rub or Deez Nuts, you can't go wrong. Make yourself a few pounds and smuggle em into the Big House to share with friends. You will love these nuts. Guaranteed. Go Blue!

Visit Meat Church to purchase their new Bacon BBQ rub or any of their other great rubs and seasonings. You can follow Joe on Twitter at @mmmgoblubbq.