---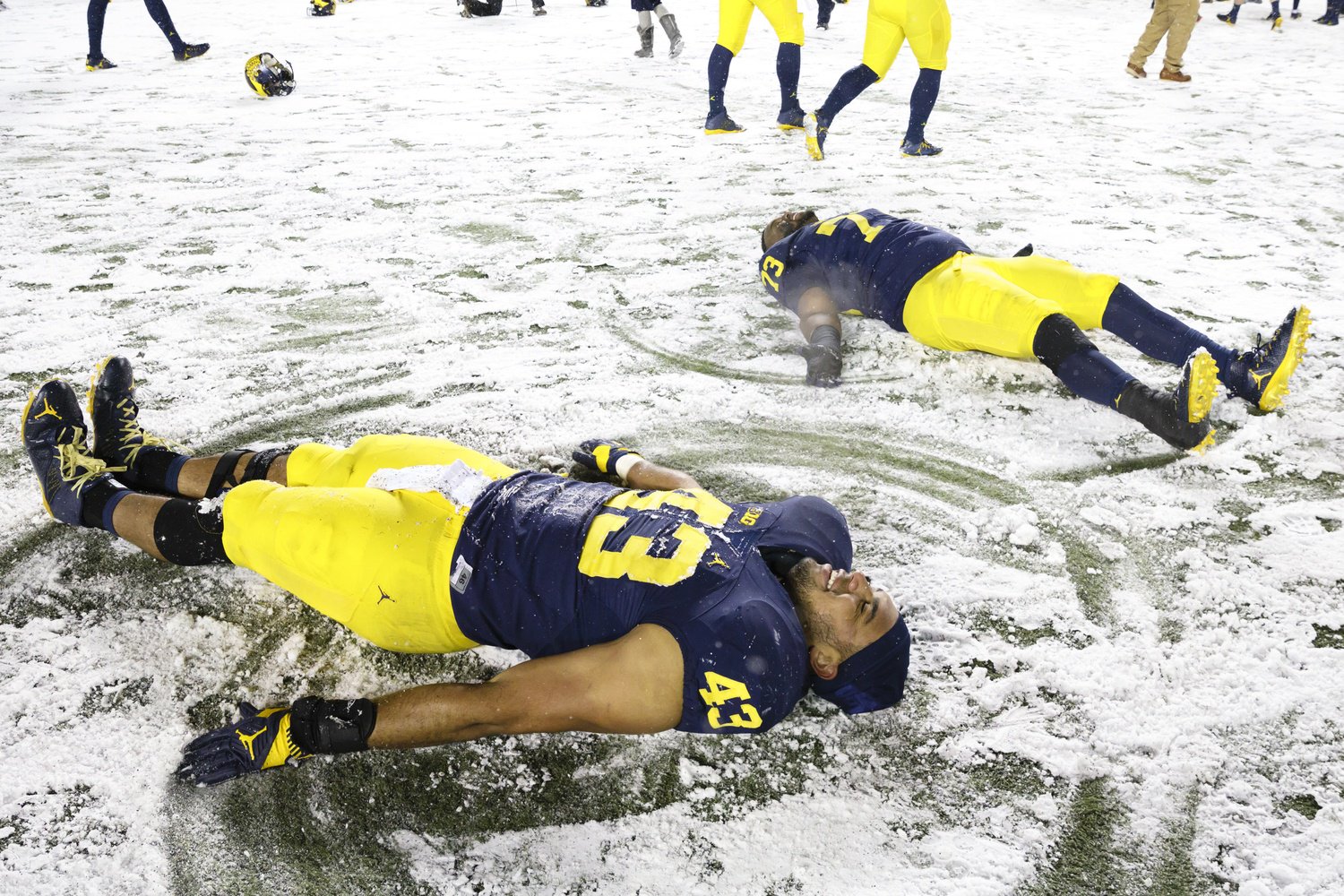 It was ugly. It snowed. It almost ended Michigan's quest for a first Big Ten title since 2004. But when the clock hit zero and there was no green left on the field except for the snow angels made by the cheerleaders during a timeout, Michigan held off Indiana for its 10th win of the season.
It marks the first time Michigan has achieved back to back 10-win seasons since 2002 and 2003 and it was the 21st straight win over the Hoosiers, dating back to 1987. But for nearly three quarters, it didn't look like it was going to happen.
With John O'Korn making his first start in a Michigan uniform, in place of the injured Wilton Speight, Michigan's offense looked like it wouldn't miss a beat on the first possession of the game. All four running backs touched the ball on the drive, but a promising 21-yard screen pass to Ty Isaac was called back for a block in the back and the drive stalled. Rather than trying to pick up a first down on 4th-and-4, Jim Harbaugh elected to punt from the Indiana 36. It netted 22 yards.
Final Stats
Michigan
 Indiana 
Score
20
10
Record
10-1, 7-1
5-6, 3-5
Total Yards
284
255
Net Rushing Yards
225
64
Net Passing Yards
59
191
First Downs
15
15
Turnovers
0
0
Penalties-Yards
5-40
4-35
Punts-Yards
6-247
9-267
Time of Possession
34:21
25:39
Third Down Conversions
3-of-15
5-of-15
Fourth Down Conversions
3-of-4
0-of-0
Sacks By-Yards
3-28
2-9
Field Goals
2-for-2
1-for-1
PATs
2-for-2
1-for-1
Red Zone Scores-Chances
2-of-2
2-of-2
Red Zone Scores-TDs
0-of-2
1-of-2
Full Box Score
It was that kind of day for Michigan as the Wolverines punted on each of their first three possessions. When they finally got on the board with a 28-yard Kenny Allen field goal midway through the second quarter, Indiana responded with an 11-play, 75-yard touchdown drive. For the first time this season, Michigan trailed at the half.
After forcing a punt on Indiana's opening possession of the second half, Michigan rode the running game down the field, but once again stalled short of the end zone. Allen booted a 33-yard field goal to pull the Wolverines within one.
Indiana put together another 11-play scoring drive, but this time, after reaching the Michigan 5-yard line, the Wolverines defense held strong and forced a 24-yard Griffin Oakes field goal.
Michigan looked to be in trouble on its ensuing possession, facing 3rd-and-8 from their own 36. O'Korn dropped back to pass, but faced pressure. He stepped up and eluded the sack, then raced 30 yards to the Indiana 34 — the biggest run for a Michigan quarterback since Denard Robinson in 2012.
Then, still trailing 10-6 midway through the third quarter, De'Veon Smith took the game into his own hands. The senior, playing his final game in the Big House, took the handoff, cut to his left, weaved through the Indiana defense, and raced for the pylon. He dove from the three and reached the ball over the goal line for Michigan's first touchdown of the day.
Two possessions later, Smith did it again. On 2nd-and-10, he took a handoff to the right, cut up the middle and then raced 39 yards, breaking a tackle at the 10, and into the end zone to put Michigan ahead 20-10.
Neither team would score in the fourth quarter as the snow quickly turned the field into a skating rink. But Michigan held the ball for more than 10 minutes in the quarter, running the clock down to victory.
Smith finished with a career-high 158 yards on 23 carries (6.9 yards per carry) and two touchdowns. O'Korn completed just 7-of-16 passes for 59 yards. Most importantly, O'Korn didn't turn the ball over. As a team, Michigan rushed for 225 yards — the sixth time the Wolverines have topped 200 this season.
Defensively, Michigan held Indiana to its lowest offensive output (255 yards) and its lowest scoring total (10 points) of the season. The Hoosiers rushed for just 64 yards — also a season low — on 1.8 yards per carry. Quarterback Richard Lagow completed 14-of-29 passes for 191 yards, his second lowest passing total of the season.
At 10-1 overall and 7-1 in the Big Ten, Michigan closes the regular season next Saturday with a huge matchup against Ohio State. The Buckeyes, also 10-1 and 7-1, have beaten Michigan 11 of the past 12 games. If Michigan wins, the Wolverines will advance to the Big Ten championship game for a rematch with Wisconsin, who the they beat 14-7 early in the season. An Ohio State win will likely send Penn State to Indianapolis as they hold the head to head tiebreaker with the Buckeyes.
De'Veon Smith (23 carries for 158 yards, 2 touchdowns)
It's fitting that Smith earns his first game ball of the season on Senior Day. The Warren, Ohio native has been a reliable piece of the backfield the past few years and turned in the best game of his career in his final game in the Big House. He carried the ball 23 times for 158 yards, averaging 6.9 yards per carry, and scored both of Michigan's touchdowns. While Chris Evans, Karan Higdon, and Ty Isaac struggled to find running room, Smith broke through for two big runs that kept Michigan's season alive.
Previous
Week 1 — Chris Evans (8 carries, 112 yards, 2 touchdowns)
Week 2 — Wilton Speight (25-of-37 for 312 yards, 4 touchdowns)
Week 3 — Jake Butt (7 receptions for 87 yards)
Week 4 — Grant Newsome, Ben Braden, Mason Cole, Kyle Kalis, Erik Magnuson (326 rush yards, 0 sacks allowed)
Week 5 — Amara Darboh (6 receptions for 87 yards, 1 touchdown)
Week 6 — Khalid Hill (2 carries for 2 yards and 2 touchdowns, 2 receptions for 19 yards and 1 touchdown)
Week 7 — Wilton Speight (16-of-23 for 253 yards, 2 touchdowns)
Week 8 — Amara Darboh (8 receptions for 165 yards)
Week 9 — Wilton Speight (19-of-24 for 362 yards, 2 touchdowns, 3 carries for 16 yards, 1 touchdown)
Week 10 — Kenny Allen (2-of-2 FGs, long of 51)
Ryan Glasgow (7 tackles (5 solo), 3 tackles for loss, 1 sack, 1 forced fumble)
One of the unsung heroes of Michigan's vaunted defense is fifth-year senior nose tackle Ryan Glagow. By the nature of his position, he's not talked about as much as the others, but his impact is felt every week. It's fitting that he earns the game ball against Indiana since he suffered a season ending injury in the game before Indiana last season and his absence was felt as IU rushed for 307 yards. This time around, he seemed to be in on every tackle, recording seven, three of them in the backfield, and bringing down the quarterback once. He'll need a similar performance against Ohio State's powerful offense next week.
Previous
Week 1 — Mike McCray (9 tackles, 3.5 tackles for loss, 2 sacks, 1 forced fumble)
Week 2 — Rashan Gary (6 tackles, 2.5 tackles for loss, 0.5 sacks)
Week 3 — Jabrill Peppers (9 tackles, 3.5 TFL, 1 sack, 2 kick ret. for 81 yards, 4 punt ret. for 99 yards, 1 TD)
Week 4 — Maurice Hurst (6 tackles, 3 solo, 3 tackles for loss, 1 sack)
Week 5 — Channing Stribling (2 tackles, 2 interceptions, 2 pass breakups)
Week 6 — Taco Charlton (2 tackles, 2 tackles for loss, 2 sacks)
Week 7 — Mike McCray (3 tackles, 0.5 tackles for loss, 1 fumble recovery, 2 quarterback hurries)
Week 8 — Jabrill Peppers (7 tackles, 2 tackles for loss, 1 sack, 1 two-point conversion fumble recovery return)
Week 9 — Delano Hill (6 tackles (5 solo), 0.5 tackles for loss, 2 interceptions)
Week 10 — Chris Wormley (6 tackles (2 solo), 2 tackles for loss, 1 sack)