---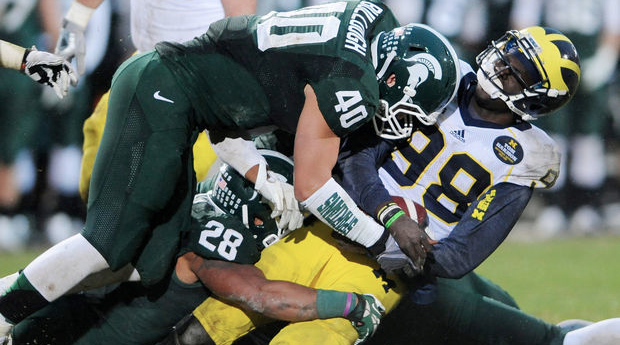 (Melanie Maxwell, The Ann Arbor News)
Late in the third quarter, Raymon Taylor stepped in front of the intended receiver and picked off a Connor Cook pass, returning it to the Michigan State 41-yard line. It was just the play Michigan needed to jumpstart a comeback. I let out a nice shout, something along the lines of "YES! Go, go go go go, wooooooo!!!!" but my daughter, who was playing on the floor in front of me, immediately tensed up and said, "Stop yelling at me, daddy." I spent the next few minutes explaining to my two-year old that I was cheering for Michigan, not yelling at her, all the while watching what should have been a game-turning moment go from first down at the Spartan 41 to 4th-and-31 from the Michigan 38. It was that kind of day.
Two weeks after breaking several offensive records against Indiana, the Wolverines broke another one, but this time it's not one to be proud of. Thanks in large part to seven sacks and an overwhelmed offensive line, Michigan totaled negative-48 yards rushing, two fewer than the previous worst in Michigan history. It was that kind of day.
Final Stats
Michigan
Michigan State
Score
6
29
Record
6-2 (2-2)
8-1 (5-0)
Total Yards
168
394
Net Rushing Yards
-48
142
Net Passing Yards
216
252
First Downs
12
19
Turnovers
1
1
Penalties-Yards
3-39
5-25
Punts-Yards
8-327
5-204
Time of Possession
27:39
32:21
Third Down Conversions
2-of-13
9-of-18
Fourth Down Conversions
0-of-1
0-of-0
Sacks By-Yards
1-16
7-49
Field Goals
2-for-2
3-for-3
PATs
0-for-0
2-for-3
Red Zone Scores-Chances
1-of-2
3-of-3

Full Box Score
The talk leading up to the game centered around needing to match Michigan State's physicality. Brady Hoke and Al Borges likened it to a street fight. Taylor Lewan said Michigan got bullied two years ago in East Lansing: "If somebody came up to you and hit you right in the face would you take that personally? Yeah, I take it personally." Lewan was determined not to get bullied this time around, but Michigan State's defense did the bullying in a clean, hard-nosed football sort of way, and Lewan resorted to, well, hitting a Spartan right in the face, drawing a 15-yard unsportsmanlike conduct penalty. It was that kind of day.
Trailing 6-3 early in the second quarter, Michigan showed signs of moving the ball. A Fitzgerald Toussaint nine-yard run – Michigan's longest of the day – followed by a Gardner six-yard run and an 11-yard completion to Jeremy Gallon got Michigan across midfield. On 1st-and-10 from the Michigan State 49, Graham Glasgow's snap sailed over Gardner's head and the quarterback had to fall on it for a 20-yard loss. Gardner lost another yard on the next play and was sacked on third down. Lewan's penalty moved Michigan back another 15 yards and the Wolverines faced 4th-and-48 from their own 13. Matt Wile's punt went 43 yards – three more than his season average – and still didn't reach the first down marker. It was that kind of day.
Midway through the second quarter, still trailing 6-3, Jehu Chesson went up and snatched a 58-yard pass from Gardner. It was just his eighth reception of the season and by far his longest and it put Michigan 1st-and-10 from the MSU 22. Three plays later, on 3rd-and-2 from the 14, Borges called a zone read and Gardner was stopped for a loss of seven, prompting former Michigan linebacker Larry Foote to tweet "That was the worst call I've ever seen on 3rd and short!!!!!!!!!!" Michigan settled for a field goal, which Brendan Gibbons banked in off the right upright. It was that kind of day.
Jeremy Gallon, who set the all-time Michigan and Big Ten single-game receiving record two weeks ago, caught three passes for 57 yards on Michigan's first five plays of the game. He caught just two for 10 yards the rest of the game, one of which was caught at the first down marker then fumbled backward, turning what would have likely been a first down on 2nd-and-5 into a 3rd-and-6, which Michigan didn't convert. In the fourth quarter, needing two touchdowns with two-point conversions, Michigan put together it's longest drive of the day. Gardner tried to connect with Gallon down the left sideline near the end zone, but Gallon was outmuscled by Darqueze Dennard, who picked it off, effectively sealing the game. It was that kind of day.
On Michigan State's first play of the game, after Michigan had opened with a field goal, Cook rolled to his right. Fullback Trevon Pendleton, who had fallen down making a block, got up and leaked out to his left. As Michigan defensive end Brennen Beyer was closing in, Cook turned and lobbed it back across the field to Pendleton who was wide open and raced down the left sideline 49 yards to the Michigan 26. It was the fifth reception of his career and the longest pass play of the season for the Spartans. It was that kind of day.
When all was said and done, Michigan removed itself from contention for the Big Ten Legends Division title, gaining a season low 168 total yards – just 13 more than Youngstown State of the FCS managed against the Spartans. To make matters worse, it was Michigan's fifth loss in the past six meetings with the in-state rival and because of the divisional realignment with Rutgers and Maryland joining the conference Michigan has to travel to East Lansing once again next season.
What a strange, strange season it has been, from the elation of the Notre Dame win to the depression of the Akron, UConn, and Penn State performances to the record-breaking thrill of Indiana to the embarrassment in East Lansing. With Nebraska, Northwestern, Iowa and Ohio State remaining, the ups and downs are likely to continue the next four weeks. And with no shot at Hoke's stated goal – to win the conference – we resort to playing spoiler, especially when Nov. 30 rolls around.