---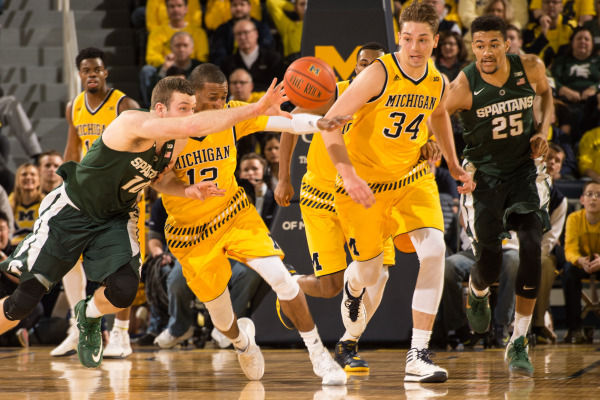 (MGoBlue.com)
For the second time in a week Michigan's best performance came from its bench in garbage time against the opponent's bench. For the second straight game said bench made the final score look much closer than the game actually played for the first 37 minutes.
The only difference between Michigan's 89-73 loss to No. 10 Michigan State on Saturday and their 80-67 loss to No. 22 Indiana on Tuesday was that there was no early lead for the Wolverines. In this one, Michigan was overmatched from the start, holding only a 5-3 lead, and when Eron Harris hit a three at the 18:42 mark, Michigan never lead again.
The Spartans shot 64 percent from the field and 63.6 percent (14-of-22) from three-point range for the game while holding Michigan to just 44.8 percent overall and 28.6 percent from downtown. MSU made 10-of-14 three-point attempts in the first half including their first five and eight of their first 10. Bryn Forbes was routinely left wide open and made Michigan pay by scoring 23 first half points on 7-of-9 three-point shooting himself.
Zak Irvin led the way for Michigan with 19 points on 8-of-16 shooting and 2-of-6 three-point shooting. Aubrey Dawkins (14 points) and Derrick Walton (11) were the only other Wolverines in double figures. No Michigan player had more than three rebounds and the Wolverines managed just 20 boards for the game. Some of that has to do with the fact that Michigan State wasn't missing shots. Forbes led the Spartans with 29 points, while Denzel Valentine added 21 points, nine rebounds, and eight assists.
Michigan has now lost two straight and must turn its attention to simply qualifying for the NCAA Tournament. It's becoming increasingly unlikely that Caris LeVert will see the court again and without him it's becoming increasingly clear that Michigan is a team that can beat the teams it should beat, but can hardly compete with great teams. At 17-7 overall and 7-4 in the Big Ten, Michigan may need to go at least 5-2 the rest of the regular season and win at least one game in the Big Ten Tournament to feel comfortable heading into Selection Sunday. However, in looking at the remaining schedule, only Minnesota and Northwestern look to be sure-bet wins for the Wolverines. Purdue, Iowa, and at Maryland are likely losses, while at Ohio State and Wisconsin are toss-ups.
Michigan looks to bounce back from a rough week on Wednesday against a Minnesota team still looking for its first conference win. The Gophers are 6-17 overall and 0-11 in the Big Ten. A Michigan loss in Minneapolis will likely mean an NIT berth next month.
Final Game Stats

#

Name

FG-FGA

3FG-3FGA

FT-FTA

OR

DR

TOT

PF

TP

A

TO

BLK

S

MIN

34
Mark Donnal*
2-5
0-2
0-0
1
2
3
3
4
0
1
0
1
17
10
Derrick Walton*
3-10
3-7
2-2
0
2
2
4
11
2
1
0
3
35
21
Zak Irvin*
8-16
2-6
1-1
0
3
3
1
19
1
2
0
0
32
22
Duncan Robinson*
1-5
0-3
0-0
0
0
0
1
2
0
1
0
0
25
12
Muhammad-Ali Abdur-Rahkman*
2-5
0-3
2-2
1
1
2
2
6
4
0
0
1
32
03
Kameron Chatman
2-3
1-1
0-0
0
1
1
0
5
0
0
0
1
25
05
D.J. Wilson
2-3
0-1
1-1
0
2
2
3
5
0
1
0
1
14
11
Andrew Dakich
1-1
0-0
1-1
0
0
0
2
3
0
0
0
2
5
13
Moritz Wagner
0-2
0-1
0-1
0
1
1
1
0
0
0
0
1
4
24
Aubrey Dawkins
3-5
2-4
6-8
0
1
1
0
14
3
1
0
1
17
32
Ricky Doyle
2-3
0-0
0-0
3
0
3
1
4
0
0
0
0
14
Totals
26-58
8-28
13-16
6
14
20
18
73
10
9
0
11
200
Michigan State
32-50
14-22
11-16
7
28
35
20
89
18
19
1
4

200

Full Stats